The First Resort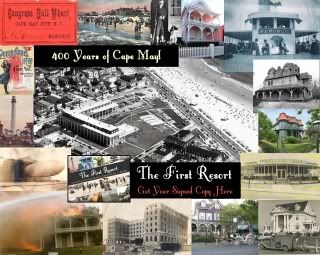 A few weeks ago Ben Miller, the author of the great new Cape May history book called "First Resort", dropped in for an impromptu book signing at tea. It was great! Lots of our guests were able to purchase his great new book and get it personally signed by Ben. I'm not sure who enjoyed it more, our guests or Ben.
There is something that you have to understand about Ben. He is PASSIONATE about Cape May. Passionate in an infectious way. As much as I already love Cape May, I get even more excited about it when I talk to him. I'm telling you this so that you'll understand why "First Resort" is a MUST HAVE book for anybody who loves Cape May. He somehow corraled all of his passion for Cape May along with his wonderful writing style into 300 pages of amazing photos and great stories that you'll have trouble putting down.

Of course I suggest you buy a copy for yourself, but you might want to think a little bigger in this case. Isn't Christmas coming up? Aren't you always struggling to come up with a great gift for your loved one who loves Cape May? I don't think I have to connect the dots for you here. You already know that this is the perfect gift idea!

So you missed the signing party, and you're thinking that a signed copy would have been perfect. No problem. Ben has volunteered to personally sign a copy and ship it to any of our guests that need to get a copy (or two). Of course, we'd love to have you book a couple of nights at The Queen Victoria and purchase a copy in our gift shop (also signed), but if you can't make it down, you can get it delivered to your door for an extra $8. Even with shipping it comes to only $40 for NJ residents and $37.95 if shipped out of state. Believe me, this book would be a bargain at $50.

Call us or reply to this email to order your copy. You'll be happy you did.
---
A New Investment Strategy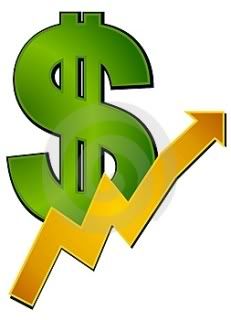 Well, judging from conversations I've had with LOTS of guests from all over, it sounds like the worst of this recession is behind us. In fact, I'm hearing encouraging things about many industries & regions. Unfortunately, the one thing that still looks pretty bad are the pathetic interest rates that banks are paying. The interest rates they charge seem to be going up, but the rates on deposits are going the other way. I guess the good news is they really can't go any lower. If you're as disgusted by this phenomenon as I am I have a suggestion for you ... Take More Vacations at The Queen Victoria.
Sure it is counter intuitive, but booking a reservation at the Queen Victoria can yield you in excess of 16%. Who else is offering you this kind of return? Seriously, you can't afford not to take a vacation. Even better, it is tax free!

OK, so now I have to explain how this works to you. It is called the "Early Bird" discount, for reservations made one year in advance. I'll give you an example. Say you (yes you!) book a reservation for next August or September in a room that is $250/night this year for 4 nights. We'll give you the same rate for next year, saving you $5/night. Next, we'll give you a 5% discount, saving you another $50. That totals $70 in discounts, which actually is worth $79.80 when you consider the savings in taxes. We ask for a deposit of $475 (50% of the discounted room charges). So you "deposit" $475 and get a tax free "return" (discount) of $79.80. That is a 16.8% return! Who needs a mutual fund? The best part, of course, is you also have a vacation to look forward to.
---
Stay & Play Package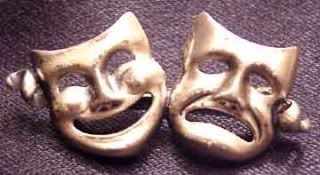 We are once again pleased to mention our only early fall package ... the "Stay & Play". Lots of you have taken advantage of this great deal during your visits in past years. If you love theatre and don't know about this great deal, then pay attention.
If you reserve a 4 night stay that includes a weekend, or a 3 night stay mid-week, any time that Cape May Stage is open (May 20 - Dec 31) we'll be pleased to present you with complimentary tickets to Cape May Stage. This is a GREAT deal! Tickets for a show are $35 each, so the value of the package is about the equivalent of a dinner out (excluding drinks).
---
Cape May Stage Presents ... Visiting Mr. Green
Did you see "Social Security" during your recent visit with us? It was GREAT. I didn't meet anybody who didn't love it. That makes Cape May stage 4 for 4 this year, with each show earning rave reviews from the press and audience alike. That is why I'm SURE that their current production of "Visiting Mr. Green" is sure to be a crowd pleaser.
We haven't seen this show yet (it just opened last week), but it sounds great. Several of our guests who saw it (doing the Stay & Play!) really loved it. It appears to start out as a kind of "Odd Couple" comedy with two people thrown together who would rather not be together. As the play progresses it morphs into a moving drama as they come to grow close to one another. I'm looking forward to seeing it and I'm sure you'll want to make an evening of it as well on your upcoming visit. "Visiting Mr. Green" runs through September 26th.
---
Best of Cape 2009!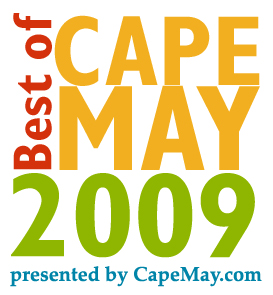 We were thrilled last year when The Queen Victoria was awarded "Best Bed and Breakfast" in Cape May in the Capemay.com reader's choice survey. You can imagine how excited Anna Marie and I are to have just been voted the "Best of Cape May" in 4 different categories for 2009! We like to think that we are the best, but we really have to thank all of you who voted for us this year. I know that hundreds of you responded to my email suggestion last month. THANK YOU so very much for putting us over the top again!
So what are the categories? 1) Best Bed & Breakfast 2) Best Accommodation Customer Service 3) Best Overall Customer Service and 4) Best Victorian Building.

You may have seen a copy of "Cape May Magazine" in your room during a recent visit. Perhaps you purchased it in our gift shop. It is a wonderful magazine, both in print and online. If you are interested in subscribing for yourself and getting a little taste of Cape May several times a year, just click on the link below. Just think, if you subscribe you'll know about the contest even before I email about it!
---
Other Great News!
I'm pleased to report that the QV is once again rated the #1 bed and breakfast in Cape May on tripadvisor.com. Some of you seem to watch this stuff pretty closely, so you may have noticed that we slipped to #2 for a couple of weeks. Obviously we're thrilled to be back on top again. We got there and stay there based on the reviews that you, our wonderful guests, post for us, so I want to THANK YOU from the bottom of my heart.
While I'm at it, I'll thank you again for voting for us on iloveinns.com and helping us receive the "Traveler's Choice for Romance" award a couple of months ago. We really appreciate you taking the time to post these reviews about us!
---
Upcoming Events
Cape May Wine Trail Trolley Tour Sep 27
Food & Wine Festival Sept 19-27
Victorian Week Oct 9 - 18
Cape May Wine Festival Oct 10,11
Halloween in Cape May Oct 16-31
Cape May Wine Trail Trolley Tour Oct 16
Sherlock Holmes Murder Mystery weekend Nov 6- 8
Cape May Jazz Festival Nov 6-8
Christmas Preview Weekend Nov 20-21
Wine Weekend (Wine School) Nov 21-22
Thanksgiving Nov 25-26
Dickens Extravaganza Dec 6-8
Christmas in Cape May Nov 20 thru Dec 31
Christmas at The Queen Victoria Dec 24-25

You would think that living at the beach, the summer would be Anna Marie's and my favorite season. We do love summer and the beach, but I must admit that September/October are our favorite months. Shocking, I'm sure.

So what makes us love it so much? Well first of all, the crowds are gone and everybody is just a little more laid back (I love that). The weather is beautiful, the humidity is gone, the beach is wide open, the ocean temps peak at around 80 degrees, all the great restaurants are still open, and they're easy to get into... It's ALL GOOD. From a travelers perspective there are additional bonuses. First of all, our rates are lower (I'm not quite as thrilled about this as you probably are, but that's OK). Parking is also much easier, as there are fewer people in town to take up our parking spaces.

Lots of you have already discovered this gem of a season and make your annual visit to The Queen Victoria now. For those of you that haven't, you don't know what you are missing! I'm not trying to talk you out of visiting us in the Summer, but if you haven't had your annual vacation yet (or even if you have) and you really want a relaxing break from the real world, this might be a great time to visit us. There are some wonderful events coming up including the "Food & Wine Fest", "Victorian Week", and the "NJ Wine Growers Cape May Wine Festival" (Anna Marie and I really love this last one!).

What are you waiting for? Come enjoy the best that Cape May has to offer this Fall! Give us a call today.
---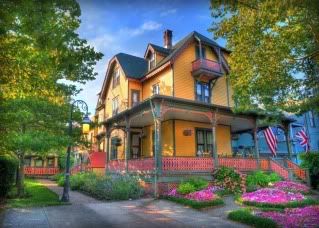 Another great photo of Prince Albert Hall.

We're now selling matted prints of this picture in our gift shop.
---
Featured "Room of the Month" ... Lilly Langtry
Looking for a great room for your next visit? Check out Lilly Langtry. Most the ladies I talk to LOVE this room. It is a very pretty standard room on the 2nd floor of the Queen Victoria building. With its big, bright bathroom, pretty, bold floral print, and beautiful antique furniture, there is a lot to love about this room.
Lilly is a very cozy room, and it happens to be one of our least expensive rooms as well. This room seems to be particularly popular with our female guests who are traveling alone. It makes sense. Lilly is such a pretty and cozy room.

Whether you're a woman traveling alone, or a gentleman who wants to treat your sweetheart to a very pretty room, keep Lilly Langtry in mind for your next visit to The Queen Victoria.
---
Ready for Christmas?
No, I'm not joking! Think about it, no matter how reluctant we are to let go of summer, Christmas is just around the corner. In another 2 months or so, this is what The Queen Victoria will be looking like.
Every single day one of you asks about Christmas, so I know that LOTS of you harbor a desire to see Cape May at Christmas. There really isn't anything like it. You have to experience it yourself. Christmas starts early in Cape May too! Our "Christmas Preview Weekend" is November 20th this year.

So why am I telling you about this? Simple. If you're thinking about coming to visit us this Christmas, you'll want to start making your plans soon. We've been taking lots of reservations for the Christmas season in the last few weeks, and you don't want to miss out on your chance to experience Christmas at The Queen Victoria.
---
2009 Cape May Designer Show House
I'm pleased to report that the 2009 Cape May Designer Show House is open and pleasing everyone who crosses the threshold. This year's Show House is just a few steps from The Queen Victoria, so it will be an excellent excursion for all of you during your upcoming visit this fall/winter.
This year's Show House is a little different than the ones we've had in the past. This is truly the first Show House that I would really want to live in. It is wonderfully done, without going overboard. The house is much bigger than it looks from the outside, and is a treat from the first moment you step into it. With two Master Suites on the 2nd floor, it is also a little different than many homes. I loved the kitchen and the breakfast dining room especially.

You won't want to miss this year's Designer Show House on your next trip to The Queen Victoria.
---
The latest news about the Convention Center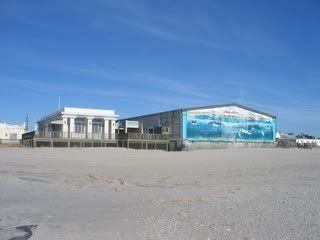 Well, the continuing saga of our convention center ... continues (that is why it is a continuing saga). I've been hearing a lot more about it in the news, however. Apparently we do not yet have all the "CFRA" permits from the state of New Jersey we need to start demolition, but they are close (and the check is in the mail). It sounds like demolition is likely to start in late Fall with construction commencing shortly thereafter. The last I heard, completion is targeted for Spring 2011.
Some interesting news, however is that the plans for the restaurant have been enlarged to provide for more dining space. It seems like Tishas is going to be moving into that space, though I don't know that for sure. It is also unclear to me when and where the solarium will be moved to, if indeed they are still planning on saving it. The big thing it has going for it is that the building houses our public bathrooms for our section of the beach, which makes it fairly important.

So all in all, there is not too much new to report beyond gossip and rumors, but that obviously isn't stopping me.
---
Favorite Guest Photos ...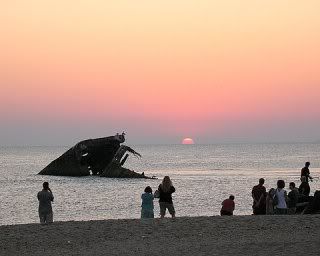 Last night we had a truly magical sunset, so I thought I would feature a great sunset shot as my "favorite guest photo" this time.
This photo was taken last summer by the Sheppards. One of the funny things I always notice about sunset photos is just how small the sun looks in the picture. I mean, it looks so big when you look at it, but somehow the camera shrinks it down. It's just one of life's mysteries, I suppose.
---
Fire Control Tower #23
Do you recognize this tower? If you've ever gone down to Sunset Beach to watch the sunset, then you've probably driven by Fire Control Tower #23 and wondered what it was. I often pondered what it would be like to get inside the tower and climb to the top. What a view from up there!
If you've ever had similar thoughts, then you'll be pleased to learn that this tower is now open to the public. Over the last 2 years the Mid Atlantic Center for the Arts has been restoring this WWII landmark and it has just opened it up to the public this year.

A trip to the top of the tower is a pleasurable experience, with lots of things to explore and look at on the way up. There are several landings on the way up which make the trip an easy one. Even my 80 year old Dad with a bum hip had no trouble getting to the top. Once there, you really do have a wonderful view of the Delaware Bay and Cape May Point. It isn't as high as the Cape May lighthouse, but the views are just as spectacular. You can almost imagine yourself as a young soldier during the war looking out for German ships, ready to call in the firing coordinates to the big guns located on the beach near the lighthouse.

You'll definitely want to plan a visit to the tower on your next visit to The Queen Victoria.
---
Serious About Wine?
Are you serious about wine? Do you enjoy learning about wine as much as you enjoy drinking it? Are you interested in exploring and learning about wines from various regions of the world? If you answered yes to any of these questions then you're going to want to come visit us this Nov 20-22.
Periodically the Washington Inn, in conjunction with Cape May Winery, hosts a Cape May Wine Weekend. It kicks off with a sumptuous 4-course dinner at the Washington Inn. Each course will be paired with the perfect wine, of course. Saturday you'll enjoy a Tasting and Tour at Cape May Winery. On Sunday, you'll enjoy an afternoon exploring the wines of Chile & Argentina at the Washington Inn.

Anna Marie and I got really excited about this package and thought you might too! In fact, we thought we would make it even more special by creating a little mini package around it. Make your reservation for that weekend, sign up for the package, and we'll also include a complimentary tasting at Hawk Haven Winery, a free "wine tasting cheese platter" from Seaside Cheese, and we'll give you one of our beautiful Queen Victoria insulated wine bags.

Now that is a serious wine weekend. As if that weren't enough to sell you on the weekend, it is also Christmas preview weekend, so there will be lots of Christmas lights up and tours to show them off. What more could