Ronald Reagan's Legacy: Lessons for Today's Citizen Leaders Saturday, Oct. 27
Wouldn't it be amazing to meet somebody who really knew one of our many great American Leaders? Think about it. What if you could speak with the speech writer who assisted Abraham Lincoln with his "Gettysburg Address"? How about Kennedy's inaugural address? I'm pleased to tell you that you have that opportunity!

My friend and fellow Cape May resident Myles Martel not only knew Ronald Reagan, but was his debate coach for his 1980 debates with Jimmy Carter. On the day after Ronald Reagan won the 1980 Presidential election he wrote a letter to Myles thanking him for his assistance in that pivotal debate. It was one of the first things he did after winning the election.
This Saturday Myles will be combining his insights into Ronald Reagan's leadership approach with his vast experiences as one of the nation's leading executive leadership consultants and sharing them with us in the first of a series of lectures entitled "Lessons of History" at Cape May Stage.

Ronald Reagan was certainly one of the great American leaders of the 20th Century. Even those folks who disagreed with his policies usually admit to liking him and recognized and admired his leadership skills. Here is your chance to learn what made Ronald Reagan such a successful leader.

I want to assure you that this presentation will not be political in nature. The timing of this event, in the final days of the 2012 Presidential campaign, is completely coincidental. It is all about leadership, not politics.
$15
/person ($30 with reception at The Queen Victoria)
---
Christmas Preview Weekend! (Nov 16-17)
So, you've been surrounded by Christmas "Stuff" at all of your major shopping outlets for months now, but you're feeling like that really isn't satisfying your Christmas needs. I am here to help you!

The surest way to get into the Christmas spirit is to immerse yourself in the Cape May Christmas scene. You know what I'm talking about! It really is perfect.
Every year Cape May gets all dressed up for Christmas a little bit early. We always turn all our lights on at 5:00 pm on the Friday before Thanksgiving. In fact, we're already busy decorating because we have so many decorations to put up. I've seen a few other homes getting started too, so I'm sure it will be as festive as ever.

A visit to The Queen Victoria for this Christmas preview weekend is also a sure way to put you Grinches in the Christmas mood. Nothing says Christmas quite like a stroll through our beautiful Victorian town all decorated for Christmas.
---
Dickens Christmas Extravaganza Returns (Dec 2-4)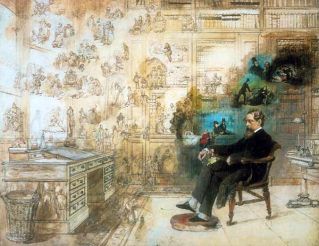 You've undoubtedly heard of Charles Dickens. You're probably most familiar with "A Christmas Carol", which is a staple during the Christmas season. What you really NEED TO KNOW about Dickens, however, is that Cape May hosts a Dickens Festival every December.

I'm excited to tell you that this year's event is going to be exceptional. The Queen Victoria has partnered with MAC to put together an amazing 3 day program filled with world class entertainment, informative lectures, tours, wine tasting and two incredible feasts. You really don't want to miss this event!
If you're looking for something more out of the Christmas season this year, something special and different, then the Dickens Extravaganza may be just the ticket. Registrations for this year's event are already up significantly. We're looking forward to spending time with the interesting and fun loving group that have already reserved their seats (and rooms). Why don't you add yourself to this group and join Anna Marie and me for 3 very special days in Cape May? You'll be so happy you did!
$150
per person (in addition to your room)
---
Channeling Weekend with Craig McManus Nov. 10
After having sold this event out months ago, we recently took a cancellation, making room for 2 more people to join us for a "Channeling with Craig McManus" weekend.

Craig is already pretty famous, and a great many of our guests are already familiar with his "Ghosts of Cape May" series of books. If you don't already know of Craig, though, you'll be interested to learn that Craig is a renowned Channeler. I've personally seen Craig channel the spirit of loved ones to our guests, providing amazingly detailed descriptions of their appearance, their nicknames, the names and types of their pets, etc. We're talking about details that our guests often were unaware of until following up on later. He is the Real Deal.

Each of the 2 channeling sessions is limited to 10 people, so there is an excellent chance of Craig channeling for everybody in attendance. There are no guarantees, of course, but I can tell you from experience that it is fascinating even if nobody comes through for you.
We've still got a couple of rooms available for Saturday, Nov 10, so if you want to experience something really different, give us a call and put your name on one of them. Don't wait too long, as there are only 2 seats left in the evening session (7-9pm)
---
Christmas in Cape May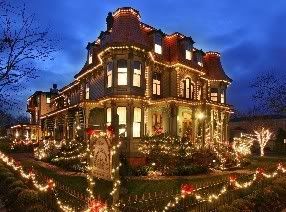 It is obvious that many of you are already thinking about Christmas, as quite a few of you have reservations for the Christmas season already.

Cape May during the Christmas season is truly beautiful. It is also a BIG event, lasting well over a month. When you have as much Christmas spirit and stuff going on as Cape May does, you have to spread it out a little bit.
Cape May kicks off Christmas on November 16th this year, moving right on through December with more tours than you can shake a stick at. The first 3 Saturdays of December feature the big Candlelight Tours, in which 20-25 homes will be on tour. There will be well over a thousand people touring these homes located all over town. There are carolers, strolling musicians, porch musicians, comfort stations and some serious festiveness going on all over town. It really is something to behold. We're completely booked for the 1st weekend, but we still have a few rooms available for each of the next two weekends. IT'S NOT TOO LATE to experience the amazing Cape May Candlelight Tour.

For those of you who are fortunate enough to be able to visit The Queen Victoria mid-week this Christmas season, there are several wonderful and more intimate house tours to enjoy.

Spend Christmas at The Queen Victoria

Of course there is also The Queen Victoria Christmas package, which takes place over Christmas itself. If you're looking for a special way to spend Christmas this year, come join us. Last year we had 28 rooms full of guests celebrating Christmas at The Queen Victoria. Our package includes dinners on both Christmas Eve & Christmas Day, as well as a lot of other special surprises.
---
5th Annual Wine Lover's Weekend (Feb 22-23)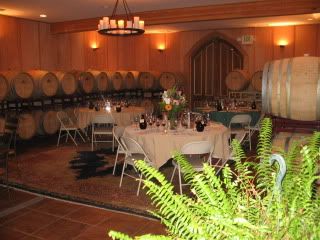 I'm REALLY looking forward to our Wine Blending weekend! Those of you who know us well, know that one of our favorite things to do is go wine tasting. Well let me tell you, our wine blending party is way better than wine tasting (though you'll taste a lot of wine too!)

Our annual wine blending weekend has definitely become my favorite event of the year. It is not surprising. Each year we get a crew of really fun loving people enjoying a really wonderful event involving the consumption of some great wine during a time of year when there isn't much else going on. What more could you ask for?
Let me tell you about it. First you arrive on Friday, hopefully in time for afternoon tea and a wonderful dinner out at one of our great restaurants. On Saturday afternoon we gather at the Cape May Winery and settle into the barrel room for the afternoon. As you enter the room you'll see several tables laden with decanters of wine, loads of wine glasses and a few measuring cups (remember, this is science). Each table becomes a "team". First we sample each of the 4 blending wines (all red) to get a feel for their various characteristics. Then we start blending for an hour or two. Ultimately, each table selects its finest blend and mixes up a decanter of it. We then break for a tour. After the tour we return to our tables and do a blind taste of each team's blend. We vote on the best blend, which is then bottled with a custom label with your name on it (or anything else you want printed on it). We usually have some left over wine from the afternoon, which we'll then bring back to the inn, just in time for tea.

This is sure to be a wonderful event. I hope you'll join us!
---
The Big Cheesy Returns (Mar 1-2)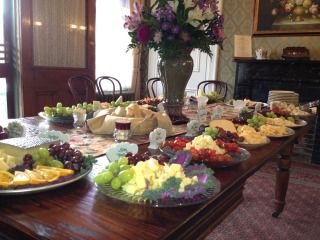 Wine and cheese go together, right? So it only seemed fitting to hold our 5th annual "Big Cheesy" cheese tasting weekend immediately following our Wine Lover's Weekend.

I've already committed myself by declaring the Wine Lover's Weekend my favorite event of the year, so it pains me not to be able to say the same about the Cheese Tasting Weekend. Why can't I have two favorites? Well, it comes a VERY close 2nd place then.
The name of this weekend pretty much says it all. Each year we gather fine cheeses from all over the world (or town, as the case may be). If you know cheese, you know just how different they can be. If you haven't explored the nuances of the myriad of different cheeses, then you haven't really lived yet, and you definitely need to call us and make a reservation.

We'll have 15-20 cheese platters arranged around our very large dining room table, each labeled and described for your exploration and enjoyment. There will also be of wine glasses and ice buckets for you to use with your favorite bottle of wine that you can bring to the event. (yep, it is BYO). Bring something you want to share, as it tends to become a little communal at the wine buffet.

They say the best things in life are free, and this event just proves that is true. Bring yourself and your favorite beverage and enjoy a wonderful afternoon.

I guess I have to mention that this event is only open to guests actually staying with us that weekend.
---
Upcoming Cape May Events
Ronald Reagan's Legacy Lecture Oct 27
Sherlock Holmes Mystery Weekend Nov 2-4
Fall Arts & Crafts Festival Nov 3
Channeling Weekend Nov 9-10
Exit Zero Jazz Festival Nov 9-11
Christmas in Cape May Nov 16 - Jan 1, 2013
Holiday Crafts Fair Nov 23-24
Dickens Extravaganza Dec 2-4
Christmas @ The Queen Victoria Dec 24-25
Wine Blending Weekend, Feb 22-23 2013
Big Cheesy Weekend Mar 1-2, 2013
Anna Marie's Birthday Challenge Mar 8-9, 2013
St Patty's Irish Whiskey Challenge Mar 15-16, 2013

Sure, Summer is now a memory (a good one, of course), but Cape May is still brimming with visitors and excuses for you to join their ranks. In fact, the leaves dropping off the trees signal the beginning of the "Event Season" in Cape May.

Cape May has done an extraordinary job of sponsoring fun events to attend in the Autumn months. Food & Wine Festival, Oktoberfest, Victorian Week, a SERIOUS number of Halloween events, the Exit Zero Jazz Festival, Sherlock Holmes Murder Mystery Weekend, the Dickens Christmas Extravaganza, and of course we celebrate Christmas here almost as long as your local department store does.

Cape May is also a Naturalist's paradise in the Fall, with many thousands of people flocking to here for some world class bird-watching and to experience the annual Monarch butterfly migration.

For MANY of our guests the Fall has become their preferred time to visit, with smaller crowds, a little bit slower, more relaxed pace (if you can imagine that), all of these wonderful events, and perhaps best of all, lower rates at The Queen Victoria.

If you haven't made a trip to Cape May in the Fall before, you should consider it. Yes, I mean this year!
---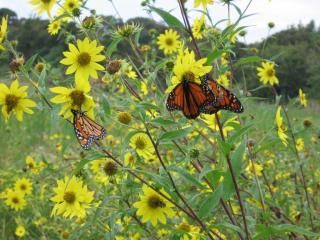 Monarch Butterfly Migration
---
Featured "Room of the Month" ... Westminster
Westminster is one of my favorite rooms in the inn. Located on the 2nd floor of the Prince Albert Hall building, it is a large, comfortable and pretty room. Westminster has 2 separate seating areas, including a very comfortable plush loveseat located in the romantic bay window area.
One of my favorite features in the Westminster room is the queen sized canopy bed, appropriately decked out with silky sheers. I really love the interesting Persian rug too.

Westminster is one of those rooms that our regularly returning guests often choose as their favorite. I'm not surprised.
---
Sherlock Holmes Mystery Weekend (Nov 2-4)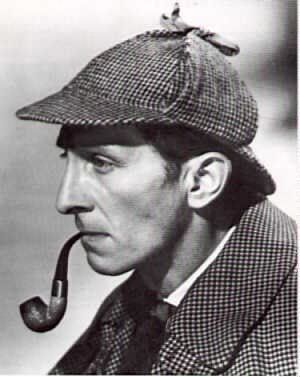 I love Sherlock Holmes, so it stands to reason that I should love the bi-annual Sherlock Holmes Mystery Weekends. In fact, I think that this is the most entertaining event that Cape May sponsors each year. Our guests who attend agree.

This time Sherlock and his trusty sidekick Watson need your assistance as they race into a maze of deceptions while they attempt to solve a murder before it happens. The possible victims are many, including the Queen herself. Choose the wrong one, and all will be lost.
So here is how it works. On Friday night you'll attend the 1st act of an original (new) Sherlock Holmes mystery play. You'll meet the characters and be introduced to the mystery. On Saturday you'll tour several of Cape May's beautiful inns, including The Queen Victoria, searching for clues to solve the mystery. Sherlock, Watson and the rest of the characters will join you in this quest, in character, where they'll interact with you to solve this mystery. If you're feeling intrepid, consider donning Victorian attire and be an "insider".

Saturday afternoon you'll gather for the 2nd act of the play and watch Sherlock work through the clues. On Sunday join Sherlock and the crew for lunch and submit your solution to the mystery. Prizes are awarded for the best solution as well as the "most clueless" submission. Though it is all in fun, the winner gets a $250 prize.
---
The Perfect Christmas Gift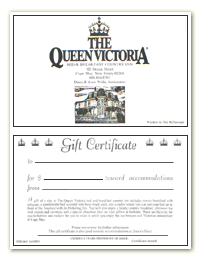 Yes, it really is time to start thinking about the perfect Christmas gift for those special people in your life. You've done socks, shirts, coats, hats, and all the other stuff that everybody already has and doesn't need any more of. Now you need to come up with something that they will REALLY love. Do I need to spell it out?
OK, it isn't a membership to the health club (that sends a bad signal, obviously). No, the perfect gift that will always be well received and treasured is a gift certificate to The Queen Victoria! Sure, it seems obvious after I mention it.

It is perfect in so many ways!
No chance of it not fitting
They'll be excited when they receive it
They'll get to think about it as they plan their trip to The Queen Victoria
They'll love it and think of you when they are at The Queen Victoria
It is EASY to purchase (online or over the phone)
Does not require wrapping, ribbons or bows
They'll be thrilled to receive another one if you've done this before (you really can't receive too many)
If it is for your significant other, then you'll get to enjoy it too!
I could go on and on, but you're getting the idea. Call us today, or visit our website and get the the perfect gift for your loved one(s).
---
Exit Zero Jazz Festival (Nov 9-11)
Yes, Cape May has a Jazz Festival again!

Though it isn't called the "Cape May Jazz Festival" anymore, it is likely to be a much BETTER jazz festival than we've ever had in Cape May before. The promoters of this new festival have a big vision to make the Exit Zero Jazz Festival a world-class event similar to the New Orleans Jazz Festival (they're even simulcasting it on a New Orleans radio station). They're kicking it off with a really great show.
Pictured above is Ramsey Lewis, who is headlining the show. Also featured are Christian McBride, the Captain Black Big Band, Nicholas Payton, Claudia Acuna and nearly 20 other acts. Like the Cape May Jazz Festival, the Exit Zero Jazz Fest will showcase artists in venues both large and small, including our wonderful new convention center.

Interestingly, this is really just a preview show. Exit Zero Jazz hopes to build their Marquis event in the June time-frame, starting next June. I can hardly wait to see what that one will look like. Stay Tuned!
---
Favorite Guest Photos ... Cape May Winery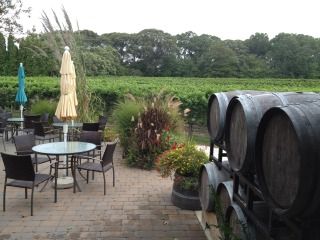 During the cooler months, or even the warmer Summer months, a trip to Cape May Winery is the perfect way to spend an afternoon. This photo was submitted by one of our guests a couple of weeks ago and I just had to share it with you.
This is a shot of the vineyard taken from the covered portion of the back patio. Clearly this is a charming place to hang out and enjoy the afternoon. I love the way the patio extends right up to the vines. I can just picture myself seated at one of those tables sipping on a great glass of wine and enjoying one of The Queen Victoria cheese trays.
---
Cape May Stage - Poe Times Two (Oct 31 through Nov 16)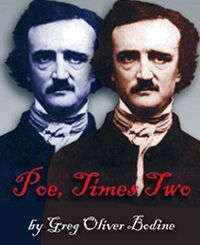 Anna Marie and I are proud to announce that we are the sponsors of Cape May Stage's upcoming Edgar Allen Poe production. This is what they have to say about the show ...

Visit Cape May Stage for a double-bill of short, one-man plays adapted from two classic Edgar Allen Poe stories of mystery and horror, "The Cask of Amontillado" and "The Black Cat". One actor. Two classic horror stories! An evening of thrills and chills -- a must-see for Poe enthusiasts and fans of mystery and horror. A perfect treat for the Halloween season!
Since we are sponsors of this show, our guests have an opportunity to enjoy a special afternoon "Meet the Cast" discussion on Saturday Nov. 3 at 4:15 and also enjoy the show that evening for only $20 (exclusive Queen Victoria pricing). I suggest a nice dinner at the Merion Inn between the discussion and the play that evening. What a wonderful way to spend your day in Cape May!
---
Special Discount Packages at The Queen Victoria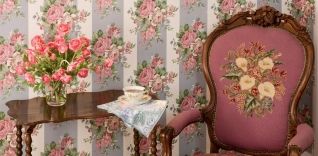 'Tis the season for great value at The Queen Victoria. If you're looking for an inexpensive escape to Cape May between now and the end of April, you'll be interested in this.

Starting in November The Queen Victoria features several wonderful money saving packages, including:
Great Christmas Escape (2 nights mid-week)
Cape May Uncorked (Free Washington Inn dinner)
Two Two Two (2 nights for $222, Sun thru Thurs)
Gourmet Getaway (2 nights & Dinner)
Winter Escape (2 nights, free wine tasting & cheese tray)
Restrictions apply, of course, so be sure to visit our website and find out all the details. You'll be thrilled and amazed at the packages we've designed for you to enjoy.
---
St. Patrick's Day at The Queen Victoria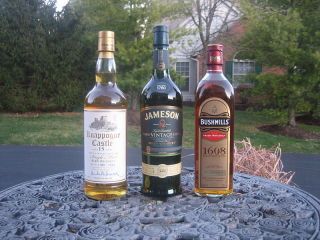 I don't think it is ever too early to start planning for a fun weekend, so I just had to feature our newest event again this month. On Saturday, March 16 (OK, 1 day early) we'll be celebrating St. Patrick's Day in a fun new way.

I've recently acquired an affinity for Irish Whiskey (in moderation, of course) and it occurred to me that I could parlay it into a fun event. What could be more appropriate than an Irish Whiskey Challenge on St. Patrick's Day? It seems like a perfect match.
Now I'm guessing that anyone interested in attending this event already has a favorite Irish Whiskey. If each of us brings a bottle of our favorite, mine happens to be Tullamore Dew, we'll all have a chance to sample and evaluate everybody's favorite. I wouldn't be surprised if a few of us change our opinions in the process.

I'm guessing we'll have a few duplicates, but I'm sure that won't be much of a problem. We'll be providing a selection of traditional St. Patrick's Day fare, so we'll all have something to eat to get through this event.
---
Doug & Anna Marie's Restaurant Pick Of The Month ... Tishas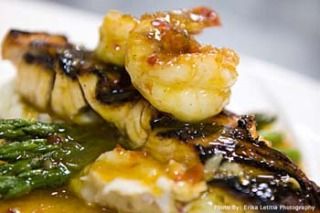 Most of our guests agree that Tisha's is one of Cape Mays finest restaurants. I probably get more rave reviews about Tisha's than any other restaurant in town, in fact. Maybe from you!

For those of you unfamiliar with this gem, Tisha's is located in the Washington Street mall, between Jackson and Perry streets (near the other end of the mall). It is a delightful Italian influenced seafood restaurant with two dining rooms that offers a wide variety of seafood, steaks and pasta dishes. In the warmer months they also have outdoor seating in two different areas. Like most of my favorite places in town, Tisha's is a BYOB restaurant, which happens to be conveniently located near Collier's liquor store if you happen to arrive empty handed.
Tisha's has a generous menu with something for just about everyone. Anna Marie and I both have several favorites on the menu, including the Seafood Risotto, Steak au Poivre, Thai Salmon, and Peppered Shrimp & Crab Cake. We never manage to make it to dessert.

Another thing we like about Tisha's is that they are open almost as much as we are, serving lunch and dinner year-round. I think they'll be closed for a couple of weeks this January, but other than that you can count on Tisha's for a wonderful meal during your visit to The Queen Victoria. Tisha's is also one of our restaurant partners for our Gourmet Getaway package.
---
Make your reservations today for a romantic getaway at The Queen Victoria Bed and Breakfast. We are looking forward to helping you plan your next visit!

Sincerely,


Doug & Anna Marie McMain, Innkeepers

The Queen Victoria Bed and Breakfast
---
phone: 609-884-8702