Cape May Forum: "Chautauqua at the Shore", Oct 8-11
Many of you may have heard of Chautauqua before. I must admit that I was unfamiliar with it until a couple of years ago. Generally speaking, Chautauqua was and is an adult education movement that started in the early 1900s. High profile experts and specialists in the Arts, Religion, Politics and Current Events come in from around the world to perform and speak about their fields of expertise. President Theodore Roosevelt was quoted as saying that Chautauqua is the "most American thing in America". High praise, I'd say.
After years of efforts on the part of many people, the dream of creating a Chautauqua in Cape May is coming to fruition. In it's inaugural season this October, the theme of the 2010 Cape May Forum is "Humor: Can it Save the World?". It probably can, and there will be some seriously funny (yes, pun intended) and knowledgeable people coming to Cape May to explore the possibilities, including: John Morreall, Ph.D., writers Tom Cathcart and Daniel Klein, Petie Subin, Sassi Keegan, and Mary Dimino. All of these folks have serious humor credentials and will be sharing their knowledge and humor with all comers in Cape May.

We are really excited about this new program/event. I'm pretty sure that the Cape May Forum will become a big part of the Cape May scene in years to come and I'm thrilled to be here to see it happen. I know that you'll want to be a part of it too.

Call us soon to book your rooms, though, as this is a VERY popular weekend which coincides with Victorian Week and the Cape May wine festival. Our rooms are going fast.
---
Designer Show House, through Jan 2, 2011
This year's Cape May Designer Show house is open and looks great. Anna Marie and I attended the Gala Opening the other night and really enjoyed it. It is a little different than our previous show houses because it is in an operating bed and breakfast. That means that only the first floor spaces are open, but they are magnificent. The good news is that the price is half of what it has been in past years, so it is a great entertainment value.
The location can't be beat this year either ... it is right next door to The Queen Victoria. If you're looking for something new and dfferent to do this year, check out the show house. I think you'll enjoy it.
---
Victorian Week, Oct 8-14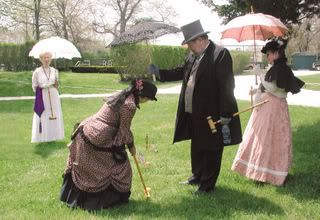 Victorian Week starts this October 8th and runs through the 14th. I was just scanning the MAC (Mid Atlantic Center for the Arts & Humanities) website to see what the scheduled events were and I was stunned. Any hopes I had of copying & pasting the events into this article evaporated instantly when I saw just how many events are scheduled. I'm not exaggerating when I tell you that there are over 100 scheduled things to do during Victorian Week. I'd say that might just qualify Victorian week as the best time to visit Cape May.
Seriously, Victorian Week is a wonderful event that we look forward to every year. When was the last time that you saw people walking around town in Victorian attire? It happens every day in Cape May during Victorian Week. Of course, you don't have to get dressed up to enjoy it. I will say that last year we had 3 ladies stay with us who each had 3 Victorian gowns that they rotated through during the course of their stay. They were all beautiful women and all looked magnificent. In fact, they'll be back again this year so you won't even have to leave the house to see what a Victorian lady dressed like.

The only bad thing about Victorian Week (from your perspective, anyway) is that we tend to book up pretty early for it. We still have availability, but we've been taking a lot of reservations lately and the rooms are going fast. If you want to treat yourself to a wonderful experience and a great time in Cape May, give us a call soon.
---
Cape May Wine Festival, Oct 9-10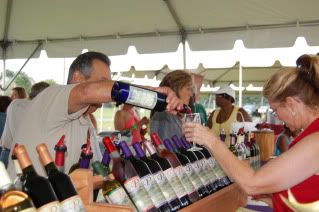 October 9 & 10 is the date! That is when the New Jersey Wine Growers Assocation's "Cape May Wine Festival" returns to Cape May. This is the event that Anna Marie and I look forward to all year long! Yes, those of you that know us well know about our appreciation for wine, but it goes beyond that. This is a FUN event, even for people who don't drink (I'm serious).
Each year about 25 wineries set up shop in Cape May to share their craft with visitors and locals alike. They set up tasting tents in a circle around the meadow at the Cape May Ferry terminal where thousands of people stroll from tent to tent sampling and purchasing wines from all over New Jersey.

Anna Marie and I like to make a day of it by bringing beach chairs, a blanket and a picnic basket. There is always a live band, food vendors, craft & gift retailers and enough good times to easily fill a day. There is something truly magical about watching the sun sparkle on the Delaware Bay in the background and watching the Ferrys come and go while sampling wines from all over the state.

You might have noted that the dates of this festival coincide with Victorian Week and the new Cape May Forum. That means two things: 1) There will be lots of great things to do while you're here 2) There will be lots of people coming to Cape May and rooms will be scarce. This last point is the significant one for you. Call us soon to make your reservations!
---
Cape May Jazz Festival, Nov 12 & 13
As hard as it is to believe, the Cape May Jazz Festival is returning in about 9 weeks already! Sure, summer will be over by Nov 12th, and winter will be fast approaching, but the music will be HOT for the 17th annual Cape May Jazz Festival. In April our friends at Cape May Jazz brought us the incredibly exciting, talented and popular band Spyro Gyra. I'm pleased to say that they've managed to top that spectacular act for their fall festival.

The headliner this time around is the Yellowjackets, a band that has achieved wide popularity and fame throughout the world for many years. For a long time Cape May Jazz seemed very focused on traditional jazz and fans of fusion movement like me always felt a little left out. Obviously I'm thrilled that the mindset has changed a bit and we're being treated to great new jazz sounds.
If you've never been to Cape May for Jazz Fest, then you can't imagine the energy and excitement that is visited upon our fair town. There are great acts all around town all weekend long, with music bursting out of every imaginable venue. Anna Marie and I bought a pass last April and spent an entire evening bouncing from one act to another, all over town. What an amazing experience!

If you love music and Cape May, then start planning your visit soon. Don't wait, our rooms are going quickly!
---
Upcoming Events
Designer Show House - Jun 25 - Jan 2
Victorian Week Oct 8-14
Cape May Wine Festival Oct 9-10
Cape May Forum "Chautauqua" Oct 8-11
War of the Worlds Oct 29-30
Halloween in Cape May Oct 15-31
Sherlock Holmes Mystery Weekend Nov 5-7
Christmas Preview weekend Nov 19-21
Christmas in Cape May Nov 19 - Jan 2
New Years in Cape May Dec 31

The "mums" arrived the other day (we're still planting them), the temperatures have dropped a bit, and the Fall events are in full swing. Yes, Fall is here and I'm pleased to tell you that Cape May is still the place to be. This weekend brings us the 1st ever Renaissance Festival at Willow Creek Farm vineyard, the Octoberfest on Jackson street, and the scarecrow decorating contest at the Emlen Physick estate. Next weekend is Victorian Week, the 1st ever Cape May Forum (Chautaqua at the Shore), and the NJ Wine Growers Cape May Wine Festival. Two weeks later Halloween and the "War of the Worlds" mystery event. I'm telling you, I'm having a hard time keeping up with all this stuff. How can one small town host so many events in such a short period of time? I guess it is just part of the magic of Cape May.

When I write these newsletters, I should really be focusing on the next season, though, so let's start talking about Christmas. Seriously, it is time to start thinking about your Christmas trip to Cape May. You know, the December trip to The Queen Victoria that you've been talking about for the last couple of years every time you are here. Yes, that is the one! It really is time to make your Christmas wish come true this year. It is hard to describe just how festive and special Cape May is during the Christmas season. It really is incredible. There are so many lights all over town to see, interesting tours and events to be a part of. Thinking about it, though, there should probably be a warning by the attorney general or somebody in authority ... "Warning: participating in a Cape May Christmas event can be addictive and may lead to long term desire to return every year". The world is full of dangers out there and a little warning every now and then can be so helpful. Just doing my part.
---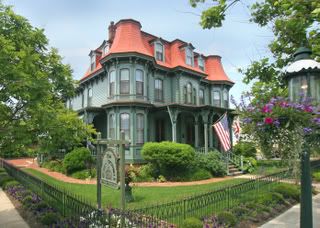 ---
Featured "Room of the Month" ... Prince Alfred
Looking for our best ocean view with a magnificently large private balcony? Look no further. The Prince Alfred room, which is located on the 2nd floor of the House of Royals is just what you are looking for.
Prince Alfred is not our largest room, but has certainly become one of our most popular rooms. With its 11.5 high ceilings, beautiful wallpaper, and interesting "pocket window" doors, which access the balcony, it charms you from the moment you enter. Speaking of the balcony, let me just say that it is BY FAR our largest balcony, with 2 sets of rocking chairs. What I really love about the balcony is that it wraps around the corner of the building, leaving one side or the other in either sun or shade all day long. Of course, it is also has our best view of the ocean just a block down the street.

Because Prince Alfred has become so popular, I strongly suggest booking it well in advance. There are still some openings for next summer, so call us today if this sounds like the room you want for your next shore vacation.
---
The Ultimate Halloween - War of the Worlds Weekend
The ultimate Halloween alternative! If you have been drifting in the wind your whole adult life searching for a way to actually enjoy Halloween again, look no further. This October 29-30 The Queen Victoria is proud to be partnering with "Looking Glass Mysteries" to present the most interesting, challenging and fun Halloween event ever in Cape May (or probably anywhere, for that matter).
Seventy two years after their initial landing in Princeton Junction, the Martians will be returning to Earth for another invasion. Unfortunately for them their supply pod will be crash landing in Cape May and their invasion is doomed without it. You can imagine the frantic search, by both the Martians and the stalwart earthlings who hope to repel them, for this supply pod.

Imagine being a part of this historic occurrence. You could be the one to literally save the Earth from the invaders. On the other hand, you could be one of the invaders and take over the world. Don't you just love choices?

I've been talking with "Denham", who is the producer/director of this incredible event and I am literally stunned at the way this event is shaping up. The couples that have already booked their rooms and signed up for the event are already receiving clues and working on cyphers to try to sort this mystery out. Some are Martians, some are humans, but all of them are already enjoying their Cape May experience a month before it even takes place.

To say that Denham is a creative genius understates the case considerably. He is pulling out all the stops in creating this audience participation mystery event to top all others. There will be clues, there will be tours, there will be casualties (maybe you), but mostly there will be a great time to be had by all.

The "War of the Worlds" package includes a wine & cheese reception on Friday night, a 4-course dinner at the Mad Batter on Saturday night, souvenirs for all participants and prizes for the winning couples in a few different categories. We still have a couple of rooms available for the Halloween weekend, so call us today to book yours. If you're already booked for the weekend but not yet participating, it isn't too late. Just give us a call.
$125
per person (in addition to your room)
---
The Convention Hall NEWS
Talk about drama! It is hard to imagine a more dramatic and ridiculous series of events than the story of our convention hall. Leave it to a small town to get mired in politics and intrigue. Hopefully, though, it is just about over.
So here is where we stand today. The convention center has been downsized. The new plan calls for the demolition of the current convention center and the solarium next to it within the next month or so. The new design will be a one story building, instead of the two story design initially approved, and will not include a restaurant as originally planned. Fortunately, it will definitely be larger and more comfortable than the current convention center and will certainly be capable of hosting most of the larger events in Cape May with 970 planned seats.
---
Favorite Guest Photos ... Christmas Porch
As hard as it is for me to let go of summer (and switch to long pants for the season), I must admit that I really love the Christmas season at The Queen Victoria. Since there are really only a few months that it makes sense to share Christmas photos with you, I thought I would share this one with you.
This was taken last year by some of our favorte guests who make a point of visiting us every Christmas season. Interestingly, they also submitted some great shots of sunny days on the beach. The advent of the Christmas season does not necessarily mean cold weather, after all (note the blooming flowers in the foreground). This is probably the best porch Christmas shot of The Queen Victoria that I've ever seen, and believe me I've tried to take many myself.

By the way, while we are always telling everybody about our 6 trees that we decorate every year, these two don't really count ... they're just miscellaneous decorations.
---
Doug & Anna Marie's Restaurant Pick Of The Month ... Tisha's Fine Dining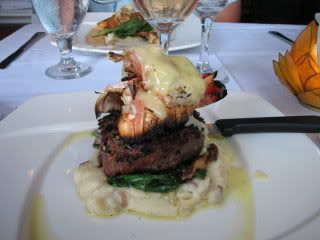 Tisha's has long been a favorite of many of our guests. Anna Marie and I have enjoyed many wonderful meals at Tisha's over the years too. At the end of the season last year we thought that perhaps Tisha's was gone for good, as they had lost their lease on the solarium due to the impending construction of the new convention center. We were thrilled to hear that they had secured a new location on the Washington Street Mall, in the former location of Stumpos (yes, we do miss Stumpos). After an agonizingly long construction effort, Tisha's managed to salvage a little bit of the summer season by opening on July 23, 2010. Their new location offers them many new opportunities and they seem to be doing wonderfully there. We were a little curious if people loved Tisha's for their view at their old location or for their food. While everybody did love the view, it looks like the food was equally adored, as most everybody has been clamoring for a visit to their new location.
It took Anna Marie and me a while to get Tisha's new location for the first time, but it was worth the wait. We walked in one Wednesday evening late in the summer without reservations (don't try this yourself, it might not work out for you) and were seated right way in their front dining room. We could have dined in one of their outside dining areas, but it was a bit chilly that evening. The dining room was very charming and elegant in a comfortable, casual way. I've got to say that the service was incredibly good and our waitress was as good as any I can ever remember. The food was delicious as always, starting with a wonderful house salad, which is included with every entree. I ordered one of their specials, which was a wonderful pasta dish served with scallops, shrimp and muscles in a light tomato sauce. It was incredibly good. Anna Marie ordered the Fire Grilled Filet au Poivre. Both meals were excellent.

Tishas does a great job in so many ways. One of the things that we really love is the sorbet they bring between courses to clear the palate. So refreshing and so nice!
---
Make your reservations today for a romantic getaway at The Queen Victoria Bed and Breakfast. We are looking forward to helping you plan your next visit!

Sincerely,


Doug & Anna Marie McMain, Innkeepers

The Queen Victoria Bed and Breakfast
---
phone: 609-884-8702