The Perfect Gift ... Gets Better!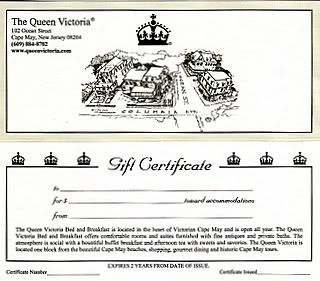 A Queen Victoria gift certificate has always been the PERFECT Christmas gift idea (trust me on this, I've worked through it many times). This year, however, we're making it even better! I know it is hard to imagine how anything could be better than a gift certificate to The Queen Victoria, but I think you're really going to like this.
Whoever you give a gift certificate to this Christmas season will receive an additional gift from you upon their arrival at The Queen Victoria for a shopping spree in our gift shop. Imagine it, they'll check into their room and find an envelope containing a gift shop certificate worth 10% of the gift certificate you gave them. It will include a little message from you saying "Have a great time!" which will bear your name. This really is the gift that keeps giving.

This special gift certificate offer is good for all gift certificates purchased between November 1st and December 24th (including those that have already been purchased this month).
---
Cape May Winery ... A great destination
Lots of you ask us where Anna Marie and I travel when we take vacation. If you know us very well, you may not be surprised to hear that one of our favorite things to do when we go on vacation is to go wine tasting. That is why I'm thrilled to say that we've got a pretty darned good winery just a few minutes from The Queen Victoria!
As it gets a little cooler in Cape May the focus of our visitors shifts away from the beach and towards other enjoyable activities. For many, a visit to Cape May Winery is at the top of that list. Cape May winery is open 12-5, every day of the week.

Anna Marie and I usually suggest making an afternoon of it, by taking a lunch or a cheese tray (from Seaside Cheese) over to the winery and enjoying it over a glass (or two!) of wine. Imagine how much fun it will make the tasting if you know the goal is to pick the perfect wine to enjoy with your lunch or cheese tray. I know that most people don't think of New Jersey first when they think of wineries, but let me tell you, Cape May winery is producing some excellent wines.

By the way, this Nov 28, 29 & 30 Cape May Winery is pariticipating in a Wine Trail Weekend, where every winery is pairing food with their wines. Cape May Winery is presenting their signature soups (complimentary, of course) to enjoy while you're tasting.
---
The Girlfriend Getaway
Last time I mentioned that our seasonal weeknight specials were back. For the next few months I'm going to feature each package, one at a time. I'm starting with the Girlfriend Getaway.
This is Anna Marie's favorite package. Who would have ever guessed that she would be interested in shopping? To be fair, it was her idea and she is the one that did all the legwork for it, so it is only natural that she get excited about it. Even I'm excited about it and I really don't like shopping very much at all. Besides, this is one of our very best specials.

What is it? How does two nights in a luxury suite and $100 in shopping vouchers for $350 sound? That breaks down to $125/night and an excuse to shop. What woman could resist that? You always hear about male bonding, but what about the ladies? This is your big chance. This special is available Sunday through Thursday, November through April (holidays excluded).

One more thing to think about ... what a perfect way to kick-start your Christmas shopping!
---
Dickens is Back!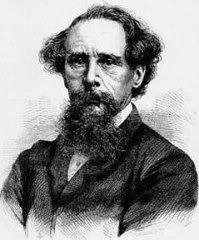 Charles Dickens is certainly one of the most enduring writers of the Victorian era. Here at The Queen Victoria we are especially fond of the old fellow because of the wonderful 3 day festival that Cape May hosts every year in his honor. This festival started at The Queen Victoria, which is something we're very proud of.
This year's festival looks to be another wonderful time and we're getting excited about it. As always, this year we have several new and exciting events that make up the festival. Of course, we always do a few extra things to make your stay at The Queen Victoria during the festival even more special.

If you're looking for the perfect way to kick off the Christmas season in a truly interesting and different way, then you should seriously consider attending this year's Dickens Extravaganza. You'll be happy you did.
---
The Queen's Christmas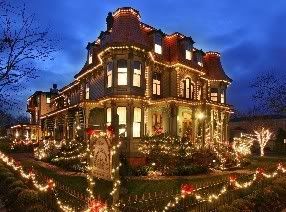 As Thanksgiving approaches, most of us are already looking past it and planning our holidays. Where are we going to spend Christmas? Who is cooking for the family? What gifts should I get for my loved ones. Sometimes these are easy questions to answer. Sometimes they are not. For those of you who fall into the latter category ... I'm here to help you.
First of all, if there is any question about where to spend Christmas (a question like "who is volunteering to take this on this year"), then I can only suggest finding a perfect neutral location where everything is easy, relaxing and purely pleasurable: The Queen VIctoria. Seriously, spending Christmas with us answers all of these questions. The gift giving gets particularly easy ... you can give each other your stay at the inn. Really, it doesn't get any better or simpler than this. You have to start planning soon though! Christmas is fast approaching.
---
Last Chance for Thanksgiving!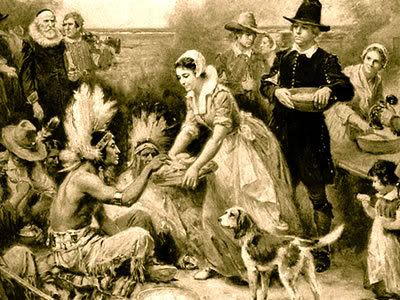 Yes, I'm still pitching The Queen Victoria for Thanksgiving. I guess you're probably thinking that I would shamelessly suggest The Queen Victoria for just about any occasion (which is true, of course). However, I really, truly, sincerely and honestly (can I be any more expressive?) believe that Thanksgiving at The Queen Victoria is a wonderful experience.
I've already plied you in previous newsletters with all the reasons this is true. You know about the ease of not having to shop for, cook or cleanup the meal. Not having to spend a few days "super cleaning" your house for your relatives visit is obvious to you. I know you realize that spending Thanksgiving at The Queen Victoria saves you from having to deal with the (ridiculous) "Black Friday" shopping experience. What you may not be aware of is that we'll be decorated for Christmas! That's right, it is a two-for- one. Reserve a room for Thanksgiving and enjoy the charms of Christmas as well (this is only for those of you who absolutely cannot come spend Christmas with us, of course).

So, you've got all the reasons. Now you have to act. Really, it is time to go ahead and make the decision. Have you forgotten how good it feels to make a decision like this and move onto the important things in life? Really, you need to do this for yourself. Call us today.
---
Upcoming Events
"This Wonderful Life" at Cape May Stage Nov 21 through Dec 28
New Jersey Film Festival Nov 21 - 23
Cape May Christmas Preview Nov 21,22
Cape May Winery "Soups Days" Nov 28 - 30
Thanksgiving at The Queen Victoria Nov 28 - 30
Cape May Christmas Parade Dec 6
Cape May Christmas Tours Nov 21 thru Jan 1
Dickens Extravaganza Dec 7-9
Christmas at The Queen Victoria Dec 24-25
Valentines/Presidents Day Feb 13-15

I think people fall into two basic categories: Those who love to come to Cape May at Christmas, and those who want to visit Cape May at Christmas. What about people that don't celebrate Christmas, you might ask? Well, I can only refer them to the MANY non-Christian guests that visit us every year to enjoy the spectacle of Christmas in Cape May.

The lights, the decorations, the special tours and events and the festive feeling that permeates the town offer something for everyone. One needs only to visit The Queen Victoria at Christmas to know that something special is happening in Cape May. Even the most die-hard scrooge can't help but enjoy himself.
---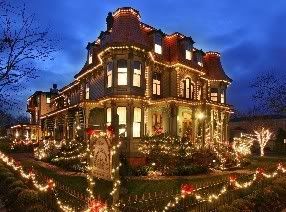 Just a few lights
---
Featured "Room of the Month" ... Knightsbridge
Believe it or not, this is the 20th room I've profiled since I started doing these newsletters. What a great way to get a tour of the inn! Only 12 more rooms to go. Do you have a favorite yet?

Knightsbridge is one of my favorite rooms, and I know that MANY of you wouldn't stay anywhere else.
Knightsbridge is located on the third floor of our Prince Albert Hall building. With windows on three sides, one with an ocean "glimpse" (if you can't see the sand, you can't call it a view), canopy bed, and cozy seating area, Knightsbridge is a favorite of many long-time guests. The bathroom in Knightsbridge is quite special, with a garden sized whirlpool tub (an oversized one-person tub), large stained-glass window, and bright cheerful "tube light". Knightsbridge is also very private, and is conveniently located near our roof deck. The deck isn't private for this room, but most other guests never find it!
---
Showing Soon at Cape May Stage ... This Wonderful Life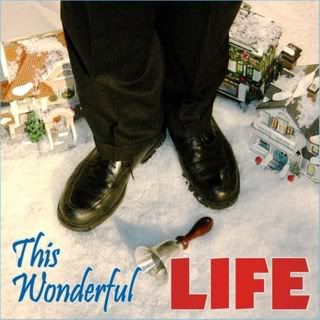 Admit it, you've watched "It's a Wonderful Life" more times than you can remember. You've watched George stumble through his life (and nearly end it) many times. Isn't it amazing how even though we know exactly how it ends, we still watch it until the end evey time?
This year Cape May stage is bringing George Bailey's life to life with their presentation of "This Wonderful Life". This one man show is an amazing adaptation of the classic movie which is so believable that you'll actually think Jimmy Stewart is on the stage (along with all the other original characters). I was delighted with this show when I first saw it a couple of years ago and I'm looking forward to enjoying it again this Christmas Season.

"This Wonderful Life" premiers on November 21 and runs through December 28th.
---
Most Romantic Inn
A few weeks ago we emailed all of you asking you to consider casting a vote for The Queen Victoria as the "Most Romantic Inn". Perhaps it was the election fervor in the air that put everybody in the voting mood, but I must say that your response was tremendous. We can't thank you enough for taking the time to cast your ballot for The Queen Victoria.
Judging from the conversation I had with the owner of the website the next day, I can only say that I think you have placed The Queen Victoria at the top of the list. The rankings aren't out yet, but it was my impression that they had never had so many postings and were actually a little overwhelmed by them. Several hundred of you voted for us (though some of you forgot to put the word "romantic" in the title ... I think they'll count them anyway) in what I'm sure is the biggest landslide victory to date. We can only say THANK YOU!
---
A New Convention Center for Cape May
Last year I maintained a column in my newsletter keeping you all abreast of the progress of our Mall restoration project. In that proud tradition I am now reporting on the status of Cape May's convention center.
If you've been keeping up with our local news then you might be aware that our current convention hall was condemned late last Spring. Perhaps you saw this sad structure looking even more forlorn than ever during your last visit. You might also have heard that replacing this structure has become even more controversial than last year's mall restoration project. I wasn't too surprised to discover that the same cast of characters were throwing up roadblocks in the path of both projects. These "obstructionists", as one local writer has labeled them, managed to derail a planned bonding issue and forced a referendum. Happily, common sense prevailed and plans are under way to build a beautiful new facility.

This is great news because so many of our great events throughout the year utilize this venue and have been struggling all year long (our Music Festival, the Jazz festival, countless craft fairs, and the New Jersey Audubon Society event to name a few). I'm not sure if this drawing represents the latest design (that was controversial too), but it gives you an idea what is in store. It is currently scheduled for a May 2010 grand opening, and I believe demolition should start soon. I'll have my camera ready so I can keep you informed.
---
Favorite Guest Photos ... Prince Albert Hall Garden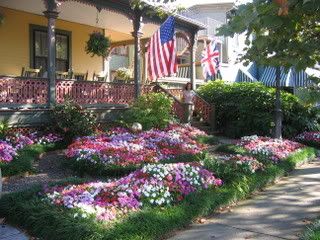 OK, I'm making a bold move here and breaking with the general "Holiday Season" theme with this photo. Sure, I could put up another picture showing our guests enjoying themselves during Thanksgiving or Christmas. I could even show a photo giving you all a peak of just how incredibly beautiful The Queen Victoria looks decorated for Christmas. But no, I've elected to not dangle any more tantalizing photos of the Holiday season at The Queen Victoria. I wouldn't want you to think I was trying to persuade you to come visit. Instead, I'm just going to show you a really pretty picture that the Bezeks sent me the other day.
I have to say that this is one of the best photos I've ever seen of the front garden at Prince Albert Hall. Seriously, the only thing prettier than the garden in this picture is the lovely Mary Lynn standing on the porch steps. I guess the photo speaks for itself, but you know I can't resist an opportunity to express an opinion. I love the lighting or shading, as the case may be, the colors, of course, and the fact that they managed to get the entire garden in the shot without including any vehicles. Not even the professionals could do that!
---
Doug & Anna Marie's Restaurant Pick Of The Month ... Panicos
Have you ever found a restaurant that you'd be willing to dine at several times a week? Panicos is that kind of place. Panicos just opened up this year (to wide acclaim in the local press, by the way), and Anna Marie and I have come to love it there. I ate there 3 times last week!
Technically, I guess Panicos is a Pizza Place. Afterall, the sign over the door reads "Brick Pizza Oven". That doesn't begin to describe it. Even though I personally think that Panicos has the best Pizza in town, it just doesn't seem like a pizza place. Actually, it feels like a contemporary, fairly hip Italian restaurant. The setting is wonderfully comfortable, with high ceilings (imagine that), large, roomy tables, a wonderful brick oven (as advertised) in the center of the room, and a bright atmosphere. There is an extensive Pasta menu with some wonderful offerings, as well as a nice entree menu.

One of the things people comment on the most about Panicos is their salad. Order the family sized house salad for $11. Really, you have to order the salad. Did I mention the bread? They have the BEST bread I've ever had anywhere. I could easily make a meal of it, but then I'd miss out on everything else. Oh, and Panicos is a BYO, which makes it perfect! You definitely need to try Panicos on your next visit.
---
Make your reservations today for a romantic getaway at The Queen Victoria Bed and Breakfast. We are looking forward to helping you plan your next visit!

Sincerely,


Doug & Anna Marie McMain, Innkeepers

The Queen Victoria Bed and Breakfast
---
phone: 609-884-8702