Sherlock is Back (Last Chance)!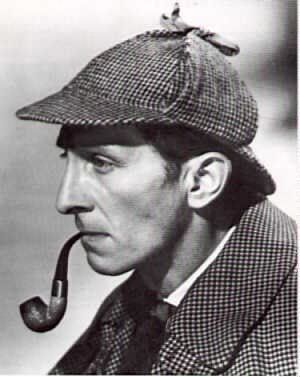 You may have heard me say that the Sherlock Holmes weekends, especially the November version, are my favorite events of the year. I'll say it again here. Without exception, our guests that attend have a great time. It is just one of those special events you come across once in a while that is just plain FUN. Most people that come to Cape May for this event, do it again the next year.

So the esteemed Sherlock is returning to Cape May the first weekend of November to continue his proud tradition of sleuthing. This time Holmes, Watson and his cast of characters will be attempting to solve the mystery of an attack on our very own president Benjamin Harrison, but he needs your help!
Why is it so much fun? Part of it is the mystery itself, as presented in a stage performance by our great case of characters. The main event, though, is the hunt for clues through several bed & breakfasts all over town, along with the cast (in character). There are prizes for best and worst solution, and if you're truly inspired, don your best Sherlock outfit and compete for the best costume prize. You'll be in good company, as the "Baker Street Irregulars", a group of afficionados dressed as street urchins and the like, prowl the streets of Cape May each year attempting to solve the mystery with you.

We only have 5 rooms remaining for this weekend, so call us today to make reservations for this wonderful weekend. This event ALWAYS sells out, so don't wait too long!
---
Thanksgiving at The Queen Victoria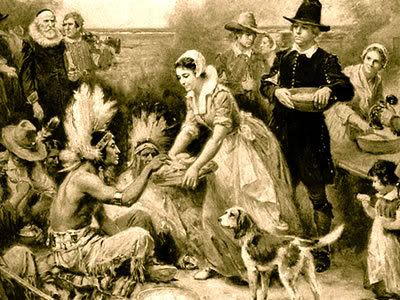 Anna Marie and I have so much to be thankful for, so we're always looking forward to Thanksgiving. Keeping with tradition, we're celebrating Thanksgiving here at The Queen Victoria again this year.
Lots of folks think of family and home when they think of Thanksgiving. For many of our guests, though, spending Thanksgiving at The Queen Victoria is a wonderful alternative when situations are a little different.

When kids are off at college, or maybe spending Thanksgiving with their in-laws, home might seem a little quiet. For many families, The Queen Victoria is a wonderful "nuetral" and central location for a family gathering, especially for families spread out and coming together for the holiday.

One big bonus about spending Thanksgiving at The Queen Victoria is that you get a head-start on Christmas. That's right, we'll be fully decorated for the holidays by Thanksgiving this year.

We help make the day special by turning tea into a special hors d'oeuvres holiday reception. Dinner at Union Park completes the day with a wonderful and intimate 4 course dinner.

If you're plans for Thanksgiving are up in the air, give us a call. We'll be happy to be your home for the holiday.
---
Dickens Holiday Extavaganza
Sure, you struggled through a few stories by Charles Dickens in high school, but if you stop and think about it, you really do love Charles Dicken's works. Admit it, you could watch "A Christmas Carol" every year. Who doesn't love "Oliver Twist"? You're definitely a bigger Dickens fan than you realized. Charles Dickens was like the John Grisham of his day (that is actually quite a compliment to John Grisham). People literally waited in line to purchase each installment of his stories, which were often presented serially, one chapter at a time.

The first week of every December Cape May hosts the wonderful Dickens Holiday Extravaganza. This event is a treasure that should be experienced by anybody who has a true love of Cape May, the Victorian era and Charles Dickens' wonderful literature.
This year's event promises to be one of our finest with feasts, house tours (including the Designer Show House), stage presentations and discussions and review of Dickens' fabulous work "Bleak House", as well as various aspects of Christmas in the Victorian era.

This year, in addition to our traditional hor d' oeuvres reception, The Queen Victoria will also continue the tradition of treating our guests to the "Welcome" dinner. Did I mention the 10% discount off of your room?
---
Christmas at The Queen Victoria!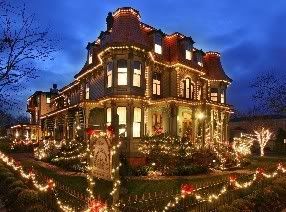 Christmas is THE original Victorian tradition. Christmas as we know it really did originate in Victorian England, popularized by none other than Queen Victoria and her husband Prince Albert, who brought the tradition from his German homeland. We honor and celebrate that proud tradition every year at The Queen Victoria.
In fact, The Queen Victoria has a proud Christmas tradition of its own, spanning over 25 years. Each year we welcome back many couples and families to share Christmas together at The Queen Victoria. We've got special holiday receptions, special Christmas Eve and Christmas dinners, little elves with Christmas surprises, and enough joy to fill any stocking!

Christmas is a special time to spend at The Queen Victoria. We're still taking reservations for the Christmas holiday, so call soon to reserve your room.

If you can't spend Christmas at The Queen Victoria, but still want to experience Cape May at Christmas, the entire month of December is "Christmas in Cape May". There are special tours, lots of lights, great shopping, sleigh rides (actually, horse carriages with sleigh bells), and lots of festivities all the time. Don't forget the shopping! Think about it. Doesn't Cape May sound better than "The Mall"?
---
Back by Popular Demand ... Seasonal Specials
Wow! Last year we introduced a few new specials for the cooler months and judging from your response, you really liked them. So this year we're bringing them back. Yes, all of our seasonal specials are back: "Gift of Romance", "Two for Two", "Gourmet Getaway", and "Winter Weekend MADness".
All of these specials are available starting in November. The Gourmet Getway, Two for Two, and Winter Weekend MADness run through April, while the Gift of Romance runs into June (but is not available in Jan, Feb & Mar). All except the "Winter Weekend MADness are weeknight specials, including Sunday evening.

All four of these specials are GREAT deals.
---
Upcoming Events
Victorian Week Oct 5-14
Cape May Wine Festival Oct 6-7
Halloween in Cape May Oct 24-28
Sherlock Holmes Weekend Nov 2-4
Thanksgiving at The Queen Victoria Nov 21,22
Dicken's Christmas Extravaganza Dec 2-4
Christmas in Cape May Nov 16 thru Jan 1
Christmas at The Queen Victoria Dec 24, 25

If you've spent much time talking to Anna Marie or me you're probably aware that we try not to refer to Summer as "Our Season". The reason, of course, is that every season is special in Cape May. In fact, many of you look forward to the end of Summer so you can return to Cape May for your favorite time.

That not withstanding, I'm the first to admit that we are busier in the summer than any other time. This year was no exception, thanks to those of you who stayed with us. We had a wonderful summer this year in every way. Our weather, with the exception of only one week, was nearly perfect. The water was warm and full of frolicking dolphins. We met so many wonderful first time guests. Most importantly, we welcomed MANY, MANY of you back again.

Anna Marie and I can't tell you enough how much we appreciate you returning to stay with us. It isn't just the fact that you're filling our rooms, of course. We know we have the greatest guests and friends possible. You make this business a wonderful way to spend our lives with your enthusiasm about The Queen Victoria and your interest in our lives, both past and present.
---
Cape May is for Wine Lovers
I'm calling it official. Cape May now has a wine trail! I don't know if I'm the first one to make this claim, but I've never been shy about making bold pronouncements.

Anna Marie and I stumbled onto a new winery yesterday in our travels located right on route 47 called Natali Vineyards, just few miles north of Cape May (mile marker 12.9). We usually bypass this section of route 47, but some divine intervention must have inspired me.
This makes three wineries within 15 miles of The Queen Victoria; Cape May winery, Turdo winery, and now Natali. With three wineries don't you think we should be able to make the claim of a trail? Anna Marie and I are brainstorming about ways to get a shuttle or trolley tour that would travel to all three in a day. Stay tuned, I think it is going to happen.

Natali is the newest and smallest of the three vineyards, but I was very impressed by their wines and their aspirations. They've got plans to build a huge tasting room with banquet facilities and some really cool wine caves (no pun intended).

They also have lots of land to plant new vines, unlike our established wineries, so in the future they may actually be our largest winery. In the meantime, I highly recommend a visit to Natali vineyards. Stop in and taste some wines, and I'm sure you'll be taking some home with you.
---
Featured "Room of the Month" ... Prince of Wales
This month's room is already a favorite of MANY of you, but I can't keep it a secret from the rest. The Prince of Wales room is the original master bedroom of the Queen Victoria building, so it stands to reason it should be a special room.
If you like a spacious room, great ocean views from a turret window, and a room with lots of character, you're going to love the Prince of Wales room. Located on the 2nd floor of the building in the front left corner (if you're facing the front of the house), Prince of Wales features a queen sized canopy bed, a large seating area with as good an ocean view as you can get 1 block back from the beach, a wonderful original vanity sink in the bedroom, TV with DVD (not pictured because our photographers have a thing about TVs in their photos), and a large private bath with a clawfoot tub with shower. Like all rooms in The Queen Victoria, it is individually climate controlled.

If you like this room, and I'm sure you will, you'll want to book it well in advance. At the date of this writing, the Prince of Wales is booked all but 3 nights for the entire month of October, making it our most popular room so far this month.
---
Stay & Play Special ... STILL!
The "Stay and Play" package is still going strong. As part of our ongoing support for great theatre in Cape May, we've purchased 20 season tickets to the Cape May Stage. That means we have 160 tickets to give to our favorite guests. Of course, our favorite guests are those who stay for several nights!
If you book a 4 night weekend stay or a 3 night weekday stay, we'll be pleased to share our tickets to the Cape May Stage with you. These tickets have a $28 face value, so this is definitely a great deal. In fact, it is the only package we offer until November. Be sure to ask about the tickets when you reserve your room!

A new production called "Turn of the Screw" was just introduced last week and we've been hearing great things about it. We usually don't get to the new shows right away, but that just leaves more seats available for you! It sounds like this is another production you won't want to miss if you're visiting in the next month. I need to warn you, though, that it is supposed to be pretty spooky.
---
Migration of the Monarchs
If you've been in Cape May in the last few weeks you'll know what I'm talking about when I say that there are a lot of Monarch butterflies in town. I'm not talking about clouds of them, but it seems like every time I look up I see one of these beautiful creatures fluttering around our gardens or along the beach (who thought butterflies liked the beach?).
Every year in late September millions of Monarch butterflies pass through Cape May Point on their way south to Mexico. Lots of people come to Cape May at this time of year to watch birds, and many have discovered that the butterfly watching is just as wonderful and beautiful. Imagine seeing an entire tree covered with bright orange and black butterflies!

They apparently flutter down the coast into Cape May and await favorable winds before crossing the Delaware Bay on their way south. It amazes me that these creatures which were just caterpillars a few weeks prior instinctively know exactly where to migrate to during their short life of about 11 weeks.

I haven't seen it yet, but would you believe they actually capture and "band" butterflies as a way of tracking their progress. That has got to be a pretty tedious exercise!

Anyway, the migration of these wonderful insects is yet another reason why September is such a magical time to visit Cape May.
---
Interesting Guest Photos
I usually call this section of the newsletter "Favorite Guest Photos". I've changed the title this month because my favorite photos of houses are actually of our buildings. I don't want to sound petty, I'm just being honest. In any case, this is an interesting photo because it is THE photo of Cape May's beach front. Everybody takes this photo. What makes it particularly interesting now is the fact that the anchor house in this photo is no longer there; at least not for a while.
One of the most frequently asked questions this summer has been "What happened to the Sea Mist?". You have probably figured out that the biggest, brightest house in this picture, the red and white one, is the Sea Mist. Alas, if this photo were taken today it would contain a house that is certainly taking the shape of the Sea Mist, but is actually a rebuilt version of said structure.

Back in late March or early April the new owners of the building starting taking it apart, piece by piece. Work was halted by the city temporarily for some reason, but soon resumed. Aparently in order to convert the building from 15 apartments into 8 condos some major structural improvements were required, starting with the foundation. At this point I don't think anything remains of the original building. It has been interesting to watch them replace each wall, from the ground floor up, while keeping the structure above in tact. The owners are saying that the building will once again look exactly like it did before. From the looks of it I believe that is true.
---
Doug & Anna Marie's Restaurant Pick Of The Month ... Freda's Cafe
Have you ever asked me about restaurant ideas while staying with us? If so, chances are that the first restaurant I mentioned to you was Freda's Cafe. Anna Marie and I love Freda's. It amazes me that anybody can even get into this restaurant. Just step inside and you'll know you are in a charming, special place.
Freda's undoubtedly serves some of the best food available in Cape May, which is saying a lot. I can't tell you how many guests this year have told me that their best meal was at Freda's. A few of you have even told me that it was the best meal you've ever had in your life; high praise indeed, considering most of you have had a few good meals in your life.

So what is good at Freda's? Everything! Our favorites are the Crab Cakes (I've never had better anywhere), the Shrimp and Scallops Pesto (Anna Marie likes her's without pesto for a version they refer to as "Pesto, no Pesto"), and the Chicken En Croute. Dinner is served with a nice salad and all the home baked little loaves of bread you can eat. Freda's is also a BYO, which is the final feather in its cap.

Freda's is open year-round, and usually has a Monday night "Buy One, Get One" special in the winter, making it a mandatory Monday dinner spot for Anna Marie and me all winter long.
---
Make your reservations today for a romantic getaway at The Queen Victoria Bed and Breakfast. We are looking forward to helping you plan your next visit!

Sincerely,


Doug & Anna Marie McMain, Innkeepers

The Queen Victoria Bed and Breakfast
---