The Perfect Gift!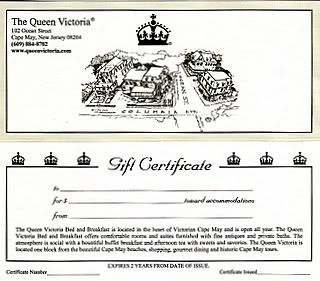 After exhaustive research done over the course of a lifetime I can safely say that I've discovered the "Perfect Gift" to give your special someone for Christmas. I know that lots of people are pitching the perfect gift idea to you this time of year, but I assure you, this is the real deal.

A Queen Victoria Gift Certificate!

So you're thinking that I might be biased and/or self- serving. I can assure you, that while both of those things are true, I am right about this gift idea ... it is perfect.
First of all, the key to a great gift is finding something that the recipient will love. Well that is a given for a Queen Victoria gift certificate. Secondly, the perfect gift has to be thoughtful and caring, which is certainly the case. The perfect gift should be easy to purchase. Believe me, it doesn't get any easier, or quicker than a Queen Victoria gift certificate. Finally, the perfect gift should be a consumable, which can be given over and over again, year after year, because once you find the perfect gift, you don't want to have to start all over again next year.

There is one more thought I would like to share with you too. If you're searching for the perfect gift for your significant other, then the Queen Victoria gift certificate gets even better, because you know that you'll get to enjoy it to. It is almost like buying a gift for yourself and getting credit for an amazing gift at the same time. Perfect!
---
Cape May Winery ... A great destination
Lots of you ask us where Anna Marie and I travel when we take vacation. If you know us very well, you may not be surprised to hear that one of our favorite things to do when we go on vacation is to go wine tasting. That is why I'm thrilled to say that we've got a pretty darned good winery just a few minutes from The Queen Victoria!
As it gets a little cooler in Cape May the focus of our visitors shifts away from the beach and towards other enjoyable activities. For many, a visit to Cape May Winery is at the top of that list. Cape May winery is open 12-5, every day of the week.

Anna Marie and I usually suggest making an afternoon of it, by taking a lunch or a cheese tray (from Seaside Cheese) over to the winery and enjoying it over a glass (or two!) of wine. Imagine how much fun it will make the tasting if you know the goal is to pick the perfect wine to enjoy with your lunch or cheese tray. I know that most people don't think of New Jersey first when they think of wineries, but let me tell you, Cape May winery is producing some excellent wines.

By the way, this Nov 28, 29 & 30 Cape May Winery is pariticipating in a Wine Trail Weekend, where every winery is pairing food with their wines. Cape May Winery is presenting their signature soups (complimentary, of course) to enjoy while you're tasting.
---
Thanksgiving at The Queen Victoria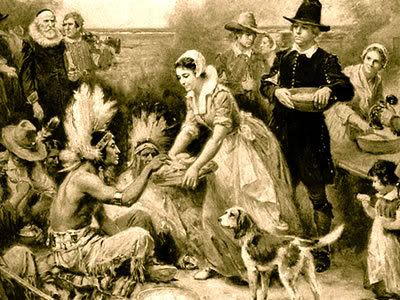 Last week we got a call from a gentleman who reserved several rooms for his entire family. He explained that he just didn't want his mother to cook Thanksgiving dinner this year. I love this guy (and I haven't even met him yet)!
There are lots of reasons why people come to spend Thanksgiving at The Queen Victoria each year. For some, it has become their annual tradition, and it feels like coming home for the holiday. For others The Queen Victoria is a wonderful option in a year that their kids spend with the in-laws. Many, like the afore mentioned gentleman, recognize that it is a wonderful "neutral" location for your family to gather without burdening anybody with the responsibility of cooking and playing host.

No matter what the reason, The Queen Victoria is a wonderfully festive place to be during Thanksgiving. We're also decorated for Christmas by then, so you get a sneak preview of Christmas in Cape May! We've already taken lots of reservations for the holiday, so call soon if you are interested.
---
Dickens is Back!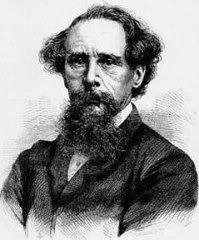 Charles Dickens is certainly one of the most enduring writers of the Victorian era. Here at The Queen Victoria we are especially fond of the old fellow because of the wonderful 3 day festival that Cape May hosts every year in his honor. This festival started at The Queen Victoria, which is something we're very proud of.
This year's festival looks to be another wonderful time and we're getting excited about it. As always, this year we have several new and exciting events that make up the festival. Of course, we always do a few extra things to make your stay at The Queen Victoria during the festival even more special.

If you're looking for the perfect way to kick off the Christmas season in a truly interesting and different way, then you should seriously consider attending this year's Dickens Extravaganza. You'll be happy you did.
---
The Queen's Christmas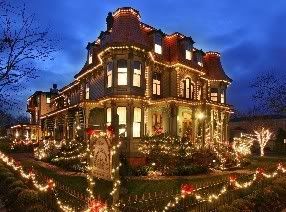 As Thanksgiving approaches, most of us are already looking past it and planning our holidays. Where are we going to spend Christmas? Who is cooking for the family? What gifts should I get for my loved ones? Sometimes these are easy questions to answer. Sometimes they are not. For those of you who fall into the latter category ... I'm here to help you.
First of all, if there is any question about where to spend Christmas (a question like "who is volunteering to take this on this year"), then I can only suggest finding a perfect neutral location where everything is easy, relaxing and purely pleasurable: The Queen Victoria. Seriously, spending Christmas with us answers all of these questions. The gift giving gets particularly easy ... you can give each other your stay at the inn. Really, it doesn't get any better or simpler than this. You have to start planning soon though! Christmas is fast approaching.
---
Our Wine Blending Weekends Return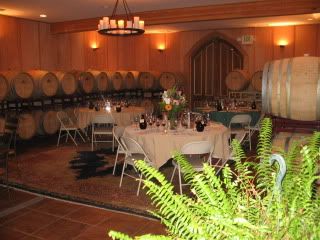 Last winter we introduced our Wine Blending Weekend. I can honestly say that everybody that attended had a WONDERFUL time. Based on the success of those events, I'm pleased to say that we're bringing them back again next year.

If you didn't attend one of our wine blending weekends this year, you won't want to miss them this winter. To start with, we gather in their very romantic & charming barrel room, which is filled with candles, wine barrels, tables full of wine glasses and a magnificent cheese tray. First we sample the various blending wines, learning to identify their key characteristics. Once we've mastered the various wines, we go right to work crafting the perfect blend. Each table of 4-6 people is tasked with producing their favorite blend and ultimately filling a decanter with their masterpiece. We then break for a tour of the winery, and another glass of wine, of course, while the winery staffs prepare each table for the "taste off".
When we return to the barrel room we'll find our several glasses of wine to taste, one for each of the tables and one or two from paste blending weekends, that we collectively judge. The winning blend is then bottled, with each couple attending receiving 2 bottles with customized labels with their names for them to enjoy at home. I should mention that it takes a few weeks for the winery to bottle our wine for us, so you don't get to take it home with you that day. Oh, I almost forgot to mention the beautiful Queen Victoria Wine Bag that will be waiting for you in your room upon arrival! Can it get any better?

The dates for 2010 are January 23 and March 6. Get your calendars out and make plans to attend one of these wonderful events! In fact, as I write this, it occurs to me that it would be the perfect Christmas gift for the wine lover who has everything already (note that this does not contradict my previously described "Perfect Gift", in that they are really very similar).
---
The Return of "The Big Cheese"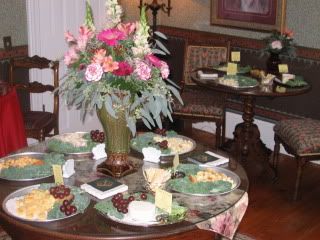 Back by popular demand ... "The Big Cheese" cheese tasting party! Last February's introductory event was so much fun and so successful that we absolutely had to bring it back again this coming February.

Let's say that you are not one of those folks whose life revolves around cheese. Nothing to be ashamed of. So why in the world would you want to plan a whole weekend around a cheese tasting party? Fair question. The truth is, I didn't care too much about cheese until our party last year. I've got to say, though, that I think our last cheese tasting party was one of the most enjoyable events we've ever had at the inn.
At our last party, Anna Marie and I put out about 15 different cheeses, each with descriptions about their origin and character. We also selected several different types of olives, some wonderful breads, and great dipping oils to enjoy. We held the event in the House of Royals parlor, which turned out to be a litte too small, as we had so many people that just couldn't get enough of the event. We even prepared "tasting sheets", so anybody who was really serious about it could score each cheese. I think most people just ate it, to be honest with you.

The next Big Cheese will be held on February 20, which is perfectly situated not to interfere with anything else in the word. Truly, the only place that has anything going on is Cape May, which is where you want to be anyway. Call us soon and reserve your room for this really fun event, which is FREE for all our guests.
---
Upcoming Events
Christmas Preview Weekend Nov 20-21

New Jersey Film Festival Nov 20 - 22

Thanksgiving at The Queen Victoria Nov 26 - 29

Cape May Christmas Parade Dec 5

Cape May Christmas Tours Nov 20 thru Jan 3

Dickens Extravaganza Dec 6-8

Christmas at The Queen Victoria Dec 24-25

QV Wine Blending Weekend January 23

Valentines/Presidents Day Feb 12-14

Big Cheese Weekend February 20

QV Wine Blending Weekend March 6

One of the most frequent questions I get from guests, aside from "what is the password for the wireless network?" is "What is it like in Cape May at Christmas?". We'll be on the porch at tea on the 4th of July and we'll be talking about Christmas. It isn't surprising really, as Cape May is one of the premier Christmas season destinations in the country (I'd say world, but I don't want to sound too full of myself).

Every year we have hundreds of couples make their way to The Queen Victoria for a litte infusion of Christmas Magic. It IS beautiful. It IS charming. It is an experience that many of our guests return for every year.

If you've always wondered what Cape May is like during the holidays, then plan on visiting us at The Queen Victoria this season. Christmas starts pretty early in Cape May, with the "Christmas Preview Weekend" on Nov 20th getting the show started. Every weekend after that it simply builds in momentum until the grand finale after Christmas, when it feels a bit like summer again with so many people spending a little post-Christmas vacation time in Cape May. The fun really doesn't stop until after New Years, which happens to give us a full weekend to enjoy right after New Year's eve. That hardly ever happens!
---
---
Featured "Room of the Month" ... Benjamin Disraeli
Ben who?

The Benjamin Disraeli room, named after a famous prime minister of England during Queen Victoria's reign, is a standard room on the 2nd floor of the Queen Victoria building. Not only is this one of our most unusually named rooms, it is also one of our nicest standard rooms.
My mom, who I know LOTS of you have met, is staying with us as I write this and this is the room that she is in during her visit. It must be a pretty good room if I'm willing to put my mom in it! Seriously, though Benjamin Disraeli is not our largest room, it is a very comfortable room. It has a very large bathroom with a tub/shower and a nice big counter for the ladies to set their things down on. Benjamin Disraeli is also a very bright room, with 2 windows in the bedroom and one in the bathroom, all on the sunny side of the house. The room is also furnished with beautiful antiques, some of which you can see in this photo. Of course, it has individual climate control, TV/DVD, a mini-fridge, a room safe, robes, and an iron/ironing board, just like every other room in the inn.

If your looking for a cozy room for your next stay at The Queen Victoria, take a look at Benjamin Disraeli. I'm sure you'll like it.
---
Cape May Wine Weekend
Are you serious about wine? Do you enjoy learning about wine as much as you enjoy drinking it? Are you interested in exploring and learning about wines from various regions of the world? If you answered yes to any of these questions then you're going to want to come visit us this Nov 20-22.

Periodically the Washington Inn, in conjunction with Cape May Winery, hosts a Cape May Wine Weekend. It kicks off with a sumptuous 4-course dinner at the Washington Inn. Each course will be paired with the perfect wine, of course. Saturday you'll enjoy a Tasting and Tour at Cape May Winery. On Sunday, you'll enjoy an afternoon exploring the wines of Chile & Argentina at the Washington Inn.

Anna Marie and I got really excited about this package and thought you might too! In fact, we thought we would make it even more special by creating a little mini package around it. Make your reservation for that weekend, sign up for the package, and we'll also include a complimentary tasting at Hawk Haven Winery, a free "wine tasting cheese platter" from Seaside Cheese, and we'll give you one of our beautiful Queen Victoria insulated wine bags.

Now that is a serious wine weekend. As if that weren't enough to sell you on the weekend, it is also Christmas preview weekend, so there will be lots of Christmas lights up and tours to show them off. What more could you possibly want?

The package is $135/person, in addition to your room, which is truly a bargain. Call soon, as tickets for this event are limited!
---
Coming Soon ... Anna Marie's New Cookbook!
I am EXTREMELY pleased to announce that the new Queen Victoria Cookbook will be arriving within a couple of weeks. I can't tell you how excited Anna Marie is to have finally completed this effort.
Ever since we sold out of our last cookbook a few months ago, Anna Marie has been working feverishly to complete the new cookbook that has been in the works for over a year. It turns out that writing a cookbook is a fair amount of work, especially when you have to squeeze it into your already full day. Of course, every day that we have not had a cookbook to sell in our gift shop has been a day full of questions about the release of our next cookbook. Thankfully, the answer to those questions is at hand.

So, what is this new cookbook like? To start with it is a LOT bigger than our old cookbook, with over 80 pages of recipes. While the old cookbook had a few of the recipes that we serve, our new one has ALL of them. It is also filled with pictures of the inn, so in addition to a great resource it is also a great keepsake, filled with images to remind you of your visit (s) to The Queen Victoria.

Whether you've been waiting to buy our new cookbook for your own kitchen, or perhaps are planning on giving one as a Christmas gift, your wait is over. If you can't wait until your next visit to get one, just give us a call and we'll be happy to ship you one.
---
A New Convention Center for Cape May
I'm not sure if this is still the design that they're planning on using for the new convention center, but since things seem to be moving forward now, I thought I'd show it to you anyway.

Whether or not we're actually getting any closer to working on the new center, there has been news.
The first thing I can tell you is that the "Solarium", which is the home to Tisha's restaurant, is going to disappear from the Cape May beach front. Since they could not get the permits from the state to move it to a new location on the beach, the city is now planning on moving the building down to a nature preserve area near the Coast Guard base. I'm not sure I understand the thinking here, but I guess it is better than tearing it down. It should be fun to watch them move it!

I was speaking with the Mayor the other day and he assured me that we are getting very close to getting the permits needed for demolition & construction. I had heard that the building will be a little closer to the street than the current one is because we were unable to get the permits to expand 20-30 feet into a section of beach behind Tishas. This will have the effect of placing the convention center in the middle of the promenade, which will be routed around the building into an area currently used for parking. I'm not really sure how I feel about that. Anyway, I'm currently projecting a late 2011 or early 2012 opening for the new center.
---
Favorite Guest Photos ... Christmas at The Queen Victoria
In keeping with our holiday theme, I'm featuring a photo that Cindy Barbato submitted(lots of you have met Cindy during one of your stays at The Queen Victoria). This is a great photo of our "Late Victorian" tree located in the parlor of the Queen Victoria building.
This is just one of 6 trees that we decorate at the inn each year, and one of our most interesting. In fact, it is heavily on my mind right now because we are going to start decorating it tomorrow morning. I was just down in our basement pulling out the lights and the decorations. I do love Christmas at The Queen Victoria, but I must admit that the thoughts of trying to get everything decorated in time can be a little overwhelming!
---
Doug & Anna Marie's Restaurant Pick Of The Month ... The Washington Inn
We love the Washington Inn. Really, we just love it. I must admit that we don't dine there every week, but I can say that I would like to. Actually, we view it as more of a special occasion place, or perhaps a place we take our family when they visit from out of town.
Of course, when you're visiting us here in Cape May, it is a special occasion for you and the Washington Inn might be just the kind of experience you're looking for.

The Washington Inn is definitely a fine dining experience. The food is wonderful and the service is at least as good as the food. The atmosphere is elegant, without being stuffy. There are also several different dining rooms, each of which have a very different feel. It also has a very comfy bar, which is worth hanging out in for a few minutes before your dinner is ready.

Anna Marie and I went there last night and took advantage of two special things they do. The first was the "earlybird" dinner menu for $22. Every night before 6:00pm they offer a wonderful 3 course dinner with a choice of 3 items for each course. I started out with a a wonderful fettucini appetizer, had the Salmon for my entree, and devoured the upside down cranberry cake for dessert. Everything was wonderful! Anna Marie started things off with a wonderful salad, had the scallops in a puff-pastry for her entree, and finished things up with the Angel Food cake smothered in fresh berries. We were both thrilled with our meals.

The other thing we took advantage of was the "wine appreciation" night they have every Sunday. Many of you know that we prefer the BYO restaurants, so it should be no surprise to you that we take advantage of the fact that the Washington Inn allows you to bring your own bottle of wine on "wine appreciation" Sundays.
---
Make your reservations today for a romantic getaway at The Queen Victoria Bed and Breakfast. We are looking forward to helping you plan your next visit!
Sincerely,

Doug & Anna Marie McMain, Innkeepers
The Queen Victoria Bed and Breakfast
---