The Perfect Christmas Gift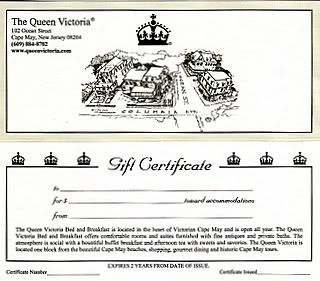 Wouldn't Christmas be perfect if you didn't have to fret over finding the perfect gift for those special people in your life? Just imagine how great it would be if you had a gift that was sure to please, wouldn't disappear into a closet forever, and would be anticipated and loved every single year. Wait, that sounds familiar! In fact, it is a perfect description of a gift certificate to The Queen Victoria.
Yes, Queen Victoria gift certificates truly are the PERFECT Christmas gift! They are sure to be the favorite, treasured gift of anybody who receives one. What really makes them perfect, though, is the fact that they will be enjoyed several times. Think about it. When your loved one opens it they will start imagining a wonderful, relaxing get-away. When they start browsing our website to choose the perfect room the fun continues. The days and weeks leading up to their arrival date will be full of anticipation of a wonderful time. Of course, their actual stay at The Queen Victoria will be the relaxing, romantic, and wonderful experience that you envisioned when you gave it to them.

Throughout this entire process, at every step, they'll be reminded of the wonderful, generous, and loving individual who gave it to them ... YOU! Ordering a gift certificate is FAST & EASY. Just give us a call and you'll have it in your hands within days.
---
Thanksgiving at The Queen Victoria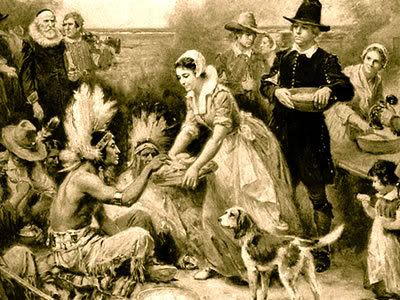 Anna Marie and I have so much to be thankful for, so we're always looking forward to Thanksgiving. Keeping with tradition, we're celebrating Thanksgiving here at The Queen Victoria again this year.
Lots of folks think of family and home when they think of Thanksgiving. For many of our guests, though, spending Thanksgiving at The Queen Victoria is a wonderful alternative when situations are a little different.

When kids are off at college, or maybe spending Thanksgiving with their in-laws, home might seem a little quiet. For many families, The Queen Victoria is a wonderful "nuetral" and central location for a family gathering, especially for families spread out and coming together for the holiday.

One big bonus about spending Thanksgiving at The Queen Victoria is that you get a head-start on Christmas. That's right, we'll be fully decorated for the holidays by Thanksgiving day.

We help make the day special by turning tea into a special hors d'oeuvres holiday reception. Dinner at Union Park completes the day with a wonderful and intimate 4 course dinner.

If your plans for Thanksgiving are up in the air, give us a call. We'll be happy to be your home for the holiday.
---
Dickens Holiday Extavaganza
Sure, you struggled through a few stories by Charles Dickens in high school, but if you stop and think about it, you really do love Charles Dicken's works. Admit it, you could watch "A Christmas Carol" every year. Who doesn't love "Oliver Twist"? You're definitely a bigger Dickens fan than you realized. Charles Dickens was like the John Grisham of his day (that is actually quite a compliment to John Grisham). People literally waited in line to purchase each installment of his stories, which were often presented serially, one chapter at a time.

The first week of every December Cape May hosts the wonderful Dickens Holiday Extravaganza. This event is a treasure that should be experienced by anybody who has a true love of Cape May, the Victorian era and Charles Dickens' wonderful literature.
This year's event promises to be one of our finest with feasts, house tours (including the Designer Show House), stage presentations and discussions and review of Dickens' fabulous work "Bleak House", as well as various aspects of Christmas in the Victorian era.

This year, in addition to our traditional hor d' oeuvres reception, The Queen Victoria will also continue the tradition of treating our guests to the "Welcome" dinner. Did I mention the 10% discount off of your room?
---
Christmas at The Queen Victoria!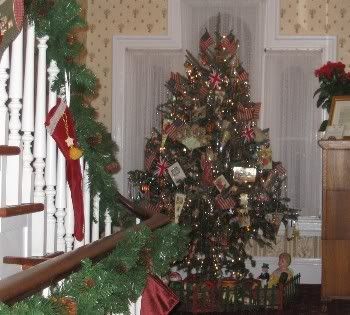 Christmas is THE original Victorian tradition. Christmas as we know it really did originate in Victorian England, popularized by none other than Queen Victoria and her husband Prince Albert, who brought the tradition from his German homeland. We honor and celebrate that proud tradition every year at The Queen Victoria.
In fact, The Queen Victoria has a proud Christmas tradition of its own, spanning over 25 years. Each year we welcome back many couples and families to share Christmas together at The Queen Victoria. We've got special holiday receptions, special Christmas Eve and Christmas dinners, little elves with Christmas surprises, and enough joy to fill any stocking!

Christmas is a special time to spend at The Queen Victoria. We're still taking reservations for the Christmas holiday, so call soon to reserve your room.

If you can't spend Christmas at The Queen Victoria, but still want to experience Cape May at Christmas, the entire month of December is "Christmas in Cape May". There are special tours, lots of lights, great shopping, sleigh rides (actually, horse carriages with sleigh bells), and lots of festivities all the time. Don't forget the shopping! Think about it. Doesn't Cape May sound better than "The Mall"?
---
Back by Popular Demand ... Seasonal Specials
Wow! Last year we introduced a few new specials for the cooler months and judging from your response, you really liked them. So this year we're bringing them back. Yes, all of our seasonal specials are back: "Gift of Romance", "Two for Two", "Gourmet Getaway", and "Winter Weekend MADness".
All of these specials are available starting in November. The Gourmet Getway, Two for Two, and Winter Weekend MADness run through April, while the Gift of Romance runs into June (but is not available in Jan, Feb & Mar). All except the "Winter Weekend MADness are weeknight specials, including Sunday evening.

All four of these specials are GREAT deals.
---
Upcoming Events
Thanksgiving at The Queen Victoria Nov 21,22
Christmas Preview Weekend Nov 16, 17
Cape May Christmas parade Dec 1
Candlelight tours Dec 1, 8 & 15
Dicken's Christmas Extravaganza Dec 2-4
Holiday Inns tours (yes, I hate the name) Mon- Thurs, Nov 26 to Dec 13
Lamplighter tours Nov 23,24,30, Dec 7,14,21,27,28, 29
New Years Eve!
Christmas at The Queen Victoria Dec 24, 25

The Christmas and Holiday season is always such a special part of our year. We're so excited about this wonderful season again this year that we've already started decorating. Actually, with as many lights and decorations as we put up, we need to get an early start.

Whether you celebrate Christmas or not, a visit to Cape May during this beautiful season is definitely worth while. Careful though ... you may find it is your favorite time of the year in Cape May and become "hooked" on it.
---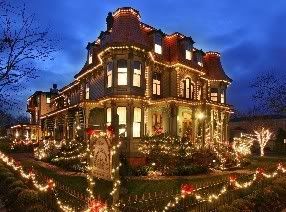 So what makes Christmas in Cape May, especially at The Queen Victoria, so special? Well, the decorations are certainly a big part of it. It goes beyond that though. Cape May is perhaps ideally suited for the Holidays.
With its quaint shops for Christmas shopping (all within easy walking distance), horse carriages fitted out like sleighs (yes, the horses wear bells), the annual Christmas parade, special house tours, carolers and strolling musicians and generally friendly and joyous attitudes that abound, Cape May just seems like the epitome of Christmas.

Many of you know this, of course, as we see you every year at this time. What you may not know, however, is that to a great extent, it all started at The Queen Victoria. Cape May wasn't always "Christmas Central". It really wasn't until The Queen Victoria opened its doors for Christmas and introduced the annual "Dickens Extravaganza" that Cape May started its transformation into one of America's premier Christmas season destinations.

We're continuing the tradition this year, of course. We'll be celebrating all season long, with a very special Christmas week package for our friends looking for a home away from home for Christmas itself. If you are looking for the perfect place to spend Christmas this year, give us a call.
---
Featured "Room of the Month" ... Westminster
It is hard to believe that I haven't featured Westminster before. It is an annual favorite for SO MANY of you that I kind of assume everyone has stayed in this room before. Obviously that isn't the case.
So what makes Westminster such a perennial favorite? It is a big room with lots of windows, including a big bay window with a charming Victorian setee. The bathroom is also spacious, boasting a one-person whirlpool tub and charming pedestal sink. Though I don't know this for sure, I strongly suspect that Westminster was the original master bedroom of the house. All together, Westminster is one of the nicest, most popular rooms at The Queen Victoria. If you haven't stayed in this room yet, I highly recommend it.
---
Stay & Play Special ... the last Hurrah!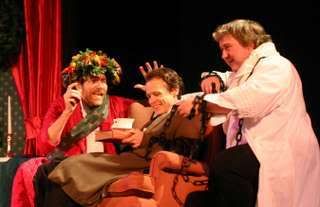 The "Stay and Play" package is still going strong. As part of our ongoing support for great theatre in Cape May, we've purchased 20 season tickets to the Cape May Stage. That means we have 160 tickets to give to our favorite guests. Of course, our favorite guests are those who stay for several nights!
If you book a 4 night weekend stay or a 3 night weekday stay, we'll be pleased to share our tickets to the Cape May Stage with you. These tickets have a $28 face value, so this is definitely a great deal. Be sure to ask about the tickets when you reserve your room!

Cape May Stage always presents something special for the holiday season, and this year is no exception. In fact, this year they are presenting not one, but two holiday plays for your enjoyment. Running between Nov. 23 and Dec. 2 is Charlie Bethel's animation of the Dickens classic "The Seven Poor Travelers". Starting on Dec. 5 Cape May Stage's hysterically funny original production "Every Christmas Story Ever Told" returns until Dec. 30. I'm looking forward to seeing both of these productions this year!
---
Cape May Face Lift ... Work Begins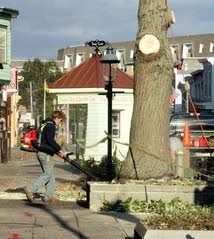 It is finally beginning! After years of planning and more town meetings than you can shake a stick at, not to mention a lawsuit or two, work is finally starting on Cape May's new and improved shopping district on Washington Street.
Back in the 1970s the city of Cape May closed down Washington street between Ocean and Perry streets and created the pedestrian shopping district you all know and love. Over the last 30 or so years our little mall has gotten a little tired. Many of the trees that were planted had died and much of the orginal surface had been "patched" to remedy probems that had arisen. So it was definitely time to freshen it up.

As might be expected, the coming of improvements to the mall itself has generated excitement and a burst of investment by the individual stores, which are all privately owned structures. In fact, Arden's children's store has been completely torn down to be replaced by a new 3 story Victorian building. Several other buildings are also being upgraded. It seems that these improvements are generating a lot of enthusiasm and optimism.

Don't worry, I don't know of any stores closing during construction (even Ardens has opened an alternate store on Carpenter Street), and they'll all be open for Christmas shopping if you're visiting us in the near future.

Imagine, Cape May is getting even better!
---
Favorite Guest Photos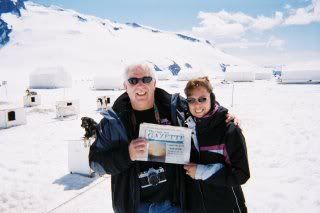 OK, this is without a doubt the most different guest photo that I've ever included in a newsletter. Though this doesn't look like your typical Cape May photo, if you look closely there IS a Cape May angle. Notice that the newspaper Bruce is holding is none other than the "Cape May Gazette".
This photo was submitted by our good friends Bruce & Carol Polak. They traveled to Alaska this year and planned ahead enough to bring a Cape May Gazette with them to include in this photo. I'm not sure if they made it into the Gazette with this photo, but I figured they deserved to make it into my newsletter.

If you're planning on being at The Queen Victoria this Thanksgiving weekend, keep a look out for this good looking couple. They've been celebrating the weekend at The Queen Victoria far longer than I have, and they're two of the nicest people you'll ever meet.
---
Doug & Anna Marie's Restaurant Pick Of The Month ... Moonfish Grill
If you've come to The Queen Victoria in the last couple of years then I'm guessing you've heard Anna Marie and me talk about the Moonfish Grill. We really love this restaurant. It is one of our favorite places to eat. Moonfish is a pleasant walk or short drive from the inn, located on Broadway (where Daniels on Broadway used to be). It was completely renovated back in 2006 and still feels wonderfully different and fresh.
With its contemporary decor, sushi bar, live music and creative menu, it is like nothing else in town. But most importantly, the food is great!

Anna Marie and I typically start off with the calamari appetizer, which is as good as you'll find anywhere. Anna Marie used to always get the Moonfish Kettle, but has recently taken to ordering the Broadway Shrimp & Scallops. I tend to be adventurous at the Moonfish, often ordering off the specials menu. It doesn't really matter what you order, though, it is bound to be good. For those of you who love sushi, you'll be pleased to know that they've devoted an entire room to their sushi bar.

As an added benefit, the Moonfish Grill features live jazz on Thursday nights and live piano on Fridays. It just adds to the already wonderful dining experience you'll find at the Moonfish Grill.
---
Make your reservations today for a romantic getaway at The Queen Victoria Bed and Breakfast. We are looking forward to helping you plan your next visit!

Sincerely,


Doug & Anna Marie McMain, Innkeepers

The Queen Victoria Bed and Breakfast
---
phone: 609-884-8702