Requesting Guest Photos!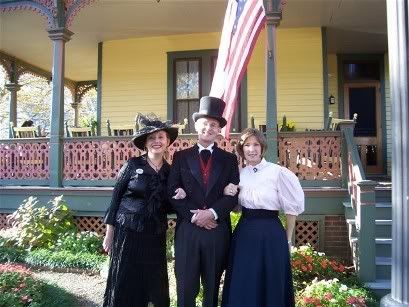 Many of you have commented to me about our "Guest Photos" page on our website. More accurately, you've asked how long it will be "coming soon", as it has been months since we launched our site and not a picture has been posted. Well, I've been procrastinating long enough. Now that I'm ready to start posting pictures I need ... PICTURES.
If you've got some great photos of your stay at The Queen Victoria that you would like to share with the world, email them to me. Whether it is a picture of The Queen Victoria, a picture of you, a picture of you at The Queen Victoria, or a great picture of your favorite location in Cape May, send it in. I think this will be a lot of fun.

Please email your photos to doug@queenvictoria.com and keep an eye on our website.
---
Thanksgiving in Cape May

Thanksgiving is a great time to come to The Queen Victoria. With the long weekend and our attractive Thanksgiving package, it is a perfect way to spend the holiday.
Many people find themselves without a Thanksgiving destination due to families traveling or spending the holiday with in-laws, etc. The Queen Victoria is the perfect place to come for a friendly, warm, and memorable holiday when you can't be with your family. OR ... if your family is a little spread out and you want to all get together someplace "neutral" (where nobody has to cook!), we're good for that too!
---
Christmas in Cape May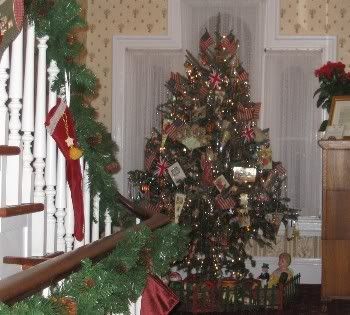 Christmas at The Queen Victoria is a long, proud tradition. With parties, receptions, wonderful dining, lots of friendly, warm guests and some surprises by our little "elves", The Queen Victoria is the very definition of Christmas.
Lots of folks talk about Cape May during the holidays. The town IS beautiful in its Christmas finery. If you really want to experience Christmas in Cape May though, then you really have to come during Christmas. If you're looking for the perfect place away from home to spend Christmas, give us a call. You'll be happy that you did.
---
25th Annual Cape May Dickens Extravaganza Dec 3-5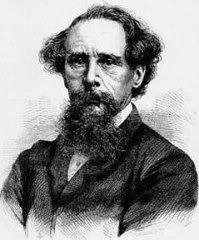 Yes, it is coming back by popular demand. The Dickens Extravaganza is a proud tradition in Cape May and at The Queen Victoria. We are exited about this year's event and all the new things added to it to make it more fun than ever.
With banquets, theatrical presentations and readings, wine tastings and tours, as well as some interesting scholarly review, this year's event promises to be great.
---
The Perfect Christmas Gift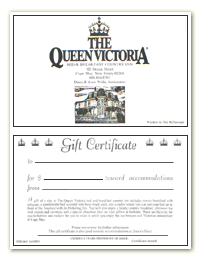 Can you imagine opening up an envelope and pulling out a certificate for a stay at The Queen Victoria? That is how your loved ones will feel when they open up the certificate that you give them!
A gift certificate to The Queen Victoria really is the perfect gift. They always fit, they are sure to please, and they take only minutes to buy (no trip to the mall is required!). What better gift for those people you love that really do have every "thing" they need?
---
Upcoming Events (wow ... there are LOTS of them)
Victorian A to Z exhibit Sep 15 to Jan 1 2007
Chocolate Fantasy Buffet Nov 18
Holiday Preview Weekend Nov 18 - 19
Dinner with Ghosts of Christmas Past Nov 17
Cape May wine school (Country French) Nov 19
Thanksgiving at The Queen Victoria Nov 23 - 24
Holiday Crafts Fair Nov 24 - 25
Christmas Candlelight Tours Dec 2, 9, 16
Holiday Traditions Workshop & Lunch
Dickens Christmas Extravaganza Dec 3 - 5
Holiday Cooking School & Lunch Dec 9
Cape May wine school (Barefoot contessa of Bubbly) Dec 17
Christmas at The Queen Victoria Dec 24 - 25
Holiday Chef's Dine-Around Dec 28

As MANY of you know, Christmas in Cape May is very special. We've started decorating for the season, so we're already getting excited about it. I hope that we'll get to see you here for the holidays!
---
The Queen Victoria in lights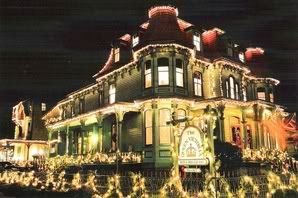 Cape May is a Christmas wonderland every year, and much of the town is brightly lit for the holidays. I may be biased, but I think that our little corner of Cape May is the brightest, prettiest part of town.
---
Featured "Room of the Month"
As promised, we're continuing our "Featured Room of the Month" with our third entry. Everybody loves to peak into all the rooms, so we're just making it easy for you. This is one of our most popular rooms ... The Queen Victoria room
If you are going to name one of your rooms after your inn, it had better be something special. Believe it or not, most guests that check into this room say that the picture doesn't do it justice. I agree. If you want a large room with wonderful Victorian charm, then you will love the Queen Victoria room. This wonderful 1st floor room boasts a king sized bed (one of three in the entire inn), an amazing armoir, a wonderful clawfoot tub, and a lovely sitting area with antique chairs. Staying in this room will be a special experience for you.
---
Think Mid-Week !
Most of our Fall and Winter guests plan their trips to The Queen Victoria for a weekend. This makes sense, of course, when you are out of vacation or limited in when you can get away. If you can be more flexible, however, you might want to think about coming mid-week.
We've always offered week-night discounts ($40/night discount), but this year we've come up with a few specials that are really becoming popular. We've tried to come up with some fun, interesting and money saving ways to enjoy The Queen Victoria. Be sure to check out our new seasonal specials today (you'll be glad you did):

"Two for Two"

"Gourmet Getaway"

"Tour the Town"
---
Tea Anyone?
When was the last time you stopped everything and made your way to tea? It was probably the last time you visited with us at The Queen Victoria. High Tea is a wonderful way to relax for a few minutes and start thinking about what the evening might bring.
If you are suffering from a "tea withdrawl" after reading this, then you probably need to plan your next visit to The Queen Victoria. My advice to you is to call as soon as possible and make a reservation. There really is no other cure for what you're feeling.
---
2nd Best Christmas gift idea
When we incorporated the Queen's Hotel into the bed & breakfast we made every room's Queen Victoria throw obsolete. We ordered new ones for all 32 rooms with the new name "House of Royals". So what do we do with the 32 throws that still say Queen's Hotel?
Sell them cheap, of course. That's right, you can purchase one of these limited edition collectors items for your loved ones for only $29.95 (plus shipping). Our new throws cost $59.95 in our gift shop, so you'll save $30 on your purchase. If your significant other or any other family member or friend loves The Queen Victoria, then this might be just the gift you've been looking for.
---
Stay & Play ... Still
Last year we introduced our Stay & Play package, which was so popular we decided to do it again. If you love great theatre in a cozy setting (i.e. small theatre), you'll love Cape May stage. If you've been to a Cape May Stage production, you know that the acting is incredible. If you haven't gone before, you need to do it this year.
Reserve a room at The Queen Victoria for 4 nights over a weekend, or 3 nights mid-week, and we'll be happy to provide you with complimentary tickets to the Cape May Stage. Just mention it to us when you call to book your room.
---
Doug & Anna Marie's Restaurant Pick Of The Month ... Union Park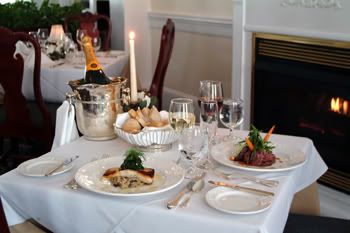 So you think you've been to all of Cape May's finest restaurants. Not unless you've been to Union Park. Tucked away inside the Hotel Macomber on beach avenue, Union Park is arguably Cape May's most elegant dining room, with some of the best food you'll find anywhere.
Anna Marie and I love Union Park. This is where we go when we want a beautiful, quiet and romantic night out. Anna Marie's favorite dish at Union Park is the Filet. This classic has a red zinfandel glaze, served with truffel oil, and potatoes. You can add a lobster tail if you want to make it a surf and turf night. I've got a couple of favorites, but I'm recommending the Duck Breast. Just writing about the soy lacquered duck served over a bed of mushroom risotto (I LOVE risotto), with spinach is making my mouth water. Yours too probably! Next time you come to Cape May, consider Union Park.
---
Make your reservations today for a romantic getaway at The Queen Victoria B&B. We are looking forward to helping you plan your next visit!

Sincerely,


Doug & Anna Marie McMain, Innkeepers

The Queen Victoria B&B
---
phone: 609-884-8702