21st Annual Cape May Music Festival May 20 - June 10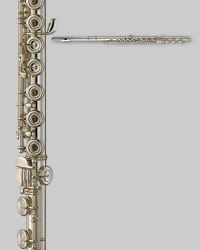 Just how many festivals can one town have anyway? Apparently quite a few. I'm sure it is hard for you to choose which festival to come experience. My advice is to try them all, but I do recognize that most of our guests just can't get to Cape May every month, as much as they would like to (some do come about once a month, believe it or not!). Anyway, the 21st annual Cape May Music Festival is returning and I'm pretty excited about it. I'm sure you will be too.
Every year an astonishing variety of incredibly gifted musicians flock to Cape May during this 3 week festival to share their passion for music with the lucky souls who live in and visit Cape May. Lucky we are, indeed. No matter what your musical tastes, there is something for you. We have Tradtional Irish music, Jazz, Chamber music, Brass Bands, Classical Symphoniy and African Percussion. Talk about variety!

If you love both music and Cape May, there can be no better time to make a visit to The Queen Victoria. For an extended visit, Anna Marie and I will be happy to give you complimentary tickets to a show. Call us today!
---
Wine Tasting in Cape May
If you know Anna Marie and me very well at all, then you most certainly know that we love to go wine tasting. It is such a fun, relaxing and pretty way to spend an afternoon. What you may not know, however, is that Cape May is now the home of 4 different wineries, all just a short drive from The Queen Victoria.
The oldest and best known of our local wineries is Cape May Winery, located about 3.5 miles away from the inn. They produce excellent white and red wines from grapes grown locally and imported from Washington state. One of our favorite things to do at Cape May winery is take a lunch there and eat it overlooking the vineyard with a nice glass of our favorite wine. I can't think of a better lunch!

Hawk Haven is our newest winery and is already a favorite of many of our guests. Anna Marie and I really love it there. It is a smaller winery producing an excellent assortment of both reds and whites all locally grown on their own property. They just started up their "Sangria Sunday" special events, which are wonderful. Anna Marie and I really loved sitting under the "event tent" (more like a teepee), drinking wine and listening to some great live musc from a local artist. We didn't do the sangria, but I'm told it is wonderful.

Natali Vineyards is a little further away from the inn, about 15 miles away, but it is worth the ride. Their wines are wonderful and the folks at the winery couldn' be nicer. They have LOTS of special events throughout the year that you'll want to catch if your timing is right. They also produce a variety of "fruit" wines, including a banana wine that lots of our guests have really been raving about. I haven't tried it yet, so I'm taking their word for it. To be honest, I'm pretty traditional when it comes to wine, so I'm a little skeptical.

Turdo winery is our smallest winery. Their specialty is Italian varietals. The owners are from the "old country" and you can still detect a hint of their Italian accent. They are some of the nicest people you'll ever meet. Their wines are so popular that several of their varieties are sold out years in advance.

So, if all of this hasn't made you thirsty for a glass of wine, then you don't like wine. If you're looking for a wonderful, relaxing and entertaining way to spend an afternoon on your next visit to Cape May, especially on a cloudy day, then visit one or two (or all four) of our wineries. You'll be glad you did.
---
Now Playing at Cape May Stage ... Class
Cape May Stage wll be opening their season this May 14 with the World Premier of "Class". Since it has never been performed before, I'm not embarrased to admit that I've never seen it. In fact, I know so little about it that I'm going to copy their description of the play to share with you. The one thing I do know about it is that it will undoubtedly be wonderful. Cape May Stage has a proud history of fantastic productions with top flight acting and great entertainment. I can hardly wait to see their first show of the season!
"Class" tells the story of Elliot, a veteran acting teacher in New York City who is visited in his studio by Sarah, a mysterious young actress. In the course of their work together, they learn more about themselves than acting----and in doing so change each others' lives forever.
---
We've been keeping busy!
Every year we find ourselves busy redecorating or trying to improve the inn in one way or another. Anna Marie and I stopped and listed all the things we've done to make your favorite place even better. I thought I'd share the list with you.
First of all, we've created two new wonderful rooms, Whitehall and Brighton, which I've described a couple of times now. We also completely redecorated Regent's Park, which has a wonderful new look and feel; same great room, just greater than it was before. As part of that redeoration we put a wonderful leather Chesterfield sofa that also pulls out into a comfy twin mattress, so Regent's Park can now accommodate 3 people! Since we had to recarpet the room as well, we decided to recarpet the other four suites in Prince Albert Hall while we were at it. They came out great! Finally, this week we also installed new air conditioning systems in 9 of our rooms. For any of you who remember having your A/C turn to heat when you used the TV remote ... that problem has been eliminated.

We've still got a few more tricks up our sleeve before the summer really gets started, but we can tell you about those when you get here.
---
2nd Annual Cape May Restaurant Week
Last June Cape May launched its first ever "Restaurant Week". Even though it wasn't very well promoted, it was wonderfully received and a very popular event. Restaurants all over town were participating, offering great deals on wonderful meals. Basically they all showcased their finest offerings at a great discount. Anna Marie and I felt duty bound to dine out every evening of that week just to show our support of this wonderful new event. Rough duty, huh?
Anyway, this year's event was just announced and I wanted to share the news with you. They haven't announced the participating restaurants yet, but I can tell you that they've structured it into 3 different "Tiers" this year. Tier 1 is fine dining, with a 3-course meal for $36.10. Tier 2 is 3-course meal at a more casual restaurant fr $22.10. Tier 3 is a 2 or 3-course lunch. Beverages, taxes and gratuities are extra, of course.

Anna Marie and I are really looking forward to this event and we think you'll really enjoy it too. If you're not already planning on a trip to The Queen Victoria during the week of June 6-13, then you might consider it. I can't think of a better excuse to come visit Cape May (if, indeed, you need an excuse).
---
Upcoming Events
Cape May Wine Trail May 23
Cape May Music Festival May 20-Jun 10
Memorial Day Weekend May 28-31
Cape May Restaurant Week Jun 6-13
Fourth of July, July 4 of course

I can't begin to tell you just how beautiful Cape May has been for the last couple of weeks. What could be better than long sunny days with cool ocean breezes blowing through the tranquil, tree lined streets of Cape May? Add all the flowers of spring and you're about as close to paradise as you can get.

I mentioned it on our Facebook page yesterday, but in case you haven't heard, Cape May was ranked as one of the "Top Ten Beach and Sun" destinations in the United States by Tripadvisor.com. You're not surprised are you? We were thrilled that Cape May got the recognition it deserves. To be specific, Cape May was ranked #4, trailing only Myrtle Beach, San Diego and Poipu Beach Hawaii. It was pretty cool to see so many Florida and Hawaii destinations below us on the list.

So now that I've mesmerized you with my description of Cape May in the spring and confirmed your feelings about what a wonderful destination Cape May is, it is up to you to pick up the phone and book your spring or summer stay with us. We still have rooms available throughout most of May and June, but they won't last long. Call us soon!
---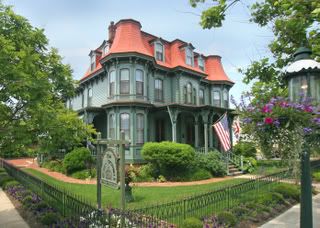 ---
Featured "Room of the Month" ... Whitehall
I just couldn't help but feature Whitehall again, now that the room construction has been completed and I've got a great photo to share with you. I can't tell you how pleased Anna Marie and I are about the way this room came out. It has such a rich and elegant feel to it, yet is still very comfortable. What you can't see in this photo is the large flat panel TV that will be in front of those 2 chairs and the magnificent marble topped dresser against a wall that is not in the photo. The bathroom is wonderful too, with a large comfortable shower in it.
As nice as this room is, however, I think that perhaps the best feature of the room is the semi-private parlor & kitchen that it shares with its neighboring room, Brighton. This space is just so amazingly comfortable that you'll probably find yourself hanging out there instead of your room. It is bright, cheery, and fun. With only one other room sharing it, your likely to have it to yourself most of the time.

Many of you have already figured out that booking this room with the other room next door in the building (Brighton) is by far the best way to have a "couples weekend" with friends at The Queen Victoria. If you enjoy traveling with friends or family then you absolutely have to rent these two rooms together. You'll effectively get a 2 bedroom, 2 batch condo with loads of comfortable space to hang out together and still have all the charm and comforts of the inn. I have a strong feeling that before long availability for these rooms will be very limited. Don't miss out on them! Call us today and book both rooms for your next friend and/or family get-away.
---
Take home some granola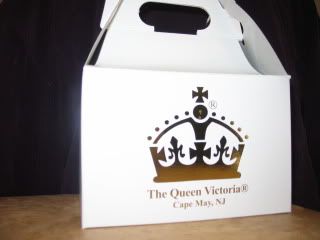 Over the years so many of you have admitted your addiction to our granola, that we've decided to package and sell it. We actually started selling it a couple of months ago (I may have even mentioned it in a prior newsletter). To be honest, we were a little reluctant to start selling it, because if it became as popular as our Strawberry Jam, our kitchen would have trouble keeping up with the demand.
I'm pleased to say that we've figured out how to keep up with the demand. So on your next visit to The Queen Victoria, eat lots of our granola every day you're staying with us and then put your order in for some to take home with you. I suggest buying a couple of boxes, or you'll just have to come back down again in a few weeks.
---
The Convention Hall NEWS (finally)
There is actually quite a bit to report to you about our new convention center, but I'm afraid that it isn't exactly what I was hoping to be sharing with you. It seems that I've once again underestimated the ability of our local officials to drop the ball on a major project.
In my last email I mentioned that bids were forthcoming for the project and that all was well. It turns out that while several bids were received, none was apparently to the liking of the city. Shortly after they were submitted, they were all returned and a request to "sharpen your pencils" was made. With the new request was also a list of items that could be removed from the bids in order to bring the price down. It appears that the new design, which calls for the re-routing of the promenade around the convention center, pushed the price beyond what had been approved.

Recent discussions about the prospects for the convention center include speculation about whether the current city council will be able to approve one of the new bids prior to the seating of our new city council. There are fears that the new city council will want to start over with a new design that MAY be less expensive. Other discussions include the postponement of work on the project until after the summer season. Does every small town have projects that are this messed up? At least it is providing great material for the local newspaper Exit Zero to editorialize about.
---
Favorite Guest Photos ... Timeless
This is a pretty cool picture that was sent to us by the Linsalatas last November. There is just something so dramatic about black and white images, especially when the subject is a timeless, classic building like the Queen Victoria.
---
Doug & Anna Marie's Restaurant Pick Of The Month ... Cape May Fish Market
Anna Marie and I were desperate for a mid-week BYO the other night and we decided to give the Cape May Fish Market a try. We've always been happy with our meals there, and our latest visit was no exception.
It was a quiet night in the restaurant when we went, and though it was a little too chilly to eat outside, there was a wonderful breeze blowing through the open front entrance. We started things off with an order of their fried calamari, which was one of the specials for the evening. Anna Marie ordered the broiled scallop dinner, and I went with another one of their specials, blackened tuna. Both of us were thrilled with our meals. My meal was truly incredible. It was perhaps the first time in my adult life that I was unable to finish my meal, having been served 2 large tuna steaks, topped with a delicious sauce full of lump crab. It was so hard to stop eating it because it was so good, but I was truly STUFFED.

Beyond the entrees themselves, we were particularly impressed with the sides. First of all, the rolls they serve with dinner have been upgraded substantially. These were high quality bakery rolls that we truly savored. Funny as it might sound, Anna Marie and I both really enjoy a great baked potato, which seems hard to find these days. Needless to say, Cape May Fish Market came through for us there too. Finally, a generous serving of asparagus rounded out the plate as the vegetable of the day. Oh, and about the service ... it was exceptional.

Cape May Fish Market is not a fancy place, and I wouldn't call it "fine dining", but we really enjoyed our meal there and we'll be going back again soon.
---
Make your reservations today for a romantic getaway at The Queen Victoria Bed and Breakfast. We are looking forward to helping you plan your next visit!

Sincerely,


Doug & Anna Marie McMain, Innkeepers

The Queen Victoria Bed and Breakfast
---
phone: 609-884-8702