The Cape May Music Festival Returns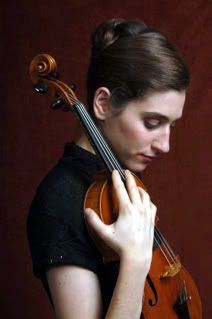 Anna Marie and I are anxiously anticipating the return of the Cape May Music Festival this May 17. The Cape May music festival is a little hard to categorize because it is so different from other music festivals any place else. To start with, rather than jamming a bunch of performances into a single weekend, the Cape May Music Festival is spread over nearly a month, with a couple of performances each week. The music is different too. While much of the music falls into the realm of "classical", many performers are simply classics within their own genre. In fact, the traditional kick-off concert is once again going to be celtic oriented.
This year's lineup of performers includes many favorites from years past, including the New York Chamber Ensemble, Atlantic Brass Band, and Bay- Atlantic Symphony. It also features several newcomers to the event, including a klesmer band The Fabulous Shpielkehs, and two beautiful violinists named Christina Castelli and Sharon Roffman (pictured above). Cape May's legendary jazz pianist Georgre Mesterhazy (a regular at the Merion Inn) will also be joining the line-up this year to spice things up a bit.

There is a lot of great music to go around, so this might be just the excuse you need to plan your next visit to Cape May. By the way, if you stretch your stay an extra day (beyond our minimums), we'll be happy to give you complimentary tickets to a concert. Can it get any better than that?
---
Equal Time For Dad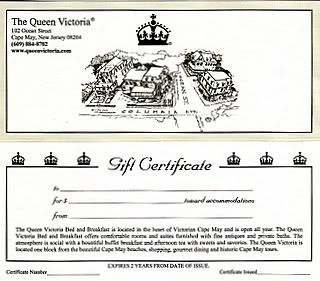 Last time I suggested to you that the perfect way to treat Mom special on Mother's Day was to bring her to The Queen Victoria. I stand by that assertion, and many of you must agree, because we had lots of Moms here last weekend. Even more of you gave Mom a gift certificate for a future visit, which was even better, really. But what about Dad?
I've always kind of felt that Dad gets the short end of the stick in this area. Seriously, have you noticed all the little silly tool gadgets and junky stuff on the special stands in the department stores. You know, the stuff Dad always ends up tossing in some drawer or closet for all eternity. Why don't we treat Dad as well as Mom? Great question! My personal theory is that we never know what to get a man who doesn't really need anything, so we settle for this stuff.

I say we start giving Dad equal treatment. In fact, he is probably due some "back love" and deserves a really special gift this year. Yes, you can see where I'm going with this ... give Dad a gift of The Queen Victoria. I can't really see too many of you actually bringing Dad to The Queen Victoria, but sending him sounds like a wonderful idea. That's right, give Dad a gift certificate to The Queen Victoria for Father's Day this year. Believe me, he'll be thrilled and this will be one gift that won't be forgotten in some man cave in the house. Oh, did I forget to mention that Mom will be thrilled too, because she'll get to go with him (at least I hope she'll be thrilled to spend some time in Cape May with Dad).
---
Stay & Play Returns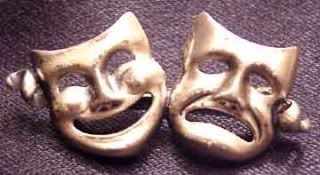 We are once again pleased to announce the start of our only summer package ... the "Stay & Play". Lots of you have taken advantage of this great deal during your visits in past years. If you love theatre and don't know about this great deal, then pay attention.
If you reserve a 4 night stay that includes a weekend, or a 3 night stay mid-week, any time that Cape May Stage is open (May 20 - Dec 31) we'll be pleased to present you with complimentary tickets to Cape May Stage. This is a GREAT deal! Tickets for a show are $35 each, so the value of the package is about the equivalent of a dinner out (excluding drinks).
---
Cape May Stage Presents ... Souvenir
Speaking of Cape May Stage, I thought it might be appropriate to feature their opening play of the season. I haven't seen it yet, of course, as it opens on May 20, but from reading the write-up on their site it sounds fun. I know I won't be missing it.
Have you ever met anybody who is completely convinced that they are really good at something that they have absolutely no talent for? Souvenir is a true story about a wealthy New York socialite who was convinced that she was the world's greatest opera diva of her generation, despite the fact that she couldn't put two notes together correctly. Somehow she manages to fill Carnegie Hall. Variety called Souvenir "A beguiling comic jewel with a heart". My guess is you'll love it too.
---
Memorial Day ... There IS still time
Do you wish that you had booked a stay with us for Memorial Day? Guess what ... it is not too late. Believe it or not, we usually don't book our last couple of rooms until the week of the holiday and this year is no exception.
If you are as ready to start your beach season as I am, give us a call soon. We have 3 rooms left for the weekend, a couple of which are 2 night openings. Think about it! You could be sitting on the beach for Memorial day instead of battling the grill in the back yard.
---
Upcoming Events
Cape May Music Festival May 17-Jun 11
5th Anniversary of owning the QV May 26
Cape May Restaurant Week May 31 - Jun 7
World War II weekend Jun 5-7
SUMMER !!! Jun 21 to Sep 21
Doug & Anna Marie's Anniv. Aug 8 (my favorite day of the year!)
Cape May 400th Anniv Parade Aug 29
Food & Wine Festival Sept 19-27
Victorian Week Oct 9 - 18

I know that spring is always welcome, no matter where you live. I have to tell you, though, that spring in Cape May is truly magical. Just stroll through our beautiful tree lined streets, with their fresh, light green leaves opening up and you can't help but slip into an extremely relaxed state of mind. The flowers are blossoming everywhere you look and the sunny beach beckons. What a wonderful place to be. I wish you were here to enjoy it with us!
---
This picture of our peony tree doesn't even look real!
---
Featured "Room of the Month" ... Hampton Court
I've been waiting about 4 months to show you this room again. We started planning our winter renovations back in December, which is when we decided to upgrade Hampton Court. It took months to get the job done, and then I missed a month of newsletter. I'm so excited about sharing it with you now!
Hampton Court has always been a great suite, but now it is truly something special. We started our renovations by adding a beautiful corner fireplace to make this an especially cozy room for the winter. As many of you know, we love Bradbury & Bradbury wallpapers, so we picked an elegant and rich combination of papers to decorate with. Once we had picked the paper, though, we realized that we needed to install some crown moldings to finish the look. To make it nice and comfy, we added a plush leather loveseat and large flat-screen TV.

I hope you'll agree that the result is truly magnificent. Not only does the new decor look great, it makes the wonderful Victorian furniture that was always pretty look truly spectacular. I know that Hampton Court is destined to be one of our most popular rooms now, so if you want to stay here next visit, be sure to book it early!
---
Are you a Fan of The Queen Victoria?
Trying to keep up with the latest internet fad, we've launched a "Fan Page" on Facebook. It seems like everybody I know is using Facebook these days, so I thought we would give it a try. If you don't know what facebook is, it is basically an internet networking site that allows friends to connect and keep in touch. Just yesterday an old college friend found my page and we reconnected. It was great. Today I was touching base with him and I noticed that Clint Eastwood had become his "friend" on Facebook ... really!
Anyway, not only do I have a page, I've created a Fan Page for The Queen Victoria. Big deal, right? Actually, I think it is going to be a great thing for you. We're going to use our Fan Page to post announcements of specials and last minute openings so that you, our truly dedicated guests, can take advantage of 1 night openings, and some really great deals without us having to bug you with emails. You'll just have to check out our page once in a while.
---
2009 Cape May Designer Show House
Anna Marie and I are excited and pleased to announce that The "Fifth Annual" Cape May designer show house is opening its doors next month. We've always been big fans of the show houses in the past and this year is no exception. In fact, the location of the house this year, just a short walk from the inn, makes it even more exciting for us.
I did a walk-through of the house a few weeks ago before any of the designers had gone in. Most of the carpentry had been done and you could see that some interesting changes had been made to the house (I had also walked through the "clearance sale" of the house's contents prior to the start of the project). Anyway, I really think that the house is going to be fantastic this year and I'm really looking forward to seeing it. I think that you'll want to see it too during your next visit to Cape May.
---
The latest (non) news about the Convention Center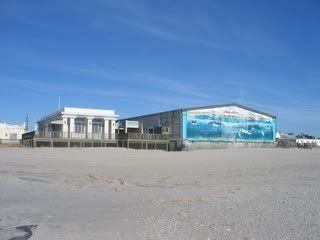 They say "No News is Good News", which could translate to mean that either all news is always bad (a distinct possibility if you're referring to the general media) or if you haven't heard anything then things are probably OK. Hopefully the latter is true, because I haven't heard a thing about the convention center.
The project is still on, which is the good news, but nothing seems to be going on. If you know somebody in Trenton involved in permits for beachside projects, give them a call and complain.
---
Favorite Guest Photos ... John & Diana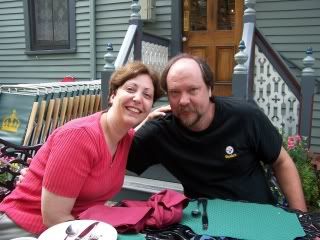 Lot's of you send in photos of yourself and I can't possibly use them all in our newsletters, so sometimes it is hard to choose. So how did I arrive at John & Diana? Well, first of all, John & Diana have been coming to The Queen Victoria for years (longer than I've been here). Secondly, they're illustrating a few things that we love ... 1) a happy moment at The Queen Victoria 2) Breakfast in the House of Royals courtyard (look for new umbrellas on the tables this year) 3) Beach Chairs! we're excited to have put them out again last week.
So even if you haven't seen any of your photos in our newsletter or on our website, don't give up on me. Keep sending the photos. I'm getting ready to post a whole bunch more photos to the site soon. It just occurred to me that I can also post photos to our FACEBOOK fan page. Perfect! I just love it when one topic ties back into another one.
---
Cape May Restaurant Week (New!)
Are you one of the many people who come to Cape May primarily for the fine dining? It wouldn't be such a surprise. After all, it is pretty easy to argue that Cape May is the fine dining capital of New Jersey. Anyway, the folks at Cape May Magazine and the Cape May Chamber thought it would be a great idea to make our fine dining more affordable. Who can argue with that?
This May 31 through June 7th our restaurants will be offering a special fixed price, 3-course menu at fabulous prices. The list of participating restaurants is impressive, and includes some of my absolute favorites.

There are two levels of dining being offered, $22.09 and $35.09 (I guess the ".09" is in honor of 2009). All participating restaurants will offer a three course meal, including appetizer, entrée and dessert, from a menu that shows at least three choices for each course every night they are open during Restaurant Week. Beverage, tax and gratuities are not included.

I think this event is destined to become an annual affair. What a great time to come to Cape May!
---
Doug & Anna Marie's Restaurant Pick Of The Month ... Gecko's
I don't think Anna Marie and I have ever featured Gecko's as our restaurant pick of the month. For the life of me, I can't figure out why.

Gecko's truly is one of our favorite restaurants. We probably eat here once a week during the season. Really, the place is great. Not only is it great food, but it also has a very charming "dining room" outside on their deck. Gecko's is tucked away just off of Carpenter Street, near Perry (where Congress Hall is).
If you love FRESH food, you're really going to love Gecko's. Everything is made right there, even the salsa. Gecko's serves "Southwestern Cuisine", which translates to Mexican +++. The "+++" is for the really interesting and different items on the menu that are way beyond what you would expect from your local Chi- Chi's (are they still around?) or Taco Bell. Seriously, how does Mesquite Grilled Salmon sound? How about Duck en Mole Verde de Pepita? I'm getting hungry just thinking about it (in fact, I just decided I'm going there tonight!)

Actually, the chef is from New Mexico, which might explain the differences. Anyway, if you have an adventurous bone in your body, make sure to check Gecko's out on your next visit to Cape May. Anna Marie recommends the Grilled Chicken Fajitas (awesome). I've been pretty adventurous over the years, but I've kind of settled on the Grilled Chicken New Mexican Burrito, which sounds pretty boring, but is wonderful. Don't forget to bring your own wine or beer!
---
Make your reservations today for a romantic getaway at The Queen Victoria Bed and Breakfast. We are looking forward to helping you plan your next visit!

Sincerely,


Doug & Anna Marie McMain, Innkeepers

The Queen Victoria Bed and Breakfast
---
phone: 609-884-8702