Coming or Going ... stop at Leamings Run Gardens
Anna Marie and I stumbled upon the perfect "must see" spot yesterday for your trip down or drive home this year. It had been many years since we visited Leamings Run Gardens, which happens to be the largest annual garden in the country (at least that is what they say). What a great experience! As we strolled the mile of paths through the gardens we kept commenting on the fact that most of our guests are probably completely unaware that this gem of a destination even exists.
These gardens really are beautiful, and the setting is amazing. As you wander through each of the themed gardens you stumble upon incredibly beautiful vistas filled with fern glades, gazing ponds, bamboo forrests, and loads of flowers. When we saw it the annuals were really just getting going. By mid-June I can only imagine how wonderful they will be.

We don't encourage anybody to leave town once they arrive, of course, but a visit to Leamings Run Gardens would be the ideal thing to do if you want to get an early start to your vacation, but your friends at The Queen Victoria have said your room won't be ready until 2:00 pm. OR, if you have checked out of The Queen Victoria, but aren't quite ready to head home, consider a stop at the gardens for a last treat. They are easy to get to and well worth the stop, either way.
---
Father's Day Ideas
So Mother's day is safely behind us and you're in the clear for a while, right? WRONG! Father's day is just around the corner and you are not prepared for it. Admit it, it took every ounce of creative energy in your body to come up with a gift idea for Mom. Now you need to do it again! The problem is, Dads are harder than Moms.
Dad doesn't NEED anything. He has all the shirts, socks, golf balls, cologne, and gift certificates to Home Depot that he'll ever need. He doesn't want another novelty cap or t-shirt either. So what can you do?

Funny you should ask. I happen to know of the PERFECT GIFT for Dad ... a gift certificate to The Queen Victoria. Every Dad loves bringing his beautiful wife to Cape May. Why? Because bringing your wife to Cape May makes her happy and when your wife is happy you are happy. And what better way to make your Dad happy than to make your Mom happy at the same time. That is a "2fer".

Seriously, Dad will love The Queen Victoria as much as you do. He'll come home and tell you it was the best gift he has ever received (other than the birth of his favorite child who just sent him to The Queen Victoria), which is really just a not so veiled hint that he would love it again next year. So now you have that going for you. No decision to make next year either! Can it get better than this?

Give us a call today and we'll make sure that your Dad is the happiest Dad around come June 15.
---
2008 Designer Show House
One of our favorite events every year is the Cape May Designer Show house. This year we're excited to see what our region's best designers are going to come up with at the 2008 Show House.
Anna Marie and I toured the house in the "before" preview. It was already apparent that there was a lot of magic in the works to create a wonderful showcase, literally starting from the bottom up. To start with they dug out the crawlspace to create a basement for the media and entertainment room. Every designer was there with conceptual drawings and materials, all of which promised a craftsman fantasy in the making.

The Showhouse is scheduled to open to the public 6/15/08, so if you're looking for a real treat on your Summer visit this year, make plans to visit the 2008 Designer Show House.
---
Cape May Music Festival
The Cape May Music festival has returned and I have to tell you that I am already enjoying it thoroughly. Anna Marie and I have had the pleasure of attending two of the concerts so far this year. We plan on several more.
Last night we experienced an incredible concert! The Atlantic Brass Band put on a show at the Lower Township Performing Arts Center that was unbelievable! I don't normally get all that worked up about brass bands, but last night's concert was truly incredible. I can't remember enjoying a concert of any kind so much.

That is the wonderful thing about this festival. Each and every show is a surprise waiting to be experienced. The talent of the performers that attend our little festival is truly astounding. Whether you like chamber music, classical violin soloists, gospel, or classical reviews, there is something for you here in Cape May. The festival runs through June 15th, so there is still time to plan a trip to The Queen Victoria and catch a performance.
---
Doug & Anna Marie's Restaurant Pick Of The Month ... Georges
So how do you live in Cape May for 4 years and not manage to find one of Cape May's worst kept secrets? I really have no idea! Anna Marie and I have been aware of George's restaurant on the corner of Beach and Perry since our early days in Cape May. Sure, it is a few steps further from us than a few other restaurants. Yes, it does lack curb appeal, but so do others. I guess I'll just stick with those lame excuses. Anyway, last night Anna Marie and I "discovered" Georges. What a discovery it was!
Anna Marie and I marched into Georges wine bottle in hand (yes ... another BYO!) last night with curiosity. Georges is primarily a Greek restaurant, and one glance at the menu (and the chef's last name) will put an immediate twist into your tongue. We were feeling adventurous, however, so we ventured in boldly. While most everything has a bit of a Greek flavor to it, many of the entrees were entirely pronounceable and all were enticing.

We started out with an incredible Falafel Crostini appetizer (for those of you who "have no Greek", falafel is an eggplant & garbanzo bean concoction). This was followed up by a delectible Atlantic Salmon dish for Anna Marie, while I sampled the crab cakes. When the owner/chef John started on our order he discovered that he was short one crab cake. He called out from the kitchen, asking me if I wanted the "good news or the bad news first". I love good news, so I was thrilled to hear he had just saved money on his car insurance. Yeah, John is a bit of a joker. Anyway, I told him to substitute it with anything he wanted, which is a great way to hit if off with a chef. We were tight the rest of the evening. I ended up getting a really wonderful side dish of "Paxi Tuna", which is also on the appetizer menu.

The night was a lot of fun, with plenty of banter with the owners and even a quick Greek Line dancing lesson once the place had cleared out a bit. We really thought it was cool that we drank our wine out of little juice glasses ... it seemed so authentic. Really, the place is fun. By the way, I have to mention that it must be really hard to photograph this restaurant, because the photo here, and every one I've ever seen, really fail to capture the feeling inside the place. It is a small place, with only 10 tables, but the atmosphere is wonderful and most seats have a view of the ocean!

Did I mention the prices? Our meal consisting of two entrees and an appetizer came to $33.07, after tax. There is definitely no better dining value in Cape May. No wonder they are rated the #1 restaurant in Cape May on Tripadvisor.com (the same place that we happen to be rated the #1 B&B in Cape May).
---
Upcoming Events
Cape May Music Festival May 18 thru June 15
Cape May Stage re-opens May 21
"Welcome Friends" open house hospitality night on the mall June 14
Harborfest June 21
Washington Street Mall Rededication June 21
Cape May Crafts Sep. 6
Food & Wine Festival Sep. 20-25
Cape May Wine Festival Oct 11-12
Victorian Week Oct 10-19
Halloween Events Oct 17-31
Sherlock Holmes weekend Nov 7-9
Cape May Christmas Nov 21 - Jan 4

As I write this we are enjoying an incredible Memorial Day weekend. Beautiful sunny days, cool nights, great restaurants, fun shopping on the new mall make for a great weekend.

It really is the perfect start to another wonderful Summer at The Queen Victoria. We wait all winter for these gloriously sunny warm months, so I'm always thrilled when they arrive. I'm guessing you are too.

Our advance bookings for this Summer are up once again, which we love, but it does make it a little more challenging for last minute vacation planning. If you've been thinking of coming to Cape May again this Summer but haven't taken the time to make your reservations yet, I highly recommend it. I want to make sure you get the perfect room for your stay this year.
---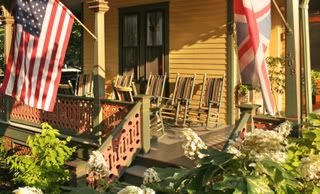 Just another sunny morning at The Queen Victoria
---
Featured "Room of the Month" ... the Queen's Cottage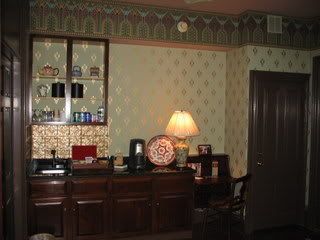 Last time I mentioned we were busy redecorating some rooms in the inn, and this was one of them. Since the day we purchased the inn we've been wanting to spruce up the parlor in the Queen's Cottage. It used to look a lot like a kitchen.

Our vision was to create more of a library/bar feeling, which we think we have achieved. Between the new granite counter top, magnificent Bradbury & Bradbury wallpaper & frieze (that is the wide border at the top), and designer inspired coloring and furniture we hardly recognize the place.
The two rooms in the Queen's Cottage have always been some of our most popular rooms, so it was only fitting to dress up their shared parlor. If you love the way this room looks as much as I do, you should consider reserving either Osborne or Balmoral for your next visit.
---
Cape May Stage Re-Opens!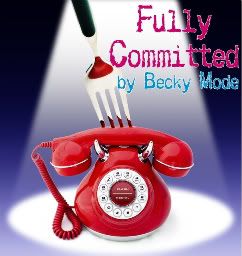 I am so pleased to report to you that Cape May Stage has officially started its 2008 season! The theatre opened last Thursday evening to a sold-out house with their production of "Fully Committed". By all accounts the show was wonderfully entertaining.
The really big news is not the new season, but the new seats! Yes, those old folding chairs are history. They have been replaced by tiered theatre seating ... just like in a real theatre. This is the culmination of a four year renovation project that we are proud to say we have generously supported. Anna Marie and I haven't enjoyed the new and improved seating yet, but we are looking forward to it!

Remember, we have complimentary tickets for you if you book a 3 night mid-week or 4 night weekend reservation. What could be better than that? Great accommodations and great entertainment.
---
What's New?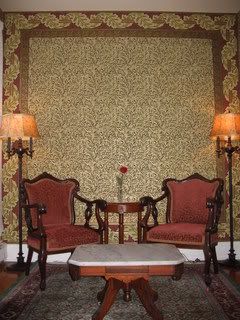 Normally you hear this phrase when greeting someone you haven't seen for a while. While I do care what is new in your life, I figured you might be interested in hearing about what is new at The Queen Victoria. As it turns out, there are lots of "New" things at The Queen Victoria.
In the interest of column space, I'm just going to list all the new and improved things you'll find at The Queen Victoria on your next visit ...

1) A total redecoration of the Queen Victoria building's sitting room (pictured here), including wallpaper, furniture, and pantry backsplash.

2) New carpet in the Queen Victoria and Prince Albert Hall hallways & stairways

3) Completely redecorated parlor in the Queen's Cottage

4) Robes are now provided in every room

5) Room safes have been installed in every room

6) New dishes throughout the inn

7) New bathrooms in the Regent's Park, Queen Victoria & Buckingham rooms

8) New parlor table & chairs in Prince Albert Hall

Even though there have been many changes at The Queen Victoria this year, the one thing that hasn't changed is the feeling of warmth and relaxation that permeates the place. If you've known us very long, you'll know that Anna Marie and I are intent on improving things at The Queen Victoria without changing the feeling here. We just want you to be more comfortable while you're staying with us.

We're excited about all the changes here at The Queen Victoria. We hope that you'll be excited to see them too.
---
Cape May's New Mall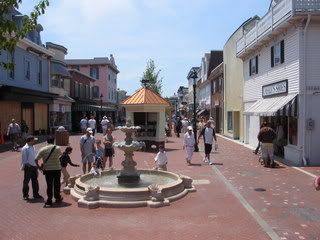 In my last couple of emails I've been keeping you appraised of the progress of our new Mall. While the dedication of the mall doesn't happen until June 21st, I'm pleased to report to you that work is basically complete. They may be finishing up a few final things, but it looks done to me. It also looks fabulous.
This photo was taken near the Ugly Mug, looking west towards Congress Hall. There is a lot to see if you look closely. First, of course, is one of our new fountains, which we've never had before. Lots of folks voiced reasons we shouldn't have them, but I've got to tell you that they were wrong. I love our fountains. You can also see some trees in the background as well as the upper left of the photo. Many of you lamented the loss of our trees when they were cut down. These new trees are very pretty and will provide shade and beauty far into the future. One of the more interesting things in this photo is the shop still under construction on the left. This will be a new fish market and seafood restaurant. At first the idea of a fish market struck me as strange (OK, it still does), but the "SEAFOOD" restaurant is a great idea. Think Lobster House in the middle of the mall! We'll see how it works out.

Anyway, the mall is complete and it is wonderful and I know you can hardly wait to return for a Queen Victoria visit to see it and enjoy it. By the way, that dedication week happens to coincide with the first ever "Harbor Fest", which looks to be a wonderful new Cape May event! We've still got a few rooms available for that weekend, so give us a call if you're interested.
---
Favorite Guest Photos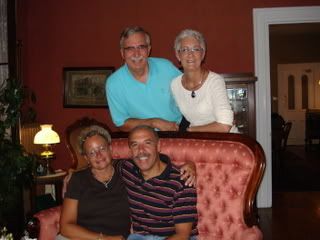 The title of this segment of my letter can have two meanings. Either these are favorite photos sent in by guests, or these are photos of favorite guests. I'm pleased to say that both meanings are fitting this month.

I love this picture! Not only are these two couples incredibly good looking, they happen to be some of nicest people I've ever had the honor to call my friends.

Joe and Cindy, seated up front, set a new record for frequency of stays at The Queen Victoria in 2007 at 10. I believe they'll surpass that mark this year (they are active members of the "Saturday Night" club). If you come to The Queen Victoria that often, you're bound to celebrate a few special occasions. This was taken during a significant birthday celebration for Cindy. You're also bound to make lots of friends here. Here they are pictured with another of our alltime favorite couples, Joe & Kathleen, who are also frequent guests and good friends.
Joe and Kathleen were engaged in Cape May during one of their early stays with us and have been regulars ever since. I'm not at all surpised that two such wonderful couples have befriended each other.
---
Make your reservations today for a romantic getaway at The Queen Victoria Bed and Breakfast. We are looking forward to helping you plan your next visit!

Sincerely,


Doug & Anna Marie McMain, Innkeepers

The Queen Victoria Bed and Breakfast
---
phone: 609-884-8702