Wine & Spirits Weekend April 1-2 & April 15-16
It seems that ghosts are the biggest thing in town lately. Just about every other house in Cape May seems to be haunted. Thankfully, Cape May ghosts seem to be related to Casper the Friendly Ghost (I know you remember him). In fact, ghost attractions and events have become some of the most popular in town.

One of the other great passions in Cape May lately is wine, of course. With an ever growing number of wineries in and around Cape May it is no wonder.

I guess it was only natural that somebody would combine these two pastimes to create a fun new event. Of course, there is nobody better qualified to do so than my friend, the famous ghost writer and wine purveyor, Craig McManus. I'm pleased to announce that The Queen Victoria is participating in Craig's brand new, first ever, world premier (you get the idea) "Wine & Spirits Weekend(s)" in April.
The weekend will start out with a casual "meet & greet" at the Mad Batter with Craig (cash bar). Following the meet & greet, once it gets dark & spooky, Craig will lead his band of ghost seekers through the streets of Cape May pointing out haunted houses and talking about the ghosts that he has experienced all over town.

On Saturday afternoon you'll attend a wine tasting at one of our local wineries with a presentation by Craig, who will be weaving his twin passions of ghosts and wine together.

You'll finish your Saturday with a 4-course dinner at the Mad Batter, with yet another wine tasting and more discussion by Craig on Ghosts & wine.

So you'll start off with some wine, then some ghosts on Friday. More wine on Saturday, paired with ghosts, then dinner with more wine and more ghosts. It sounds like a full dance card to me!

Availability is limited so don't hesitate (remember, he who hesitates is lost!). We're completely booked for the 4/1 weekend already, but if you have reservations for that weekend and are interested give us a call. We've still got availability for the 4/15 weekend if you need a wine& ghost fix.
---
New Cape May Forum "Foodie" Event - April 2
I'm the first to admit that I like fast food once in a while. I will say, however, that Anna Marie and I enjoy slow food much more. Taking the time to prepare a meal and enjoy it together at a leisurely pace is one of our great pleasures.

It is no surprise then, that Anna Marie and I were excited to hear about the interesting new Food Event scheduled in Cape May on April 2. If you are a "foodie" you'll love this!
On Saturday afternoon between 3:00 to 6:00 the Cape May Forum is hosting a "Food Expo & Marketplace" at the Star of the Sea Parish Hall located right behind the Catholic church. You'll find homegrown and handmade products that will be perfect for your kitchen. There will also be a wide range of services and information available related to starting a home based business. It should be a great opportunity to both learn and shop.

At 6:30 the doors open up again for a Slow Food Dinner co-sponsored by Slow Food South Jersey. There will be a cash Wine Bar provided by Cape May Winery for your sipping pleasure. I'm sure this will be a wonderful event.
$45 per person for the dinner
---
Cape May Jazz Festival, April 8,9,10
What better way to usher in the new season than a trip to Cape May for the Cape May Jazz Festival?

The Cape May Jazz Festival is a long standing tradition in Cape May and a wonderful reason to visit The Queen Victoria for a spring weekend. This year's spring festival is a little earlier than usual, so you have on less week to wait for it.
Even if you are only a casual jazz fan, you'll probably recognize several names in the line-up. Kevin Eubanks (pictured), who was the band leader for Jay Leno on the "Tonight" show for 18 years, leads the cast on Friday with 2 performances, along with Lauren Hooker, Gregory Porter, Winston Byrd and the Leon Jordan, Jr. Quintet.

Saturday's shows feature John Beasley, Pancho Sanchez, the Andrew Boyd, Jr. Blues Band, Kim Clarke and Warren Wolf.

Sunday it is all about the Jam Sessions, which are probably the most interesting shows of the weekend. They are the perfect way to spend a few hours in town before heading home for the weekend.

The venues are always small and intimate and the acts are great. If you love music, especially jazz in any of its forms, then you should really make your way down here and check it out. Give us a call!
---
4th Annual Singer Song Writer Cape May March 25-26
Anna Marie and I really love the Singer Songwriter weekend! Think of it as "American Idol, Cape May".

The event is really designed for up and coming musicians and song writers to explore the business and get tips on how to move their careers forward. It is also a showcase for them to be "discovered" by the music industry. It is this last part that makes it so cool for our guests.
Friday and Saturday nights there will be over 150 performances, from solo artists to full size bands in 15 different venues all over Cape May. There are a couple of headline acts for which there is a cover charge, but the vast majority of the performances are free to whoever walks in the door.

This really is a great event that Anna Marie and I look forward to every year. If you're looking to catch the latest sounds and maybe glimpse some of tomorrow's big stars, call us and make a reservation for that weekend. You'll be glad you did.
---
Gourmet Getaway
Lots of you travel on the weekends out of habit, even though you don't really need to. If you would like to save some SERIOUS money in the next couple of months on a trip to The Queen Victoria, consider taking advantage of our Gourmet Getaway package.
How does it work? (I was hoping you'd ask). Simply reserve any of our standard luxury suites, all with whirlpool tubs and/or fireplaces, for 2 nights Sunday through Thursday and get a $100 dining certificate for only $175/person. You can choose from several of our nicest restaurants, including Tisha's, the Ebbitt Room, the Merion Inn, Union Park and the Lobster House. This special is available through April.

Think about it. You can get away for a couple of nights at your favorite bed and breakfast in beautiful Cape May, enjoy an incredible dinner at one of our fine restaurants and have a wonderful time for $350. You simply cannot beat this deal!

Give us a call today. Remember this special cannot be booked on-line ... you need to call us
---
Doug's Money Saving Tips for Cape May
Everybody is interested in saving a few bucks these days, right? Well here are some excellent tips for your next Cape May Visit:
Purchase Seasonal beach tags for $15/ea until 3/31/11

Become a member of MAC and save on tours

Take advantage of our great mid-week specials through April.

Do an "Early Bird" reservation for your next stay at The Queen Victoria.
---
Pay Attention ... This is GOOD!
During your next visit to Cape May many of you will be taking trolley tours and/or visiting some of Cape May's wonderful historic landmarks. If so, I have a wonderful money-saving suggestion for you. Become a member of MAC (Mid Atlantic Center for the Arts and Humanities) and you can tour all of these sights and take many of the historic district trolley tours for FREE.

Your $40/couple donation for your joint membership in MAC entitles you to all of this and more. In addition to the free tours, you'll enjoy a 10% discount at the Carriage House Tea Room & Cafe located on the grounds of the Emlen Physick estate (if you've never eaten there, then you MUST give it a try this next visit ... it is a wonderful experience). If you like to shop, you'll be thrilled to learn that you'll also receive a 10% discount on all purchases at both the Carriage House and Cape May Light House gift shops.
Some people save money on vacation by cutting back on meals or activities. I suggest you save money and do more while you're in Cape May this year. Make your next visit truly memorable and support Cape May's premier historic preservation organization while saving lots of money. What could possibly be better than that?

For $2 more than the cost of a combination trolley tour ticket you can become a member of MAC, get into the Lighthouse and Emlen Physick estate for free, and take the trolley tour as often as you like. This is truly a "no brainer"!
---
2011 Designer Show House - Just Announced!
I am THRILLED to announce that MAC has just signed an agreement with the owners/developers of the new "Osprey Landing" complex to host the 2011 Cape May Designer Show House.
If you've visited Cape May in the last couple of years, then you have no doubt seen these interesting new buildings going up on the bay just after you cross the bridges into Cape May. I was thrilled to see some new construction with Victorian flair being built in Cape May. I had an opportunity to walk through the unit that will become the show house yesterday, one of 36 planned units, and I was stunned. First of all, there is a lot of real estate back there that I was completely unaware of. I was also incredibly impressed by the 4 story layout that was both spacious and filled with magnificent views.

This show house is a real departure from what MAC has done in the past in Cape May, and I think that the change is both invigorating and interesting. I truly believe that this show house has the potential to be the best ever.
---
Upcoming Cape May Events
· Singer/Song Writer Cape May Mar 25-26
· 130th QV Birthday Weekend April 1-2
· Wine & Spirit Weekend April 1-2
· Cape May Forum Food Expo April 2
· Cape May Forum Slow Food event April 2
· Cape May Jazz Festival Apr 8,9,10
· Wine & Spirit Weekend April 15-16
· Spring Festival April 29 - May 8
· Cape May Music Festival May 26 - Jun 16

OK, so I jumped the gun on spring a little bit last month. Yes, we've had a snow storm since then and some pretty cold nights. But today, I can state with great confidence that spring is here. It always arrives in Cape May about 1 week early. I hope you can cut me as much slack as you do the local weather forecaster.

Once again I'll be mentioning some great reasons to come visit us this spring, but I'd really like to start talking about summer and some great money saving tips for you. It really is time to start planning your summer visit to The Queen Victoria, if you haven't already reserved it. We still have vacancies throughout the season, but we've taken a lot of reservations already and you'll want to have your pick of rooms.
---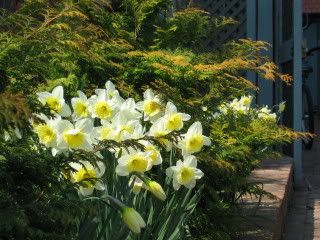 Our Spring Colors.
---
Featured "Room of the Month" ... Prince Leopold
It is hard to believe, but over the last few years I have featured every single room at the inn ... all 34 of them. That means, of course, that I am now in the position of having to repeat my features. The good news is that we've improved and redecorated so many rooms that many of them are new all over again. Such is the case with Prince Leopold.
Prince Leopold has a few things going for it that make it pretty unique in our inn. For one thing, it has one of only 4 king sized beds at The Queen Victoria. It is also one of the very few rooms (only 6) that can accommodate more than two people.

Prince Leopold is a large premium room on the 3rd floor of the House of Royals. It is certainly one of our largest rooms, with a nice little sitting area at the opposite end of the bedroom from the bed. In fact, this photo was taken from that area, so you can't see it (each topic can only get 1 photo with this software). The seating area boasts a couple of comfy new chairs and nice little sofa which pulls into a full sized bed.

Like all of our rooms Prince Leopold has a private bath which features a marble floor and a 2 head shower with an interesting marble bench seat.

If you're looking for a large, comfortable room, perhaps for an extra person or two, then consider Prince Leopold for your next visit to The Queen Victoria.
---
Something New at The Queen Victoria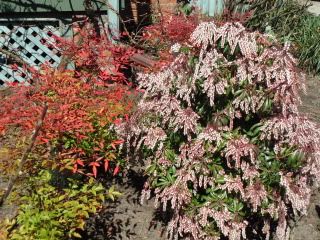 With spring comes inspiration, and we've caught a little bit of it ourselves. Over the years we've been battling some landscaping at The Queen Victoria that had gotten a little out of control. Today we took the bold step of taking out some of the overgrown, shabby looking plantings at the inn and replacing them with beautiful new and interesting shrubs. I hope you'll agree that our new look is much nicer!
Pictured here are the plantings that we've put on the front corner of the house nearest the sign bed. You might recall the huge ink berry plant that occupied that corner. I know we've had more than one comment from guests pointing out that it blocked the ocean view from the front porch. Other guests rightly pointed out that it had grown out over the walkway, forcing you into the lawn when walking along our brick path. Those days are over!

These beautiful new shrubs, Andromeda Japonica, already flowering at this early date due to their recent life in a greenhouse, and Nandina or "Heavenly Bamboo", really dress up the area and clean it up at the same time. In fact, we've got a few areas around the inn where we'll be planting this beautiful combination.

We've also taken the rather dramatic step of removing the heather from the front fence. After years of trying to keep it under control and completely replacing it once already, we finally admitted that while it is pretty when it is flowering, it is not well suited in a fence bed. In its place we've planted boxwoods, which are both VERY Victorian and very neat and tidy. Perfect for The Queen Victoria!
---
The Convention Hall NEWS
This is a photo I took just a few minutes ago. You can see that several of the concrete pilings for the new Convention Center are in place. I was speaking with the "CM" (construction manager) a few minutes ago and he tells me that they're trying to get about 20 pilings in a day. I believe he told me that there will be 90 some pilings all together.
Just a few fun facts for you about this process, now that I'm an expert after my 3 minute conversation with the CM. Each piling is first placed in a hole created by a jet of water. After it is set in place the pile driving machine moves in and starts pounding it down into the sand. It takes about 30 strikes of this machine to drive the piling down 1 foot. Each piling has to be driven down several feet until it reaches the proper depth. Once in place, the top is cut off and they move on to the next one. One thing I can tell you for sure, it is not a quiet process!
---
Favorite Guest Photos ... Cape May Sunset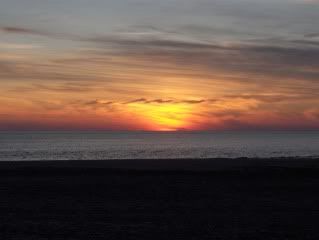 You always hear about the fantastic sunsets in Florida. I've got to say that I think they've got nothing on us! This is a great sunset picture with all the colors you could ever hope for.
Think about it, Cape May is one of the few non-island towns in America that you can watch the sun rise out of the water and set into the water. Cape May is just special in so many ways.

I was thinking that there should be a sunrise/sunset club for those of you who witness both in the same day. I have a feeling that there wouldn't be all that many people willing to get up early enough for the sunrise though.

Finally, I need to request photos! I know you're taking them and I hope your enjoying them. Now I'm asking you to share them with us. What is the point in taking great photos if you don't show them off?
---
Cape May Stage 2011 Season
Anna Marie and I are very excited about the 2011 season at Cape May Stage. This year's schedule of plays looks a lot more like those of season's past, filled with fun comedies and interesting entertainment.
This year's season kicks off with the return of the most popular production ever presented at Cape May Stage ... "Say Goodnight Gracie".

Here is the promotional write up from CM Stage:

Adapted from the reminiscences of George Burns, this multimedia tour-de-force presentation traces the comedian-raconteur's life from his childhood on the Lower East Side to his early career in vaudeville to his momentous meeting and subsequent personal and professional relationships with wife Gracie Allen. "Say Goodnight Gracie" is a hit Broadway play that invites you to spend a hilarious, heart-warming evening in the uplifting company of the world's favorite and funniest centenarian, George Burns. Due to enormous demand, this production, starring Joel Rooks, returns to the Stage after selling out every night in the summer of 2009. In a seamless performance, Rooks inhabits the character of Burns; so much so that audiences will feel they've spent the evening with the man himself.
---
Doug & Anna Marie's Restaurant Pick Of The Month ... The Merion Inn
If you've stayed with us before, there is a very good chance that you've already dined at the Merion Inn. It is probably Cape May's oldest restaurant, and one of our best. Anna Marie and I really love the Merion Inn.

The Merion opened for the 2011 season last night and Anna Marie and I just had to be there. I have to say that we both thought our meals were incredible and enjoyed them thoroughly.
Last night we started off with a seasonal "Strawberry, goat cheese & toasted almond salad with a mimosa dressing. Truly phenomenal! Anna Marie had the "no frills" scallops, broiled and I opted for the flounder franchese. Again, both were incredible. I even loved the mixed veggie side. Oh yeah, the rolls & muffins they served with apple butter were great too! We had a nice bottle of wine with dinner and couldn't have been happier.

The Merion Inn has a very large menu with a very nice variety of offerings. In recent years they have introduced a nice selection of interesting and innovative meals to complement their traditional dishes like the Horseradish Encrusted Salmon with salmon-chive cream sauce. For an appetizer, try the Warm Figs stuffed with gorgonzola and wrapped in prosciutto.

As I write this I'm looking at their menu and I'm once again stunned at how extensive it is. They truly have something for everyone on it. The other thing that really strikes me is how accommodating they are with all their dining options. They have an Early Bird and Night Owl 3 course menu for dining before 5:30 or after 8:30 (9:30 on Saturdays) for only $18.95. You really can't beat that. They also have a $15 "Express Dinner" if you're in a hurry or eating later. Finally, this year they are introducing a "box dinner" especially for theater goers, which you can order in advance and enjoy later in the evening after the show. It sounds like it will be a really nice option.

If you have dined at the Merion Inn before, then you're probably already planning on returning. If not, then I suggest you give it a try on your next visit. You'll be happy you did.
---
Make your reservations today for a romantic getaway at The Queen Victoria Bed and Breakfast. We are looking forward to helping you plan your next visit!
Sincerely,

Doug & Anna Marie McMain, Innkeepers
The Queen Victoria Bed and Breakfast
---