---
3rd Annual Singer Song Writer Cape May!
Anna Marie and I are so excited that this event is returning for the 3rd time this March 26-27. This is a GREAT event. With over 150 free performances in 15 different venues around town, you are sure to have a wonderful experience.
Like last year, dozens of up and coming musicians of all kinds will be converging on Cape May to perform and "break out" in front of our audiences and all the music professionals that will be in town. If you are interested in hearing some of tomorrow's big stars before they're discovered, make plans to attend.

Several bigger names are also going to be performing, including the lovely lady in the picture above, Nicole Atkins, and Steve Forbert, whose name you may not recognize, but whose music you've definitely heard and probably like.

Before long this event will no doubt rival the Cape May Jazz festival for popularity and acclaim. Make plans to attend this year's event and you'll be one of the hip insiders that "discovered" it.
---
33rd Annual Cape May Jazz Festival
I am usually pretty enthusiastic about the Jazz Festival, but this year I am particularly fired up about the event. If you are familiar with Spyro Gyra, then you'll be as excited as I am that they are the opening act for the Cape May Jazz festival on April 16th. I've been wanting to see this band for close to 30 years. The amazing thing to me is that the music they're releasing today sounds as great as the stuff they were starting out with when I was in college.
It seems like the organizers of the Jazz Festival decided to forego the usual "theme" and just put together a lot of great acts this time around. There are at least 15 different artists scheduled in venues all over town. The festival kicks off on Friday, April 16th and runs through Sunday afternoon.

Call us soon if you want to be here for the Jazz Festival. We've only got a few rooms left, and they are going fast!
---
Spring Festival April 23 - May 2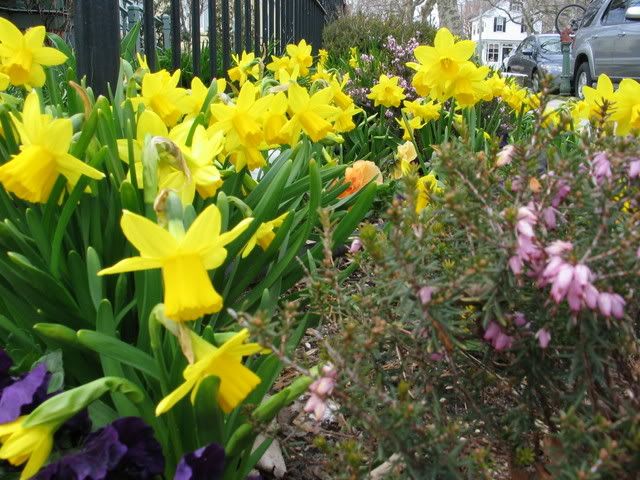 Are you ready for it? I'm speaking of spring of course. Sure, you could celebrate the long awaited and very welcome spring this year by staying home and, well, doing the same old thing. But think about this: If spring is about renewal, then shouldn't you get into the act too? Seriously, what could be more renewing and energizing than a trip to Cape May for the Spring Festival?
So what goes on at the Cape May Spring Festival? I'm glad you asked. There is a lot, so hold on tight ... Murder Mystery Dinner, Chocolate Championship Tour & Tasting, Private Homes Tours Secret Garden Tours, Vintage Dancing, Tulip Festival, Chocolate Fantasy Buffet, lots of "ghost tours", Victorian Architecture Lecture, Victorian Music Lecture, Temperance Debate & Luncheon, Chef's Dine Around dinner, wine pairing dinners, winery tours, and more (lots more, I'm getting typing cramp). I'm actually stunned at how much is going on! Of course, I haven't even mentioned the beautiful explosion of color from all the tulips and daffodils bursting from the ground all over town.

With so many wonderful reasons to visit Cape May for the Spring Festival, how could you possibly resist? Take action! Spring yourself out of the winter doldrums with a stay at The Queen Victoria. There can't possibly be a better way to put this winter behind you.
---
21st Annual Cape May Music Festival May 20 - June 10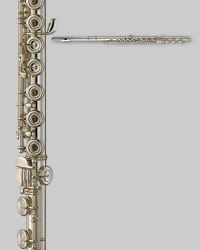 Just how many festivals can one town have anyway? Apparently quite a few. I'm sure it is hard for you to choose which festival to come experience. My advice is to try them all, but I do recognize that most of our guests just can't get to Cape May every month, as much as they would like to (some do come about once a month, believe it or not!). Anyway, the 21st annual Cape May Music Festival is returning and I'm pretty excited about it. I'm sure you will be too.
Every year an astonishing variety of incredibly gifted musicians flock to Cape May during this 3 week festival to share their passion for music with the lucky souls who live in and visit Cape May. Lucky we are, indeed. No matter what your musical tastes, there is something for you. We have Tradtional Irish music, Jazz, Chamber music, Brass Bands, Classical Symphoniy and African Percussion. Talk about variety!

If you love both music and Cape May, there can be no better time to make a visit to The Queen Victoria. For an extended visit, Anna Marie and I will be happy to give you complimentary tickets to a show. Call us today!
---
Upcoming Events
· Sherlock Holmes Murder Mystery Weekend Mar 19-21
· Beer Tasting Dinner at Mad Batter Mar 21
· Singer Songwriter Cape May Mar 26-27
· Cape May Winery Girls Weekend Mar 27-28
· Cape May Marathon Mar 28
· Cape May Wine Trail Apr 3
· Ghost Weekend with Craig McManus Apr 9-10
· Mad Batter Wine Pairing Dinner Apr 9
· Cape May Jazz Festival Apr 16-18
· Cape May Spring Festival Apr 23-May 2
· Cape May Wine Trail Apr 25
· Cape May Wine Trail May 2
· Cape May Wine Trail May 23
· Cape May Music Festival May 20-Jun 10

As I write this Spring has not quite returned. In fact, with the weather we've been having I was beginning to think that global warming actually meant perpetual snowfall and arctic conditions. Alas, the record snows have all melted away, leaving in their wake an astonishing quantity of bulbs leaping from the ground for their annual parade of color. Believe it or not, our pansies, which had been buried under snow for literally weeks starting blooming again within days of being uncovered. So, Spring really is on the way and a welcome event it is, indeed.

Along with the explosion of colorful blooms the Spring brings to Cape May, are an amazing lineup of events that make Cape May a wonderful Spring getaway. In March we've got our wine blending party, the Sherlock Holmes Murder Mystery weekend, Singer/Songwriter Cape May, the Cape May Winery "Girlfriend Getaway Weekend" and Cape May Marathon. April ushers in the Cape May Jazz Festival, a new "Ghost" event with Craig McManus and the Cape May Spring Festival (it used to be called the Spring Victorian Week). In May we have the month long Cape May Music Festival and Memorial Day Weekend, the official preview of summer.

Of course, we're still offering a slew of specials and great deals through much of the Spring to make a visit to The Queen Victoria even more irresistible.
---
---
Featured "Room of the Month" ... Brighton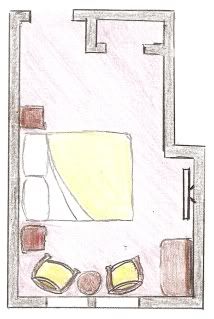 Last month I told you all about one of our two new rooms in the Queen's Cottage. This month I'm featuring our other new room called Brighton, which will be available for rentals starting Memorial Day Weekend. Like Whitehall, Brighton is one of two rooms in the upstairs section of the Queen's Cottage. It is currently under construction, so I don't have a good photo, but I can tell you, it is going to be a beautiful room. Brighton will be our largest "standard" room, so it is also a great value. With a queen sized bed, a sitting area with two comfy chairs, a large flat panel Hi Def TV with DVD, and some beautiful Victorian furniture, it will undoubtedly be a favorite for many of our guests. As the name suggests, Brighton is a bright room, with two large side by side windows looking out over the beautiful gardens of the Queen's Cottage.
Brighton shares semi-private access to the beautifully decorated and comfortable 2nd floor parlor area in the Queen's Cottage with just one other room: Whitehall. Besides a great view, luxuriant seating and central air, the parlor also features a kitchen sized pantry with full sized refrigerator stocked with complimentary beverages.

This is an ideal setup for couples traveling together who rent both Brighton and Whitehall. In this situation, the rooms effectively become a 2 bedroom condo with a fantastic private parlor and a semi-functional kitchen (no stove/oven ... you don't really want to cook on your vacation, after all).

There is one thing that makes Brighton special and unique in the inn. Like all of our rooms, Brighton has a private bath, however, the bathroom is not "ensuite". Brighton's brand new, large, cheery bathroom, featuring a HUGE walk in shower, is located in the hall, just outside the room. We were reluctant about doing this at first, but after a bit of reflection, realized that in many ways this is actually a preferable set up, especially for a romantic getaway. First of all, there is absolutely no noise from the bathroom in the bedroom. Further, bathroom fans can only work so well, so privacy is completely assured when the bathroom is detached. Finally, if one of a couple wishes to use the bathroom early in the morning or in the middle of the night, there is far less chance of waking the other. If you think about it, having the bathroom just outside the door offers a lot more privacy. Bathrobes are provided for transit between the room and bathroom, of course. Oh yeah, access to the bathroom requires the Brighton room key.
---
Our New Cookbook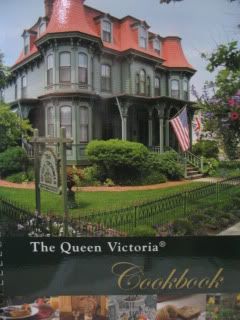 We've been talking about it for years (literally), so Anna Marie and I are very pleased to announce that our new cookbook has arrived and is available for purchase from our giftshop. I can't begin to explain to you how beautifully it came out. Seriously, I'm not just saying that in a biased sort of way. It has been universally admired and complimented by everyone who has seen in.
There must have been quite a bit of pent up demand for our new cookbook, because we literally sold hundreds of them within a few weeks. Don't worry, though, we've still got thousands more in stock and waiting for you. If you're planning a return trip soon, don't forget to take a peak at our cookbook while your here. I'm pretty sure you'll take one home with you!

If you just can't wait for your next visit to get a copy, just give us a call and we'll be happy to ship one out to you. If you want a copy signed by the author, just mention it when you order and Anna Marie will be happy to sign yours.
---
The Convention Hall NEWS (finally)
I am so pleased to announce that there is finally something happening with the Convention Hall! Believe it or not, there has been some serious activity in this drawn out affair.
A couple of weeks ago the city held a town meeting to introduce the latest, revised, and final plan that is actually on the verge of getting started. The photo above shows what the new structure will look like.

The major delay was the state's insistence that no "virgin" beach could be included in the new design, while the city fought and fought for just that. In the end the city gave up, and redesigned the structure to extend into the promenade instead of the beach (the promenade will wrap around the new hall).

Bids were accepted for the project last week and the marquee has information about the auction of public property on it. If I'm not mistaken, demolition will start by April. I'm very pleased that things are finally moving forward! This will be VERY good for Cape May.
---
Favorite Guest Photos ... A little different
I normally feature self serving photos of The Queen Victoria that have been submitted by our guests in this section of my email, but I'm deviating a little bit this time around. One of our guests who visits The Queen Victoria for a week each year happens to be a world famous wildlife photographer. In response to my last newsletter John Reiter shared with me that he had recently been awarded the Grand Prize in the prestigious Windland Smith Rice Award international nature photography competition. The photo above is obviously the winning shot, though he also had some other incredible photos. Two of his images from Africa are featured in the current issue of Nature's Best Photography and are on exhibit at the Smithsonian, Wash, DC starting in May.
As we're sipping tea on the porch each afternoon it is hard to imagine John treking through the jungles of Africa snapping the most amazing photographs of wildlife. John is really quite the intrepid soul.
---
Doug & Anna Marie's Restaurant Pick Of The Month ... Geckos
I know for sure that winter is over when our favorite outdoor restaurant re-opens for the season. Anna Marie and I are THRILLED that Geckos is open again! Actually, they are opening for the season 3/18/10 for lunch and dinner. Life is good.
Actually, life is good is a good metaphor for Geckos, because that casual, simple style is how I feel when I'm eating there. The food is incredible and there is nothing like it in Cape May. We've got lots of favorites, but we always start out with chips and their wonderful fresh made (can you call something a restaurant makes "home made"?) salsa. Their meals always come with a salad that is without a doubt the best salad I have ever had. Anybody who takes the time to grill corn on the cob and shave the kernals into their salad is very serious about their salad. Anna Marie's favorite dish is the Grilled Chicken Fajitas, while I favor the buritto.

Reading this, you might think that Geckos is a Mexican restaurant. It is actually a "NEW" Mexican restaurant (as in the state New Mexico), which features some really interesting and different dishes. For instance ... Smoked Trout Cakes, Mesquite Grilled Salmon, and Duck en Mole Verde de Pepita can be found on their menu every evening.

If you haven't ever tried Geckos, then you have to do so. If you have been there before, you'll be as excited as I am about them being open again. Remember to bring your own wine to Geckos!
---
Make your reservations today for a romantic getaway at The Queen Victoria Bed and Breakfast. We are looking forward to helping you plan your next visit!
Sincerely,

Doug & Anna Marie McMain, Innkeepers
The Queen Victoria Bed and Breakfast
---