Spring Specials ... the clock is ticking!
Lots of you have already discovered how nice it is to visit Cape May during our quieter (and cooler) months. Some of you still think of Cape May as a Summer Only type of vacation. Now I'm not trying to convince to not come stay with us in the Summer, but I highly recommend you give us a try in the "shoulder season" (we NEVER say "off season").
So why should you? Well first, Cape May is just as beautiful and charming now as the rest of the year. In fact, with Spring arriving and the blooms and birds returning, you could say that it is at its very best. Perhaps the best reason though, are the wonderful specials that we offer to stay this time of year. That's right, it is a lot cheaper for you now than other times of the year. Beyond our seasonal discounts, we also offer some amazingly great discount packages for mid-week stays.

I have to tell you, though, that time is running out. Our specials end at the end of April! If you want to sneak in a quick couple of days at The Queen Victoria, and really stretch your dollar, give us a call soon. You don't want to miss the tremendous values that are available right now!
---
Mother's Day Ideas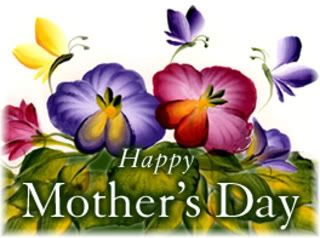 So what do you give to the woman who gave you everything? It really is a challenge every year, isn't it? If you struggle each year to find the perfect gift for Mom for Mothers Day, don't despair. I'm here to solve all your problems.
They say (I'm not sure who "they" are, but they are obviously VERY wise) that the best possible Mother's Day gift is a stay at The Queen Victoria. The beauty about this concept is that there are two ways to do it. You can either take Mom to The Queen Victoria for a wonderful and well deserved stay with her favorite child (that would be you), or you can give her a gift certificate and she can come down when it fits into her busy schedule.

Seriously, can you imagine a better gift? Imagine yourself as your mother receiving such a wonderful gift from you. You would be overwhelmed! That is how she'll feel when she opens your gift.

The best thing about this is how easy it is. Just pick up the phone and call us. Within 5 minutes you'll be done with Mother's Day shopping until you call us again next year!
---
Philadanco in Cape May!
Access to Art works tirelessly each year to bring some of the finest musical and dance performances to the Cape May area. This year is no exception, with the kick-off of the season presentation of Phildanco.
On May 17 Philadanco will present a one-night performance at the Cape May Court House center for the Performing Arts. The Philadelphia Dance Company is a world class company internationally celebrated on three continents.

This is a chance for you to witness these amazing performers at a great discount from the cost of tickets at a Philadelphia performance. If you love dance, you definitely have to work this weekend into your schedule. Call us today and we'll make sure that you have a great place to stay too.
---
Spring Festival
Spring is here! Most of our visitors from points north of us have been telling me we're a little bit ahead of them, so I thought you'd like to see what our gardens are looking like right now. To celebrate the arrival of Spring Cape May is holding its annual Spring Festival. If you've never visited Cape May as it comes bursting back to life, then you really need to consider it. Cape May's annual Spring Festival really is a wonderful event that you don't want to miss.
These daffodils are just a prelude to the full Spring glory that is Cape May. The Tulips, Lilies, Peonies and all our other wonderful blossoms are saving themselves for the festival.

Besides being beautiful, there are TONS of things going on during the Spring Festival, including an antique show, a chef's dine-around (lots of fun), a craft show, murder mystery luncheons and dinners, vintage dancing, and more tours than I could list here without putting you to sleep.
---
Cape May Spring Jazz Festival
Yes, it is time for the Spring Jazz Festival again. It is all about the music this year, obviously. Of course, the Cape May Jazz festival is a proud tradition that speaks for itself.
This spring the Cape May Jazz Festival proudly presents many of the finest "young lions" in jazz today. As a natural successor to the 28th Festival "Favorites Return", the "Next Wave" features an elite up-and- coming new breed of artists: cutting edge musicians across many jazz genres, each honoring the legendary players who came before. This is a must attend weekend for any jazz lover with roots in the past, and an ear towards the future!

(Yeah, I clipped that last paragraph directly from their site)

Anyway, I was amazed to see that the Rippingtons, one of the hottest Jazz bands in the last couple of decades, is one of the featured acts this year. Cape May is big time!

Call us soon to reserve your room. We're almost full, and the rooms are going fast!
---
Cape May Music Festival
If you love to listen to truly fine music, you'll want to plan on visiting us this year for Cape May's 19th annual Music Festival. Every year some of the most amazing performers grace our fair town and bestow their talents upon us.
Our annual music festival is a little different from most music festivals (like say, our Jazz Festival). First of all, it spans several weeks, so you don't have to get all of your music in one weekend. The music tends to be a little more on the classical side, though the festival always includes other genres of music as well. In fact, in keeping with tradition the festival will be kicked off on May 18th by a Celtic band called "Road to the Isles", featuring Pipe and fiddle music, dance and folksong traditions of Scotland and Ireland. A classic sure, but not classical music. The band featured in the picture is called Shtreiml, which is a high octane Klezmer group led by harmonica maestro Jason Rosenblatt.

I know you'll want to make the festival part of your Late May, early June visit, so plan on attending a show or two while you're here. If you haven't planned your trip yet, then you obviously need to start working on that soon!
---
Upcoming Events
Cape May Wine School "Left Coast Wines" Mar 30
Cape May Jazz Festival April 18-20
Philadanco May 17
Spring Festival April 25 thru May 4
Cape May Music Festival May 18 thru June 15
Cape May Stage re-opens May 21

There is a saying that "the more things change, the more they stay the same". That never really made sense to me, but maybe I understand it now. Both Cape May and The Queen Victoria are undergoing some changes this year, yet they both feel just like they always have (only better!).

Everything you've always loved about Cape May in general and The Queen Victoria in particular is still present, everywhere you look. The same charms and comforts that you've come to expect on your visits to our fair city still abound.

We're excited about our new mall and the changes we've made at The Queen Victoria this winter. We're confident that you'll like them too.
---
The most relaxing place on earth!
---
Featured "Room of the Month" ... the Sitting Room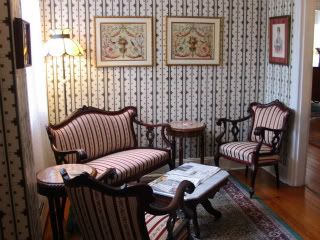 Yep, I'm throwing a wrench in the works here by not featuring a guest room, but rather one of our common rooms. This photo is bit of a "Before" photo. Most of you will recognize this room as the sitting room in The Queen Victoria building. You'll probably also notice that the furniture looks a little different. Yes, we're making some changes.
So what is in store? Well, first of all, this seating set, which replaces the mission style settee we did have, increases our seating capacity in the room by 100%. This set will be re-upholstered when we change the wallpaper in the room. We're very excited about the new look that you'll see on your next visit. Think "Showcase Wall".
---
Cape May Stage's 2008 Season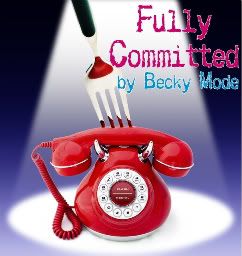 Who doesn't love a good play? So many of you have made an annual tradition of "doing" Cape May stage during your visits to The Queen Victoria. If you are one of our stage lovers, then you'll be pleased to learn that Cape May stage has released their 2008 schedule. It looks like a great season.
Here is this year's schedule:
May 21 - June 28, Fully Committed
July 2 - Aug 16, Private Lives
Aug 20 - Sep 27, Doubt (a parable)
Oct 1 - Nov 1, Rounding Third
Nov 5 - Nov 22, Lady Day
Nov 28 - Dec 21, This Wonderful Life

We're going to be running our "Stay & Play" package again this year, so visit our website or call for details. We're proud to support Cape May Stage!
---
Cape May Marathon
The Cape May Marathon is upon us again. In fact, it is coming up this weekend! I guess that means if you are a runner that would have been interested in participating, but were unaware of it, you don't have much time to train for it. We're nearly full anyway, so you may just want to start training for next year's event and plan on staying with us then.
Every year we have several guests staying with us to compete. I've always viewed these folks with awe and amazement. I also think they are crazy ... in the best possible way, of course. My favorite marathoner, by far, is Zack Huffman, who competes every year and has won his division at least once (since I'm not a journalist, I failed to follow up and get the details). This photo is of Zack approaching the finish line last March. I must say, it looks like Zack is finishing strongly!
---
Cape May Face Lift ... The Mall is Coming Together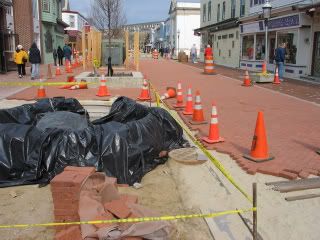 If you've been following the progress and drama of our new mall, you'll be pleased to see that we're getting close to completion. I'm told that they're actually about 2 weeks ahead of schedule, which may be a first in the history of our fine nation (when has any project ever come in early?). The targeted completion date is the Memorial Day weekend.
This photo was was taken looking from the middle of the center block of the mall, looking towards the Ocean street end of the mall. If you look closely here you'll see lots of exciting things taking shape. In the foreground you can see a fountain (under black plastic) that is being installed. Just beyond that is a planter that is not yet bricked, but is holding a nice new 20 foot tall sapling. Just behind that you can see the beginnings of a facade to hide the ridiculously non- buried transformers in the middle of the street (can you tell I think they should have buried them? It is the only thing I don't like about our new mall). Finally, you can see that the center street has a herring bone pattern of bricks, while the sidewalks are in a straight pattern. The effect is very nice.

I noticed that there is a re-opening dedication scheduled for June 20, but don't wait to come down and enjoy the new mall. Lots of folks are already enjoying it today.
---
Favorite Guest Photos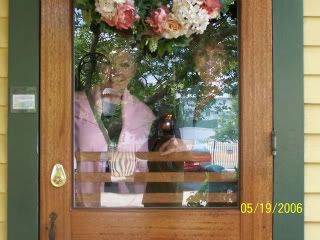 This has always been one of my favorite guest photos. These two beautiful ladies are Cami and her mom Darlene, who come stay with us every year just after Mother's day, along with Cami's daughter Kristin. Now is that impressive? Two generations of Mother's Day celebrations happening at The Queen Victoria at once!
This photo is kind of artsy and creative, which is one of the reasons I like it. The other reason is that it is a perfect example of girls having fun together in Cape May and at The Queen Victoria. Did I mention that a visit with Mom to The Queen Victoria is the PERFECT Mother's day gift?
---
Doug & Anna Marie's Restaurant Pick Of The Month ... Depot Market Cafe
Cape May is known for its abundance of fine dining restaurants. We also have quite a few places to eat that are a little more on the casual side. The Depot market is our favorite of these. The Depot is located just up the street from The Queen Victoria, so the location is great for our guests too.
When I say casual in this case, I really mean it. When you walk into the Depot you'll think that you've stepped into a sandwich shop, it does have a bit of that feel at the counter. The cooler along the side wall full of beverages to choose from also lends it that feel. But look around and you'll notice some charming and cute decore that makes it feel comfortable (as you can see from this photo).

The food is what really sets the Depot a step beyond a sandwich shop. When was the last time you saw "Osso Bucco" on a specials board in a sandwich shop? Everything I've ever had here was great. So what do Anna Marie and I order? Well, we've done our share of burgers here (our favorite in town), but I'm also partial to the Chicken Gorganzola sandwhich. The Spinach Feta pie with salad that is often on the specials board at lunch is also out of this world. If you are partial to Shepards Pie or a great home made Chicken Pot Pie, look no further. Finally, I can't say