World Series of Birding ... 43 days and counting
Who knew there was a "World Series of Birding"? Actually, lots of folks. As you may know, Cape May is a world famous destination for bird watching. I guess it is only natural that the "World Series" would be held here every year. Teams form and travel from all over world to come to Cape May for a weekend of fun and competition. It is actually an amazingly well organized event, which you'll see if you follow the link below.
The great thing about this event is that you don't have to be a world class birder to participate. In fact, they have competition at every level and the main point is to get involved. Even if you don't want to participate, it is fun to go down to the observatory and, well, observe. Sometimes it is as much fun to watch birders as it is to watch the birds themselves. In fact, any experienced novice can tell you that the easiest way to spot a special bird is to watch the other birders.
---
27th Cape May Jazz Festival
Lots of you come down every year for the spring Jazz Festival. It's always lots of fun, and this year's event (weekend of April 20th) looks to be another great time. If you are into Jazz, plan on coming to Cape May in April. You are sure to enjoy it!
The 27th Cape May Jazz Festival pays "Tribute to Wes Montgomery" whose ingenuity and extreme dedication plus his soft, swinging sound set the pace for jazz as an art form in the 1960s (yeah, I swiped this quote off of their website).
---
Cape May Spring Festival
The annual Cape May Spring Festival is the perfect way to say goodbye to winter. We take the best events from our famous Victorian Week (in October), schedule them in our prettiest blooming season, add a touch of nice weather and we end up with a fantastic event.
There are literally too many events packed into this weekend to list them here. If you've never been to Cape May for the Spring Festival, plan on doing it this year. It is a treat you won't forget.
---
Cape May Music Festival Starts May 20!
Whether you like classical music or classic music of various styles, you'll love the Cape May Music Festival. This year is the 18th annual rendition of this event, and it promises to be better than ever.
Cape May is a pretty leisurely place, so unlike many music festivals, which are packed into a single marathon weekend, we stretch ours out for nearly a month. Every week we have different artists performing in different venues, all impressively. Whether you prefer chamber ensembles, symphonies, jazz, folk music or brass bands, there is something for you this year at the Cape May Music Festival.
---
The Queen Victoria expands!
Anna Marie and I are excited to announce a little venture that we started the other day ... our new retail shop. We rented a booth at a local antique co-op store called Teaberry Antiques a couple of weeks ago in order to sell some of the furniture that we have tranisitioned out of the inn. We thought it might be fun to also feature some of our gift shop items too, so we included many things you might recognize from our own gift shop at the inn.
Anna Marie and I love antiquing, so it was a natural step to become dealers of a sort. We're not planning on making it a vocation, of course (it sounds fun, but we really don't have the time to hunt for antiques to sell), so as soon as we've cleared out our basements we'll probably close our little shop. In the meantime, be sure to visit Teaberry Antiques if you are interested in purchasing a piece of Queen Victoria history. If you do visit during your next stay at The Queen Victoria, don't purchase any gift shop items from the booth. We've kept our prices lower in our own gift shop at the inn.
---
Upcoming Events
Mad Batter "British Beer Tasting Dinner" Apr 13
Cape May Jazz Festival Apr 20 - 22
Cape May Wine School Apr 22 - Western South American wines
Spring Festival April 27 - May 6
Spring Fest Chocolate Fantasy Buffet Apr 28
Spring Fest Secret Garden Tour Apr 28-29
Spring Fest Home & Garden Show Apr 28-29
Spring Fest Dine-Around Dinner May 3
Spring Fest Murder Mystery Dinners May 4-5
Spring Fest Secret Garden Tour May 5-6
Spring Fest Antiques & Collectibles Show May 5
Cape May Wine School May 6 - Cruise the Islands
---
Where are they now (Dane & Joan Wells)?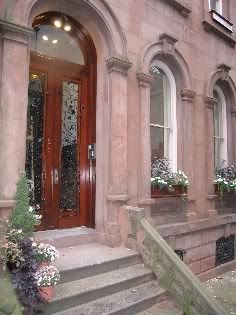 We are blessed to have MANY guests who have been coming to The Queen Victoria for longer than Anna Marie and I have owned the inn. Many of you ask us about the former innkeepers Dane & Joan Wells when you return for another visit. I'm pleased to report that Dane & Joan are doing well, and have just completed yet another major restoration effort in their new home at Rittenhouse square in Philadelphia. It is a beautiful 1860's brownstone that they have lovingly and expertly restored in a fashion comparable to their restoration of The Queen Victoria buildings.
Dane & Joan's new home actually consists of their residence on the 3rd & 4th floors of this magnificent building and two town houses which they are now ready to sell. If you are interested in living in a beautiful home in one of the nicest parts of Philadelphia, this is your opportunity! I don't think that Dane & Joan would be willing to serve you breakfast every day like they used to at The Queen Victoria, but I know they would be happy to have you as neighbors.

I had an epiphany the other day (which was surprising, because I wasn't really sure how to spell the word until 5 minutes ago). As you know, we typically require two or even three night stays for weekends every week of the year. We get LOTS of calls from folks looking for exceptions to these minimums every day. The vast majority of these callers hang up the phone in disappointment.

Traditionally there have been two ways of getting a coveted exception to our policy at The Queen Victoria; both involve luck. One way is to wait until the very last minute and see if we have any vacancies (this sometimes works in January, but lately even that is not a sure thing). The other is to stumble upon a one night Saturday opening left by reservations that other guests have made. The odds of this happening are probably similar to finding a real diamond engagement ring down at sunset beach while foraging for Cape May diamonds.

It occurred to me that rather than allow random strangers to stumble upon good fortune in either case, we could form a list of favored guests who would like to be notified if such an opening exists. I've had an informal list in my head of a few of you who have asked to be notified of prime openings if they should become available. Now I'm going to formalize it. I'm going to create a list of guests interested in hearing about these openings and email them on a periodic basis. This will include notification of two- night weekend openings during three-night minimum weekends (these aren't as rare, but are even more sought after).

If you are interested in joining this "club", please send me an email at doug@queenvictoria.com with the subject "Saturday Night Club" and your real name in the body. You can include other fun stuff in the body of the text, including jokes and pictures, but be sure to specify your name somewhere in there.
---
Make it better with Flowers & Chocolates!
So you've reserved a room at The Queen Victoria for a romantic get away with the woman of your dreams (for you married gentlemen this woman is obviously your wife!). You're planning some special walks on the beach, wonderful dinners, a carriage ride, maybe some wine tasting, and heaven forbid ... even shopping (antiques are fun!). It sounds great, but if you really want to impress her, go the extra mile!
If you want to make this next stay at The Queen Victoria really memorable, add a special touch this time. When you make your reservation, arrange to have flowers or chocolates (or both!) in your room. Women love chocolates and flowers, and you'll be sure to score some big points with this move.
---
Featured "Room of the Month" ... Bloomsbury
If I'm not mistaken, I've never featured a room in Prince Albert Hall before. If you've stayed in Prince Albert, you know it isn't because I'm not proud of these rooms. In fact, most of our nicest rooms are in Prince Albert, including this month's room of the month ... Bloomsbury.
I'll admit that Bloomsbury is not the largest room in Prince Albert Hall, but it more than makes up for that in charm. EVERY time I walk into Bloomsbury a feeling of cheer, comfort and relaxation sweeps over me. There is something about this room that is special, and most of our guests agree. Bloomsbury is a corner room with lots of big, bright windows that fill the room with light on even the darkest day. The antique dresser and bed side tables are beautiful marble topped Eastlake pieces which bring you back to another era. The canopy bed adds a touch of romance to every stay. Of course, the whirlpool tub is the topping on the cake; an excellent place to luxuriate after a day of relaxation in Cape May.
---
Spring Specials ... Last Chance!
As you may know, we introduced several new specials this year, which have been received with overwhelming enthusiasm. I'm not surprised, because they really are pretty good deals. The idea was to encourage you to come visit us down in Cape May mid-week and we would make it worth your while. The specials were so good, in fact, that I've actually had other innkeepers yell at me for offering such good specials! I'm not kidding.
If you haven't taken advantage of these deals yet, you have just one more month to do so. We've got four fun, interesting and money saving ways to enjoy The Queen Victoria this April:

"Two for Two"

"Gourmet Getaway"

"Tour the Town"

"Weekend MADness"

Make a bold move today! Take one of those vacation days you've been meaning to use and come on down to The Queen Victoria. You might just discover you like it here better in the Spring than the Summer.
---
A little History ... about The Queen Victoria
You may not have noticed, but The Queen Victoria building is pretty old. In fact, it celebrated its 125th birthday at some point last year, and I managed to let the event go by unannounced. To make up for that lapse I thought it might be interesting to share a little of the building's history with you.
The Queen Victoria building started out as the private home of Douglas Gregory, who had the house built in 1880. Construction was completed in 1881 and the family moved in shortly thereafter. It is built on a lot that became available for sale after the Columbia Hotel that was previously located on the site burned down in 1878. Mr. Gregory paid $3500 for the land and $4000 for the construction of the building (which was quite a bit smaller than it is today). Douglas Gregory sold the home to Elizabeth Baker in 1889. The house changed hands several times until it was purchased by Dr. Franklin Hughes in 1913 at a sheriff's sale for $6,750. It was leased to the Navy as a war camp community service facility for several years before the Hughes family moved into it. Dr. Hughes' middle son David was born in the house in 1918. The Hughes family lived in the house until 1929 when they moved across the street to what is now the Humphrey Hughes house. The Queen Victoria building then started its life as a rooming house. In 1980 the building was purchased by Dane & Joan Wells, who restored it to its original elegance and founded The Queen Victoria. Anna Marie and I bought the building in 2004 as part of our purchase of the entire complex, and we've been living here happilly ever after!
---
Favorite Guest Photos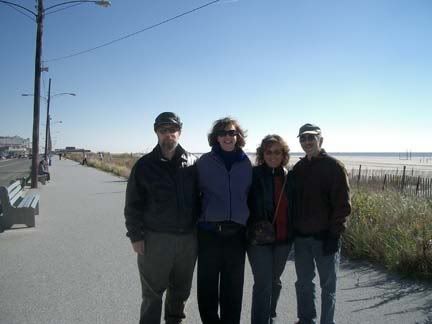 One of our favorite guests Betsi (I'll withhold her last name so that she doesn't blush too much when she reads this) submitted this photo the other day. She'll be returning in a few days for one of her frequent visits, so I thought it would be a good choice for this edition. I love any photo of our guests on Cape May's beautiful beach, but this is especially good because it reminds me that The Queen Victoria is a great place to visit with friends.
If you think about your friends, the moments you remember are usually those spent doing something different or especially fun with them. What could be more fun or different than coming down to Cape May for the weekend and staying at The Queen VIctoria together. I can assure you from experience that when you double the people, you double the fun. If you've got some good friends that you like to spend time with, think about bringing them to The Queen Victoria sometime soon. You'll be sure to create some special memories.

Since my initial call for photos, the well has dried up a bit. If you have some photos that you don't mind the rest of the world seeing, send them in. Just think, this could be your big chance at your own 15 minutes of fame!
---
Doug & Anna Marie's Restaurant Pick Of The Month ... Mad Batter
I can't believe I've never featured the Mad Batter in any of my newletters before. I must admit that I normally favor the BYO restaurants (we all have our weaknesses and mine is a great, and inexpensive, bottle of wine with dinner), but neglecting to mention the Mad Batter is definitely a failure on my part.

The Mad Batter is one of the restaurants that helped make Cape May the restaurant mecca that it is. Its fun attitude and atmosphere, along with great food has made it a perennial favorite of many. It is probably most famous for its breakfasts, which I've never tried, as you can imagine. I've had several great dinners there, however, and I'm sure you will too if you make it one of your choices the next time you come to town.
It has been a few weeks since Anna Marie and I dined at the Mad Batter, and just writing this feature has inspired me to go there tonight. The last time we dined there Anna Marie had the grilled ribeye steak, which was excellent (yes, I'll admit I sampled it liberally). I asked our server, who was wonderful, what her favorite dish was and she convinced me to try the crab cakes. Young as she was, she is obviously a good judge of menus, because they were wonderful (to be honest I like Fredas' crab cakes better, but these WERE good). I was also pleased to find a reasonably priced, tasty red wine on the list to enjoy with dinner. All in all, our last trip to Mad Batter was a wonderful experience. I wonder what I'll have when we go there tonight!
---
Make your reservations today for a romantic getaway at The Queen Victoria B&B. We are looking forward to helping you plan your next visit!

Sincerely,


Doug & Anna Marie McMain, Innkeepers

The Queen Victoria B&B
---