A New Winery for Cape May!
Anna Marie and I happened upon this new winery a couple of weeks before it opened and spoke to the owner Todd, who was tending to the vines. We were so excited to have another winery in town! We had heard that there were several new wineries in the works, but we didn't realize that we'd have another one open for the 2009 Summer season.
To be honest, Anna Marie and I were a little reluctant to mention the new winery at first. Since we hadn't tasted their wine yet, we just didn't feel comfortable sending people their way. Our concerns seem laughable to me now.

Anna Marie and I made our way back to the Hawk Haven winery earlier this week and we were VERY impressed. They've got about 8 acres of vines planted right now, with plans to expand considerably within their 100+ acre farm. From the moment you step into the new tasting room, you feel comfortable and relaxed. The custom wine racks behind the bar and wonderful long tasting bar create a very enjoyable ambiance. But what about the wines?

When I first saw the tasting menu I was a little disappointed. Anna Marie and I typically drink red wines, and all but one of their wines was white. The lone red wine was called "2007 Red Table Wine", which didn't initially inspire me. I guess I'm used to an exotic name, or perhaps just the grape name (Merlot, Syrah, Cab, etc). Anyway, we started with a Pinot Grigio, which really surprised me. It wasn't as sweet as I usually find it, and I liked it quite a bit. Next up was "the red". Wow, what a surprise. The Red Table Wine is a blend of Cabernet Sauvignon and Chamborcin that has a beautiful color, wonderful bouquet and most importantly, tasted incredibly good. We liked it so much we bought a case. Anna Marie and I enjoyed all the other wines too. We were thrilled to hear that they had just bottled 2 more reds which would be available in the coming weeks. I guess we'll be going back soon!

Be sure to visit Hawk Haven on your next visit to Cape May. Remember, wine tasting is a great activity if one of your days in Cape May isn't a perfect beach day.
---
Last Chance For Dad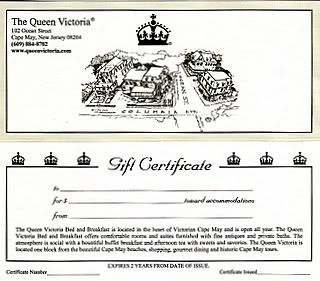 Let me guess. You totally forgot it was Father's Day this Sunday. OK, so maybe you're better at this stuff than I am. So, have you figured out what to get the man in your life that doesn't need anything? That is how my dad is ... doesn't need a single thing. So what to do? If he doesn't need anything, then what options are left? How about something he really WANTS!
I've got it! Get ready, this one will surprise you with its originality. How about a gift certificate to The Queen Victoria? Perfect, right? Seriously, a Queen Victoria gift certificate is a great gift for Dad and Mom will get to enjoy it too. He loves Cape May as much as you do, so why not send him here?

We're getting a little close to the wire here, so you'll have to hurry if you want to have it in time. Another option is to just make a reservation for Dad. This requires a little bit more coordination, but we can help you find a date that will work for him. Either way, you'll feel great about treating Dad special on his day. You know he deserves it.
---
Stay & Play Package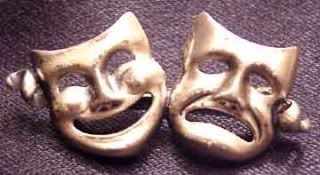 We are once again pleased to announce the start of our only summer package ... the "Stay & Play". Lots of you have taken advantage of this great deal during your visits in past years. If you love theatre and don't know about this great deal, then pay attention.
If you reserve a 4 night stay that includes a weekend, or a 3 night stay mid-week, any time that Cape May Stage is open (May 20 - Dec 31) we'll be pleased to present you with complimentary tickets to Cape May Stage. This is a GREAT deal! Tickets for a show are $35 each, so the value of the package is about the equivalent of a dinner out (excluding drinks).
---
Cape May Stage Presents ... Say Good Night Gracie
Cape May Stage's second production of the year is about to open and I knew that you would want to hear about it.
I always loved George Burns and I'm looking forward to seeing this show. After reading the reviews that it got on Broadway my expectations are high. If you love great comedy and heart warming stories, you'll probably love this one too.
---
Fourth of July ... It's not too late
I liked this graphic so much I decided to reuse it for the Fourth of July (last month I used it for Memorial Day). Were you toying with the idea of coming to Cape May for the 4th? Believe it or not, it isn't too late. We still have a couple of rooms available for the weekend. Interestingly, we've got several rooms that are available for 1 night on Sunday, July 5th, which looks a lot like a Saturday night if you get Monday off from work for the 4th (I think that is what most employers are doing this year). This might be your big chance to get a 1 night weekend stay at The Queen Victoria!
The Fourth of July weekend was the traditional start of summer for Cape May prior to the 1970s and it is still a great time to be in town. We've got fireworks, and picnics, and all the traditional stuff you love about the 4th. We've also got everything that Cape May always has in the summer, which is reason enough to come visit. Don't wait too long to call, though, I doubt these vacancies will last very long.
---
Upcoming Events
SUMMER !!! Jun 21 to Sep 21
Cape May Wine Trail Trolley Tour June 21
Fourth of July ... July 4
Cape May Wine Trail Trolley Tour July 12
Doug & Anna Marie's Anniv. Aug 8 (my favorite day of the year!)
Cape May Wine Trail Trolley Tour Aug 9
Cape May 400th Anniv Parade Aug 29
Cape May Wine Trail Trolley Tour Sep 27
Food & Wine Festival Sept 19-27
Victorian Week Oct 9 - 18
Cape May Wine Festival Oct 10,11
Halloween in Cape May Oct 16-31
Cape May Wine Trail Trolley Tour Oct 16
Sherlock Holmes Murder Mystery weekend Nov 6- 8
Christmas Preview Weekend Nov 21
Dickens Extravaganza Dec 6-8

June 21, at 1:45 pm (EDT). That is the official start of Summer for 2009. It is also the longest day of the year, which is wonderful for all of you that will be in Cape May this weekend to enjoy it!

Spring has treated us a little cruelly this year, with a few extra rainy days and cooler weather, so I know you're all ready for a wonderful, sunny summer.

Are you planning a visit to Cape May this summer? If so, it is definitely time to get serious about it. Many of our weekends are already booked up, but it is not too late. Give us a call and we'll help you find the perfect dates and room for you. Don't wait too long though, or we'll have to help you find another inn to stay at (which we hate to do, of course).
---
Can't you just see yourself here?
---
Featured "Room of the Month" ... Charles Dickens
Are you feeling literary? No matter, you don't have to be a Victorian literary scholar to stay in the Charles Dickens room.
The Charles Dickens room is a standard room on the 2nd floor of the Queen Victoria building. Dickens is one of our largest standard rooms, with large private bath with a walk-in shower. This is a great room for any of you ladies that want to bring your special guy to Cape May but don't want to subject him to bold floral prints or frilly decorations. It isn't a masculine room, but it just isn't real "girly". Besides being a comfortable room, I've always loved this room because of the furniture. The Victorian headboard is made of gnarled hardwood and has an incredible design that you'll have to see to believe. I'd tell you what it is, but that would spoil all the fun.
---
Find us on FaceBook
Are you on Facebook yet? If you're unfamiliar with Facebook, it is basically an internet networking site that allows friends to connect and keep in touch. If you want to be an "insider" at The Queen Victoria, then join our Fan Page!
What will you find on our fan page? First of all, I'll tease you from time to time, telling you how beautiful it is in Cape May. I also post special openings that have been created, exceptions to our minimums, which come up once in a while. I'll also post specials and share news about Cape May with you. Photos! Did I mention that I'm posting all of the photos you send me to FaceBook now? I'm still posting them to our website too, but this is so easy I can't resist.

Exciting stuff, huh? Seriously, if you think of The Queen Victoria as your personal shore house (without the mortgage, maintenance, or hassles), then you really need to become a fan.
---
2009 Cape May Designer Show House
I'm pleased to report that the 2009 Cape May Designer Show House is nearing completion and will be opening its doors to visitors in the coming weeks. This year's Show House is just a few steps from The Queen Victoria, so it will be an excellent excursion for all of you during your upcoming visit this summer.
It sounds like this year's Show House will be a little different than some of the recent houses we've had. While last year's house was "Arts & Craft" style, which is historic in nature, this year's has a "Shore House" theme. I'm anxious to see how this comes out. I've toured the house and seen the interesting structural changes that updated this beautiful old house to make a wonderful liveable space. I haven't seen what the designers have planned, but it sounds like it is going to be a beautiful and wonderful house.

You won't want to miss this year's Designer Show House!
---
The latest (non) news about the Convention Center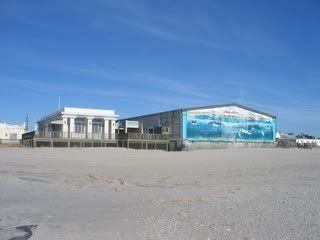 If I were actually a reporter assigned to this story I would probably have to retire in disgust. Talk about no news! As far as I know, the project is still moving forward, but the pace is obviously glacial.
I guess there is actually one thing to report. I noticed that the City of Cape May has opened up an "administrative office" in a vacant store front next to Henry's on the Beach. This is just two doors down from the future construction site, so I can only assume that the city plans on managing the project from this office. On the other hand, maybe the city is simply expanding their bureaucracy during this booming economy (wow, where did that cynicism come from?).
---
Favorite Guest Photos ...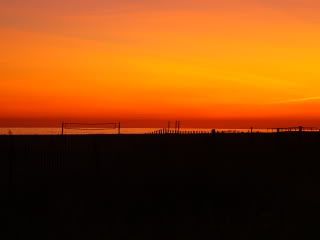 OK, I know that the sun sets every day everywhere in the world. I've got to say, though, that I haven't seen too many sunsets as fabulous as this one. Thanks to Mike and Angie for sharing this beautiful image with us.
I usually assume that you need a few clouds to make a fantastic sunset, but this photo obviously belies that idea. Believe it or not, this was just one of several great photos that Mike & Angie sent us. Who knows, maybe I'll send you pictures of the dolphins that they sent me next time.
---
Fire Control Tower #23
Do you recognize this tower? If you've ever gone down to Sunset Beach to watch the sunset, then you've probably driven by Fire Control Tower #23 and wondered what it was. I often pondered what it would be like to get inside the tower and climb to the top. What a view from up there!
If you've ever had similar thoughts, then you'll be pleased to learn that this tower is now open to the public. Over the last 2 years the Mid Atlantic Center for the Arts has been restoring this WWII landmark and it has just opened it up to the public this year.

A trip to the top of the tower is a pleasurable experience, with lots of things to explore and look at on the way up. There are several landings on the way up which make the trip an easy one. Even my 80 year old Dad with a bum hip had no trouble getting to the top. Once there, you really do have a wonderful view of the Delaware Bay and Cape May point. It isn't as high as the Cape May lighthouse, but the views are just as spectacular. You can almost imagine yourself as a young soldier during the war looking out for German ships, ready to call in the firing coordinates to the big guns located on the beach near the lighthouse.

You'll definitely want to plan a visit to the tower on your next visit to The Queen Victoria.
---
Doug & Anna Marie's Restaurant Pick Of The Month ... Frescos
Have you tried Frescos before? I think lots of people sometimes overlook Frescos in favor of its sister restaurant next door, 410 Bank Street. That would be a mistake!
Anna Marie and I took my parents to Frescos the other night as part of the 1st annual Restaurant Week in Cape May. We were SO IMPRESSED. We've always enjoyed Frescos and this was obviously no exception. Anna Marie ordered the swordfish piccata and I ordered the Tuna Tapenades. We started things out with an order of their calamari. So let me tell you about this meal. First of all, the calamari was PERFECT. This is some of the best calamari you'll have anywhere, I promise. I loved my Tuna Tapendes, which consisted of two tuna filets prepared to my liking. I loved it. Anna Marie's swordfish was something really special, though. This is literally the best swordfish I have ever had. Anna Marie was lucky that I was filled up on my own dish, or I would have eaten most of hers (I always eat a lot faster then she does). Seriously, this dish was as good as it could possibly have been. If you like seafood, but have never had swordfish, I wouldn't recommend it, though. You'll be eternally disappointed by anything that follows.

Somehow I managed to have room for gelato for dessert, which was another wonderful treat. Anna Marie had a sampling of sorbets, which was a perfect end to the meal ... very refreshing.

Frescos is a BYO (my favorite kind of restaurant), so plan on bringing your own wine. My recommendation would be to pick up a bottle of wine from Hawk Haven during your wine tasting adventure earlier in the day and bring it to Frescos with you.
---
Make your reservations today for a romantic getaway at The Queen Victoria Bed and Breakfast. We are looking forward to helping you plan your next visit!

Sincerely,


Doug & Anna Marie McMain, Innkeepers

The Queen Victoria Bed and Breakfast
---
phone: 609-884-8702