Early Bird Gets The Room!
Many of you veteran guests of The Queen Victoria are well acquainted with our "Early Bird" reservation program. As we really dig into the Summer season, with lots of other, first time guests visiting us this year, I thought I would devote a few lines about this great discount program. So what is the Early Bird program?
Let's say you love your room this year and decide you absolutely have to return again next year and have the same room again. There is really only one way to insure you get that room ... reserve it now. Perhaps you loved The Queen Victoria and need to come back again next year, but want to stay in another room you saw or heard about. Same story, reserve it now.

I know, you're thinking that making a reservation now and putting down a deposit ties up your money for a whole year, which is true. BUT WAIT ... here is the good part ... we make it worth your while. Not only do you get the room you want, but we'll extend you this year's rate (a savings of $5/night) for your reservation AND we'll extend you a 5% discount on your stay. Only 5% you say? Well, let's do the math.

If you reserve a room which would normally be $230/night next year the total cost next year would be $786.60 for 3 nights. If you book it this year, that same room would cost you only $731.03, a savings of $55.57. With a deposit amount of only $320.63, your discount amounts to a 17.3% return on your deposit. Where else can you get that kind of return these days? Really, The Queen Victoria is the best investment around.

Now for the "fine print": You can't book an Earlybird online, so give us a call, or book it during your visit this year. Also, we will not accept 3rd party gift certificates for payment towards any part of an Early Bird reservation (deposit or arrival balance due).
---
Cape May Wine Festival ... Again
Do you love wine? Do you love outdoor festivals? Do you love Cape May? If you answered yes to all these questions, then you need to drop everything and make reservations for the 2nd annual Cape May Wine Festival. Yes, the good times are rolling on!
I was thrilled to hear that the festival was scheduled again this year, as I had heard that it would not be repeated. Last year's "1st annual" festival's attendance was a little lighter than had been hoped (due mostly to lousy marketing), and there was pretty serious talk of discontinuing it. I'm VERY pleased to hear that the New Jersey Wine Growers Association made the right decision and gave us another chance.

If you've never attended one of these festivals, then you can't imagine what fun it is. Image 25-30 tasting tents set up around a meadow with a live band playing music all day, the soft breezes blowing off of the bay, and the wonderful aromas of the food vendors wafting over you as you sample the wines of New Jersey. I know people that don't even like wine that attend these festivals regularly.

This year's event is once again scheduled for the Columbus Day weekend on Oct 11th & 12th. Don't miss it!

Did I mention that availability it getting tight for that weekend? Don't delay, call today.
---
2008 Designer Show House
One of our favorite events every year is the Cape May Designer Show house. This year we're excited to see what our region's best designers are going to come up with at the 2008 Show House.
Anna Marie and I toured the house in the "before" preview. It was already apparent that there was a lot of magic in the works to create a wonderful showcase, literally starting from the bottom up. To start with they dug out the crawlspace to create a basement for the media and entertainment room. Every designer was there with conceptual drawings and materials, all of which promised a craftsman fantasy in the making.

The showhouse is already open and is receiving rave reviews. if you're looking for a real treat on your Summer visit this year, make plans to visit the 2008 Designer Show House.
---
Sweet Celebrations Package
I know that lots of you will be celebrating something special during your next visit to The Queen Victoria. If you're looking for a way to make your celebration a little sweeter, I've got just the thing ... the Sweet Celebrations package.
The Sweet Celebrations package is designed to make your stay with us, and your celebration, just a little more special. Sure, your sweetheart will be excited just to be here in Cape May at The Queen Victoria, but can you imagine how excited she will be when she finds a beautiful bouquet of flowers and a chocolate tower filled with custom made truffles in her room?

No matter if you're celebrating a birthday, an anniversary, an engagement, a honeymoon, or just a well deserved vacation, make it a little more special by adding the Sweet Celebrations package. It will be the best $75 you spend while you're in Cape May.
---
Upcoming Events
Private Lives opens at Cape May Stage Jul 2
Cape May Crafts Sep. 6
Food & Wine Festival Sep. 20-25
Cape May Wine Festival Oct 11-12
Victorian Week Oct 10-19
Halloween Events Oct 17-31
Sherlock Holmes weekend Nov 7-9
Cape May Christmas Nov 21 - Jan 4

Are you waiting impatiently for your vacation in Cape May at The Queen Victoria? Can you hardly wait to see yourself in this picture? Hang in there, you'll be here soon!

I know that waiting for your next visit to Cape May is tough, so I thought I'd give you a little taste to hold you over until your arrival date.

If you've already come and gone and are missing us, I can tell you there is only one cure for what you're feeling. Make a reservation for another visit and put yourself back into the group that is looking forward to their arrival. I can tell you that it doesn't really work until you make the reservation. Just thinking about doing it doesn't do the trick..
---
The Perfect Day!
---
Featured "Room of the Month" ... Chelsea
Continuing in our proud tradition of featuring a different room every month, I'm showing off one of my favorites. Chelsea is a favorite of many of you already, so some of you may get upset that I'm letting out the secret. Sorry about that!
Chelsea is a third floor room in the front of Prince Albert Hall. It is the only room with wall to wall carpeting in the entire building, which probably means the floors were beyond saving during the restoration of the building (I've never seen them). It is a very comfortable room with lots of character, including an adorable "widow's walk" porch. It is a small little porch, but it is a wonderful place to check out the new day, or share a glass of champagne at sunset. Chelsea also boasts a very large bathroom with one of our garden style whirlpool tubs.

Next time you reserve a room at The Queen Victoria, consider giving Chelsea a try. It is a great room.
---
Cape May Stage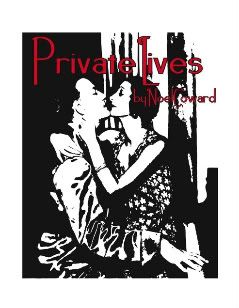 Anna Marie and I just saw Cape May Stage's latest offering "Fully Committed" and we were truly impressed. Not only was the show great (a one man show with over 40 characters!), but the completely restored theatre is truly wonderful. We're talking about a Broadway show in an intimate and very comfortable setting. There is truly not a bad seat in the house.
Cape May Stage is about to present its second production of the season, a Noel Coward play called "Private Lives". I've never seen this show before, so I'm really looking forward to it. The one thing I do know is that it will be wonderfully done. Every production Cape May Stage does is.
---
Favorite Guest Photos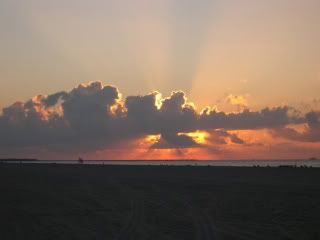 Have you heard about Sunset Beach in Cape May? You know, Cape May diamonds, the concrete ship, the great gift shop, the new mini-golf place. All that great, must-do stuff. This isn't that.

Actually, this is a sunrise shot taken on our lovely beach by Glen Wolverton on New Year's Day 2006. Now I know lots of you have never seen a sunrise in Cape May before, especially in the Summer when it happens at 6:00 a.m. You really are missing some special moments if that is the case.
I'm not trying to play down sunset, but I've got to say that I think sunrise is typically more moving, at least for me. Of course, it could just be that I'm still half asleep when I experience it. Really though, if you find yourself up early on your next visit here, grab a cup of coffee, head down to the beach and check out the sunrise. If you do, then you can do the "round trip" and catch the sunset the same day. I don't think there are all that many visitors that can make that claim (but I'm sure I'll be hearing from those of you who can).

By the way, the guest photos have kind of dried up lately. I know you're still taking pictures during your visits. Come on, send them in and share them. This could be your chance at fame!
---
Doug & Anna Marie's Restaurant Pick Of The Month ... Union Park
If you haven't eaten at Union Park, you've missed one of the finest dining experiences in Cape May. Yes, this is one of our favorites. Anna Marie and I have always loved Union Park. It is close to the inn, it has the prettiest, most elegant dining room in town, and most importantly, the food is magnificent.
Anna Marie and I took my parents to Union Park for dinner during their recent visit and we all agreed it was the best meal of their entire stay. That is saying quite a bit, since we took them to all of our favorite restaurants 8 nights in a row. We especially liked dining on the porch with a magnificent view of the beach.

On our last visit we started things off with Oysters on the half shell (fresh from Cape May). Anna Marie ordered the Filet with a Porcini red zinfandel glaze, while I ordered the adobo seasoned Pork Tenderloin. I can assure you that both of us savored every bite of our meal. Remember that like most of my favorite restaurants, Union Park is a "BYO", so plan on a trip to my favorite store: Collier's Liquors (Anna Marie frequents the other stores in town).

p.s. Anna Marie and I dined at Union Park again last night. WOW! Great meal, again (strip steak this time). Try the semi-freddo if you like chocolate for dessert. The Mango sorbet was incredible too.
---
Make your reservations today for a romantic getaway at The Queen Victoria Bed and Breakfast. We are looking forward to helping you plan your next visit!

Sincerely,


Doug & Anna Marie McMain, Innkeepers

The Queen Victoria Bed and Breakfast
---
phone: 609-884-8702