Reunions at The Queen Victoria
We've been host to a surprising number of family and friend reunions lately. Cape May in general, and The Queen Victoria in particular are the perfect place for reunions of all kinds. What better place to spend time with the people you care about!
If you're thinking of planning a reunion, give us a call. We'll be happy to help you.
---
Food & Wine Festival

Many of you have discovered that September is the best time to stay in Cape May (it's my favorite time of the year). In addition to smaller crowds, great weather, the warmest water of the year, and great dolphin watching, Cape May also hosts the Food & Wine Festival.
This year's Food & Wine Festival may be the best one yet. Chef's dine-arounds, Gourmet Lunches, a Chef's cook-off contest, Beer Tasting Dinner, Lobster Bakes, and cooking workshops & classes with award- winning chefs make this year's event a "must do". This week is already booking fast, so give us a call to reserve your room. The Festival runs Sep 16 to Sep 24.
---
34th Annual Victorian Week
Rated one of North America's "top 100 events", the 34th annual Victorian Week is a ten day extravaganza celebrating Cape May's Victorian heritage.
This year's event, October 6-15, features Historic House Tours, Vintage Fashion Shows, Murder Mystery Dinners, a Vintage Dance Workshop, Brass Band Concerts, Crafts and Antiques Shows and more.
---
2nd Annual Cape May Designer Show House
Anna Marie and I attended the "Gala Opening" for this year's Show House last night and we were IMPRESSED. If you like designer show houses, you'll LOVE it. If you have never gone to a designer show house, you probably need to try it.
This year the Show House features the Gothic Revival 1879 Franklin Street Church that was transformed into three designer showcase townhouses. You've probably heard the term cathedral ceilings before. You might have one in your home. Believe me, these are CATHEDRAL ceilings ... they're the real deal. Of course it also includes incredible kitchens and baths and creative use of space in interesting rooms. You shouldn't miss this during your visit to Cape May.
---
Upcoming Events & News
Back to the 50s Exhibit May 26 to Sep 3
Designer Show House June 17 to Sep 17
Food & Wine Festival Sep 16 to Sep 21
Grandma's Attic & Kitchen Antique show Sep 9
Victorian A to Z exhibit Sep 15 to Jan 1 2007
Victorian Week Oct 6 to Oct 15
Sherlock Holmes weekend Nov 4 to Nov 6
Fall Arts & Craft Festival Nov 4
InnDeep workshop Nov 5 to Nov 7
---
Doug & Anna Marie's Restaurant Pick Of The Month ... Tishas
If you've stayed with us this season, you've probably gone to Tishas for dinner at least once. Anna Marie and I can't say enough about Tishas this year. Tishas is Cape May's only beach front fine dining restaurant. We love the view, the dining room, the service, and above all ... the food.
We've been to Tishas a couple of times already this season, and we'll be there again tonight. My only complaint about this restaurant is that there are so many wonderful options, I have a hard time choosing. Last time we started off with an order of the fried Calamari, which I can't resist. I ordered the Seafood Risotto and Anna Marie ordered a Filet. Both of us savored every bite. Each entre comes with a wonderful salad, which is not all that common in Cape May. The meals are beautifully presented, the service is attentive without smothering you, and the atmosphere is wonderful. Don't miss Tishas this summer!

You all know that Cape May is special all year round, but for most of us Summer is the main event. If you're still planning your summer vacation, and you want to stay at The Queen Victoria (I hope you do!), then you might want to give us a call soon. Advance bookings are WAY up this year, with people reserving their rooms in advance far more than they have in recent years. We still have rooms available, but they are going faster than normal.
---
Best Seat in the House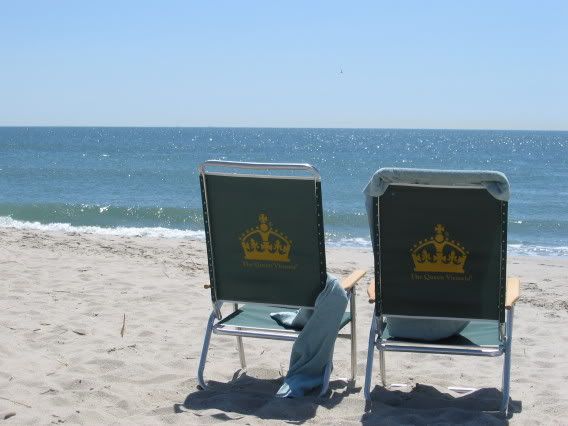 Can't you just see yourself perched here on the beach on our new beach chairs? If you've ever cursed our old, low and saggy sand chairs, you'll love these. They don't sag, and they're considerably higher than the old ones. Just think, you'll have your own front row seat to the daily dolphin show that has already begun.
---
Featured "Room of the Month"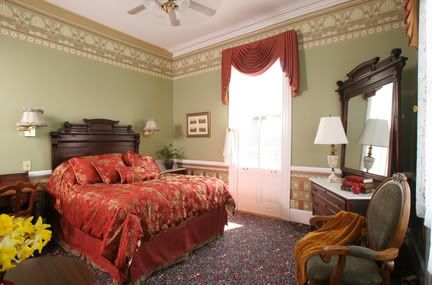 Everyone loves to peak into the "other rooms" while they are here, so I thought it might be fun to peak at the other rooms from the comfort of your own computer. This is the first of thirty-two featured rooms (this might take a while).
This is the Prince Alfred room, one of our newly re- decorated rooms in the House of Royals. One of my favorites, it has two balconies, each with an ocean view. It isn't the biggest room in the building, but the 11.5 foot ceilings, 9 foot doors, marble bathroom, and interesting "pocket windows" make this one of our most popular rooms.
---
New Bikes!
If you like to spend a lot of time on our bikes while you're in Cape May, you're going to be thrilled on your next visit. We just got a new "fleet" of bicycles, and I've got to say they're much nicer than the last ones. You'll be the envy of everyone in town as you cruise the streets on these sleek cruisers!
You ladies will be pleased to hear that Anna Marie insisted that every girls bike have a basket. You never know when you'll feel that shopping urge and need a convenient way to carry your purchases back home.
---
Summer Gardens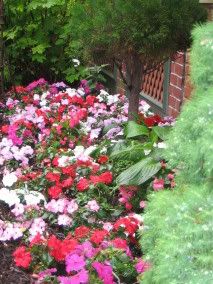 We've been devoting lots of energy and time to our gardens this year, and many of guests are noticing as soon as they pull in. Everywhere you look at The Queen Victoria there is something new to see, including our new lawn, expanded herb garden, new lantern pots & hanging baskets, new perrenial garden, and beautiful courtyard garden (pictured here). If gardens are your thing, then you'll love strolling through our's this summer.
Keep an eye out for our gardener Mary. She is always eager to "talk shop" with anyone who loves gardening.
---
Kings at the Queen
After many long years and more than a few "suggestions" by many of you, The Queen Victoria now features three rooms with King Sized Beds. This year we analyzed our rooms and identified two more rooms that could accomodate a King Bed (in addition to the Crown Jewel, which already had one).
When you call to make your next reservation, ask for either the Queen Victoria or Prince Leopold rooms. Not only are the beds in these rooms now big, they are VERY comfortable. Prince Leopold, in particular, has been transformed by the new bed. Between the different orientation of the bed and the dramatic canopy we created for it, this room is now better than ever (We need to get the photographers back out!).
---
Stay & Play ... again
Last year we introduced our Stay & Play package, which was so popular we decided to do it again. If you love great theatre in a cozy setting (i.e. small theatre), you'll love Cape May stage. If you've been to a Cape May Stage production, you know that the acting is incredible. If you haven't gone before, you need to do it this year.
Reserve a room at The Queen Victoria for 4 nights over a weekend, or 3 nights mid-week, and we'll be happy to provide you with complimentary tickets to the Cape May Stage.
---
Make your reservations today for a romantic getaway at The Queen Victoria B&B. We are looking forward to helping you plan your next visit!

Sincerely,


Doug & Anna Marie McMain, Innkeepers

The Queen Victoria B&B
---
phone: 609-884-8702