SUBMIT A REVIEW


We love hearing from our guests! Tell us what you thought of your stay on TripAdvisor and Google+.


The Celebration Season


Now that the New Year is behind us, which I'm sure we all celebrated appropriately, we have entered into what I think of as the "Celebration Season". Surely you didn't think your celebrations for the year were over. They're really just getting started.

So what are we celebrating? Everything, including Birthdays, Engagements, Anniversaries, Honeymoons, Retirements. Sometimes even the weekend is worth a celebration. There are LOTS of things in life worth celebrating. Of course, one of the most critical factors in any celebration is the selection of the appropriate venue. I've got to say that Cape May in general, and The Queen Victoria in particular, are the perfect places to celebrate just about anything, especially if you're doing it with someone special.

Sure, the beach is a little chilly this time of year, but the key factors about Cape May that make it so special are present every day of the year. If you have a celebration coming up this Winter, consider a trip to Cape May. I know you'll be glad you did.

- Doug McMain, Owner


Room of The Month

Princess Victoria is a beautiful room located on the 2nd floor of the House of Royals building. Like all rooms on the 2nd floor of that building, it features a balcony with rocking chairs and an ocean view.

The Princess Victoria is a comfortably large room with a queen sized bed, 13.5 foot high ceilings, dramatic antique furniture, a large marble-floored bathroom with a big step in shower, and an electric "Franklin Stove", which is a little bit like a fireplace. With a West facing balcony, you won't find a better place at The Queen Victoria to enjoy a sunset!


Learn More
| | | |
| --- | --- | --- |
| | | |

CHANNELING WEEKENDS
Jan 10, Feb 7 & Nov 14
Join Certified Psychic Medium Debbie Wojciechowski at The Queen Victoria for a weekend of readings. We're hosting this event on three weekends in 2015 and they are almost all sold out. In fact there are literally only four seats left for this weekend's event (Jan 10).
Channeling with Debbie is an amazing experience. She guarantees a reading for every attendee, so nobody leaves disappointed.
Read My Interview with Debbie

WINE LOVERS WEEKEND
February 20 - 21

Our annual Wine Blending event at Cape May Winery is definitely one of our favorite events of the year. Anybody who loves (red) wine is absolutely going to love this event. I can't imagine a more enjoyable way to spend a chilly February afternoon than tasting & blending wines, enjoying some fine cheeses, and experiencing the company of others enjoying the same experience. It will certainly be a lifetime memory.

Seating is VERY limited now, with space left for only 7 more people. Don't wait to call and reserve your spot!

Read More
Whiskey Tasting Event
March 14

Inspired by St. Patrick's Day, and originally envisioned as an Irish Whiskey tasting event, our 3rd annual Whiskey Tasting has evolved to include any and all types of Whiskey.

This is a unique "BYOW" event (Bring Your Own Whiskey), where each participant brings a bottle of their favorite to match up against the entries of the other participants. We do a blind tasting of all submissions and spend the afternoon sipping, tasting and savoring some really great Whiskey before voting for our favorite. The winner gets bragging rights!

When was the last time you got to taste more than 10 different Whiskeys at one sitting? For someone who appreciates Whiskey, it is truly a wonderful experience.

We'll be serving some seriously great Irish Fare again this year, so we'll all be properly fortified for the event. Non-drinkers are welcome to enjoy the food as well. If nothing else, it is a free lunch!



Valentines Day
February 14
Talk about a reason to celebrate! Valentines Day is all about celebrating your love for one another, which fits right in the theme of this months newsletter.
Anna Marie and I got engaged on Valentines Day, so you KNOW that we'll be celebrating in a special way. Unfortunately for me, I can't take her to the most romantic bed and breakfast for a special weekend, because she'll be working there!
You don't have that problem, however, so if you're looking for the perfect way to celebrate Valentines Day, look no further. Just click on the link below and book your Valentines weekend getaway.
Book Your Valentines Weekend Now
By the way, it also happens to be the President's Day holiday weekend, allowing you an extra day off to spend at The Queen Victoria.

Birthday Weekends
February 28
March 21
April 18
Birthdays are all about celebration. What could be better than celebrating the person you love most in life? That IS how you feel about your partner, right?!
We're continuing our tradition of hosting a monthly birthday party this Winter for our guests who want to celebrate their birthday at their favorite B&B. We have cake. We have balloons. We sing "Happy Birthday", at least a little bit off key. We even have little party favor gifts. In short, we have fun!
If your loved one has an upcoming birthday and you want to do something really special for them to celebrate it, it would be hard to top a trip to The Queen Victoria!

| | | |
| --- | --- | --- |
| | | |
A New Look for The Prince Albert Hall Parlor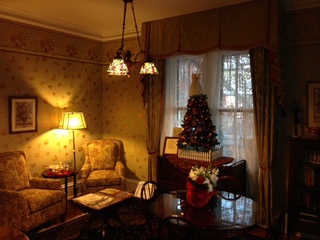 Though it was redecorated at the same time as the dining room, unless you made a trip to The Queen Victoria in the last couple of months, you haven't seen the new look in the Prince Albert parlor.

These beautiful new custom drapes, made by the same talented hand as the drapes I featured last month in Prince Albert's dining room, really change the feel of this beautiful room. In fact, I think that they make the already amazing wallpaper look even better. There is nothing like a little drama to really dress a room up.
Special Winter Discount Packages!

222
Now through April, 2015

If you are able to travel mid-week (Sunday through Thursday) you can take advantage of our "222" package. T

his package offers 2 nights for $222 for a standard room. Upgrades to larger rooms are possible at similar savings. This package is not available for arrival on Sunday, Feb 15 (Presidents Day Weekend).
Learn More

WINTER ESCAPE

Now through March, 2015
Starting January 4, 2015 we'll once again be offering this ever popular package. The Winter Escape is ANY 2 nights (including weekends) in a Large Standard room for $325. Upgrades to Premium rooms and suites are also possible at similar savings. This package is not available during the Feb 13-15 President's Day holiday weekend.

| | | |
| --- | --- | --- |
| | | |
CAPE MAY STAGE
May 20 - June 1

It looks like Cape May Stage is kicking off their 2015 Main Stage season with a comedy.

This one is totally new to me, so I'll share what Cape May Stage is saying about it:

The unsinkable Molly Ivins, Austin's no-holds-barred newspaper columnist and best-selling author, tells it like it is in this side-splittingly funny play. A true Texas original, Ivins was the rowdy raconteur stirring up trouble in the old boy's club and ridiculing those she deemed too big for their britches-earning her a widely read syndicated column and a seat next to Mark Twain as one of America's beloved satirists. Written by twin journalist sisters, Red Hot Patriot celebrates Molly's courage and tenacity - even when a complacent America wasn't listening - in a play that is nothing short of kick ass.

Antiquing


I've found that a great percentage of the guests who come to The Queen Victoria are also interested in antiques. I guess it stands to reason, given the historic, antique nature of The Queen Victoria.

The cooler months are a great time to indulge that passion. During the summer it can be hard to peal yourself off of the beach to go antiquing. What's more, the idea of giving up your parking space to do it is not very appealing either. Neither of these obstacles to your pursuit of antiques exist for the next few months!

Personally, I like to shop for big stuff, like furniture. Anna Marie favors smaller things. That's why we're such a great couple ... we complement each other (we compliment each other too, but that is another story). Thankfully, most of our local antique stores offer a selection of items to satisfy both of our interests.


Yes, Christmas is now behind us, so you may be wondering why I'm featuring Gift Certificates again. Quite simply, they're not just for Christmas.

Remember my mention of the celebration season earlier? Ah, now you see where I'm going with this. With many celebrations, a great gift is appropriate. The ideal gift is an actual reservation at The Queen Victoria. In the event that you can't actually celebrate your special occasion at The Queen Victoria, you can still make it special with a gift of The Queen Victoria. It is definitely your next best option.

Buy Now


Favorite Photo
"It's a marvelous day for a Moonset
"
at the Cape May Cove

So, this isn't the highest quality photo that has ever graced this newsletter (in fact it is most certainly the poorest quality), but it is an interesting photo that I thought you might enjoy.

Early in the morning a few day ago, just before sunrise, I was taking my morning walk and was mesmerized by the full moon that was still hanging over Cape May. By the time I got down to the Cove, it was well on its way to setting. It actually seemed much darker in person than this photo would suggest, as the sun was still about 20 minutes from rising itself.

So why is this photo so blurry? Well, a big part of it is the 30 mph wind blowing into my face, which made it pretty hard to stabilize the shot. I assume that my magnification of the image also magnified the instability of my hands holding the phone/camera into the wind.


View our Photo Gallery
Featured Gift Shop Item (plus)

| | | |
| --- | --- | --- |
| | | |
Tea Wallet


OK, so this suggestion is probably only suitable for the ladies. Are you a serious tea drinker? Do you have at least one tea-bag in your purse? If so, I'm guessing it is in a zip lock bag, or perhaps just floating around somewhere. At best it is probably stuffed in one of the pockets, along with lots of other stuff (yes, I've taken a peak in Anna Marie's purse, so I know how it works).
If that is you, then you're going to LOVE this month's gift shop item. Our Tea Wallets are compact, organized, and neat. They're also cute. I literally have not met a serious tea drinker, at least one who carries their own tea bags, that does not want one of these.
There are two wallets pictured here. The black one in the upper right is closed and snapped shut (very neat & tidy). The blue one is open and holding 6 tea bags, but could easily hold double that (organized!). I've always thought these were extremely cool, and I don't even drink tea.
They also make great gifts for the Tea Lovers in your life!
Only $10!


Beach Tags
No, we don't sell beach tags in our gift shop, but I thought this might be a good place to mention the availability of discounted beach tags to our faithful guests.
LOTS of you visit The Queen Victoria during beach tag season (May 22 through August 31 this year). For those of you who plan at least 3 days on the beach this summer, whether during one visit to The Queen Victoria, or more, it makes a lot of sense to purchase a discounted season beach tag. Tags went on sale December 1 and are available at the discounted price until March 31
Discounted Price: $20 each


More Information (City Site)

Restaurant Pick of the Month
Lucky Bones



Lucky Bones is certainly one of the most popular restaurants in Cape May, not only for visitors, but also locals. In fact, it is so popular that it is quite difficult to get into during "the Season", so you'll rarely hear us mention it then.
In the Winter, it is still very popular, but there are fewer visitors in town, so we're pleased to suggest our guests dine there.
Lucky Bones is open for both Lunch & Dinner, and has an amazing variety of offerings on its menu, including sandwiches, pizza, salads, entrees, and a great selection of specials daily. All available, all the time. I've been pretty hooked on their "Pizza Positano" of late, which features Artisan sopressata salami, garlic oil, artichoke hearts, and roasted red peppers (my mouth actually started watering as I typed that!). Anna Marie LOVES the "Grilled Chicken BLT" sandwich.

So what makes Lucky Bones special? Anna Marie and I love that we can go in for dinner, order our favorites, neither of which is an entree, and not feel funny about it. Another thing we like about Lucky Bones, beyond the fun atmosphere and great food, is the wine list. They always have a nice selection of reasonably priced wines.

If you're planning a visit to Cape May in the next few months, I definitely suggest you plan on having a meal at Lucky Bones. You'll be glad you did!

Visit The Queen Victoria Soon!
Make your reservations today for a romantic getaway at The Queen Victoria Bed and Breakfast. We are looking forward to helping you plan your next visit!
UPCOMING EVENTS
Designer Show House, Through Jun 2015

Channeling Weekend, Jan 10

Channeling Weekend, Feb 7

Crafts & Collectibles in Winter Show, Feb 14-15

Wine Lover's Weekend, Feb 20-21

Duquesne University Tamburitzans, Feb 22

February Birthdays Party, Feb 28

Big Cheesy Party, Mar 6-7

Sherlock Holmes Weekend Mar 20-22

Whiskey Tasting Event Weekend, Mar 13-14

March Birthdays Party, Mar 21

April Birthdays Party, Apr 18

Cape May Spring Festival Apr 24-May 3
Sincerely,
Doug & Anna Marie McMain, Owners/Innkeepers
The Queen Victoria Bed & Breakfast