2013 Winter Escape Package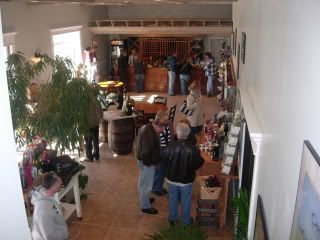 Escape the doldrums of winter with our "2013 Winter Escape" package. This special runs January 1 through March 31, 2013 and includes:
ANY 2 nights (including weekends) in a Premium room

Free wine tasting for two at Cape May Winery

Free cheese tray for two


Call us today to Escape your Winter Doldrums!
---
"222" ... It's Back!
Visit us Sunday through Thursday through May 2 and take advantage of our lowest price package. Reserve any standard room for two nights and pay only $222 (plus tax, of course).
This is truly a great deal. If you prefer a larger room, you can upgrade to a Large Standard room for only $15/night more.

Call us today to reserve your
---
Celebrate Valentines Day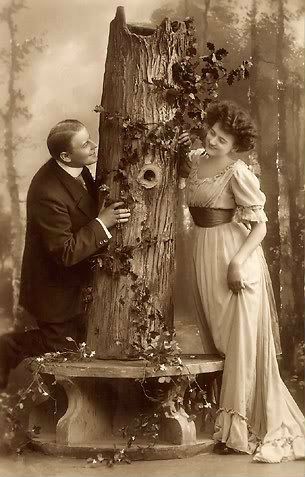 Talk about "Old School". If this doesn't get you thinking romantic thoughts, nothing will (I said romantic, not frisky).
I think we can all admit that Cape May is the MOST romantic place around. Seriously, what could be more romantic? Given this truth, I can't think of a reason why you would be considering celebrating this important event any place other than The Queen Victoria.

Think about this ... if you don't come stay at The Queen Victoria, you'll have to come up with a great gift idea for your sweetheart (trust me, I'm going through this myself). You've got it easy, however. One call to The Queen Victoria and you've got it solved. He or she is absolutely going to love it and then you'll get to enjoy it too.

There are 3 ways to work this, too. You can either reserve for Valentines Day itself (or a weekend nearby), you can make a reservation and give it to him/her as a gift for future pleasure, or you can purchase a gift certificate and figure out the dates later. Either way, you're going to be a hero. You do want to be a Hero, don't you?
---
Willow Creek Winery Opens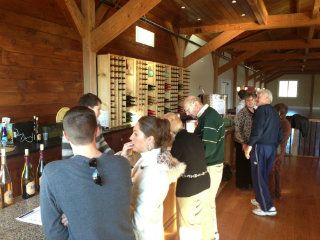 Welcome to Willow Creek, Cape May's newest winery.

It's been a long time coming, but Willow Creek Winery has finally opened its doors to the public. Though they won't hold their Grand Opening until May, they are open 7 days a week for tastings and tours.
Anna Marie and I visited Willow Creek this week for the first time (you'll see her in the photo if you look closely) and we had a great time. There are a few things I love about this new winery. First, it is the only winery that is actually located on Cape May island, so it is easy to get to. In fact, you could easily ride one of our bikes to the winery. Though they are not finished decorating and furnishing it, this winery is going to be pretty elaborate. They're setting up several little sitting areas throughout the tasting building, which will allow you to have your own space to hang out and enjoy some wine. They are also developing an extensive set of patios and gardens, which I'm sure will be spectacular, once completed. Finally, we really enjoyed the wine. The have a nice selection of wines and you can taste all of them or just a portion. Their wines are reasonably priced too, so you'll be sure to walk out with at least one bottle on every visit.
---
Cape May Wine Trail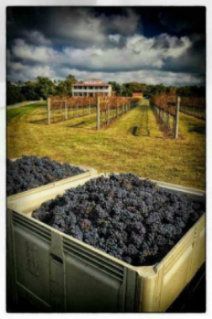 Speaking of wine, which is one of my favorite things to do, I wanted to talk about the Cape May Wine Trail. With the opening of Willow Creek, we now have 6 wineries in Cape May county. If that doesn't qualify as a wine trail, then I don't know what it will take. Cape May is becoming a serious wine destination.

Many of you have already visited one or more of our local wineries, so you may have already heard about our perfect little micro-climate for wine. Surrounded by the water in the way we are, our temperatures are moderated and provide a nice long growing season for the grapes. This is especially important for the red wine grapes, which take longer to mature than the whites.
There are several ways to explore this trail. MAC runs a Wine Trail Trolley periodically throughout the year, which is my favorite. You can also purchase a "Wine Trail" ticket from MAC, which gives you admission to a few of the wineries to visit on your own. You can also do what Anna Marie and I do too, which is to make our way to the wineries on our own schedule at our own pace.

Wine tasting is a wonderful way to spend an afternoon in the cooler months of the year or to take a break from the beach on a rainy day in the summer. There really isn't a bad time to visit one of our wineries!
---
5th Annual Wine Lover's Weekend (Feb 22-23)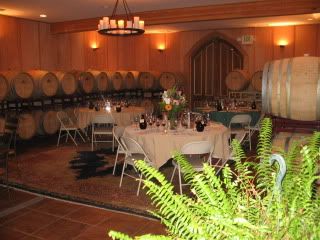 Picture it: You're facing a bleak, cold, boring weekend in the middle of February with nothing to do. The holiday season is a distant memory and a sunny bright Spring is hard to imagine. Football season is well past and there is simply NOTHING to do.

But wait! Let me suggest a different scenario. What if there was a warm, bright, festive event filled with great wine, good food and wonderful company that you could enjoy? Imagine yourself sitting in a charming winery, blending (and sipping) wine, competing for the title of "Best Blend". Imagine the fun, the camaraderie, the adventure of crafting a fine wine!
You'll arrive on Friday, hopefully in time for afternoon tea and a wonderful dinner out at one of our great restaurants. On Saturday afternoon we'll gather at the Cape May Winery and settle into the barrel room for the afternoon. As you enter the room you'll see several tables laden with decanters of wine, loads of wine glasses and a few measuring cups (remember, this is science). Each table becomes a "team". First we sample each of the 4 blending wines (all red) to get a feel for their various characteristics. Then we start blending for an hour or two. Ultimately, each table selects its finest blend and mixes up a decanter of it. We then break for a tour. After the tour we return to our tables and do a blind taste of each team's blend. We vote on the best blend, which is then bottled with a custom label with your name on it (or anything else you want printed on it). We usually have some left over wine from the afternoon, which we'll then bring back to the inn, just in time for tea.

This is sure to be a wonderful event. I hope you'll join us!
---
The Big Cheesy Returns (Mar 1-2)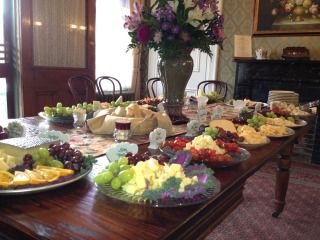 I've been teased by friends and guests about making such a fuss over our cheese tasting weekend. I am unrepentant, however. The Big Cheesy (I think it was mostly the name I was teased about, to be honest) is certainly one of the most enjoyable events at The Queen Victoria each year. It deserves a mention here.
The name of this weekend pretty much says it all. Each year we gather fine cheeses from all over the world (we don't actually travel around the world to find them, of course). You might be surprised to discover just how many different cheeses there are. If you know cheese, you know just how different they can be. If you haven't explored the nuances of the myriad of different cheeses, then you haven't really lived yet, and you definitely need to call us and make a reservation.

We'll have 15-20 cheese platters arranged around our very large dining room table, each labeled and described for your exploration and enjoyment. There will also be plenty of wine glasses and ice buckets for you to use with your favorite bottle of wine that you can bring to the event. (yep, it is BYO). Bring something you want to share, as it tends to become a little communal at the wine buffet.

They say the best things in life are free. Personally, I prefer the saying "The best things in life happen at The Queen Victoria". This event just proves my point. I know you'll agree. Bring yourself and your favorite beverage and enjoy a wonderful afternoon.

This event is only open to guests actually staying with us that weekend, of course.
---
"Must Have" Queen Victoria Car Magnet
Check out our latest "must have" gift shop item! This magnet has been showing up on cars all over the United States, and there is a chance at least 2 have appeared in Europe as well.
What better way to tell the world where you would rather be as you commute to and from work?

Be sure to pick one up on your next visit to The Queen Victoria. It would almost be worth a visit to Cape May just to get one!
---
Upcoming Cape May Events
· Crafts & Antiques in the Winter Feb 16,17
· Wine Blending Weekend, Feb 22-23 2013
· Big Cheesy Weekend Mar 1-2, 2013
· Anna Marie's Birthday Challenge Mar 8-9, 2013
· St Patty's Irish Whiskey Challenge Mar 15-16, 2013
· Sherlock Holmes Murder Mystery Weekend Mar 15-17
· Singer Songwriter Cape May Mar 22-23
· Spring Festival Apr 26 through May 5
· · Cape May Restaurant week Jun 2-9
· Cape May Music Festival May 26-Jun 13
· Cape May Designer Show House Jun 28 through Oct 31
· 2nd Annual Craft Beer & Crab Fest Aug 10
· Food & Wine Festival Sep 14-22
· Victorian Weekend Oct 11-14
· Halloween Happenings Oct 15-31
· Sherlock Holmes Murder Mystery Weekend Nov 1-3
· Channeling with Craig McManus Nov 16
· Christmas in Cape May Nov 22 - Jan 1

It's not just for Summer anymore.

Though many think of Cape May as a Summer Resort, those truly in the know realize that Cape May's charms extend well beyond the beach season. In fact, it could be argued that Cape May is an even more enchanting destination during the cooler months.

With the crowds gone and the beach more of a visual effect than a place to hang out all day, you'll have time to truly explore our beautiful town and fully discover its charms without distraction. Take a sunrise and sunset walk along our beach. Cape May is one of the few places I know of where you can watch the sun rise and set over the water from the same beach ... but only in the winter. Enjoy a fabulous lunch or dinner at one of our wonderful restaurants. Visit some of our magnificent wineries. Stroll (or bike) through our quaint, visually intoxicating streets. Take the audio guided walking tour of the historic district. Sit by the fireplace and enjoy a glass of wine and good book. The possibilities are endless!

Lots of folks choose Cape May for Birthday, Anniversary, Baby-moon and other significant celebrations in the quiet months. What better way to celebrate the important moments of your life than a peaceful, quiet and romantic visit to your favorite bed and breakfast?

Did I mention the Inexpensive Package Deals?

This really is one of the nicest seasons to visit Cape May! Come discover it for yourself in 2013.
---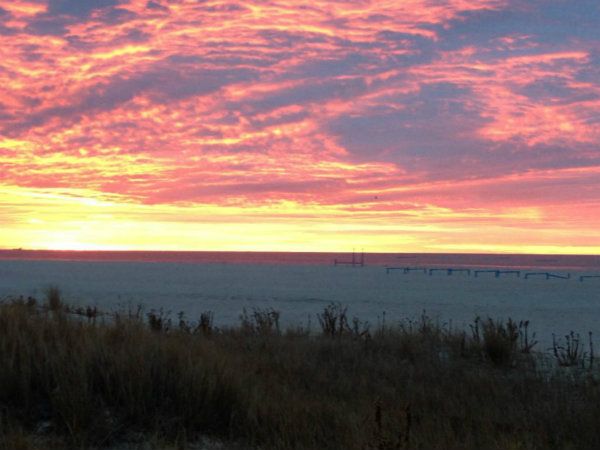 A Stunning Winter Sunrise
---
Featured "Room of the Month" ... Regent's Park
Want to stay in one of our most popular rooms? If you want to experience Regent's Park, with its cozy fireplace, amazingly comfortable chesterfield sofa, big TV, and huge bathroom with a 2-person, 2-head shower, then you need to plan ahead!
Regent's Park is a VERY popular room. It is a separate cottage suite, with its own private parking space, located in the side yard of the Prince Albert Hall building. It has an enticing private porch that catches every last ray of the afternoon sun and is just steps to the pantry and dining room of Prince Albert Hall.

Most guests who stay in Regent's Park make it their official favorite room. It has just the right balance of space, amenities, privacy and luxury. You should probably check it out for your next visit ... but don't wait!
---
Do you love Antiquing?
Most people that like bed and breakfasts also tend to like antiquing. I guess that shouldn't be too surprising, as antiques and vintage buildings are a big part of the B&B experience.

That being the case I couldn't help but suggest that you indulge that interest with a visit to one of Cape May's many antique shops.
You might consider Antiques Emporia, which is located in the heart of the antique district. It is open 7 days a week year round featuring more than 40 different antique dealers.

They have a large collection of vintage clothing, jewelry, collectibles, furniture, nautical items and a vast collection of glassware, so there is bound to be something that will interest you. I don't know if I'm unique, but many times when I've gone in this shop I've found myself browsing vintage magazines and coffee table type books, diving into the past, so to speak. I must admit that it is a little disorienting when I look up and find myself back in the present. Great fun!
---
Designer Show House Returns (June 28) !
I am incredibly pleased to announce that Cape May will have a Designer Show House again in 2013. This one is going to be REALLY special.

This is a photo of a brand new Victorian style home currently being constructed right across the street from the Emlen Physick Estate on Washington Street. It is called the Cavalier Cottage, a Neo-Victorian home reminiscent of the Southern Mansion or the Mainstay Inn, on a more intimate scale. The 2800-square foot home features a 900-square foot wrap-around porch, as well as a cupola gracing the low-pitched roof. In the Italianate style popular in the 1850s-'70s, the house features overhanging eaves with oversized brackets and a gracefully columned veranda, perfect for sitting and watching the world go by.
The Cavalier Cottage will be open for tours and your pleasure between June 28th and October 31. There will be lots of package offerings with restaurants, as usual. The Tour & Lunch (or Tea) specials at the Carriage House Cafe & Tearoom located right across the street will be particularly compelling this year.
---
Equal Billing for ...
Last time I mentioned our new "Google +" page, so I figured I would give equal billing to our Facebook page. We've been pretty active on Facebook for a couple of years now. In fact, we'll probably get to 2600 fans today or tomorrow (we're at 2593 right now and we get 4-5 new fans a day from all over the world).

A lot of our guests mention to me how much they enjoy these email newsletters. Of course, I only do them once a month, at best. If you're one of those folks that wants to hear about The Queen Victoria and Cape May a little more frequently, then become a Facebook or Google+ fan. I try to post a photo and some witty remarks on both sites just about every day.
Of course, there is a risk in this to you. My goal with every post is to make you want to be in Cape May. Truly, I want you to be so inspired that you won't be able to rest until you call and book your next reservation. Luckily for most of our fans, they have intelligent, disciplined minds and can resist the temptations that I'm setting before them.
---
Favorite Guest Photos ... QV Bicycles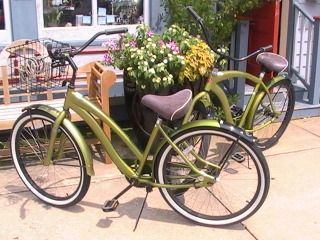 What is our most popular amenity at The Queen Victoria? Well, I'd have to say that it is probably our fleet of bicycles.

Though this photo was clearly taken a little while ago (as evidenced by the flowers in the pot), I really wanted to share it with you. With the temperatures in the 50s so far this January, we've had lots of guests enjoying our bikes lately.
Anna Marie and I really love to ride bikes when we vacation. It is such a great way to explore the area and it is FUN. Unfortunately, for us, the places we stay at, no matter the cost, aren't as generous with the amenities as we are at The Queen Victoria. Last time we rented bikes for our vacation at a cost of $105/week/bike ... Ouch! It was actually worth it, though.

Anyway, next time you're visiting The Queen Victoria, be sure to take advantage of our bikes and go for a ride around town. You'll be glad you did.
---
Cape May Stage 2013 Season
Cape May is very fortunate to have a few theater groups. Our favorite has always been Cape May Stage, which is located in the beautifully restored and comfortable "Robert Shackleton Playhouse" opposite of Rotary park.
Cape May Stage won't be opening up for a few more months, but I thought I would give you a peak at their schedule so you can take it into consideration for the planning of your 2013 visit(s) to The Queen Victoria (you are planning a visit in 2013, right?).
May 17 - June 7 "How to Make a Rope Swing"

Jun 12 - July 26 "Lend Me A Tenor"

July 31 - Sep 13 "Boeing Boeing"

Sep 18 - Oct 19 "Freud's Last Session"

Oct 23 - Nov 16 "A Walk in the Woods"

Nov 29 - Dec 29 "Jacob Marley's Christmas Carol"
So it looks like a pretty good season to me, with a decent mix of drama and comedy with a seasonally appropriate Christmas production to cap off the season.
---
Sherlock Holmes Murder Mystery Weekend Mar 15-17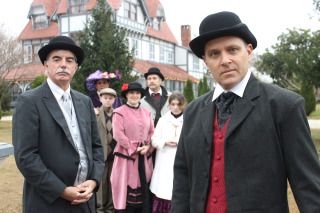 So St. Patty's Day holds no special place in your heart. You're not Irish and you're not interested ... so you're looking for some other way to cut the winter blues and have some fun. Here it is!
One of Cape May's most enjoyable events every year (2 times a year, actually) is the Sherlock Holmes Murder Mystery Weekend. This is an engaging event combining theater, tours, and a little sleuthing guaranteed to create an unforgettable experience. This really is a wonderful, fun excuse to treat yourself to a weekend in Cape May. There is even the potential of winning the $250 1st prize.

This time join Holmes and Watson as they race into yet another maze of deceptions while they attempt to solve this intriguing case. The pair confront a secret society whose members believe they can capture the soul upon death. The potential for evil is enormous. How can they circumvent these diabolical plans? You'll help figure it out!
---
St. Patrick's Day at The Queen Victoria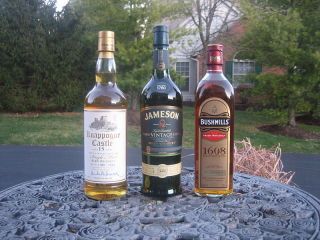 I don't think it is ever too early to start planning for a fun weekend, so I just had to feature our newest event again this month. On Saturday, March 16 (OK, 1 day early) we'll be celebrating St. Patrick's Day in a fun new way.

I've recently acquired an affinity for Irish Whiskey (in moderation, of course) and it occurred to me that I could parlay it into a fun event. What could be more appropriate than an Irish Whiskey Challenge on St. Patrick's Day? It seems like a perfect match.
Now I'm guessing that anyone interested in attending this event already has a favorite Irish Whiskey. If each of us brings a bottle of our favorite, mine happens to be Tullamore Dew, we'll all have a chance to sample and evaluate everybody's favorite. I wouldn't be surprised if a few of us change our opinions in the process.

I'm guessing we'll have a few duplicates, but I'm sure that won't be much of a problem. We'll be providing a selection of traditional St. Patrick's Day fare, so we'll all have something to eat to get through this event.
---
Doug & Anna Marie's Restaurant Pick Of The Month ... Washington Inn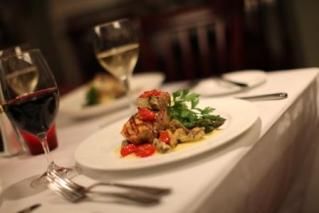 So all of Cape May's best restaurants are closed all winter, right?

WRONG!

You would be hard pressed to find a better restaurant than the Washington Inn in Cape May (or New Jersey, for that matter). That is why I'm so pleased to tell you that not only is the Washington Inn open every Saturday, all winter long, they also have some amazing specials.
Once again this year the Washington Inn is offering a special "Winter Warm Up" menu in addition to their regular menu, featuring Dinner with a glass of wine for $25. The entree options for the special include Duck Cassoulet or Fisherman's Ciopinno. I had the Ciopinno special a couple of times last winter and really loved it!

For lighter fare, you can hang out in the Wine Bar and enjoy $1 oysters, $5 wines and $5 small plates. Anna Marie and I really enjoy doing this too.

By the way, the Washington Inn will be open Thurs, Fri & Sat, February 14, 15, and 16 for your Valentines celebration dinner.
---
Make your reservations today for a romantic getaway at The Queen Victoria Bed and Breakfast. We are looking forward to helping you plan your next visit!
Sincerely,

Doug & Anna Marie McMain, Innkeepers
The Queen Victoria Bed and Breakfast
---