Cape May Uncorked ... Wow!
Free! Is there anything better than free?

When the Washington Inn announced that they would be staying open every Saturday night all winter long, Anna Marie and I were so excited we got on the phone with the owner and put together a special 3 course "Wine Pairing Dinner" package.
This new "Perfect Pairing" package will be available for sale all year long, but we're giving it away free for 3 weekends this winter as a special promotion called "Cape May Uncorked". As you can see, we're almost as into catchy names as we are wining and dining.

So here is the deal ... book a large premium room for at least 2 nights on the weekends of Jan 20-21, Jan 27-28, or Feb 3-4 and you'll enjoy a complimentary wine pairing dinner for two at the Washington Inn. This package will cost $100 every other day of the year (and will be worth every penny), but you'll be enjoying it for free during these three weekends. That makes you look pretty smart, I'd say.

If you book the Jan 20-21 weekend you'll be enjoying a special "Slow Food" version of the package, which includes 2 additional courses, with the gratuity included as well (really smart!).

By the way, I just saw that the Washington Inn was voted the "Best Romantic Restaurant" on the Jersey Shore in 2011.
---
Valentines at The Queen Victoria

Anna Marie and I love to celebrate Valentines Day. We don't really need an excuse to celebrate our love for one another, but it is an excuse to do something really special for each other.

I can't imagine anything more special than a trip to The Queen Victoria for a romantic weekend. Can you?
This year the calendar has given us an opportunity to celebrate Valentines Day twice. Since the 14th falls on a Tuesday this year, you can celebrate your relationship with your loved one this year either the weekend before or the weekend after! You could come stay with us two weekends in a row, but I've got to say that would seem a little excessive, even to a romantic guy like me.

So when will you be celebrating Valentines at The Queen Victoria? Give us a call and we can work it out together, whether it's on the 14th or one of the weekends before or after. Remember, the really romantic rooms with whirlpool tubs and fireplaces are the first ones to rent!
---
4th Annual Wine Lover's Weekend (Feb 24-25)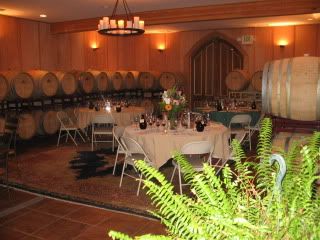 I AM EXCITED! (you know I mean it ... I don't usually go "all caps" like that)

Our annual wine blending weekend has definitely become my favorite event of the year. It is not surprising. Each year we get a crew of really fun loving people enjoying a really wonderful event involving the consumption of some great wine during a time of year when there isn't much else going on. How could you ever ask for more?
So, "what are the details", you ask. I'm glad you asked! First you arrive on Friday, hopefully in time for afternoon tea and a wonderful dinner out at one of our great restaurants. On Saturday afternoon we gather at the Cape May Winery and settle into the barrel room for the afternoon. As you enter the room you'll see several tables laden with decanters of wine, loads of wine glasses and a few measuring cups (remember, this is science). Each table becomes a "team". First we sample each of the 4 blending wines (all red) to get a feel for their various characteristics. Then we start blending for an hour or two. Ultimately, each table chooses its best blend and mixes up a decanter of that blend. We then break for a tour. After the tour we return to our tables and do a blind taste of each team's blend. We vote on the best blend, which is then bottled with a custom label with your name on it (or anything else you want printed on it). We usually have some left over wine from the afternoon, which we'll then bring back to the inn, just in time for tea.

I know we'll be having several return participants this year. I hope that we'll see you there this year too!
---
The Big Cheesy Returns (Mar 2-3)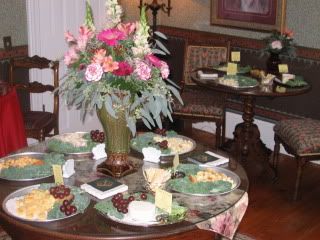 Wine and cheese go together, right? So it only seemed fitting to hold our 4th annual "Big Cheesy" cheese tasting weekend immediately following our Wine Lover's Weekend.

I've already committed myself by declaring the Wine Lover's Weekend my favorite event of the year, so it pains me not to be able to say the same about the Cheese Tasting Weekend. Why can't I have two favorites? Well, it comes a VERY close 2nd place then.
The name of this weekend pretty much says it all. Each year we gather fine cheeses from all over the world (or town, as the case may be). If you know cheese, you know just how different they can be. If you haven't explored the nuances of the myriad of different cheeses, then you haven't really lived yet, and you definitely need to call us and make a reservation.

We'll have 15-20 cheese platters arranged around our very large dining room table, each labeled and described for your exploration and enjoyment. There will also be a plethora (how often does one really get to use that word?) of wine glasses and ice buckets for you to use with your favorite bottle of wine that you can bring to the event. (yep, it is BYO).

They say the best things in life are free, and this event just proves that is true. Bring yourself and your favorite beverage and enjoy a wonderful afternoon.

I guess I have to mention that this event is only open to guests actually staying with us. Every year one or two people call to ask if they can just drop in for the afternoon and join in. I'm afraid that just doesn't make any sense on any level.
Free! for our weekend guests, of course
---
Channeling Weekend with Craig McManus (April 27-28)
Yes, it is time to start making plans to contact your departed loved ones in April. Back by popular demand (really popular), Craig is returning to do his channeling thing at The Queen Victoria. These small, intimate group sessions with Craig have proven to be wonderful experiences for dozens of our guests in the last year.
I know that lots of you tried to get into the last couple of sessions that Craig did with us and were unable to. Lots of you who have attended in the past have been anxious to get our schedule for Craig's events for 2012. Either way, this is your chance to spend some quality time with Craig and some of your departed loved ones.

Because we want to guarantee a quality experience for everybody participating, we are seriously limiting the number of people per session. We are only accepting 20 people for this event, so don't wait. We have lots of great rooms available for this weekend too!
---
Carriage House Cafe & Tearoom ... Re-Opening!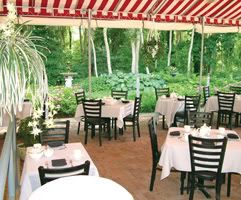 Last fall the Mid Atlantic Center for the Arts & Humanities (MAC) made the shocking & surprising announcement that the Carriage House Tea Room would be closing earlier than normal in 2011. For many long time visitors to Cape May this was very sad news, indeed. In fact, quite a few people took the time to write MAC and express their disappointment over this decision.
Though there was never much doubt that some type of dining facility would re-open in the Physick Estate Carriage House, the recent announcement that MAC would be re-opening the restaurant themselves was very welcome news to me.

To be honest, as much as I loved the old format Tearoom, I'm really excited about the New & Improved plans for the Carriage House Cafe & Tearoom. Yes, the original and very popular Tea Luncheon offering remains. If you loved it before, you'll be thrilled. What's new is a menu rife with exciting new offerings and combinations, all at value pricing. Paninis, Quiches, Wraps, and Signature Salads, all at affordable prices, make the Carriage House Cafe a "must do" for your next trip to Cape May.

The only bad news is that you'll have to wait until April to experience the new Carriage House Cafe & Tearoom. Personally, I can hardly wait.
---
Upcoming Cape May Events
· Cape May Wine Weekend Feb 17-19
· Winter Crafts & Antiques Weekend Feb 18-19
· Wine Lover's Weekend Feb 24-25
· Big Cheesy Weekend Mar 2-3
· Sherlock Holmes Mystery Weekend Mar 16-18
· Channeling Weekend April 27-28
· Cape May Spring Festival April 27 thru May 6
· Cape May Music Festival May 27 thru June 14
· Cape May Forum June 2-3

You probably agree with me that Cape May is a SPECIAL place. Well I have to say, it is really special this time of year.

First of all, this is the Special Occasion Season. We all know that Cape May is the perfect place to celebrate those important moments in your life like birthdays & anniversaries. For those of us celebrating during the winter, what could possibly be better than a trip to Cape May? Nothing, of course! So, repeat after me ... "Cape May is the perfect place to celebrate a winter anniversary or birthday". Now, click your heals three times and call us to get a special price for your special celebration at The Queen Victoria this winter.

Yes, we're offering some great specials this year. I can hardly believe it, actually. I'll be telling you all about them in this newsletter, so I won't go into details here, but suffice to say that staying at The Queen Victoria hasn't been this easy or affordable in a long time.
---
---
Featured "Room of the Month" ... Princess Louise
The Princess Louise room has always been one of my favorite rooms. It is bright, cheery, has a view of the beach from two windows (including the bathroom so you can check out the beach scene while you're brushing your teeth), and has plenty of room. There was always one thing that I didn't like about the room, though. The floor was a mess. Yes, it was the original pine flooring with lots of character. Too much character, in fact. Last year we made the executive decision to replace the floor and now the room is perfect!
I really do love this room. Like all the rooms on the third floor of the House of Royals it has a sloped outside wall which give the windows depth and character (good character). Even though it is a third floor room, the ceilings are 9 feet high, making the room feel really spacious.

If you are still searching for your favorite room at The Queen Victoria, I suggest giving the Princess Louise room a try next time. I think you'll be glad you did.
---
Winter Escape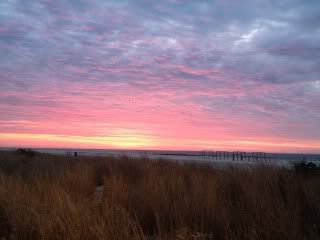 Remember those really great specials I mentioned earlier (above), well this is one of them. Last year we offered a "Living Social" deal that was 2 mid-week nights in a Luxury Suite with a wine tasting and some tours for $295. We sold 200 of them in 6 hours! The Winter Escape was modeled after that package, but was designed to be an even better deal.
So what is the Winter Escape? ANY 2 nights (including weekends) in a Premium room, free wine tasting for 2, dessert at Lucky Bones (with the purchase of dinners), and a discount on a magnificent cheese tray at Seaside Cheese (to use with your wine tasting) for only $295.

The Winter Escape is good through the end of March 2012. It excludes the weekends of Feb 10-11 & Feb 17-19.

Photo: the first Sunrise of Winter on the Cape May Beach. Come see it for yourself this winter!
---
The Sunday Stretch .....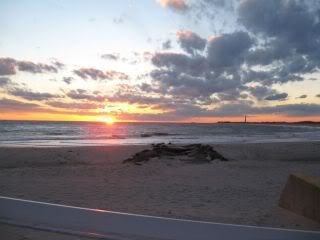 Have you ever said to yourself "I wish we could stay another day" as you're walking out the door of The Queen Victoria? I hear it from somebody almost every day.

OK, so Anna Marie and I have decided to make it easy for you to stretch your next 2 night stay with us into a 3 night stay by offering your 3rd night at 1/2 price.
Though we're calling this special the "Sunday Stretch", we're not really limiting it to Sundays. Actually, the only restriction is that your "stretch" night can't be a Friday or Saturday.

This special runs through April 15 and excludes the Sunday of President's Weekend (February 19).

Photo: Winter Sunset, stretching the day out.
---
Convention Hall NEWS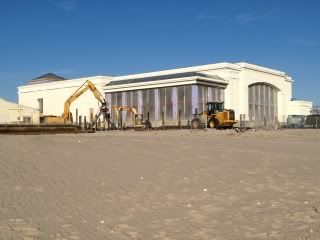 As you can see from the photo (taken from our beautiful winter beach), our Convention Hall is really taking shape. The whole western side of the building exterior is complete, and plastic covering the front windows gives you a bit of an idea what the front of the building is going to look like.
What you can't see is all of the work being done on the interior systems, including plumbing, electrical and HVAC. I know that lots of you are questioning whether or not the project will be done by Memorial Day. I'm of the opinion that it probably will come in on time.
---
Favorite Guest Photos ...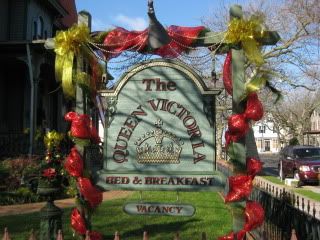 Yep, another picture of our sign! As usual, though, I've chosen a photo that has meaning beyond its first appearances. This one was submitted by our good friend Don Olsen. It was taken during a lovely December weekend visit

Being shamelessly into self promotion, I can't resist a good photo of The Queen Victoria sign. Who could? Beyond a good shot of our sign, however, it allows me to talk a little bit about our Christmas season.
The Christmas season is always special in Cape May and at The Queen Victoria (remember, the Cape May Christmas phenomenon was started by The Queen Victoria). 2011 was no exception. In fact, I think this was our best Christmas season ever.

I think what I love most about a Cape May Christmas is that everybody is so excited to be here and they are really enjoying the season. So much of Christmas these days is commercialized and in your face. Taking a couple of days in Cape May slows things down a little bit and lets folks really enjoy the season. It isn't all about gifts and Santa Claus and all the stuff we're inundated with all the time.
---
Cape May Stage - Uncle Jacques Symphony (May 11 - June 15, 2012)
You know, when you write a periodic newsletter like this that contains a regular feature, you've got to follow through with it even if it doesn't necessarily apply at the time. As you can see, the next show at Cape May Stage is Uncle Jacques Symphony which debuts on May 11. While May 11 will probably be here before any of us realize it, it is still a ways off. That's OK, though, as it allows us a while to really appreciate how much we enjoy Cape May Stage while we're waiting for it to re-open
I'll be honest. I've never heard of this show, so I'm going to share with you the description of the show from Cape May Stage's website ...

Uncles Jacques' Symphony, "begins with the introduction of Jacques Hoffman, a 'hip cat with fast hands on the music scene in 1950's Chicago.' A jazz drummer that had to wrench himself away from club dates and late nights in order to enter [the 9 to 5 world]. The change tore the music out of Jacques' soul [so] he built a symphony out of the people in his life . . .. This is a play about seven of these very diverse human beings who all shared the friendship of Jacques Hoffman."

Wow, that was really easy. It also sounds like it should be a good show. At first I was thinking we'd get some cool Jazz, which we may. I'm not sure what a symphony of friends looks or sounds like, but I guess I'll be finding out in May. See you there.
---
Cape May Forum (June 2-3)
One of the things I love the most about Cape May are the cultural offerings that exist here, including MAC's Music Festival, the Cape May Jazz Festival, Cape May Stage, East Lynne Theater, the Food & Wine Festival, and, significantly, the fairly new Cape May Forum are a huge part of what makes Cape May an incredible place to visit and live.
This June 2-3, the Cape May Forum will help launch the summer season as they once again bring a forum of experts, nationally renowned speakers, top notch panelists, and authors to Cape May to explore the critical issue of Sustainable Energy. This 3rd Annual event is titled "Running on Empty - The Future of Energy".

This year's Cape May Forum is bringing energy experts, environmentalists, and political leaders for a public discourse on topics including:
Energy as the Defining Challenge to our Planet and Society

Energy Security

Balancing Business, Societal & Environmental interests

Transportation vs. Residential & Industrial Uses

The Political Impacts of Energy Access

Defining Energy

Creative Energy

Is Sustainable Energy Achievable?


This is sure to be a thoughtful, enlightening and enjoyable series that I'm sure many of you will want to experience. Tickets can be purchased for one or both days of this event, allowing you to fully experience Cape May while participating in this imperative exchange of knowledge and thought. Don't forget to bring your own opinions with you, as audience participation is encouraged.
---
Doug & Anna Marie's Restaurant Pick Of The Month ... The Washington Inn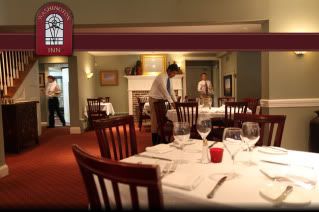 There really wasn't any doubt about which restaurant we would be featuring this month. With the very surprising announcement that they would be open every Saturday this Winter, the excitement and "news" factor was just too great to ignore.
The Washington Inn is considered by MANY to be the best restaurant in Cape May. It is certainly one of our absolute favorites. The food is consistently excellent, the service impeccable, and the setting romantic. What more could anyone ask for from a restaurant in Cape May?

I've already mentioned the wine pairing menu that the Washington Inn has put together for our "Perfect Pairing" package. Honestly, I couldn't be much more excited about a dining package. The fact that we'll be able to offer it every day of the year that they are open is a big part of that. This is a great value that you will absolutely want to take advantage of on your next visit if you enjoy wine and great food.
---
Make your reservations today for a romantic getaway at The Queen Victoria Bed and Breakfast. We are looking forward to helping you plan your next visit!
Sincerely,

Doug & Anna Marie McMain, Innkeepers
The Queen Victoria Bed and Breakfast
---