Chocolate Lovers Fantasy Weekend
We're pulling out all the stops this time in creating an indulgent, whimsical and delicious package. If you love chocolate (and wine ... don't forget the wine), then you won't be able to resist this one. The weekend before Valentines Day will never be the same again!
The New Jersey Wine Trail is doing a special "Chocolate Wine Tasting Weekend" and we decided to create a little package around it. You'll start off with a chocolate truffel tower (that is them in the photo) awaiting you in your room upon arrival. Next, trek down the Cape May portion of the "Chocolate Wine Trail" for wine tastings at both Cape May Winery and Natali Vineyards (each winery will be featuring chocolates with their wine tasting). To top it off, you'll enjoy complimentary desserts (with your paid meal) at two of Cape May's finest restaurants, Freda's Cafe and Moonfish Grill on either Friday or Saturday nights. You don't have to have a chocolate dessert, but why have anything else? The great news is that this package only costs $25 in addition to the price of your room, a great value.

So here is the important thing to think about ... admit it, you're struggling over what to do for your loved one for Valentines (I know, because I'm struggling too). We're already nearly full for Valentines weekend, so if you were thinking about a trip to The Queen Victoria for Valentines and haven't booked it yet, it's just about too late. This is the perfect solution. Celebrate a week early and make a Chocolate Fantasy weekend of it.

Call us today!
---
Say Cheese!
So chocolate isn't your thing? How about Cheese? On Saturday, February 21 we'll be hosting a Cheese Tasting party at The Queen Victoria. We've never done this before, but how can you go wrong with a room full of cheese?
Anna Marie and I will be filling the House of Royals parlor with a wide assortment of cheeses from our friends at Seaside Cheese (I know lots of you love it there). There will be 10 to 12 cheeses for us to taste and each one will have a write up about its origin, how it is made and any other fun tidbits of information. We'll also have breads from one of our local bakeries along with an assortment of specialty olive oils.

We're planning on doing this Saturday at around 1:00, so you can actually make a lunch out of it if you wanted to. Now I know that for some people it is impossible to eat cheese without having a glass of wine in your hand, so we're welcoming everyone to bring their own wine and make an afternoon of it.

The really good news is that this is a free event for all of our guests that weekend. Who knows, perhaps this will become an annual event.
---
Sherlock Holmes returns March 20-22!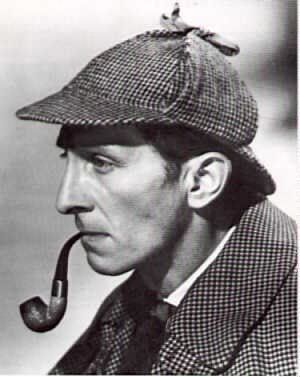 Boy, this guy just never quits! Like clockwork, twice a year Sherlock returns to Cape May to solve another great mystery of our time. This March is no exception, with Sherlock, Watson, and a troupe of nefarious characters returning to quiet Cape May to stir things up a bit. Of course, he needs your help to actually solve the mystery. Don't let him down!
On Friday night you'll join your fellow "partners in crime" for desserts and coffee and meet Dr. John Watson and the rest of the cast, where you'll be drawn into the mystery. Saturday you'll be rubbing elbows with the cast (in character) as you tour several houses in town (including The Queen Victoria) searching for clues to solve the mystery. After the tour it's back to the theatre to see the next act and get all the final clues you'll need to solve the mystery. Finally, on Sunday you'll attend a brunch and see if you had the best solution to the mystery. You might even win a prize for best costume (if you dressed for the event), or "Most Clueless" if you happened to have made a particularly pathetic effort. It is all in good fun and a good time is assured for all.
---
Wine Lover's Weekend(s) ... Coming Soon!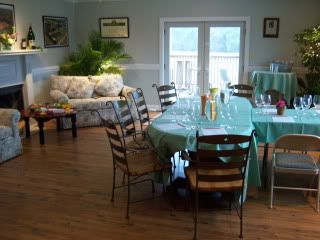 I introduced our new Wine Blending Challenge in my last newsletter. Now here we are only a few days away from the first of our two events this year. The response has already been wonderful, so we're already assured of having a great time. As they say, though, the more the merrier, so if you are looking for a wonderful winter weekend event (and some good wine), then think about joining us.
Anna Marie and I are partnering with Cape May Winery to create a special event/package for true wine lovers. On January 24 and March 7 of 2009 The Queen Victoria is hosting a "Wine Blending Challenge". On Saturday afternoon you will join Anna Marie and me at Cape May Winery to craft the perfect blend of red wine. We'll break up into teams of 4 people at tables laden with decanters of the various 2007 red wines right out of the barrel and trays of cheese from Seaside Cheese (this blending is hard work, so we'll need sustanance). Each team will craft & document different blends, ranking them among themselves. Once each team has selected the "perfect blend", we'll all break for a tour of the winery while the winemaker crafts the chosen blends. Following the tour, we head back to the blending room and do a "blind" tasting of the chosen blend of each team. We'll all vote on the best blend, which will then be bottled for us with a special "Queen Victoria Cellars" label. You will get two bottles (per couple) of the final blend, the labels of which will be customized with your names and the blending details. You'll be able to carry it proudly to your favorite BYOB restaurant in the Queen Victoria wine bag that is also included in the package.

This exclusive event is only open to guests of The Queen Victoria and will only occur twice a year. I'm anticipating adding another facet to the event in future years, where prior year's blends, which I promise to save in my cellar, will be "blind tasted" against the current selected blend. Does this sound like fun or what?

The cost of this event is $100/couple in addition to your reserved room. Remember, this event is only being held on January 24 and March 7 this year. I don't think you'll want to miss it.
---
The Perfect Valentines Gift idea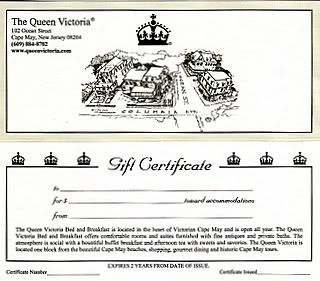 So you're still trying to come up with the perfect Valentines gift for your loved one. Perhaps you thought about the "Chocolate Lovers Fantasy Weekend" as an option, but you can't get away the weekend before the actual date (not that there is anything wrong with celebrating a little early). So where does that leave you? Jewelry? Chocolates? Flowers? You'll certainly do a card, but that isn't really enough, is it? In fact, haven't you already done all those things before anyway? Don't you want to come up with something really special this year? I've got an idea!
This year give your Valentine the most wonderful gift of all ... some time together in romantic Cape May. Just because you can't get into The Queen Victoria for Valentines itself (we've only got two rooms left at this point) doesn't mean that you can't give a gift of The Queen Victoria. Think about it. There are at least 5 reasons why a Queen Victoria gift certificate is the perfect gift 1) you can buy it today and be done with it 2) How can you go wrong with a promise of a vacation? 3) It is sure to fit 4) You'll get credit for a great gift when you give it on Valentines and then again when you actually stay at The Queen Victoria and 5) (this one is big) You Get To Enjoy It Too!

The final great thing about a Queen Victoria gift certificate is how easy it is to buy. Just give us a call and we'll put one in the mail the same day. Don't wait until February 13th to call!
---
Upcoming Events
QV Cellars Wine Lover's Weekend Jan 23-24
QV Chocolate Lovers Fantasy Weekend Feb 6-9
Valentines/Presidents Day Feb 13-15
Cape May Wine Trail trolley tour Feb 15
The QV Big Cheese weekend Feb 20-21
Antiques in the Winter Feb 15
QV Cellars Wine Lover's Weekend Mar 6-7
Sherlock Holmes Murder Mystery Weekend Mar 20,21
Cape May Marathon Mar 20,21
Cape May Jazz Festival Apr 17-19
Cape May Spring Festival Apr 24-May 3
Cape May Music Festival May 17-Jun 12

If you've been receiving my emails for a while you might recall that I declared the months of January through April the "Special Occasion Season" last year. Lots of things have happened since then, a new president, financial market upheaval, and most recently a miraculous crash landing on the Hudson river. None of those things alters the fact that it is now the Special Occasion Season in Cape May again.

Most of you have a special occasion of some type within this (soon to be) famous season. It might be a birthday, the anniversary of your wedding (or perhaps of your engagement or your first date), or a birthday. Some of you may even be planning a marriage proposal this year. Whatever it might be, you would be hard pressed to find a more romantic, relaxing and enjoyable place to celebrate your special occasion than the The Queen Victoria.
---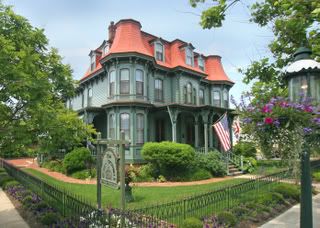 ---
Featured "Room of the Month" ... Prince Arthur
Which room has our best ocean view? You guessed it: Prince Arthur. The Prince Arthur room is a standard room on the 3rd floor of the House of Royals. It is one of our largest standard rooms and it definitely has our best ocean view. It also has the best view in town of the Queen Victoria building, which is surely one of the most photographed buildings in Cape May (if not New Jersey).
Yes, the 3rd floor of the House of Royals was once a brothel, so it is quite likely that the Prince Arthur room has an interesting history. It is much more respectable these days, of course. If you like an elegant, charming setting, a beautiful, bright, large bathroom with a marble floor, marble bench seat in the shower and long marble vanity (this room has more marble surfaces than any other in the inn) you're going to love the Prince Arthur room. And of course, it has the ocean view. Remember, we're a block from the beach, so the view is not panoramic, but it is a pretty view.
---
Singer Song Writer Cape May Returns
Anna Marie and I are so excited that this event is returning for its 2nd time this March 27-28. This is a GREAT event. With over 125 free performances in 15 different venues around town, you are sure to have a wonderful experience.

Like last year, dozens of up and coming musicians of all kinds will be converging on Cape May to perform and "break out" in front of our audiences and all the music professionals that will be in town. If you are interested in hearing some of tomorrows big stars before they're discovered, make plans to attend.

IMPORTANT ... please ignore the dates you see in the graphic above. It was the only one I could snag for my email, but unfortunately it is last year's poster. This year's event is March 27-28.
---
The Queen Victoria is Zagat® rated!
We just discovered that thanks to several of our wonderful guests who took the time to review us on ZAGAT.com, we are now Cape May's only Zagat® rated bed and breakfast.
I know that most of you think of Zagat® as a restaurant rating system, but they actually rate lodging establishments as well. We're very pleased to have this distinction, as you can imagine. I guess being Cape May's only Zagat® rated inn makes us Cape May's top rated inn! Works for me.
---
A last look ... at Convention Hall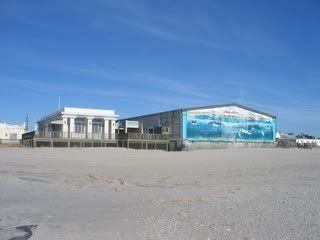 I took a (very cold) walk down to the beach this morning to see what is going on with Convention Hall. It turns out that nothing is happening yet, so there is nothing to really tell you about it.
Since I know that demolition is imminent, I thought I'd take the opportunity to get one last photo for posterity. Looking at this photo, which is definitely the best view of the old place, I can't help but look forward to our new facility. Though this one served us well, it definitely outlived its useful life and had severe limitations. The new facility will be a wonderful addition to Cape My. I'm looking forward to documenting the progress for you.
---
Favorite Guest Photos ... Winter Moon?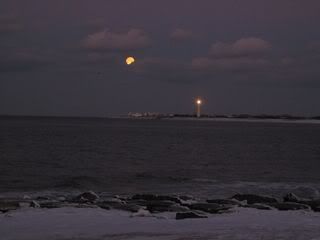 This is another great "Cape May Winter" photo taken last February by Chris Adelman. At first glance I assumed that this was a great shot of the moon, but now I'm not so sure. The more I look at it, the more I think It is probably a fancy shot (with filters or something) of the sun setting behind the lighthouse.
I do know that it was taken from the end of our promenade at the pavilion. Many of you have probably witnessed the flag lowering ceremony there in the warmer months. Besides the mystery of the sun vs. moon thing, the really great thing about this photo is the timing. I've never seen a photo that captured the rotating beacon light of the lighthouse so perfectly. The snow on the beach in the foreground is reminiscent of our experience this week too! We don't get too much snow in Cape May, so it is always interesting to see it on the beach.
---
31st Annual Cape May Jazz Festival
I always start looking forward to the Spring Jazz Festival about this time every year. This year's festival will be held April 17-19. Once again, it looks to be a wonderful lineup of talented musicians converging on Cape May to make us the coolest (figuratively speaking) place in America.
The 31st Cape May Jazz Festival "Legends...and More Blues" will pay tribute to Billy Eckstine and Sara Vaughn with "Have a Song on Me" celebrating Mr. B with the B Swingers Big Band starring Steve Butler with special guest Sabrina Carten. Opening up Saturday night with James Cotton Blues Band at the Theatre at Lower Regional High School. Other legends: Odean Pope while Barbara King will pay tribute to Sara Vaughn. More Blues: Andrew Jr. Boy Jones and Eddie Shaw appearing Friday and Saturday nights at Cabanas and Alan Weber and Frenz Saturday afternoon doing a blues jam.

By the way, if that last paragraph seemed a little confused or structurally questionable ... I pulled it off of their website. I just can't get away with anything here.
---
Doug & Anna Marie's Restaurant Pick Of The Month ...
This is a restaurant that needs no introduction. The Lobster House is undoubtedly the most popular restaurant in Cape May. In fact, it is one of the most popular restaurants in the entire country. Most of you have already dined there at least once.
Now Anna Marie and I don't usually talk too much about the Lobster House because it is kind of inconvenient to get to during our busy season. The fact that there is usually an hour wait and they don't take reservations is a big part of the reason too. In the quieter months, however, it is a great little escape.

Anna Marie and I went there the other night and had a wonderful evening. The first thing we noticed was the large, varied menu. We were pleased with both the quality of the offerings and prices. Even the wine list was pretty reasonable. We started off with a wonderful calamari appetizer special ($7) that was really delicious. Anna Marie ordered the Broiled Scallops and I ordered Grilled Mako Shark. We both got salads, of course, and a HUGE loaf of fresh baked bread. Everything was great and we didn' have to wait at all. A very nice evening out!

If you're planning a trip to The Queen Victoria this winter (and we certainly hope that you are) then be sure to make it to the Lobster House. By the way, be sure not to wear a little sailor outfit or you'll be mistaken for one of the staff.
---
Make your reservations today for a romantic getaway at The Queen Victoria Bed and Breakfast. We are looking forward to helping you plan your next visit!

Sincerely,


Doug & Anna Marie McMain, Innkeepers

The Queen Victoria Bed and Breakfast
---
phone: 609-884-8702