Sherlock is Back !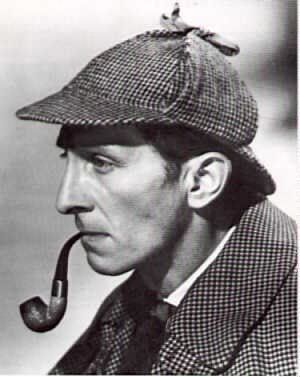 Does it seem like Sherlock and Watson were just in Cape May? As often as they visit, you would think there are no more mysteries to solve. But alas, it is not the case.
This March Sherlock returns and finds himself hunting down a culprit who attacked the President of the United States, Benjamin Harrison (remember, we're living in the past down here! You might know that President Harrison used Congress Hall as his summer White House during his presidency.).

If you've done Sherlock before then you're probably planning on returning for this next installment. If you haven't experienced this delightful event before, make plans today. The Sherlock Holmes murder mystery weekend is one of the most enjoyable events of the year ... one you won't want to miss.
---
Valentines Day Romance!
I can't imagine a more romantic place to spend Valentines Day than Cape May. I'm sure you'll be surprised when I suggest that The Queen Victoria is the perfect place to stay for your romantic weekend. Seriously though, this is the best place in the world to come for Valentines Day.
You should pay attention here, because I'm really an expert in this area. You may not be aware that I'm a romantic guy, but it's true. I actually proposed to Anna Marie on Valentines day back in 1987. If I had known about The Queen Victoria back then (and lived a little closer ... we lived in Michigan then) I would have dropped on my knee and asked my fair maiden for her hand right here.

So here is a free bonus tip for all of you seriously involved, but not yet committed couples. Get engaged at The Queen Victoria this Valentines Day. It will make every Valentines for the rest of your life a special celebration event.
---
27th Cape May Jazz Festival
Lots of you come down every year for the spring Jazz Festival. It's always lots of fun, and this year's event (weekend of April 20th) looks to be another great time. If you are into Jazz, plan on coming to Cape May in April. You are sure to enjoy it!
The 27th Cape May Jazz Festival pays "Tribute to Wes Montgomery" whose ingenuity and extreme dedication plus his soft, swinging sound set the pace for jazz as an art form in the 1960s (yeah, I swiped this quote off of their website).
---
Cape May Spring Festival
The annual Cape May Spring Festival is the perfect way to say goodbye to winter. We take the best events from our famous Victorian Week (in October), schedule them in our prettiest blooming season, add a touch of nice weather and we end up with a fantastic event.
There are literally too many events packed into this weekend to list them here. If you've never been to Cape May for the Spring Festival, plan on doing it this year. It is a treat you won't forget.
---
Inn Deep
Admit it ... you have a secret desire to run a bed and breakfast. Don't we all? Well, if you're getting serious about this dream then you need to consider attending this year's "Inn Deep" workshop for aspiring innkeepers.
Every March (almost) we bring in experts from all aspects of innkeeping to show you what it really is like to be an innkeeper. You'll also get lots of tips and advice from those of us already doing it that will save you TONS of time and money when you get started. You don't want to get into innkeeping without first attending this workshop.
---
Cape May Music Festival Starts May 20!
Whether you like classical music or classic music of various styles, you'll love the Cape May Music Festival. This year is the 18th annual rendition of this event, and it promises to be better than ever.
Cape May is a pretty leisurely place, so unlike many music festivals, which are packed into a single marathon weekend, we stretch ours out for nearly a month. Every week we have different artists performing in different venues, all impressively. Whether you prefer chamber ensembles, symphonies, jazz, folk music or brass bands, there is something for you this year at the Cape May Music Festival.
---
Upcoming Events
<
Mad Batter "An American Feast" Feb 18

Cape May Wine School Feb 18 - Southern Italian Varieties

Cape May Wine School Feb 25 - Pinot Noir

Mad Batter "Dinner on the Orient Express" Mar 3

Cape May Wine School Mar 18 - Zinfandels (not white!)

Mad Batter "British Beer Tasting Dinner" Apr 13

Cape May Jazz Festival Apr 20 - 22

Cape May Wine School Apr 22 - Western South American wines

Spring Festival April 27 - May 6

Spring Fest Chocolate Fantasy Buffet Apr 28

Spring Fest Secret Garden Tour Apr 28-29

Spring Fest Home & Garden Show Apr 28-29

Spring Fest Dine-Around Dinner May 3

Spring Fest Murder Mystery Dinners May 4-5

Spring Fest Secret Garden Tour May 5-6

Spring Fest Antiques & Collectibles Show May 5

Cape May Wine School May 6 - Cruise the Islands
As we start making our way through the new year there are so many possibilities to ponder and plans to make. The top of my list is where to go on vacation (and let me tell you, its hard to pick a vacation spot when you live in Cape May ... we're kind of spoiled).

MANY of you have made your plans to return to Cape May and already booked your reservations for the coming year. In fact, we have twice as many reservations for the coming year as we did at this same point last year! There are still plenty of rooms available for most seasons, but the phones are ringing contantly here and the best rooms are going quickly.

If your vacation or getaway plans include a trip to The Queen Victoria you may want to consider calling us soon. As a "non-planner" myself, I can relate to waiting until later to book my vacation, which may still be months away. You don't want to do that in this case though. Call us today to get the room you want on the dates you want!
---
One last look at Christmas 2006
With the holiday season behind us, we're all starting to look ahead again to the promises of the new year. I wanted to take one more look back at the 2006 Christmas season before we move on, though.

The 2006 Christmas season was by all accounts truly memorable. The tours, the lights, the festivities and the holiday cheer all exceeded previous Christmas seasons. I want to thank all of you who came to share the season with us. I'm sure you'll agree it was truly something special.

If you haven't been to The Queen Victoria in December before, you should really consider it in 2007. I can hardly wait to see Cape May at Christmas this year!
---
Featured "Room of the Month"
As promised, we're continuing our "Featured Room of the Month" with this month's entry. Everybody loves to peak into all the rooms, so we're just making it easy for you. This month we're featuring one of our very best values ... the Prince Leopold room.
OK, so the name Leopold might not inspire the same kind of romantic images that some of our other room names do, but don't be misled. This room is one of our largest, nicest rooms; one of only three in the entire inn that feature a king sized bed. With a two head shower, dual climate controls, and a large sitting area with a sofa (actually a sleeper, so it can accommodate extra people), the Prince Leopold is one of our most comfortable rooms. It has a very luxuriant feel to it that you'll appreciate as soon as you step into the room. Next time you book a reservation at The Queen Victoria, consider the Prince Leopold room. You'll be happy you did.
---
Winter Specials !
Most of our Fall and Winter guests plan their trips to The Queen Victoria for a weekend. This makes sense, of course, when you are out of vacation or limited in when you can get away. If you can be more flexible, however, you might want to think about coming mid-week. We've also added a new special to entice you into staying an extra night on those weekends.
We've always offered week-night discounts ($40/night discount), but this year we've come up with a few specials that are really becoming popular. We've tried to come up with some fun, interesting and money saving ways to enjoy The Queen Victoria. Be sure to check out our new seasonal specials today (you'll be glad you did):

"Two for Two"

"Gourmet Getaway"

"Tour the Town"

"Weekend MADness" (Brand New!)
---
10 best reasons to come to Cape May this winter
10) There is no snow anywhere, so you can't go on a skiing vacation
9) Hot Tea instead of Iced Tea every afternoon
8) Lower rates, Special Packages and week-night discounts
7) Birthday Celebrations
6) Anniversary Celebration
5) Baby on the way, you need a "Babymoon"
4) Have the whole beach to yourself (just you and the seagulls)
3) No waits for restaurants
2) Cuddle by the fireplace in your room
1) Quiet, relaxing, romantic getaway
There really is no bad time time to come to The Queen Victoria. Every season has its charms. Many of you have realized that Winter is your favorite time to come stay with us. Others have discovered that once a year is just not enough, and add a winter stay to they vacation plans. You can choose your own reason to come down, but you probably do deserve to treat yourself this winter.
---
Think Spring !
Spring is one of the prettiest times of the year to visit Cape May. Each day brings a new surprise of color and beauty as successive groups of flowers reach for the sky and show off their finery. It also gives me an excuse to get out and take pictures.
Nobody knows what Punxatawney Phil will see when he pops out of his hole this year, but I'm confident that Spring will be here before we know it.
---
Favorite Guest Photos
I've decided to start yet another continuing series topic for my email newsletters. This is the first installment of "Favorite Guest Photos". These are photos that you have submitted to us to publish on our website (yes, they are still on their way ... just a little more patience, please). Anyway, I've decided to start publishing one of them in each newsletter to encourage you all to keep sending photos. The pictures selected for the newsletter will be those that feature our guests having fun at The Queen Victoria.
I'm sure you'll agree that Matt & Meredith look like they are thoroughly enjoying themselves on our Prince Albert Hall roof deck. This is one of my favorite spots at the inn, and having a glass of wine in the late afternoon is one of my favorite things to do. We should all have as much fun every afternoon as Matt & Meredith obviously are.

If you've got great photos of yourself having a great time at The Queen Victoria, send it to me. We'll post it on our website, and it might just end up in my next email.
---
Doug & Anna Marie's Restaurant Pick Of The Month ... Lucky Bones
Ok, so it has a funny name, and arguably a strange image, but if you're looking for a fun, reasonably priced restaurant with goodfood, Lucky Bones is the place for you to go in Cape May.
Lucky Bones was opened in 2006 by the same family that own the Washington Inn and quickly became one of Cape May's most popular restaurants. Lucky Bones is the successor of the Pelican Club which many of you knew and loved. There isn't much similarity between the two restaurants, but Lucky Bones does have the "Cuban Rubbed Pork" dish on the menu that was so popular at the Pelican Club. Last time we were there I had the baby-back ribs and Anna Marie enjoyed the fish & chips. We really enjoyed both and we left full and happy. I really like the way they price their wines too ... $20 for any bottle on the menu. Next time I'm probably going to go for one of the brick-oven pizzas, which looked wonderful. If you're looking for a casual, family style restaurant you can't do better in Cape May than Lucky Bones.
---
Make your reservations today for a romantic getaway at The Queen Victoria B&B. We are looking forward to helping you plan your next visit!
Sincerely,

Doug & Anna Marie McMain, Innkeepers
---