The Big Cheesy Returns March 5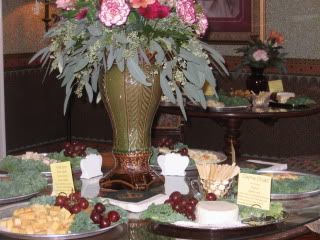 If you are looking for a great excuse to get away, then pick up your smart phone and book a room at The Queen Victoria for the weekend of March 5. We're hosting our 3rd annual "Big Cheesy" cheese tasting party that you seriously won't want to miss. I know you love cheese. How can you resist?
Anna Marie and I will be filling the Queen Victoria dining room table with a spectacular assortment of cheeses from our friends at Seaside Cheese (I know lots of you love it there). There will be about 16 cheeses for us to taste and each one will have a write up about its origin, how it is made and any other fun tidbits of information. We'll also have breads from one of our local bakeries along with an assortment of specialty olive oils.

We're planning on doing this Saturday at around 1:00, so you can actually make a lunch of it. Now I know that for some people it is impossible to eat cheese without having a glass of wine in your hand, so we're welcoming everyone to bring their own wine and make an afternoon of it. The wine tends to become communal, so bring something you feel comfortable sharing.
---
Murder Mystery Weekend Mar 11-12 ... "The Problem of Remington's Mummy "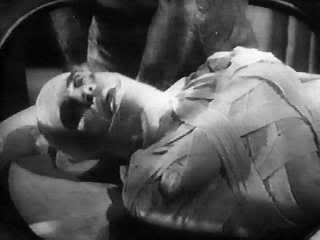 Many of you may know that the 1922 Carter expedition to Egypt discovered King Tut's tomb and gave rise to rumors of deadly curses but there was a much more intriguing find in 1927. This was Remington's expedition to the Valley of the Offended Nostrils. While looking for the tomb of the Pharaoh Ahmbaktup he actually uncovered the mummy of his Medical Advisor, Rootentooten, who was, in fact, buried with a timeless curse.

This mummy has been the focus of considerable controversy and is now at the center of a murder investigation. Guests to Remington's Mummy should be prepared for a nonstop weekend adventure of investigation and if you find the thought of shuffling footsteps outside your door at night too disturbing to contemplate . . . perhaps you should opt for a safer way to spend the weekend.

Shuffle board, maybe. Or watching the latest re-tread Survivor episode.
This package includes 2 nights in a Standard, Large Standard or Premium room (1st come, 1st serve), all event activities, an event souvenir, a wine & cheese reception on Friday night and a 4 course dinner Saturday night at the Mad Batter. This is an AMAZING value!
$550 per couple (room & event)
---
Sherlock Returns! March 18-19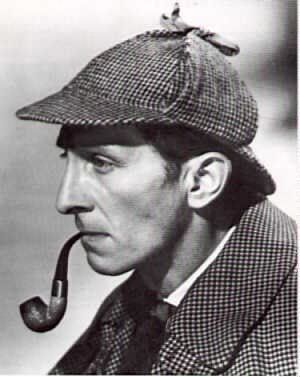 My favorite sleuth is returning to Cape May this March and I can hardly wait to see what mystery awaits him. The title of this year's mystery is "Sherlock Holmes and the Case of The Surreptitious Ghoul!". Sounds spooky, doesn't it?

Join Holmes and Watson as they explore the Gothic Habitants of Underground London Society, or G.H.O.U.L.S. for short. Mystics, mediums, murder and mayhem abound in this bleak world. Our duo will need your help as they peer deep into the darkness and face the fears that lie within. As the Raven states, "Nevermore," will Holmes reply, "The games afoot?" Join Holmes and Watson for another "edge of the seat" thriller.
This is one of those FUN winter events I was talking about. Every March hundreds of people descend upon Cape May to assist Sherlock in solving some new mystery written just for us. This is a light weight, fun event that includes a 2 act play performed over 2 nights, a great scavenger hunt type "search for clues" tour and a lot of good times.

Having problems making sense of the clues? No problem ... just ask Sherlock or Watson, or any of the cast of characters also searching for clues. They'll be in character and they're always fun to engage.

There are prizes for the best costume, for those of you who really want to get involved, prizes for the best mystery solution, and even a "most clueless" prize for the, well, most clueless participants. It is fun and easy and a great way to spend the last weekend of winter!

Give us a call today to reserve your room and we'll help you get tickets to the event.
---
4th Annual Singer Song Writer Cape May March 25-26
This is probably the hippest (is "Hip" still a hip word?) event that Cape May has each year. The event is really designed for up and coming musicians and song writers to explore the business and get tips on how to move their careers forward. It is also a showcase for them to be "discovered" by the music industry. It is this last part that makes it so cool for most of our guests.
Friday and Saturday nights there will be over 150 performances, from solo artists to full size bands in 15 different venues all over Cape May. There are a couple of headline acts for which there is a cover charge, but the vast majority of the performances are free to whoever walks in the door.

This really is a great event that Anna Marie and I look forward to every year. If you're looking to catch the latest sounds and maybe glimpse some of tomorrows big stars, call us and make a reservation for that weekend. You'll be glad you did.
---
Celebrate St. Patty's Day for only $17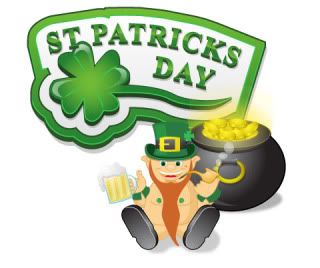 With a name like McMain, you might have guessed that I'm Irish. This year my Irish wife Anna Marie (just kidding honey!) and I have decided that we need to celebrate that heritage at The Queen Victoria. You may not know that Cape May has always been a VERY Irish town, but there is seriously no better place to celebrate. Let me tell you why ...
First of all, Anna Marie and I have decided to make it REALLY cheap! Book a room for Wed., 3/16 at our regularly discounted mid-week rate and get Thurs., 3/17 for just $17 (get it ... $17 on 3/17?). Any room, 1st come, 1st serve. Want to try the Crown Jewel? Save $436. Book King Edward or Regent's Park and save $214.32. You'll save at least $151.62, no matter which room you choose.

Another consideration is all the great celebration locations in town that are WALKING distance from The Queen Victoria. The only safer place to celebrate would be to go to your neighbor's house, but what if they're not Irish?

My advice to you is to chase your own personal rainbow to The Queen Victoria and SAVE a pot-o-gold on your room. Your savings will easily pay for your night out on the town.

You did know that all those beautiful rainbows end at The Queen Victoria, didn't you?
Only $17 (for 3/17, 2 night min)
---
Cape May Jazz Festival, April 8,9, 10
What? ... Still more events. I'm telling you, Cape May is the place to be ALL YEAR LONG!

The Cape May Jazz Festival is a long standing tradition in Cape May and a wonderful reason to visit The Queen Victoria for a spring weekend. This year's spring festival is a little earlier than usual. In fact, they rescheduled it.
I'm not a huge Jazz fan (though I do like Jazz), but even I recognize several names in the line-up. Kevin Eubanks (pictured), who was the band leader for Jay Leno on the "Tonight" show for 18 years, leads the cast on Friday with 2 performances, along with Lauren Hooker, Gregory Porter, Winston Byrd and the Leon Jordan, Jr. Quintet.

Saturday's shows feature John Beasley, Pancho Sanchez, the Andrew Boyd, Jr. Blues Band, Kim Clarke and Warren Wolf.

Sunday it is all about the Jam Sessions, which are probably the most interesting shows of the weekend. They are the perfect way to spend a few hours in town before heading home for the weekend.

The venues are always small and intimate and the acts are great. If you love music, especially jazz in any of its forms, then you should really make your way down here and check it out. Give us a call!
---
$130/night ... Any Room!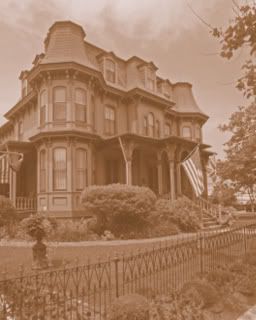 On April 1, 2011 we'll be celebrating the 130th "birthday" of the Queen Victoria building. To celebrate and insure a good crowd, we're extending this spectacular offer ... just $130/night for any room at The Queen Victoria. It might be April Fools day, but we're NOT FOOLING!
Initially we offered this special exclusively to our loyal and wonderful guests who are also facebook fans of The Queen Victoria. Needless to say, these smart folks quickly booked all the most expensive rooms, maximizing their savings. Now that they've had their chance, we're opening this up to all of our other wonderful guests who have not yet become facebook fans.

We still have 11 rooms available for the weekend at tremendous savings, ranging from $136.80 to $296.40, depending on the room you reserve. This is obviously an amazing opportunity for you to turn a boring weekend into a fun filled and inexpensive visit to Cape May.

Simply reserve any of our remaining rooms for a 2 night stay starting Friday, April 1 and you'll get it for only $130/night. We still have 4 premium rooms and 5 large standard rooms left if you want to maximize your savings! Remember, 1st call, 1st serve. NO ONLINE BOOKINGS!!! (no exceptions).

You might recall me urging you to become facebook fans of The Queen Victoria. This is a great example of the benefits of doing so.
$130 per night (no online bookings)
---
Upcoming Events
· Big Cheesy Weekend Mar 4-5
· Looking Glass Mystery #2 Mar 11-12
· Sherlock Holmes Mystery Weekend Mar 18-19
· Singer/Song Writer Cape May Mar 25-26
· 130th QV Birthday Weekend April 1-2
· Wine & Spirit Weekend April 1-2
· Cape May Jazz Festival Apr 8,9,10
· Wine & Spirit Weekend April 15-16
· Spring Festival April 29 - May 8
· Cape May Music Festival May 26 - Jun 16

Winter isn't technically over yet, but don't tell that to all the flowers that are bursting out of the ground at The Queen Victoria. Yes, the last couple of days have been beautiful, sunny and relatively warm, definitely a hint of what is coming so very soon.

Most of you have had a lot more snow this year than we have. In fact, one of the most common things I hear from arriving guests is how nice it is to see grass again, since their yards are all still covered in snow. Given all of that, I'm sure you are bursting at the seams to get out of the house and snow and get away.

Might I suggest a visit to Cape May? With the warming weather and all the wonderful events (and great deals!) coming up, I don't see how you can resist a trip back to The Queen Victoria in the next few months!.
---
Coming Soon to The Queen Victoria.
---
Featured "Room of the Month" ... Brighton/Whitehall Parlor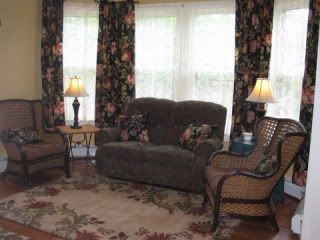 td>
An amazing number of you travel with friends and/or family every year. Quite a few of you have already discovered that our two newest rooms, Whitehall and Brighton are the PERFECT rooms to rent when you do visit The Queen Victoria together. Let me tell you why.
This is a photo of the parlor that is shared exclusively between Brighton and Whitehall. Even with my poor photography skills you can see that it is a large, comfortable and charming room that is the perfect private hang-out for two couples. What you can't see, is that this is only about 1/2 of the parlor and that there is a full kitchen sized pantry that is also dedicated to these two rooms.

Basically, when you rent these two rooms together you have a 2 bedroom, 2 bath condo, which just happens to come with all the service and amenities of The Queen Victoria. You get everything that you've always enjoyed at The Queen Victoria, plus this wonderful private parlor & pantry. It really is a spectacular space for friends and family traveling together.
---
Wine & Spirit Weekends ... 4/1-2 & 4/15-16
Two of the most popular things to do in Cape May, especially in the non-summer months, are to go wine tasting and to "chase ghosts" on a ghost tour. Craig McManus, Cape May's nearly resident expert on both, has pulled these two passions together to create a unique and exciting program called "Wine & Spirits".
Offered twice this April, this new event features a casual meet & greet with Craig on Friday night (cash bar), followed by a walking "ghost tour" through the streets of Cape May. On Saturday Craig will be hosting a wine tasting and "wine & spirit" lecture at one of our local wineries. Saturday night, you'll enjoy a 4-course dinner at the Mad Batter with yet another wine tasting.

Wine, ghosts, more wine, more ghosts, dinner and more wine. What more could you possibly ask for? The great news is how inexpensive this event is. At $85/person it would be hard to imagine a less expensive, action and fun packed weekend escape.

This is really a terrific deal for those of you joining us for the 130th Birthday Weekend! The saving on your room will EASILY pay for the cost of this great add-on package.
---
The Convention Hall NEWS
Still Working

I'd like to say that construction is under way on our new convention center, but that would be over stating things a bit. At first I thought that this equipment marked the start of construction. I later discovered that this crane is actually being used to complete the demolition, removing the remaining pilings from the old solarium building (where Tisha's was).
When I last spoke with our Mayor he told me that construction was planned to begin in March, so we're still looking good. I'm looking forward to showing you lots of progress in coming months. Stay Tuned!
---
Favorite Guest Photos ... Snow Leopard @ Cape May Zoo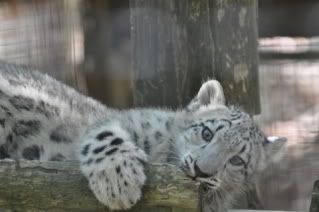 Gary Wiesner shared this photo with us a while back and I thought I would share it with you. This is a picture of one of the snow leopard cubs that was born at the Cape May zoo last year. They were most certainly the star attraction at the Zoo last year.
Have you ever been to the Cape May Zoo? If not, I strongly recommend you make it a point to stop there during your next visit to Cape May. I promise you that you will be very pleasantly surprised by the size and quality of our Zoo. Believe it or not, the Cape May Zoo is larger than the Philadelphia Zoo. I'm confident that you'll be amazed at the variety of animals that live there.

In fact, a trip to the Zoo is a wonderful thing to do on a spring trip to Cape May. During the hot days of summer it is common to see the animals sleeping lazily. During the cooler spring months they are much more active and exciting to watch.
Free Admission! (they ask for donations)
---
Cape May Stage 2011 Season
Anna Marie and I are very excited about the 2011 season at Cape May Stage. This year's schedule of plays looks a lot more like those of season's past, filled with fun comedies and interesting entertainment.
This year's season kicks off with the return of the most popular production ever presented at Cape May Stage ... "Say Goodnight Gracie".

Here is the promotional write up from CM Stage:

Adapted from the reminiscences of George Burns, this multimedia tour-de-force presentation traces the comedian-raconteur's life from his childhood on the Lower East Side to his early career in vaudeville to his momentous meeting and subsequent personal and professional relationships with wife Gracie Allen. "Say Goodnight Gracie" is a hit Broadway play that invites you to spend a hilarious, heart-warming evening in the uplifting company of the world's favorite and funniest centenarian, George Burns. Due to enormous demand, this production, starring Joel Rooks, returns to the Stage after selling out every night in the summer of 2009. In a seamless performance, Rooks inhabits the character of Burns; so much so that audiences will feel they've spent the evening with the man himself.
---
Doug & Anna Marie's Restaurant Pick Of The Month ... Depot Market Cafe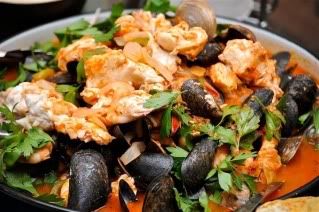 Most of you have driven right by the Depot Market every time you've visited The Queen Victoria. I'm guessing most of you didn't know it, however. The Depot Market is a little bit hidden, and you were probably focusing on the traffic and the left turn onto Ocean St., so it's understandable you didn't see it tucked behind the bike rental place on the right.

If you've never eaten at the "Depot", then you'll want to remedy that during your next visit. There is no better place to go for lunch in Cape May than the Depot. That pretty much says it all. Where do the locals eat? The Depot Market, of course. They aren't much on ambiance, but they more than make up for it with the quality and freshness of their food.
Anna Marie and I usually treat ourselves to a burger at The Depot, but they have a great selection of other sandwiches, salads and entrees as well. Speaking of entrees, check out this cioppino! I'm really looking forward to trying this soon.

Though the depot is most popular as a lunch and takeout destination, don't overlook them for dinner. The menus change every day, and they always have some fantastic dishes written in on the board. It is a BYO, of course!
---
Make your reservations today for a romantic getaway at The Queen Victoria Bed and Breakfast. We are looking forward to helping you plan your next visit!
Sincerely,

Doug & Anna Marie McMain, Innkeepers
The Queen Victoria Bed and Breakfast