---
The Big Cheesy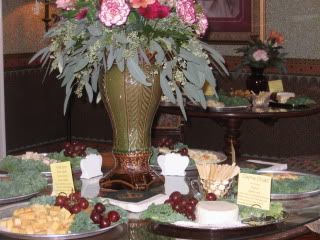 Who doesn't love Cheese? On Saturday, February 20 we'll be hosting a Cheese Tasting party at The Queen Victoria. This is the 2nd annual cheese tasting party at The Queen Victoria, so I suppose it is evolving into a "tradition". I guess cheese is a pretty traditional food, so it makes sense.
Last year's event was a HUGE success and lots of fun for everyone in attendance. One of our guests proclaimed it was the most fun she had ever had, and she seemed like a pretty fun person. Anyway, it really was a great time. Last year's event was such a hit that we realized the House of Royals parlor is not large enough for an event of this magnitude. This year it will be in the Queen Victoria building. We'll be laying out a wide assortment of cheeses from our friends at Seaside Cheese (I know lots of you love it there). There will be 10 to 12 cheeses for us to taste and each one will have a write up about its origin, how it is made and any other fun tidbits of information. We'll also have breads from one of our local bakeries along with an assortment of specialty olive oils.

We're planning on doing this Saturday between 1:00 and 3:00, so you can actually make a lunch out of it if you wanted to. Now I know that for some people it is impossible to eat cheese without having a glass of wine in your hand, so we're welcoming everyone to bring their own wine and make an afternoon of it. Last year lots of folks assumed that WE were providing the wine and ended up drinking everybody else's wine. So, remember to bring your own wine this year!

The really good news is that this is a free event for all of our guests that weekend. Don't miss this one!
---
Sherlock Holmes returns March 19-21!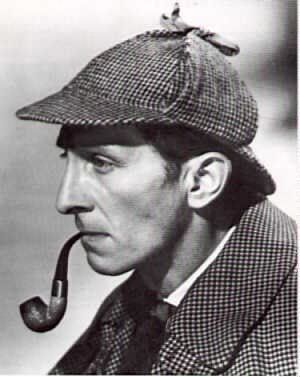 Boy, this guy just never quits! Like clockwork, twice a year Sherlock returns to Cape May to solve another great mystery of our time. This March is no exception, with Sherlock, Watson, and a troupe of nefarious characters returning to quiet Cape May to stir things up a bit. Of course, he needs your help to actually solve the mystery. Don't let him down!
On Friday night you'll join your fellow "partners in crime" for desserts and coffee and meet Dr. John Watson and the rest of the cast, where you'll be drawn into the mystery. Saturday you'll be rubbing elbows with the cast (in character) as you tour several houses in town (including The Queen Victoria) searching for clues to solve the mystery. After the tour it's back to the theatre to see the next act and get all the final clues you'll need to solve the mystery. Finally, on Sunday you'll attend a brunch and see if you had the best solution to the mystery. You might even win a prize for best costume (if you dressed for the event), or "Most Clueless" if you happened to have made a particularly pathetic effort. It is all in good fun and a good time is assured for all.
---
Wine Lover's Weekend ... Coming Soon!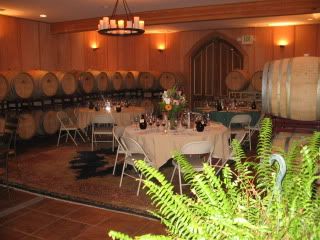 We introduced our winter wine blending events last year and they were a huge success! We got to meet lots of wonderful new guests who all jumped right in and had a great time. I know for a fact that a few couples have been keeping in touch with friends they made at these events last year.

We had our first wine blending event of the year last weekend and it was just as much fun as I remembered from 2009. The good news is that the wine was even better this year than last. I can hardly wait to taste the "winning blend" that is being bottled for us with our own custom labels!
Anyway, Anna Marie and I are excited to be hosting another of these special events for all of you true wine lovers on March 6. On Saturday afternoon you will join Anna Marie and me at Cape May Winery to craft the perfect blend of red wine. We'll break up into teams of 4-6 people at tables laden with decanters of the various 2008 red wines right out of the barrel and trays of cheese and crackers (wine blending is hard work, so we'll need sustanance). Each team will craft & document different blends, ranking them among themselves. Once each team has selected their "perfect blend", we'll all break for a tour of the winery while the winemaker crafts the chosen blends. Following the tour, we head back to the blending room and do a "blind" tasting of the chosen blend of each team. We'll all vote on the best blend, which will then be bottled for us with a special "Queen Victoria Cellars" label. You will get two bottles (per couple) of the final blend, the labels of which will be customized with your names and the blending details. You can also purchase additional bottles if you want. You'll be able to carry it proudly to your favorite BYOB restaurant in the Queen Victoria wine bag that is also included in the package.

This exclusive event is only open to guests of The Queen Victoria and only occurs twice a year. In our second year, I've added an additional facet to the event by introducing last year's blends in the final taste-off. Does this sound like fun or what?

The cost of this event is $100/couple in addition to your reserved room. I don't think you'll want to miss this event!
---
The Perfect Valentines Gift Idea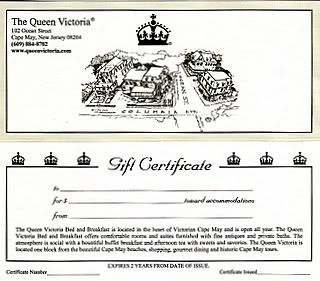 So you're still trying to come up with the perfect Valentines gift for your loved one. You've done all the traditional stuff like jewelry, chocolates and flowers before. You'll certainly do a card, but that isn't really enough, is it? Don't you want to come up with something really special this year? I've got an idea!
This year give your Valentine the most wonderful gift of all ... some time together in romantic Cape May. We still have a few rooms available for that weekend (remember, it is also the President's day holiday), so you can still make it an unforgetable, special weekend.

Even if you can't get away for that weekend, you can still make her Valentines special with a gift certificate to The Queen Victoria.

There are at least 5 reasons why a Queen Victoria gift certificate is the perfect gift

1) you can buy it today and be done with it

2) How can you go wrong with a promise of a vacation?

3) It is sure to fit

4) You'll get credit for a great gift when you give it on Valentines and then again when you actually stay at The Queen Victoria

5) (this one is big) You Get To Enjoy It Too!

The final great thing about a Queen Victoria gift certificate is how easy it is to buy. Just give us a call and we'll put one in the mail the same day. Don't wait until February 13th to call!
---
Upcoming Events
Wine & Chocolate Winte Trail Weekend Feb 6-7

Wine & Chocolate Winte Trail Weekend Feb 13-14

Valentines/Presidents Day Feb 12-14

Antiques & Crafts in the Winter Feb 13-14>

Wine Paring Dinner Feb 19

The QV Big Cheese weekend Feb 19-20

Cape May Wine Trail trolley tour Feb 21

QV Cellars Wine Lover's Weekend Mar 5-6

Cape May Wine Trail trolley tour Mar 20

Sherlock Holmes Murder Mystery Weekend Mar 19-21

Beer Tasting Dinner at Mad Batter Mar 21

Singer Songwriter Cape May Mar 26-27

Cape May Marathon Mar 28

Cape May Jazz Festival Apr 16-18

Cape May Spring Festival Apr 23-May 2

Cape May Music Festival May 20-Jun 10

Yes, the season to celebrate special occasions in Cape May has returned, right on schedule. I was expecting the media to pick up on this and play it up when I declared the months of January through April the Queen Victoria "Special Occasion Season" a couple of years ago. I was hoping President Obama might mention it in his "State of the Union" address the other night. It is hard to understand, but he seemed to have his mind on other issues. Go figure.

Most of you have a special occasion of some type within this special season. Almost everybody has something to celebrate during the winter months. If it isn't a birthday or a wedding anniversary, it might be the anniversary of your engagement or your first date. If all else fails, you can celebrate the fact that the days are getting longer again. Some of you may even be planning a marriage proposal this year. Whatever it might be, you would be hard pressed to find a more romantic, relaxing and enjoyable place to celebrate your special occasion than the The Queen Victoria in amazing Cape May.
---
---
Featured "Room of the Month" ... Whitehall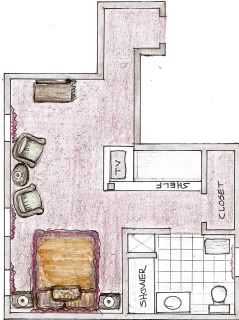 Whitehall? Where in the world is "Whitehall"? I imagine that you long time guests that have spent lots of time on our website are probably scratching your heads over this one. No, you haven't missed it before, because Whitehall is our newest guest room. Actually it is one of two new rooms that we are adding to the inn. Whitehall is under construction now, so you'll have to wait a little while before you can stay in it. The construction also explains why I'm showing you a sketch instead of a photo.
Whitehall is located on the 2nd floor of the Queen's Cottage, accessed through the front door of the building. It is one of only two rooms located on this floor and this section of the building, so it is a very private room. It is a large, comfortable room with lots of space, a walk-in closet, and a nice big bathroom. It also shares a beautiful parlor/pantry area with just one other room called Brighton (our other new room).

I'm pretty sure that Whitehall is destined to become one of our most popular rooms. We're targeting a Memorial Day weekend opening for both Whitehall and Brighton. We're very excited about these new rooms and I'm sure you will be too after your first stay in them. By the way, if you go on our website, you'll see this same sketch under the heading of "Highlands". We had originally planned on renting these two rooms together as a single suite called the Highlands, but thought the better of it. It will still be an amazing way to travel with another couple if you rent both rooms, but they can now be rented individually as well. If you enjoy travelling with friends, then I highly recommend making your plans for these rooms soon, before they are rented individually for the weekend that you want.
---
3rd Annual Singer Song Writer Cape May!
Anna Marie and I are so excited that this event is returning for the 3rd time this March 26-27. This is a GREAT event. With over 150 free performances in 15 different venues around town, you are sure to have a wonderful experience.
Like last year, dozens of up and coming musicians of all kinds will be converging on Cape May to perform and "break out" in front of our audiences and all the music professionals that will be in town. If you are interested in hearing some of tomorrow's big stars before they're discovered, make plans to attend.

Several bigger names are also going to be performing, including the lovely lady in the picture above, Nicole Atkins, and Steve Forbert, whose name you may not recognize, but whose music you've definitely heard and probably like.

Before long this event will no doubt rival the Cape May Jazz festival for popularity and acclaim. Make plans to attend this year's event and you'll be one of the hip insiders that "discovered" it.
---
Have you heard of Yelp? I'm told it is the latest "review" site, where people go to check out restaurants, stores, and yes, lodging establishments. I guess it is a little like tripadvisor.com, but not quite as specific to travel. It seems like a trendy site for the young and restless. That does describe you, doesn't it?
So, if you're dying to review us, and I know you can hardly wait to tell the world how much you like The Queen Victoria, you now have a new outlet to satisfy your writing urge. I'd love to see us become the #1 rated lodging facility in Cape May on Yelp. I know we should be ahead of Congress Hall, which currently holds that position.
---
The Convention Hall Melodrama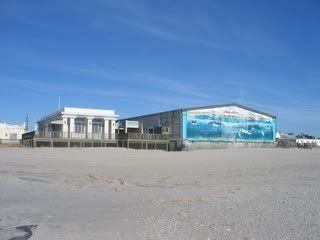 It just occured to me that it has been over a year that I've been tracking the progress (or lack thereof) on the rebuilding of Convention Hall. I distinctly remember taking my camera down to the snow covered beach and freezing my little tail off taking the "last photos" of the convention center. I could do that again today on our newly snow covered beach, but it wouldn't achieve much, as it looks exactly the same.
The city is still doing the same song and dance about the permits. The state is holding out against any encroachment onto "virgin" beach, and the local press is starting to work up a lather about how deceptive the mayor is about the whole thing. I think they're trying to create a real scandal. Though I'm anxious to see a new convention center on our beach, I've grown weary of the gossip and lack of forward progress. Let's just hope they start doing something on that site in the next few months!
---
Favorite Guest Photos ... Alison & John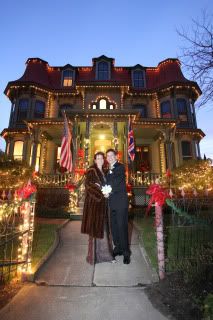 A while ago a good looking couple arrived at our door for a romantic weekend together and ended up getting engaged. They were so wrapped up in the romance of the whole thing that they spontaneously decided to get married at The Queen Victoria on New Year's Day. They booked the rooms with us and we made the arrangements that very weekend.
I'm pleased to say that they celebrated their marriage in grand style in our House of Royals parlor with all of their close family and friends in attendance. They were kind enough to include Anna Marie and myself in their number. It was a beautiful ceremony and as you can see from the pictures they made a dashing couple. Following the ceremony they enjoyed a "pre-reception" reception in our parlor before being whisked away to their dinner reception in 3 horse carriages. This photo was taken just before their departure to their reception and you can see that they were very happy. I know that they are very happy in their new lives, and I'm appreciative of them sharing this photo with us.
---
33rd Annual Cape May Jazz Festival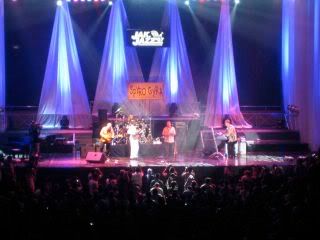 I am usually pretty enthusiastic about the Jazz Festival, but this year I am particularly fired up about the event. If you are familiar with Spyro Gyra, then you'll be as excited as I am that they are the opening act for the Cape May Jazz festival on April 16th. I've been wanting to see this band for close to 30 years. The amazing thing to me is that the music they're releasing today sounds as great as the stuff they were starting out with when I was in college.
It seems like the organizers of the Jazz Festival decided to forego the usual "theme" and just put together a lot of great acts this time around. There are at least 15 different artists scheduled in venues all over town. The festival kicks off on Friday, April 16th and runs through Sunday afternoon.

My advice to you is to make plans to attend this Jazz Festival. If you love great music and Cape May, then how can you go wrong? Call us today and we'll find the perfect room for you.
---
Doug & Anna Marie's Restaurant Pick Of The Month ... Lucky Bones
Anna Marie and I love to drop into Lucky Bones once in a while and enjoy a really great, casual and fun meal. Lucky Bones is one of those restaurants that you feel comfortable in as soon as you walk in the door. Judging from the full parking lot, even during the winter, I guess lots of other folks like it too.
Anna Marie and I usually order off of the lighter side of the menu at Lucky Bones, usually getting our favorite sandwiches, some fries and a very reasonably priced bottle of wine. Anna Marie's favorite sandwich is the Chicken BLT, which is truly outstanding. I've strayed a few times, but I usually can't resist ordering the Filet Tip sandwich, which is loaded with great little pieces of filet cooked to perfection and smothered in cheese. My mouth is watering just thinking about it. I happen to know that at least a few of you guests also call this your favorite item on the menu. I mentioned the wine earlier and I'll repeat again how reasonable it is. I'm used to getting "gouged" on wine at restaurants, so it is such a pleasant surprise to see a nice wine list, all priced at just $20.

If you're planning a visit down to see us in the next few months, I highly recommend you check out Lucky Bones. They are open every day of the week and you're sure to get a great meal.
---
Make your reservations today for a romantic getaway at The Queen Victoria Bed and Breakfast. We are looking forward to helping you plan your next visit!
Sincerely,

Doug & Anna Marie McMain, Innkeepers
The Queen Victoria Bed and Breakfast
---