Chocolate Lovers Fantasy Weekend
Remember this mouth watering photo from last month? Yes, I'm sharing it with you again because it is VERY relevant ... to this weekend. I know this is going to be a great event. Both Cape May winery and Natali are going all out to create a memorable and fun experience for you.
This weekend, February 7 & 8, The New Jersey Wine Trail is sponsoring a special "Chocolate Wine Tasting Weekend". We decided to "sweeten the pot" (yes, a pun was intended) and wrap a little package around it. When you arrive at The Queen Victoria, you'll find a tower of truffles (that is them in the photo) in your room. Next, trek down the Cape May portion of the "Chocolate Wine Trail" for wine tastings at both Cape May Winery and Natali Vineyards (each winery will be featuring chocolates with their wine tasting). To top it off, you'll enjoy complimentary desserts (with your paid meal) at two of Cape May's finest restaurants, Freda's Cafe and Moonfish Grill on Friday, Saturday and Sunday nights. You don't have to have a chocolate dessert, but why have anything else? The great news is that this package only costs $25 in addition to the price of your room, a great value.

OK, so here is the bottom line: You're running out of time for Valentines day. Chocolate and wine beats the heck out of chocolate and flowers. If you were thinking about a trip to The Queen Victoria for Valentines and haven't booked it yet, it's too late. This is the perfect solution. Celebrate a week early and make a Chocolate Fantasy weekend of it.

Call us today!
---
Say Cheese!
Remember those "fun special events" that I mentioned that make the winter a great time to visit The Queen Victoria? Our 1st annual "Big Cheese" weekend is one of those. Yes, this is going to be a good time. You really don't want to miss this event!
On Saturday, February 21, we're going to be filling the House of Royals parlor with goodies like you have never seen before. We've already consulted with Steve at Seaside Cheese to select an incredible assortment of cheeses for you to enjoy. We're also going to have signature olive oils, fresh baked breads, an imported olive bar, and all the glasses you need for the wine we encourage you to bring.

The cheese tasting party starts at 1:00, so you can even make a lunch out of it if you want to. I can't think of a more enjoyable way to spend a winter afternoon!
---
Sherlock Holmes returns March 20-22!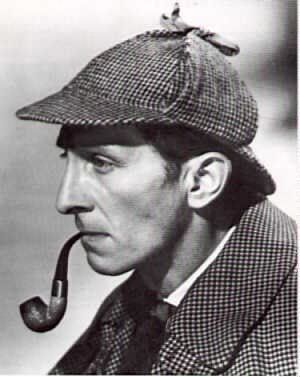 Boy, this guy just never quits! Like clockwork, twice a year Sherlock returns to Cape May to solve another great mystery of our time. This March is no exception, with Sherlock, Watson, and a troupe of nefarious characters returning to quiet Cape May to stir things up a bit. Of course, he needs your help to actually solve the mystery. Don't let him down!
On Friday night you'll join your fellow "partners in crime" for desserts and coffee and meet Dr. John Watson and the rest of the cast, where you'll be drawn into the mystery. Saturday you'll be rubbing elbows with the cast (in character) as you tour several houses in town (including The Queen Victoria) searching for clues to solve the mystery. After the tour it's back to the theatre to see the next act and get all the final clues you'll need to solve the mystery. Finally, on Sunday you'll attend a brunch and see if you had the best solution to the mystery. You might even win a prize for best costume (if you dressed for the event), or "Most Clueless" if you happened to have made a particularly pathetic effort. It is all in good fun and a good time is assured for all.
---
Wine Lover's Weekend(2) ... March 7th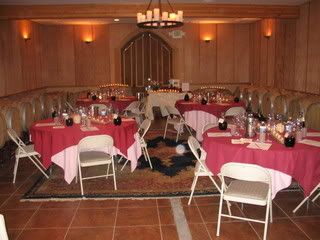 Wow ... what a great time! I'm pleased to report to you that our first ever Queen Victoria "Wine Blending Challenge" last weekend was a HUGE success. Eighteen of our guests joined us for a wonderful afternoon of wine tasting, wine blending, wine judging and a tour of the winery. As high as my expectations for this event were, the actual experience was so much better. Everyone had a GREAT TIME. Just looking at this picture of the barrel room before we got started gives you a feel for what is to come.
The really good news is that the 2nd edition of this event is just a few weeks away and there is plenty of time for you to make reservations for a room and the "Wine Challenge". So what is it? Anna Marie and I are partnering with Cape May Winery to create a special event/package for true wine lovers. On Saturday, March 7 you will join Anna Marie and me at Cape May Winery to craft the perfect blend of red wine. We'll break up into teams of 4-6 people at tables laden with decanters of the various 2007 red wines right out of the barrel and trays of cheese, crackers & fruit (this blending is hard work, so we'll need sustenance). We start by evaluating each of the various red wines on several criteria. Each team will then craft & document different blends, ranking them among themselves. Once each team has selected the "perfect blend", we'll all break for a tour of the winery while the winemaker crafts the chosen blends. Following the tour, we head back to the blending room and do a "blind" tasting of the chosen blend of each team. We'll all vote on the best blend, which will then be bottled for us with a special "Queen Victoria Cellars" label. You will get two bottles (per couple) of the final blend, the labels of which will be customized with your names and the blending details. You'll be able to carry it proudly to your favorite BYOB restaurant in the Queen Victoria wine bag that is also included in the package.

This exclusive event is only open to guests of The Queen Victoria and will only occur twice a year. This 2nd challenge has an added element as well, as we'll be bringing a bottle of the selected blend from the last event to compare in the blind tasting at the end. Each consecutive event will have another bottle to compare against, so this will just keep getting better and better! Does this sound like fun or what?

The cost of this event is $100/couple in addition to your reserved room. Remember, this event is only being held one more time in 2009 on March 7. You really don't want to miss it!
---
Forget the Flowers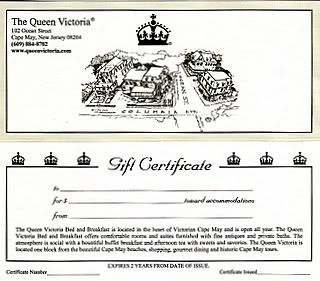 The clock is ticking (tick, tick, tick) and you are running out of time for Valentines Day. Sure it is hard. Finding the perfect way to say "I Love You" to that special person in your life is never simple. Sadly, many of us (especially men) often resort to flowers at the last minute, which really just says to your loved one "Oops, I almost forgot to get you anything" or "Here is your obligatory gift".

This year do something REALLY special. Buy your Valentine a gift certificate to The Queen Victoria.
Think about it for a second. First of all, this is a creative, thoughtful gift that not everyone else in the office is getting. It is a promise of a wonderful time together. It creates anticipation and something to look forward to. It is a shared, romantic experience that is enjoyed by both of you. It is the gift that keeps giving, first when you give it, and again when you go away together. It truly is the perfect Valentines gift.

Don't delay, though. For most of you it takes 2 days for us to mail a certificate to you, so a little planning ahead is necessary.
---
Bring Mom to Cape May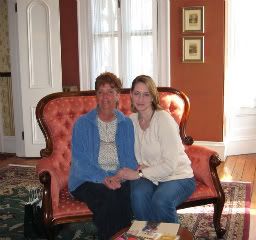 I know, you haven't even made it past Valentines Day and I'm already talking to you about Mother's Day. You know how it is, though. Before you know it Mother's Day will be sneaking up on you. I know you want to be prepared for it, so I thought I would help you out with a suggestion.
You can see from this picture that Claire and Heather were having a great mother/daughter time at The Queen Victoria. While everyone loves Cape May, it is particularly good for a girls escape weekend. What could be a better excuse to spend some time with the woman most important in your life than Mother's Day? Seriously, if you were thinking about inviting Mom over for dinner so she could help you cook for the family you might want to think again. Don't you think it would be a LOT more fun to take Mom away for a couple of nights and spend the day shopping, dining and giggling like school girls. Treat your Mom special this year ... bring her to The Queen Victoria for Mother's Day.
---
Upcoming Events
QV Chocolate Lovers Fantasy Weekend Feb 6-9
Valentines/Presidents Day Feb 13-15
Cape May Wine Trail trolley tour Feb 15
Crafts in the Winter Feb 14
Antiques in the Winter Feb 15
The QV Big Cheese weekend Feb 20-21
QV Cellars Wine Lover's Weekend Mar 6-7
Sherlock Holmes Murder Mystery Weekend Mar 20-22
Cape May Marathon Mar 20,21
Girls Getaway Weekend Mar 27,28
Cape May Jazz Festival Apr 17-19
Cape May Spring Festival Apr 24-May 3
Bring Mom to Cape May "Mothers Day" May 10
Cape May Music Festival May 17-Jun 12

For most of you Cape May is firmly placed in your thoughts as a Summer Paradise. Who could blame you? It really is. The savvy Cape May visitor, yes this includes MANY of you, has discovered that Cape May is a magical destination every month of the year. We truly love it all year long.

If beautiful scenery, relaxation, great dining, and meeting wonderful people are some things you value about Cape May, then you'll love Cape May in the winter and spring too. Many of our guests have discovered that between our lower rates, fun and exciting special events, flexible booking policies, the total absense of crowds, and abundant parking, winter and spring have become their favorite time to visit The Queen Victoria.

In my own opinion (which is surely indisputable), the best way to enjoy The Queen Victoria and Cape May is to experience it throughout the year. Afterall, you don't have to give up your summer visit to sample The Queen Victoria this winter/spring.
---
---
Featured "Room of the Month" ... Princess Helena
If you're looking for a quiet, romantic room with lots of character, you'll love the Princess Helena Room. The Princess Helena room has a queen sized bed, a large private bath with marble floors and a large walk-in shower. The room twists and turns a bit, with the closet and refrigerator tucked into it's own little space. Two windows look out into the gardens of our Queen's Cottage next door. The decor is elegant and luxuriant. We've changed the bedding a bit since this picture was taken, and the room now features a rich and beautiful comforter set.
The Princess Helena room also boasts a little history. Being on the third floor of our former "Gentleman's Club", it is quite likely that this room was originally one of the rooms that "the girls" worked in upstairs. It is also likely that the space that the closet now occupies was once a counting room for the 2nd floor gambling parlor.
---
Singer Song Writer Cape May Returns
Anna Marie and I are so excited that this event is returning for its 2nd time this March 27-28. This is a GREAT event. With over 125 free performances in 15 different venues around town, you are sure to have a wonderful experience.

Like last year, dozens of up and coming musicians of all kinds will be converging on Cape May to perform and "break out" in front of our audiences and all the music professionals that will be in town. If you are interested in hearing some of tomorrows big stars before they're discovered, make plans to attend.

IMPORTANT ... please ignore the dates you see in the graphic above. It was the only one I could snag for my email, but unfortunately it is last year's poster. This year's event is March 27-28.
---
Don't Forget the Flowers!
Ok gentleman, I've got an important tip for you. Pay Attention now ...

Surprise Her With Flowers!

Sure, coming to Cape May for a romantic getaway is a great start. She'll be thrilled to spend some quality time with you. She'll appreciate the fact that she has you all to herself for the weekend. But if you really want to make her feel special ... Surprise Her With Flowers!
I can tell you from experience that this works. Last October when I whisked Anna Marie away for a few nights I called ahead and arranged to have flowers waiting in the room for her. The delight on her face and the brightness of her smile were second only to the big hug I got from her. She was so impressed that I had thought about her and planned this without her having to remind me (like she has to for most things we do). She felt special and I felt like a hero. Plus, the flowers smelled wonderful in the room the whole time.

Give us a call and we'll arrange for everything. It is very easy. If you really want to go over the top, ask for the "Sweet Celebration" package, which also includes a "Tower of Truffles" (pictured above).
---
A last look ... at Convention Hall (again)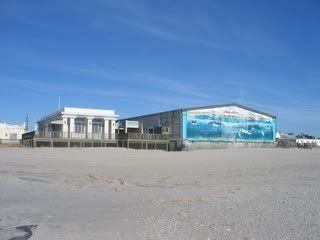 Despite my expectations, it appears that our Convention Hall has been given a bit of a reprieve. No, it isn't going to be saved, it just isn't going to be demolished as soon as originally expected.
The word I'm hearing is that a delay in obtaining permits (for building and or demolition, I'm not sure which) has put the brakes on the project temporarily. This is unfortunate. One bright note is that it would appear that Tisha's Fine Dining will be returning again this spring.
---
Favorite Guest Photos ... Looking Ahead to Spring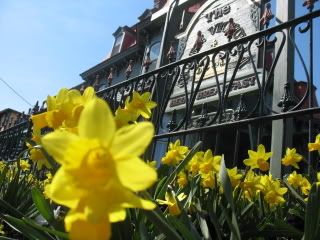 It would seem that most of you reading this are still in the grips of the coldest winter in recent history. Even in the depths of winter (and it does seem deep right now) there are always hints and promises of warmer days to come. This picture warmed me up a little bit today, so I thought I would share it.
Famous Exit Zero writer and founder of "Donate My Weight", Ben Miller took this photo last March. I think he was going for that Artistic Thing, which I believe he pulled off pretty well. I particularly like the way he captured both the sign and the Queen Victoria building while still focusing on the flowers. Nicely done Ben.

I can already see all the daffodils and other bulbs starting to peak up out of the ground, so I'm confident that we'll be seeing these beauties again soon.
---
31st Annual Cape May Jazz Festival
I always start looking forward to the Spring Jazz Festival about this time every year. This year's festival will be held April 17-19. Once again, it looks to be a wonderful lineup of talented musicians converging on Cape May to make us the coolest (figuratively speaking) place in America.
The 31st Cape May Jazz Festival "Legends...and More Blues" will pay tribute to Billy Eckstine and Sara Vaughn with "Have a Song on Me" celebrating Mr. B with the B Swingers Big Band starring Steve Butler with special guest Sabrina Carten. Opening up Saturday night with James Cotton Blues Band at the Theatre at Lower Regional High School. Other legends: Odean Pope while Barbara King will pay tribute to Sara Vaughn. More Blues: Andrew Jr. Boy Jones and Eddie Shaw appearing Friday and Saturday nights at Cabanas and Alan Weber and Frenz Saturday afternoon doing a blues jam.

By the way, if that last paragraph seemed a little confused or structurally questionable ... I pulled it off of their website. I just can't get away with anything here.
---
Girls ... It's All About You
Do you need a break from the husband and the kids? I'll bet your best friend feels the same way. You'll be happy to hear that The Queen Victoria is partnering with Cape May Winery this March 28 & 29 to create a Girlfriend Getaway Weekend . That's right, the whole weekend will be just about the ladies. Sounds fun, doesn't it?
Cape May is always a great girls escape with all of it's shopping, but Cape May Winery has put together a day at the winery (actually two days) where you can be pampered and spoiled. Here is what they've got going so far (there is more in the works):
Free Wine Tastings
Complimentary Chocolates
Door Prizes
Chair Massages ($1/ minute)
When was the last time your husband gave you wine, chocolates and a massage? How about door prizes? Some things you just can't leave up to the guys.

So call your best friend and make plans to come to stay at The Queen Victoria for the Girlfriend Getaway Weekend. When you call for reservations, be sure to mention the Girlfriend Getaway.
---
Doug & Anna Marie's Restaurant Pick Of The Month ... Freda's Cafe