Anna Marie's Favorite New Special                          ... Girlfriend Getaway
If you like shopping, you're going to love this brand                          new package that Anna Marie came up with for our                          visitors during the cooler months. In fact, Anna Marie's                          enthusiasm about this package is pretty contagious, and                          even I am excited about it (and I am definitely not a                          shopper).
So what is it? Come stay at The Queen Victoria mid-                          week (arriving Sunday through Wednesday) for two nights                          and we'll give you $100 in shopping vouchers that can be                          used in any of 14 different stores in Cape May. That                          means two nights in a Luxury Suite (double occupancy)                          and a Cape May shopping spree for $350.

Now don't                          let the name throw you. We named this package as we did                          because we know that girlfriends and sisters and women                          in general love to come to Cape May to shop. We're not                          limiting this to the ladies though! This special is                          certainly available for all guests, including                          individuals travelling alone, couples, etc. If you like                          to shop, we've got you covered.
---
Singer Songwriter Cape May                         
Something new and exciting is coming to Cape May this                          March that music lovers will not want to miss! Singers                          and Song Writers are converging on Cape May this March                          for a weekend of music, workshops and fun.
This March 7-8 there will be literally dozens of                          perfomers showcasing their talents in 12 stages all over                          town, with over 125 showcase performances all together.                          Cape May has never seen an event quite like this one,                          though it is reminiscent of the Jazz Festival. Whether                          you are a music professional or just a lover of music of                          all kinds, make you plans to come to Cape May this March                          for "Singer Songwriter Cape May". I suggest you stay at                          The Queen Victoria!
---
Holmes is Back!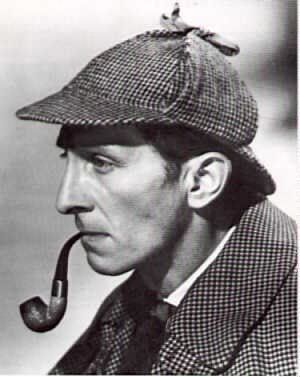 Yes, it is that time again. It seems there are no end                          to the mysteries in Cape May requiring our favorite                          super sleuth Sherlock Holmes' expertise. Of course, as                          good as he is, he needs a little help. He needs YOU! 
The Sherlock Holmes Cape May mystery weekends are                          without a doubt two of the best weekends of the year in                          Cape May. Every March and November Sherlock, Watson, and                          a great cast of other Victorian characters team up to                          solve some vexing mystery right here in little old Cape                          May. The event includes a stage performance, a house                          tour, audience participation, and cash (really) prizes                          for various things like best costume, best solution to                          the mystery and "most clueless". I know that latter                          won't be you.

You don't really need an excuse to                          visit Cape May, but you can use this one anyway. And                          while you're here, check out some of the Singer                          Songwriter performances. This is really an amazing                          weekend this year!
---
Spring Festival
It may be hard to believe, but Spring is on the way.                          I don't know about where you live, but we've been                          getting teased all Winter by Spring with some nice mild                          weather. In fact, we've got pansies that look pretty                          happy in the garden and the daffodils are starting to                          bloom (they're a little confused). Anyway, Spring IS                          about to return and we're ready for it in Cape May.
If you've never visited Cape May as it comes bursting                          back to life, then you really need to consider it. Cape                          May's annual Spring Festival really is a wonderful event                          that you don't want to miss. Besides being beautiful,                          there are TONS of things going on during the Spring                          Festival, including an antique show, a chef's                          dine-around (lots of fun), a craft show, murder mystery                          luncheons and dinners, vintage dancing, and more tours                          than I could list here without putting you to                        sleep.
---
Cape May Spring Jazz Festival                       
Yes, MORE music. It is all about the music this year,                          obviously. Of course, the Cape May Jazz festival is a                          proud tradition that speaks for itself.
This spring the Cape May Jazz Festival proudly                          presents many of the finest "young lions" in jazz today.                          As a natural successor to the 28th Festival "Favorites                          Return", the "Next Wave" features an elite up-and-                          coming new breed of artists: cutting edge musicians                          across many jazz genres, each honoring the legendary                          players who came before. This is a must attend weekend                          for any jazz lover with roots in the past, and an ear                          towards the future!

Yeah, I clipped that quote                          directly from their site.

Anyway, I was amazed to                          see that the Rippingtons, one of the hottest Jazz bands                          in the last couple of decades is one of the featured                          acts this year. Cape May is big time!

Call us                          soon to reserve your room. We're not full yet, but the                        rooms are going fast!
---
Cape May Music Festival                       
OK, so all we do in Cape May is eat and listen to                          music. I admit it. Well, we do shop (at least some of us                          do), but I can't imagine a more enjoyable way to spend                          time when I get right down to it. Every May the Mid                          Atlantic Center for the Arts (MAC) presents the Cape May                          Music Festival. Once again, it should be a wonderful                          experience!
This festival is a little different than the others                          I've been discussing though. First of all, it spans                          several weeks, so you don't have to get all of your                          music in one weekend. The music tends to be a little                          more on the classical side, though the festival always                          includes other genres of music as well. In fact, in                          keeping with tradition the festival will be kicked off                          on May 18th by a Celtic band called "Road to the Isles",                          featuring Pipe and fiddle music, dance and folksong                          traditions of Scotland and Ireland. A classic sure, but                          not classical music. The band featured in the picture is                          called Shtreiml, which is a high octand Klezmer group                          led by harmonica maestro Jason Rosenblatt.

I                          know you'll want to make the festival part of your Late                          May, early June visit, so plan on attending a show or                          two while you're here. If you haven't planned your trip                          yet, then you obviously need to start working on that                        soon!
---
Back by Popular Demand ... Seasonal                          Specials
Lots of you have already taken advantage of the great                          specials we're running this winter & spring. In                          addition to the "Girlfriend Getaway" that I've already                          mentioned, we're once again offering the "Gift of                          Romance", "Two for Two", "Gourmet Getaway", and "Winter                          Weekend MADness".
The Gourmet Getway, Two for Two, Girlfriend Getaway,                          and Winter Weekend MADness run through April,                          while the Gift of Romance runs into June (but is not                          available in Jan, Feb & Mar). All except the "Winter                          Weekend MADness are weeknight specials, including                          Sunday evening.

All four of these specials are                          GREAT deals. Call us today to find out how you can visit                          The Queen Victoria and Cape May in a very fun and                        economical way!
---
Upcoming Events 
                         
Cape May Wine School "South African wines" Feb 24                           
Singer Songwriter Cape May Mar 7-8                           
Sherlock Holmes Mystery Weekend Mar 7-8                           
Cape May Wine School "Left Coast Wines" Mar 30                           
Cape May Jazz Festival April 18-20                           
Spring Festival April 25 thru May 4                           
Cape May Music Festival May 18 thru June 15                           
Cape May Stage re-opens May 21

Have you always wanted a "Shore House" in Cape May? You                    know, a place you can come down to any time. A place you can                    relax, enjoy yourself, and leave your worries at the doorstep.                    A place you can make monthly mortgage payments on and mow the                    lawn, and work on every weekend, and .... wait! That isn't                    what you want a shore house for.

I think that what you                    REALLY want is something that you already have! I suggest you                    think of The Queen Victoria as your own personal "Shore                    House". It really is the perfect shore house. Not only is it                    there for you whenever you need it (and only when you need                    it), but it requires absolutely no maintenance, it has tons of                    wonderfully relaxing places to hang out , is fully stocked                    with all the beverages and goodies you need, comes with a                    breakfast, and even has "self making" beds (actually, we make                    them). When you weigh it all out, it's probably a lot cheaper                    to come to The Queen Victoria frequently than own your own                    little shore house. So there you have it ... The Queen                    Victoria is obviously the best of all possible "shore houses"!                   
---
Impress your neighbors ... show them this photo of                          your vacation home!
---
Featured "Room of the Month" ...                          Regent's Park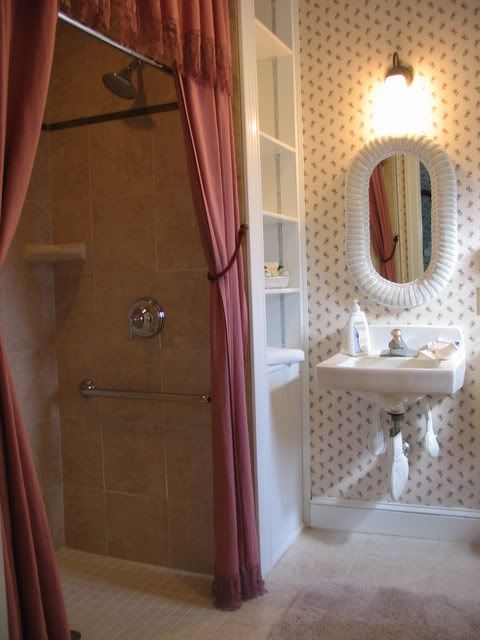 Everybody always asks about that "cute little                          cottage" in the back of the Prince Albert Hall yard, so                          I figured I would showcase it for you this month. The                          other reason I wanted to feature it is that we just                          finished a bathroom renovation project on it that I'm                          very excited about.
So what makes Regent's Park special? Well, first of                          all it is obviously nice and private, being a stand                          alone building. It is also VERY popular in the winter                          because it has such a cozy fireplace in the sitting                          room. In the warmer months, the private porch is a                          wonderful place to sit in a rocking chair and spend a                          pleasant morning or afternoon (most people are out and                          about during the day). And now, of course, there is the                          fabulous bathroom with a wonderful "roll in" 2 person,                          two head shower that is brand spanking new! Really, you                          have to see this room to appreciate it. If you are                          looking for cozy, private, comfy and relaxing, Regent's                          Park is for you. Oh yeah, it also has a new 30" flat                          panel TV (our 2nd largest), so you can keep up with your                          favorite sports, soaps, or reality TV                        shows.
---
Cape May Stage's 2008 Season                         
Who doesn't love a good play? So many of you have                          made an annual tradition of "doing" Cape May stage                          during your visits to The Queen Victoria. If you are one                          of our stage lovers, then you'll be pleased to learn                          that Cape May stage has released their 2008 schedule. It                          looks like a great season.
Here is this year's schedule:
May 21 - June                          28, Fully Committed
July 2 - Aug 16, Private                          Lives
Aug 20 - Sep 27, Doubt (a parable)
Oct 1 -                          Nov 1, Rounding Third
Nov 5 - Nov 22, Lady Day
Nov                          28 - Dec 21, This Wonderful Life

We're going to                          be running our "Stay & Play" package again this                          year, so visit our website or call for details. We're                          proud to support Cape May Stage!
---
Cape May Face Lift ... Progress                          Apparent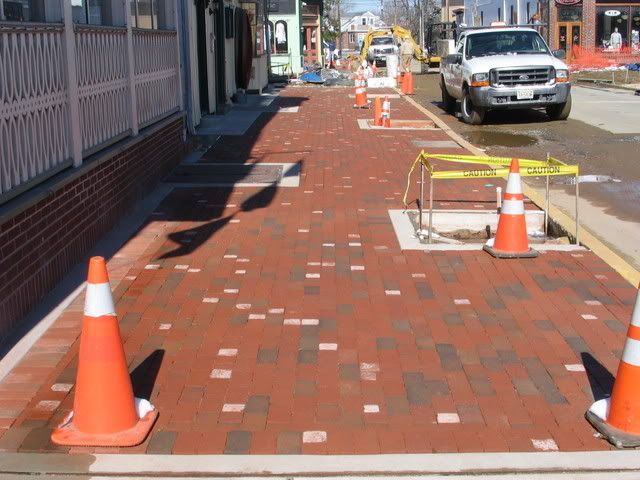 Lots of you have seen our mall in its "construction                          phase" last Fall & this Winter. Many of you have                          braved the construction and discovered that most of the                          stores that are usually open during the winter are still                          open, despite the construction. For all of you, and                          those who haven't been back since construction started,                          I'm giving you a sneak preview.
I went out today and snapped a few photos of the                          "work in progress" to share with you. Those of you with                          a good eye for Cape May might recognize this as the                          Decatur Avenue sidewalk that runs along the Pilot House                          & Ugly mug. There is obviously some work remaining                          here, but this shot giv