Top 10 reasons a Queen Victoria Gift Certficate is the BEST possible gift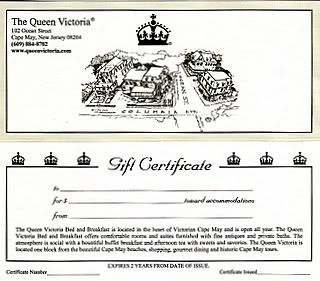 1) Easy to buy, it's a 3 minute phone call

2) Perfect Fit, one size fits all

3) Color doesn't matter

4) its OK if they already have one, they'll want another

5) You can give them the same thing every year and they'll still love it

6) easy to wrap

7) no trip to the mall or parking hassles

8) If you give it to your significant other, you get to come to The Queen Victoria too

9) You KNOW they'll love it

10) Its the gift that keeps giving. You get a big hug when they open it, then they'll think of you when they plan their trip and every time they think about it until they actually use it.
---
Designer Show House, through Jan 2, 2011
This year's Cape May Designer Show house is open and looks great. Anna Marie and I attended the Gala Opening and really enjoyed it. It is a little different than our previous show houses because it is in an operating bed and breakfast. That means that only the first floor spaces are open, but they are magnificent. The good news is that the price is half of what it has been in past years, so it is a great entertainment value.
The location can't be beat this year either ... it is right next door to The Queen Victoria. If you're looking for something new and dfferent to do this year, check out the show house. I think you'll enjoy it.
---
Spend Christmas at The Queen Victoria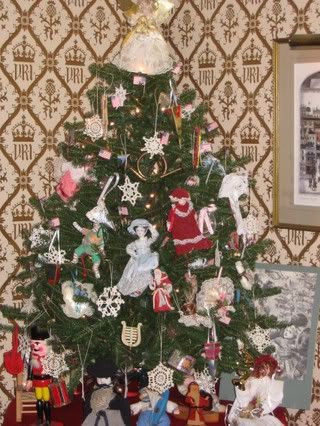 Everybody celebrates Christmas a little differently. For a surprising number of folks, it means gathering at The Queen Victoria in Cape May for a relaxing, special and memorable celebration. In fact, many of our guests simply view The Queen Victoria as their home away from home for the holidays.
While many of our guests return every year to celebrate Christmas, each year we're joined by couples who are either looking for something different, or find themselves away from their normal Christmas tradition for one reason or another (children away with either friends or in-laws, etc.).

Whether you are looking for a new Christmas tradition, or just need someplace special and magical to spend Christmas this year, give us a call. We've already got a record number of Christmas reservations, but we still have room at the inn for you.
---
Wine Lover's Weekend is BACK ... Jan 21,22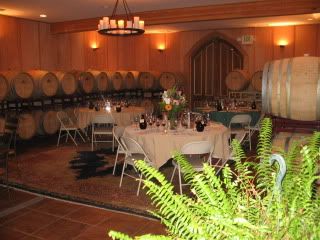 I LOVE this event. If you love wine, you will too. For the last 2 years we've been hosting a special wine blending party we call the "Wine Lovers" weekend. It is a SERIOUSLY fun event that is guaranteed to brighten a dreary winter weekend.
On Saturday afternoon our participating guests will join us at Cape May Winery to craft the perfect blend of red wine. We'll break up into teams of 4 people at a table laden with bottles of the various red wines right out of the barrel and trays of cheese from Seaside Cheese. Each team will craft & document different blends, ranking them among themselves. Once each team has selected its "finest blend", we'll all break for a tour of the winery while the winemaker creates the blends we've chosen. Following the tour, we head back to the blending room and do a "blind" tasting of the chosen blend of each team. We'll all vote on the best blend, which will then be bottled for us with a special "Queen Victoria Cellars" label. Each participant will get a bottle of the final blend (2 per couple), the labels of which will be customized with your names and the blending details.
---
Murder Mystery Weekend Jan 28, 29 ... "The Corpse Had A Mind of Its Own"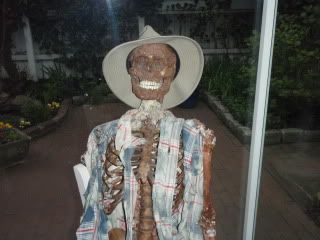 "I'll make him an offer he can't refuse," was one of Brando's best lines in The Godfather and the Cape May Detective Agency is following in his footsteps with an offer our guests may find irresistible. They'll have the option of becoming their favorite detective or villain as they investigate the curious murder of Doktor Gregor. Who wouldn't jump at the chance to be Columbo, Nancy Drew, Charlie Chan, Nero Wolfe, or even Professor Moriarty?

Guests who choose to assume an alter ego will be able to pick any character from detective fiction they desire. They'll receive a special clue or ability that fits their new identity and will be encouraged to don the costume and props of their chosen sleuth. They'll investigate the case on a citywide playing board with our "normal" guests where poison, bribery and blackmail will be in constant play, and because our killers will still be hunting you never know how many guests may not make it to the finish line. The record to date is 13 guests murdered in a single night.
Designed in conjunction with that nice Mr. Denham of Looking Glass Mysteries, the two-night adventure will place a premium on imagination and fun. The adventure begins the moment they check into their rooms and will continue non-stop until promotions to the Cape May Detective Agency are handed out Saturday night.

This package includes 2 nights in Standard, Large Standard or Premium room (1st come, 1st serve), all event activities, an event souvenir, a wine & cheese reception on Friday night and a 4 course dinner Saturday night at the Mad Batter. This is an AMAZING value!
$500/couple for the entire weekend!
---
Channeling Weekend with Craig McManus Returns Feb 25-26
Due to popular demand after last year's channeling weekend, we're bringing "Channel Craig" (Craig McManus) back to The Queen Victoria for another go at it. Last year's event was truly amazing and left most of our guests who were channeled shaking their heads in wonder. I was personally stunned that Craig was able to relate so many very specific details about our guests departed loved ones, which he had absolutely no way of knowing. Craig is the real deal.
What was really wonderful to see was the amazing happiness and peace which our guests felt after connecting with their loved ones. It was really quite moving. At one point, I think all of us were in tears over a particularly touching experience.

Anyway, lots of you expressed an interest in returning for another event with Craig and lots more of you lamented that you couldn't make the last one. This is your chance.

Participation is very LIMITED, however. Craig can only handle 20 participants this time, which will be broken into 2 groups of 10. This means two things. First, you need to call soon to be sure you can participate. Second, with the smaller group you're going to have a much better, high quality experience. At $50/person, this is a great deal!
---
Become a Facebook Fan of The Queen Victoria
I know that most of you are probably on Facebook. That means that you have an opportunity to really stay plugged into The Queen Victoria and what is going on in Cape May. I'm trying pretty hard to share photos, special deals, or just general news with our Facebook fans at least a couple of times a week. Imagine how connected we can be!
OK, this is really simple. Click on the picture above or the text link below and you'll land on our Fan page. When you get there, click on the "Like" button to the right of our name. Even I could do that! We're thinking up lots of new ways for our very valued and frequent guests to benefit from their relationship with us. Our Facebook fans are going to be the first ones to have that opportunity.
---
Upcoming Events
· Christmas in Cape May through Jan 2
· Christmas at The Queen Victoria Dec 24-25
· New Years in Cape May Dec 31
· Designer Show House through Jan 2
· Wine Lover's Weekend Jan 21-22
· Looking Glass Mystery #1 Jan 28-29
· Channeling Weekend Feb 25-26
· Big Cheesy Weekend Mar 4-5
· Looking Glass Mystery #2 Mar 11-12
· Sherlock Holmes Mystery Weekend Mar 18-19
· Cape May Jazz Festival Apr 15-16

Yes, Christmas is in FULL SWING here in Cape May. Sometimes when I hear the horse carriages going by with their sleigh bells ringing I think that maybe Santa has jumped the gun and is visiting us a bit early. Seriously, this is an incredibly beautiful, festive time to visit Cape May. If you have ever wanted to see Christmas in Cape May, and I know you have, then you should give us a call soon. We still have rooms available for nearly every weekend, but they are limited.

As I write this, though, I'm thinking beyond Christmas and looking ahead to a bunch of great special events that we've put together to entice you down to Cape May this winter. Sure, I know you might not think of The Queen Victoria as a winter destination, but you'd be surprised how many of you come here exlusivey in the winter. Anyway, we've got some great events planned that you're going to want to check out.

I'm thinking that these great new events/packages would make a great Christmas gift. Keep it in mind!
---
---
Featured "Room of the Month" ... The Crown Jewel
The Crown Jewel. The name really says it all. This room is the most spectacular room at The Queen Victoria. This is the room you'll want to spend your special occasions in. Are you getting married soon? Is a special anniversary coming up? Is your loved one going to be celebrating a birthday soon. If so, this is the room you'll want to reserve.
The Crown Jewel has all the amenities to make your vacation special and memorable. It is a large suite with a king size bed, gas fired Franklin stove and 2-person whirlpool tub upstairs in the bedroom. Downstairs there is a large sitting room that we call the "library", which features a large screen hi-def TV with surround sound mounted above the large fireplace, a large spacious bathroom with 2-person, 2 head shower, and a wet bar/pantry.

To top it all off, the Crown Jewel has its own private patio with rocking chairs and a dedicated parking space.
---
The Big Cheesy Returns March 5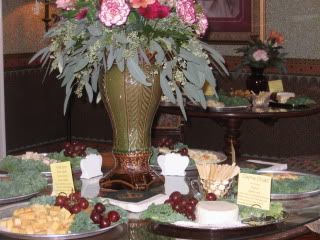 Are you a cheese lover? I never knew I was until our first "Big Cheesy" event 2 years ago. That day I learned a lot about different cheeses and discovered how much I enjoyed them. A little knowledge can be a dangerous thing!
Anna Marie and I will be filling the Queen Victoria dining room table with a wide assortment of cheeses from our friends at Seaside Cheese (I know lots of you love it there). There will be about 16 cheeses for us to taste and each one will have a write up about its origin, how it is made and any other fun tidbits of information. We'll also have breads from one of our local bakeries along with an assortment of specialty olive oils.

We're planning on doing this Saturday at around 1:00, so you can actually make a lunch out of it if you want to. Now I know that for some people it is impossible to eat cheese without having a glass of wine in your hand, so we're welcoming everyone to bring their own wine and make an afternoon of it. The wine tends to become communal, so bring something you feel comfortable sharing.
---
Murder Mystery Weekend Mar 11-12 ... "The Problem of Remington's Mummy "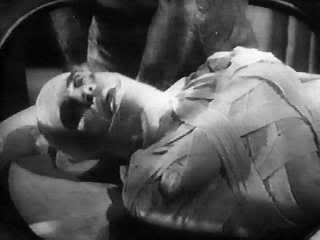 Many of you may know that the 1922 Carter expedition to Egypt discovered King Tut's tomb and gave rise to rumors of deadly curses but there was a much more intriguing find in 1927. This was Remington's expedition to the Valley of the Offended Nostrils. While looking for the tomb of the Pharaoh Ahmbaktup he actually uncovered the mummy of his Medical Advisor, Rootentooten, who was, in fact, buried with a timeless curse.

This mummy has been the focus of considerable controversy and is now at the center of a murder investigation. Guests to Remington's Mummy should be prepared for a nonstop weekend adventure of investigation and if you find the thought of shuffling footsteps outside your door at night too disturbing to contemplate . . . perhaps you should opt for a safer way to spend the weekend.

Shuffle board, maybe. Or watching old episodes of Murder, She Wrote.
This package includes 2 nights in Standard, Large Standard or Premium room (1st come, 1st serve), all event activities, an event souvenir, a wine & cheese reception on Friday night and a 4 course dinner Saturday night at the Mad Batter. This is an AMAZING value!
$550/couple for the entire weekend!
---
The Convention Hall NEWS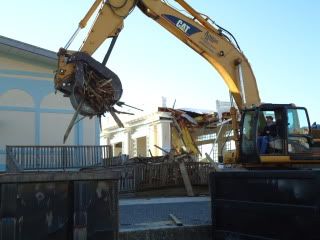 Unbelievable! It has started. Demolition on Convention Hall started on Monday, Nov 29 and is moving along quite nicely. As you can see from this photo, they started with the Solarium, and seem to be focusing primarily on that building first. They have since taken down the front of the old convention hall building too.
So if all continues to go according to plan, our new convention center will be complete in early 2012. I'll keep you posted.
---
Favorite Guest Photos ... QV Parlor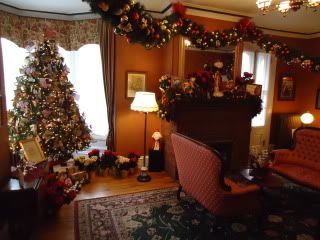 OK, I'm cheating this time. I haven't really been getting that many photos lately, and I wanted one that related to Christmas. So what did I do? I took this myself the other day.
Sure, I cut a corner here, but I did it for the greater good. I knew that you really wanted to see what it looked like at The Queen Victoria this year. This was really the only way to make that happen.
---
Now Playing at Cape May Stage ... The Little Prince
This beloved classic of children's literature has been turned into a warm, wondrous production for the whole family. Based on Antoine de Saint-Exupéry's fable about a pilot who crash-lands in the desert and meets an openhearted boy from another planet, gently reminds us to hold onto what is truly important in life.
OK, I admit it. I copied that previous paragraph from Cape May Stage's website, since I've never seen the show. This show opened this week and runs through the end of the year. Show times are Thursday through Sunday at 8pm, with 3pm matinee shows on Saturday & Sundays.
---
Doug & Anna Marie's Restaurant Pick Of The Month ... Lucky Bones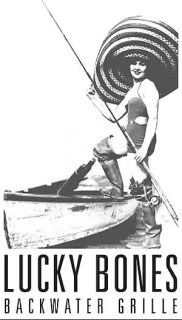 So how about it, friend? Do you feel lucky? Can't you just see Clint Eastwood (aka Dirty Harry) saying that? Is it possible to digress before you even start on a topic?

Anyway, I know that lots of you already love Lucky Bones, but I wanted to feature them again.
Lucky Bones is located just over the bridge when you come into Cape May, near the Lobster House. It has a fun, warm atmosphere that is welcoming to everyone. The menu is very diverse and you can get just about anything from a sandwich or pizza to a really nice entree. The price point for Lucky Bones is pretty good too, which never hurts. They even have a $20 wine list, which is almost unheard of in a restaurant.

As usual, Anna Marie and I have our favorites at Lucky Bones. Anna Marie always (and I mean always) orders the Grilled Chicken BLT, which is truly amazing. I usually order the Filet Tip Sandwich, but last time I was really decadent and ordered a large Nachos for my entree. It was huge and delicious. I had always looked on with envy when I'd seen it delivered to other tables and I just had to go for it. Sometimes you just have to let loose and be wild, right!? Sadly, that is about as wild as I get anymore. I'm such a rebel.

Lucky Bones is open every day of the week, all year long, so make plans to stop in for your next visit. I'm sure you'll be glad you did.
---
Make your reservations today for a romantic getaway at The Queen Victoria Bed and Breakfast. We are looking forward to helping you plan your next visit!
Sincerely,

Doug & Anna Marie McMain, Innkeepers
The Queen Victoria Bed and Breakfast
---