The Perfect Gift!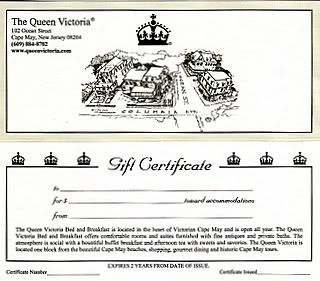 At this point there are basically three categories of Christmas shoppers in the world. First there are those amazingly organized people who have already completed all of their shopping and are simply enjoying the festive season. We all hate those people. Next there are the folks who have been shopping up a storm, but just can't quite find the right gift for their special someone. Finally, there are the people like me that have been thinking that it is high time to start shopping for Christmas, but haven't managed to start the effort. If you fall into either of the latter two categories, I'm here to help.

Relax, this is going to be really simple. All you have to do is make a quick phone call to The Queen Victoria and purchase a gift certificate for your loved one(s). Think about it for just a minute. How excited would you be to receive a trip to The Queen Victoria? In fact, if you're giving it to your husband/wife/significant other, you will not only be giving it to them, but to yourself too. Now I'm not advocating selfishness for the Christmas Season, but enlightened self interest is not a bad thing.
A Queen Victoria gift certificate is also a great gift for the loved ones on your list who really don't need any more "stuff". Sending your loved ones away for a relaxing and romantic getaway to The Queen Victoria is more than the gift of a vacation. It is the gift of the memories they'll take away from that vacation. It is something they'll never forget.

I'll share a story that I was reminded of yesterday by a woman who gave her parents a gift certificate to The Queen Victoria. Her folks rarely got away due to their busy lives, so this was a real treat for them. They had an incredibly good time and I'm told they were acting like teenagers again (only the positive aspects of young love, I assume; no attitude). In fact, her parents planned to make it an annual event. Sadly, this woman's father passed away shortly after their visit to Cape May, at a very young age. His wife, who was understandably devastated, cherished the moments they shared together in Cape May and The Queen Victoria as one of their happiest memories.
---
Hawk Haven Winery ... Great Wine & Great Times
Late last spring Anna Marie and I discovered a new winery that I told you about in a previous newsletter. I was pretty excited about it because it is just the first of several new wineries that will be opening in the Cape May area within the next few years. I was also quite surprised by the quality of the wines I tasted there. It is simply amazing to me that a winery that has been open such a short amount of time can produce such high quality wines. Since then they've released two more red wines, which are even better than the "Red Table Wine" that I enjoyed so much on our first visit.
I'm pleased to report that the owners Todd & Kenna are working very hard to make the Hawk Haven winery even better. Not only are they continuing to invest in their property, but they are creating some great events that are lots of fun.

This summer they introduced "Sangria Sundays", which were truly enjoyable. With live entertainment under a cathedral tent next to the vineyard, you couldn't help but have a great time. It was raining the day we went, but it didn't matter at all!

This winter they are featuring "Barrel Room Dinners" every Friday night. Each week different chefs from our Cape May area restaurants present a petite entree dining experience featuring locally grown or caught, seasonal foods. Of course, each course is paired with a half glass of Hawk Haven wine. Live jazz music compliments the evening, which is certain to be a memorable one.
---
Lots of you join us every year for New Years Eve. What better place to welcome in the New Year! We don't have any pyro-techniques or dropping apples, but the charm and romance of Cape May is in full swing on New Year's Eve.
We still have a few rooms left for New Year's Eve this year. If you haven't firmed up your plans yet, or have always thought about celebrating the new year in Cape May, then give us a call. As an added benefit, The Queen Victoria (and the whole town, for that matter) will still be decorated in our Christmas finery, so you'll get to experience the magic of Christmas in Cape May too.

Call today for your reservation, though! We only have a few rooms left.
---
Christmas at The Queen Victoria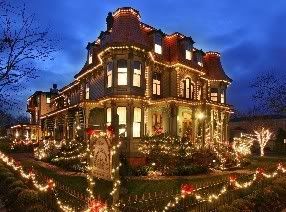 Now that Thanksgiving is behind us, many of us are pondering the Christmas season. Where are we going to spend Christmas? Who is cooking for the family? What gifts should I get for my loved ones? Sometimes these are easy questions to answer. Sometimes they are not. As always, I'm here to assist you through the tough decisions.
First of all, if there is any question about where to spend Christmas (a question like "who is volunteering to take this on this year?"), then I can only suggest finding a perfect neutral location where everything is easy, relaxing and purely pleasurable: The Queen Victoria. Seriously, spending Christmas with us answers all of these questions. The gift giving gets particularly easy ... you can give each other your stay at the inn. Really, it doesn't get any better or simpler than this. You have to start planning soon though! Christmas is fast approaching.
---
Our Wine Blending Weekends Return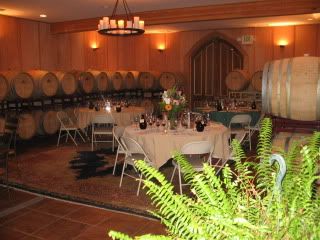 Last winter we introduced our Wine Blending Weekend. I can honestly say that everybody that attended had a WONDERFUL time. Based on the success of those events, I'm pleased to say that we're bringing them back again next year.

If you didn't attend one of our wine blending weekends this year, you won't want to miss them this winter. To start with, we gather in their very romantic & charming barrel room, which is filled with candles, wine barrels, tables full of wine glasses and a magnificent cheese tray. First we sample the various blending wines, learning to identify their key characteristics. Once we've mastered the various wines, we go right to work crafting the perfect blend. Each table of 4-6 people is tasked with producing their favorite blend and ultimately filling a decanter with their masterpiece. We then break for a tour of the winery, and another glass of wine, of course, while the winery staff prepares each table for the "taste off".
When we return to the barrel room we'll find our several glasses of wine to taste, one from each of the tables and one or two from past blending weekends, that we collectively judge. The winning blend is then bottled, with each couple attending receiving 2 bottles with customized labels with their names for them to enjoy at home. I should mention that it takes a few weeks for the winery to bottle our wine for us, so you don't get to take it home with you that day. Oh, I almost forgot to mention the beautiful Queen Victoria Wine Bag that will be waiting for you in your room upon arrival! Can it get any better?

The dates for 2010 are January 23 and March 6. Get your calendars out and make plans to attend one of these wonderful events! In fact, as I write this, it occurs to me that it would be the perfect Christmas gift for the wine lover who has everything already (note that this does not contradict my previously described "Perfect Gift", in that they are really very similar).
---
The Return of "The Big Cheese"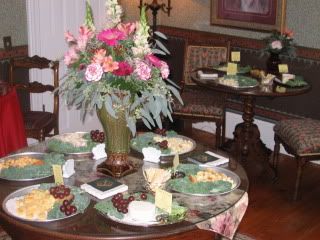 Back by popular demand ... "The Big Cheese" cheese tasting party! Last February's introductory event was so much fun and so successful that we absolutely had to bring it back again this coming February.

Let's say that you are not one of those folks whose life revolves around cheese. Nothing to be ashamed of. So why in the world would you want to plan a whole weekend around a cheese tasting party? Fair question. The truth is, I didn't care too much about cheese until our party last year. I've got to say, though, that I think our last cheese tasting party was one of the most enjoyable events we've ever had at the inn.
At our last party, Anna Marie and I put out about 15 different cheeses, each with descriptions about their origin and character. We also selected several different types of olives, some wonderful breads, and great dipping oils to enjoy. We held the event in the House of Royals parlor, which turned out to be a litte too small, as we had so many people that just couldn't get enough of the event. We even prepared "tasting sheets", so anybody who was really serious about it could score each cheese. I think most people just ate it, to be honest with you.

The next Big Cheese will be held on February 20, which is perfectly situated not to interfere with anything else in the word. Truly, the only place that has anything going on is Cape May, which is where you want to be anyway. Call us soon and reserve your room for this really fun event, which is FREE for all our guests.
---
Upcoming Events
Cape May Christmas Tours Nov 20 thru Jan 3

Christmas at The Queen Victoria Dec 24-25

QV Wine Blending Weekend January 23

Valentines/Presidents Day Feb 12-14

Cape May Wine Trail Jan 17

Chocolate Fantasy Buffet Feb 13

"Crafts & Antiques in the Winter" Feb 13,14

Cape May Wine School (Italian Wines) Feb 14

Big Cheese Weekend February 20

QV Wine Blending Weekend March 6

Sherlock Holmes Weekend March 19-21

Cape May Jazz Festival April 16-18

"Magical", he said. "Truly and absolutely magical. It was like a scene from a movie".

That was the description that one of our guests gave of their experience in Cape May last Saturday evening. I know just how he feels. It was wonderful to be reminded of just how, well, magical, Cape May is at Christmas.

Whether you celebrate Christmas or not, it is hard not to be swept away with the festivity and cheer of the season when strolling the streets of Cape May during the Christmas season. It is something you have to experience to appreciate. If you haven't experienced it yet, then it is something you need to put on your "list" (I hesitate to use the term "bucket" ... it is so morbid). If a trip to Cape May for the Christmas season is already on your list, then what are you waiting for? Believe it or not, there is still time to squeeze it in this year. Careful though, you may find it is something that you'll want to do every year.
---
---
Featured "Room of the Month" ... Osborne
OK, this is it. This is the most viewed room on our website. It is also reserved more than any other room. In fact, we've got several guests who literally have said they would like to BUY this room. Not rent it, but buy it. I'm not sure if they're thinking time share or they want the whole enchilada. So far we're sticking with the rental thing.
So what makes Osborne so popular? Well, it could be the fireplace. In the chilly winter (like this weekend) that is a cozy amenity. It could be the two person whirlpool tub, which certainly adds to the romance of the room. It might well be the decor, which is from the "Aesthetic" style, a little more masculine looking than some of our other rooms. Perhaps it is the relative privacy of the Queen's Cottage, located as it is with just one other guest room across the street from the Queen Victoria building. Did I mention the parking space? Well, that might just have something to do with it too.

If you're looking for a great room, certainly one of our nicest, then consider the Osborne. You'll have to plan ahead a bit to get a reservation, but it will be worth it.
---
Granola Anyone?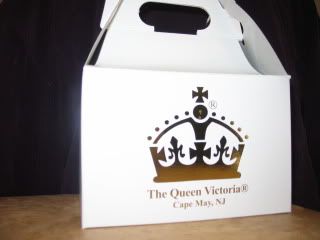 Are you one of our guests who love our granola? Do you think about our granola all year long between your visits to The Queen Victoria? Are you one of the many people who have asked me "why don't you sell your granola"? If you answered yes to any of these questions, then I'm about to make your day!
I'm proud to announce that we are starting to sell our granola. It took us a while to come around to the idea, I must admit. One of the bigger considerations was how to package it. We couldn't just fill a baggie with granola and a twistie tie ... not charming enough. Once I found a cute little "gable" box to package it in, there was nothing holding us back.

On your next visit to The Queen Victoria, plan on taking a little bit of The Queen Victoria home with you. Sure, you can make it yourself with the granola recipe in our new cookbook, but I promise you that you'll enjoy the stuff we make better. It is MUCH less work.
---
Here at Last! Anna Marie's New Cookbook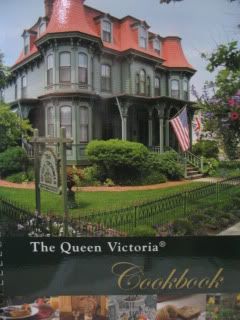 They're here, and I must say they were worth the wait. Our new cookbooks arrived last week and we couldn't be more pleased with the way they came out. They are simply beautiful. Of course, they are also full of EVERY recipe that we use at The Queen Victoria.
The timing couldn't be better. We've already sold scores (how often do you really ever get to use that word?) of our new cookbooks to our Christmas season guests. I can only assume that when somebody buys four cookbooks that they are doing a little Christmas shopping. I'm pretty sure that in most cases one of them is a gift to themselves, though.

We had actually been taking orders for the books for a few weeks, once we knew delivery was imminent. Let's just say I've been making LOTS of trips to the post office in the last few days to satisfy all those orders.

Whether you've been waiting to buy our new cookbook for your own kitchen, or perhaps are planning on giving one as a Christmas gift, your wait is over. If you can't wait until your next visit to get one, just give us a call and we'll be happy to ship you one (or a few!).
---
A New Convention Center for Cape May
This has got to be the slowest developing story in the history of journalism. I just wish there was somebody famous involved in the Convention Center project who was cheating on their spouse so I could distract you all with some sleazy gossip reporting. Of course, nothing like that would ever happen in Cape May.
Anyway, I haven't heard anything about the project since my last report to you. Sad, but true. You'll be pleased to hear that journalistically speaking I'm way ahead of the curve, though. I opened a copy of "Exit Zero" last week and was surprised to see the editor Jack Wright describing everything that I had reported to you last month. I didn't realize what an intrepid reporter I was!
---
Favorite Guest Photos ... Winter Sunset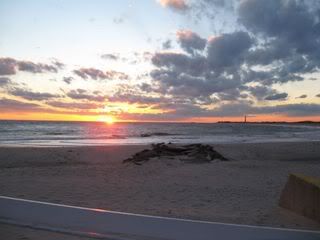 This is a beautiful shot taken at the cove during a winter sunset. I chose it for a couple of reasons. First, this is about what sunset looks like this time of year. Notice how far to the left of the lighthouse the sun is setting! Another reason I selected this photo is the symbolic value of it.
This past year, with all the upheavals and trouble so many have faced, is setting, much as the sun in this photo. The New Year brings with it the promise of better times and hope for a bright New Year ahead.
---
Doug & Anna Marie's Restaurant Pick Of The Month ... Fredas Cafe
I know, you've heard us talk about Fredas when you were here. I've written about them before in my newletters. So why am I mentioning them again this month? Because they are one of our very favorite restaurants and their food is about as good as it gets.
As you may know, not all of our restaurants stay open all year. Fredas is one of several restaurants that we can enjoy all year long. They've got so much going for them in my book. First of all, the food. It is hard to list all of our favorite dishes, but I'll mention a few. Fredas is FAMOUS for their crab cakes. I know my friends from Maryland will dispute the possibility, but I think that Fredas are the best anywhere (they are a very different stye than Maryland crabcakes, so I'm not taking anything away from theirs). Do you like Ribs? Fredas has you covered. I absolutely love the Stuffed Chicken Breast En Croute. Anna Marie loves the Shrimp and Scallops Pesto, though she orders it without the Pesto. They serve that one in a delicious white wine, lemon sauce with capers that is wonderful. Do you love Rack of Lamb? Freda's is wonderful. How about Ahi Tuna? Yep, they've got you covered. Seriously, there is something wonderful for any taste at Fredas. I forgot to mention one of my favorite things about Fredas. They are a BYO restaurant, so you can bring your own wine and save lots of money!

Speaking of New Years (well, I wasn't, but I am now), I just heard that they've dropped their price to $45/person for a 5 course meal. You just can't beat that. If you're planning on staying with us for New Year's Eve (and I think you should), you'll want to make your reservations for Fredas right away. I just made mine.
---
Make your reservations today for a romantic getaway at The Queen Victoria Bed and Breakfast. We are looking forward to helping you plan your next visit!
Sincerely,

Doug & Anna Marie McMain, Innkeepers
The Queen Victoria Bed and Breakfast
---