And now, for the Perfect Gift Idea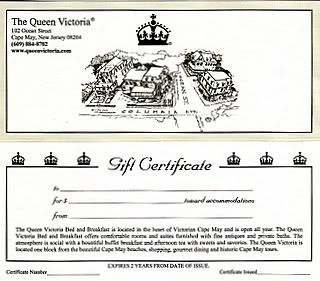 OK, you tried the "Black Friday" thing, battling the crowds and picking through the racks searching for something different and wonderful. But alas, you're still looking. What will it be ... the shirt? the sweater? the purse? the jewelry is too scary to even ponder, so what will it be? Wait! I've got it ... a Queen Victoria gift certificate.

Sure, you can buy a bunch of little things that your loved one already has and doesn't need. You might get lucky and find something they like but don't really need that will get stashed away somewhere for all eternity (until your next move). OR, you can buy him or her a gift certificate to The Queen Victoria. This really is the perfect solution!

Here are the facts: you don't have to worry about getting the right size or color. It is sure to please even the most discerning person. It provides not only a gift for the present, but the promise of a wonderful future get-away. Best yet, if you give it to a spouse or special someone, then you get to enjoy it too. It really doesn't get any better than that!
This year we're making it even better. Whoever you give a gift certificate to this Christmas season will receive an additional gift from you (courtesy of us) upon their arrival at The Queen Victoria for a shopping spree in our gift shop. Imagine it, they'll check into their room and find an envelope containing a gift shop certificate worth 10% of the gift certificate you gave them. It will include a little message from you saying "Have a great time!" which will bear your name. This really is the gift that keeps giving.

This special gift certificate offer is good for all gift certificates purchased between November 1st and December 24th (including those that have already been purchased this month).
---
Experience the Cape May Christmas Season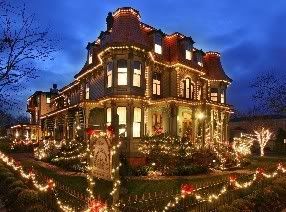 It is officially Christmas in Cape May! Believe it or not, we've been in Christmas mode for a couple of weeks already, so we're fully in the spirit of the season. If you've never been to Cape May (and specifically The Queen Victoria) at Christmas then you can't truly appreciate just how beautiful this town can be. Imagine your favorite Christmas movie, set in a quaint town, all decorated and full of cheer. That is Cape May at Christmas! The only diference is that we don't usually get any snow.
If you had hoped to experience Christmas in Cape May this year, or I've just inspired you to come visit, you still have time to do so, but the clock is ticking. We've still got rooms for the 2nd, 3rd & 4th weekends of the month, but they are going pretty quickly. Call us today to make sure your holiday season includes a little slice of Christmas past.
---
Make your Christmas special this year
Are you still trying to decide where to spend Christmas? If you are looking for the perfect place to spend Christmas, surrounded by friends in a welcoming and comfortable home full of Christmas cheer and traditions, then I think you need to give us a call. Every year dozens of people make The Queen Victoria their "Home for the Holidays". This year you can too.
Sure, we're decorated for the holidays with lots of trees, lights and garland. Yes, we have little elves that make their way through the inn on Christmas Eve, helping Santa to make Christmas morning special. We've certainly got some great food. What really makes Christmas at The Queen Victoria special though, is you! Yes, you and all the other wonderful guests sharing a special tradition in a timeless and classic Christmas setting.

Our Christmas package includes an open seating dinner for two at Freda's Cafe, who are opening their doors to our guests only on Christmas Eve and a Christmas dinner, including hors d'oeuvres and cocktails at Congress Hall on Christmas day.

Call us today to reserve your room!
---
Wine Lover's Weekend ... A new package!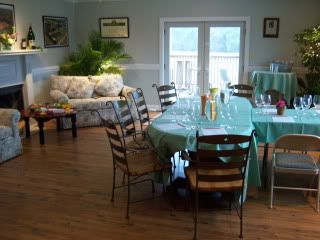 Do you love wine? Do you actually have a wine cellar? Have you ever thought it would be cool to own a winery and craft fine wines (but then realized that there is an incredible investment and a lot of work involved)? If you answered yes to any of these questions, I've got a tantalizing idea for you.
Anna Marie and I have partnered with Cape May Winery to create a special event/package for true wine lovers. On January 24 and March 7 of 2009 The Queen Victoria is hosting a "Wine Blending Challenge". On Saturday afternoon you will join Anna Marie and me at Cape May Winery to craft the perfect blend of red wine. We'll break up into teams of 4 people at a table laden with decanters of the various 2007 red wines right out of the barrel and trays of cheese from Seaside Cheese (this blending is hard work, so we'll need sustanance). Each team will craft & document different blends, ranking them among themselves. Once each team has selected the "perfect blend", we'll all break for a tour of the winery while the winemaker crafts the chosen blends. Following the tour, we head back to the blending room and do a "blind" tasting of the chosen blend of each team. We'll all vote on the best blend, which will then be bottled for us with a special "Queen Victoria Cellars" label. You will get two bottles (per couple) of the final blend, the labels of which will be customized with your names and the blending details. You'll be able to carry it proudly to your favorite BYOB restaurant in the Queen Victoria wine bag that is also included in the package.

This exclusive event is only open to guests of The Queen Victoria and will only occur twice a year. I'm anticipating adding another facet to the event in future years, where prior year's blends, which I promise to save in my cellar, will be "blind tasted" against the current selected blend. Does this sound like fun or what?

The cost of this event is $100/couple in addition to your reserved room. Remember, this event is only being held on January 24 and March 7 this year. I don't think you'll want to miss it.
---
The New Year is in sight
Now that December is here, the end of the year is in sight, and most of us inevitably start pondering the timeless question: "What are we doing for New Years?". Have you asked yourself this question? Are you still looking for the answer?
It may not surprise you to hear that I have a suggestion for you (yes, my mission in life is to help answer questions like these). How about spending New Year's Eve in Cape May? More specifically, perhaps you should consider spending New Year's at The Queen Victoria!

By now I'm sure you're saying "Doug has lots of suggestions for all of these little dilemas in my life, but they always seem to involve coming to stay at The Queen Victora.". Well of course they do! A stay at The Queen Victoria is a one size fits all solution to nearly every question involving gift ideas, vacation suggestions, celebrations of special occasions, or just an idea for a quick get-away.

Seriously though, Cape May is always a great place for a relaxing New Year's celebration. If you love great dining, cozy lodging, fun shopping and sightseeing, then I'm sure you'll agree. The way New Year's falls this year, it lends itself to an extended weekend too, since I don't think too many employers will be bringing people back into work on Friday. We still have some rooms available, but call soon; they're going fast.
---
Upcoming Events
"This Wonderful Life" at Cape May Stage Nov 21 through Dec 28

Cape

May Christmas Parade Dec 6

Cape

May Christmas Tours Nov 21 thru Jan 4

Dickens Extravaganza Dec 7-9

Christmas at The Queen Victoria Dec 24-25

New Year in Cape May Dec 31 (of course)

QV Cellars Wine Lover's Weekend Jan 23-24

Valentines/Presidents Day Feb 13-15

Antiques in the Winter Feb 15

QV Cellars Wine Lover's Weekend Mar 6-7

Sherlock Holmes Murder Mystery Weekend Mar 20,21

Cape May Marathon Mar 20,21

Cape May

Jazz Festival Apr 17-19

Cape May Spring Festival Apr 24-May 3

Cape

May Music Festival May 17-Jun 12

With the end of each year comes the opportunity to look ahead to the coming year. At The Queen Victoria this means looking ahead to see what projects and re- decorating will take place this winter to get the inn ready for your upcoming visits. It means looking forward to seeing good friends return. It means the promise of another wonderful year in Cape May. In May, Anna Marie and I will be celebrating our 5th anniversary of owning The Queen Victoria, which is certainly something to look forward to.

Anna Marie and I would like to take this opportunity to wish you all a very Merry Christmas and to our many Jewish friends a Happy Chanukah. We wish you all a Happy New Year!
---
---
Featured "Room of the Month" ... Princess Alice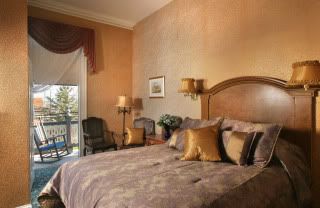 I know that most of you have been waiting with baited breath for this month's installment of "Room of the Month". It is always tempting to feature our more expensive luxury suites, but I thought I would highlight one of our standard rooms this month. We have several standard rooms in the inn, but I think that Princess Alice is perhaps my favorite. I know it is a favorite of many of our frequent guests.
The Princess Alice room was once part of the gambling casino on the second floor of the House of Royals in the Victorian era. Its 11-foot ceilings and original plaster crown molding and ceiling medalion give it a spacious and regal feeling. This room has a queen size bed and the mirrored armoire encloses the television and mini-refrigerator. One of the most popular features of the Princess Alice room is the private balcony with rocking chairs with a scenic ocean view.

If you're looking for a wonderful, cozy, and elegant room for your next visit to The Queen Victoria, why not try Princess Alice?
---
Now Showing at Cape May Stage ... This Wonderful Life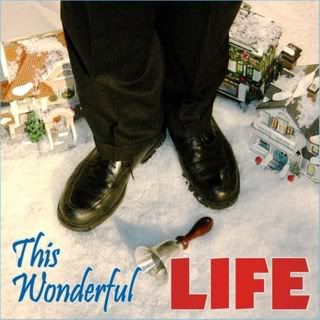 Admit it, you've watched "It's a Wonderful Life" more times than you can remember. You've watched George stumble through his life (and nearly end it) many times. Isn't it amazing how even though we know exactly how it ends, we still watch it until the end evey time?
This year Cape May stage is bringing George Bailey's life to life with their presentation of "This Wonderful Life". This one man show is an amazing adaptation of the classic movie which is so believable that you'll actually think Jimmy Stewart is on the stage (along with all the other original characters). I was delighted with this show when I first saw it a couple of years ago and I'm looking forward to enjoying it again this Christmas Season.

"This Wonderful Life" opened to great acclaim on November 21 and runs through December 28th.
---