Last Chance ! (or great last minute gift)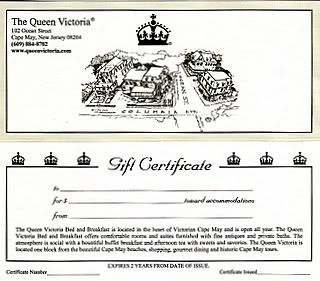 So you've already been to the stores shopping for Christmas. You can't get your hands on a "WII" (ask your kids, they'll know what it is), you've already purchased every conceivable piece of jewelry (though your wife might have another opinion on that), your husband has every color sweater imaginable, and you couldn't find a parking space in the mall last time you went. You're losing hope and the holiday spirit. Don't despair! I have the perfect christmas gift idea for you.

A Queen Victoria Gift Certificate!
Queen Victoria gift certificates really are the perfect gift. First of all, you know it is sure to fit. You also can rest assured that it will be a welcomed and treasured gift. In fact, it will probably win the "best gift" award. Now I know that Christmas is all about the spirit of giving, but keep in mind that if you buy a Queen Victoria gift certificate for your husband or wife, then you get to use it too. It is kind of like treating yourself and getting extra credit for being thoughtful. How many times in life do you run across an opportunity like that?

Perhaps the best thing about purchasing one of our gift certificates is how easy it is. You don't have to go find it, you don't worry about the size, you don't have to think about where to hide it, and it takes about 5 minutes to do the whole thing.
---
Christmas at The Queen Victoria!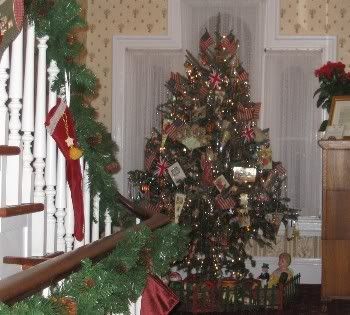 Dozens of people call The Queen Victoria their home for the holidays every year. Maybe you should become one of them!

Remember how comfortable you were during your last visit. You felt right at home, right? Well, imagine what Christmas must be like! Imagine strolling the streets looking at all the lights on the beautiful Victorian homes on Christmas Eve after your wonderful dinner at Fredas (they open the restaurant just for us!). Picture yourself strolling down the stairs on Christmas morning to be greeted with one of our sumptuous breakfasts (and an endless cup of coffee). Tea on Christmas day turns into a reception that proceeds our banquet at Congress Hall.
Are you up in the air about where you'll be for Christmas this year? Maybe your kids are at their in- laws this year. Perhaps you've just become empty nesters. Maybe your family lives elsewhere and you just can't make it there. Maybe you just want to escape and have a romantic Christmas in Cape May.

Whatever the reason, you'll have a home in Cape May at The Queen Victoria. Call us today to reserve your perfect Christmas getaway.
---
New Years!
Thinking of New Year's Eve? How about that wonderful week between Christmas and New Years? If you've got a few days of vacation to use up, or just want to catch a little last minute Christmas Joy, I might suggest one last 2007 visit to Cape May.
That whole week between Christmas and New Years is very popular in Cape May. All the shops are still bustling, we've got loads of tours in town this year, many of our wonderful restaurants will be open, and Cape May is always a popular New Year's Eve destination.

We've still got openings for that "vacation" week, and a couple of openings for New Year's Eve itself. Don't wait long to call, though! We'll definitely be full for that week, and our rooms are going quickly.
---
Back by Popular Demand ... Seasonal Specials
Wow! Last year we introduced a few new specials for the cooler months and judging from your response, you really liked them. So this year we're bringing them back. Yes, all of our seasonal specials are back: "Gift of Romance", "Two for Two", "Gourmet Getaway", and "Winter Weekend MADness".
The Gourmet Getway, Two for Two, and Winter Weekend MADness run through April, while the Gift of Romance runs into June (but is not available in Jan, Feb & Mar). All except the "Winter Weekend MADness are weeknight specials, including Sunday evening.

All four of these specials are GREAT deals.
---
Celebrate Valentines Day !

Yes, Valentines Day falls into the "Celebration Season". I know you haven't even gotten Christmas and New Years under control yet, but you just can't wish Valentines away. Seriously guys, your lady expects you to treat her special on Valentines Day, and flowers just aren't good enough anymore. She certainly deserves better.
Luckily for you, I can make it easy for you. This year you actually have two weekends to celebrate Valentines Day. With the 14th falling on Thursday, you have the option of coming to The Queen Victoria to celebrate either the weekend before or the weekend after. Which one are you going to choose? President's Day is the weekend following, so that is a great option. On the other hand, why wait?

Either way, we'll have a beautiful red rose waiting for you at check-in (so you can do The Queen Victoria AND the flower thing).
---
Upcoming Events
Lamplighter tours Dec 21,27,28, 29
New Years Eve!
Cape May Wine School "From the barrel" Jan 13
Martin Luther King Weekend Jan 18-19
"Pre" Valentines Day Feb 8-9
Valentines Day Feb 14
President's Day Weekend Feb 15-16
Cape May Wine School "Winter Reds" Feb 17
Cape May Wine School "South African wines" Feb 24
Sherlock Holmes March Mystery Weekend Mar 7-8
Cape May Wine School "Left Coast Wines" Mar 30

Each month I focus on the upcoming season in my newsletter. I know you're all dying for me to give you reasons to come down for a visit to The Queen Victoria, and I don't want to disappoint you. As the Christmas season winds its way down, though, I was at a bit of a loss as to what season to promote next. After all, "Winter in Cape May" doesn't have the ring to it that I was hoping for. Then it struck me! I can create my own season. So here we go ...

From this point forward, the months between December and April will officially be referred to as the "Celebration Season", at least at The Queen Victoria.

What this means is that if you have a special occasion coming up in the next few months, you now have the perfect place to celebrate it. It doesn't matter what it is, really. We're equally great for Birthdays, Anniversaries, Honeymoons, Engagements, and virtually everything else. Really, we're kind of "one size fits all" when it comes to celebrations. If you've got a special celebration coming up, give us a call. You know you'll have a great time in Cape May at The Queen Victoria!
---
Have you seen The Queen Victoria Billboards?
We were pretty surprised the other day to receive a tube of poster sized images of The Queen Victoria that had a sort of long "billboard" shape from the State of New Jersey, Dept of Tourism. Sure, we send lots of tax dollars into the State, but we don't really ever expect them to send us anything. This time they surprised us.
Unbeknownst to us, the department selected The Queen Victoria to be featured in three different billboard locations as part of their "Great Destinations" advertising campaign. If you live in or near Newark, Pittsburgh or Baltimore, perhaps you've seen one of these billboards. It is unlikely that we'll ever get a chance to see them, so if you do, take a picture and send it to us.
---
Featured "Room of the Month" ... Mayfair
This room is where it all started for Anna Marie and me. No, this isn't where we spent our honeymoon (though, it would have been a great choice!). This is the first room we ever stayed in at The Queen Victoria. This is the room we were in when we decided we wanted to buy this slice of heaven on earth.
Mayfair is a very comfortable room on the second floor of the Prince Albert Hall building. It is a good sized room with a nice sitting area with a beautiful victorian sofa. It is a quiet room with lovely afternoon sunlight and it is always warm and cozy, even on the coldest Cape May celebration weekend.

I highly recommend this room for your next stay. Don't worry, we won't expect you to buy the place!
---
Stay & Play Special ... the last Hurrah!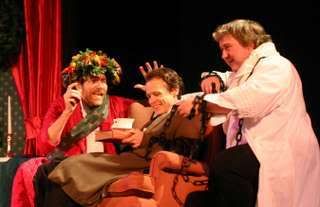 The "Stay and Play" package is still going strong. As part of our ongoing support for great theatre in Cape May, we've purchased 20 season tickets to the Cape May Stage. That means we have 160 tickets to give to our favorite guests. Of course, our favorite guests are those who stay for several nights!
If you book a 4 night weekend stay or a 3 night weekday stay, we'll be pleased to share our tickets to the Cape May Stage with you. These tickets have a $28 face value, so this is definitely a great deal. Be sure to ask about the tickets when you reserve your room!

Cape May Stage always presents something special for the holiday season, and this year is no exception. In fact, this year they are featuring their most popular show ever again for your enjoyment. This season's last show, Cape May Stage's hysterically funny original production "Every Christmas Story Ever Told", started on Dec. 5 and runs until Dec. 30. I'm looking forward to finally seeing this show, which by all accounts is a fun, zany and thouroughly entertaining experience.
---
Cape May Face Lift ... Work Continues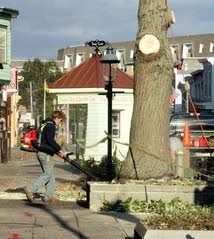 Lots of you have seen our mall in its "construction phase" this Fall. I've heard a lot of you lamenting the loss of the beautiful trees and how sad it all looks now, during the Christmas shopping season. Some of you have heard a shopkeeper or two complain about the project. If so, you may be thinking that the wonderful shopping district you know and love in Cape May is doomed.

Nothing could be farther from the truth!
The trees are all gone now, but they will soon be replaced by 20 foot saplings that are specifically chosen to thrive in Cape May's climate. The concrete in the center is all broken up right now, but it will soon be replaced by a beautiful tumbled brick that will be far more charming than the old pebbled concrete ever was. Have I told you about the fountains? There will be a fountain in every block, which will greatly enhance the charm and ambiance of our little "mall".

So don't lament the old mall. You may have loved it, but you'll be overwhelmed by its replacement. I promise!
---
Favorite Guest Photos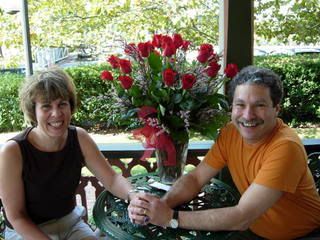 In keeping with the Celebration theme, I'm presenting a beautiful photo of a great couple that joins us each year for their anniversary. Not only does David bring his lovely bride Ellen to The Queen Victoria for their anniversary each year, he "surpises" her with a bouquet of roses, one for each year of their marriage.
You may have noticed that the foilage in the background of this shot (and the short sleeves) would indicate that David & Ellen are going against the grain of our "Celebration Season". They had the audacity to have gotten married in September. OK, I'll admit that it is perfectly acceptable to celebrate your special occasions at The Queen Victoria in other seasons. We're not asking that you turn your life upside down, after all. I'm just suggesting that you should try to start arranging all your future celebrations so that they fall into our wonderfully romantic Celebration Season.
---
Doug & Anna Marie's Restaurant Pick Of The Month ... Lucky Bones
In the cooler months Anna Marie and I love to sneak over to Lucky Bones for a casual, fun evening of food and drink. Lucky Bones is one of our newer restaurants, opened up in 2006 by the Craig family ,who brought you the Washington Inn, Pelican Club (this restaurant actually repaced the Pelican Club), Cape May Winery, and the Love the Cook store in our mall. It quickly became one of Cape May's most popular restaurants, especially among locals.
So why should you go to Lucky Bones? The food, of course. We usually eat on the lighter side at Lucky Bones, but their menu features everything from brick oven pizza to a nice entree. My favorite dish is currently the "Filet Tip Sandwich", though once in a while I'll go for the ribs (when I'm really hungry). Anna Marie loves the "Chicken BLT", which is truly wonderful.

You'll be glad to know that they've got a fun bar too, and a reasonably priced wine list. If you're in Cape May this Celebration Season, give Lucky Bones a try.
---
Make your reservations today for a romantic getaway at The Queen Victoria Bed and Breakfast. We are looking forward to helping you plan your next visit!

Sincerely,


Doug & Anna Marie McMain, Innkeepers

The Queen Victoria Bed and Breakfast
---
phone: 609-884-8702