Girls Getaway!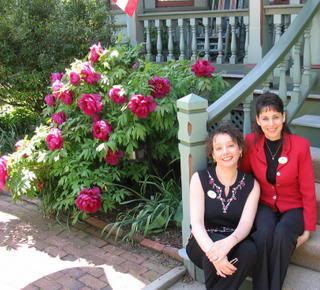 (Anna Marie and her sister Valerie)

While I think that Cape May is the perfect vacation destination for just about anybody, I must say that it is particularly well suited to the ladies. Judging from the fun being had by the various groups of sisters, mother/daughters, and other combinations of girls getting away together at The Queen Victoria, Cape May must have been designed for the "Girls Getaway".
So what do the girls do on their getaway weekend? From what I can tell it goes something like this ... coffee on the porch, breakfast, walk along the beach, shopping, lunch, sightseeing, shopping, tea at The Queen Victoria, happy hour on our roof deck, dinner, shopping, giggle all night over a bottle of wine on the porch. Did I mention shopping?

Even if you don't want to shop a lot, Cape May seems to be the perfect place to reconnect with your favorite girlfriend, be it your sister, mother, grandmother, or buddy. No matter who you come with, you'll have a great time!

Give us a call to set up your girls getaway at The Queen Victoria.
---
Victorian Week October 5-14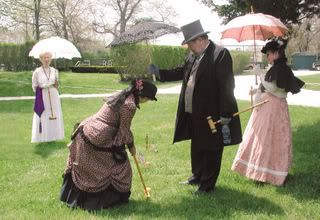 Victorian Week is always one of the highlights of the year. We love the Historic House tours (we're always on them, in fact), Murder mystery dinners, concerts, and arts & crafts shows. Anna Marie and I even dress up in our Victorian best for the house tours that we are on!
Victorian Week is the quintessential Cape May event. If you love Victoriana and the charms of Cape May, how can you even think about missing Victorian Week in 2007? We still have availability for this event, but that won't be true for all that much longer. Give us a call to be sure that you have your room reserved.
---
2007 Cape May Designer Show House
It's Back! For the third year in a row Cape May has a Designer Show House. This year's house is just around the corner from The Queen Victoria, a few steps from our front door. Anna Marie and I love the showhouses every year, which we typically visit a couple of times. You'll definitely want to make time during your upcoming visit to The Queen Victoria for the Designer Show House.
This year's house runs between June 30 and October 14. It is located at 608 Hughes street, which is one of the prettiest streets in Cape May. The house features 11 bedrooms, 6 bathrooms, 5 fireplaces, formal parlor, large dining room, library, gym, spa, and covered porches overlooking the gardens. This year there are LOTS of dinner/showhouse specials too, so you can take advantage of a great meal package too!

Anna Marie and I have gone to the Designer Show House a couple of times this year and I've got to say it is the best one yet. I really think this is something that you won't want to miss. If you've always wanted a wine cellar in your house, this house is for you. If you're into entertaining, the third floor game floor is a must for your next house. Seriously, you have to see this house to believe it. I can't say enough about it, except to say that I wish I owned it.
$4,100,000
(in case you want to buy it)
---
Cape May (New Jersey) Wine Festival
Many of you know that Anna Marie and I love wine tasting. I'm thinking that lots of you do too, based on the popularity of Cape May winery among our guests. It won't come as a surprise to you then, when I tell you how excited we are about a new event being held in Cape May this year. The New Jersey Wine Growers Association has elected to hold one of their 5 annual festivals, the Harvest Festival, in Cape May for the first time.
Anna Marie and I used to attend one of these events annually for many years. It was truly one of the most enjoyable days of our year and we always looked forward to it. This year's Cape May festival, held at the Cape May-Lewis Ferry Terminal, should be even better. Imagine 18 wineries, each with a tasting tent set up around a large grassy meadow looking out over the beautiful Delaware Bay. Picture a band playing live music, people dancing, food vendors, scores of picnic blankets set up in the middle of the meadow filled with friends and family.

This really should be a wonderful and memorable event that you won't want to miss. It is being held during Victorian Week, giving you even more of a reason to come to Cape May (and stay at The Queen Victoria!).
---
Sherlock Holmes Mystery Weekend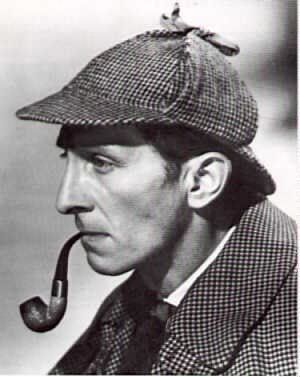 Yes, the esteemed Sherlock will be returning to Cape May this Fall to continue his proud tradition of sleuthing. This time Holmes, Watson and his cast of characters will be attempting to solve the mystery of an attack on our very own president Benjamin Harrison, but he needs your help!
I think this is the most enjoyable event that Cape May puts on during the entire year. Come see the play, participate in the hunt for clues all over town, and solve the mystery. If you're truly inspired, don your best Sherlock outfit and compete for the best costume prize.

If you've never experienced this wonderful event, you'll want to start planning your November visit today. If you've participated before, then we'll probably be seeing you again this year. Call us today to make reservations for this wonderful weekend. This event ALWAYS sells out, so you'll want to call soon!
---
Dickens Extravaganza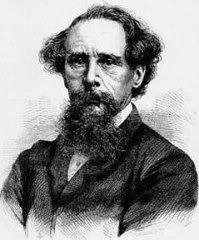 The first week of every December Cape May hosts the wonderful Dickens Extravaganza. This event is a treasure that should be experienced by anybody who has a true love of Cape May, the Victorian era and Charles Dickens' wonderful literature.
This year's event promises to be one of our finest with feasts, house tours (including the Designer Show House), stage presentations and discussions and review of Dickens' fabulous work "Bleak House", as well as various aspects of Christmas in the Victorian era.

This year, in addition to our traditional hor d' oeuvres reception, The Queen Victoria will also continue the tradition of treating our guests to the "Welcome" dinner. Did I mention the 10% discount off of your room?
---
Upcoming Events
Delaware Bay Lighthouse Adventures Sep 15
Cape May Food & Wine Festival Sep 16-20
Victorian Week Oct 5-14
Cape May Wine Festival Oct 6-7
Halloween in Cape May Oct 24-28
Sherlock Holmes Weekend Nov 2-4
Dicken's Christmas Extravaganza Dec 2-4

I guest most of you have already fallen in love with Cape May, no matter what season you've come to visit. I've got to say, however, that the Fall is my very favorite season in Cape May. I love Summer, of course, with the beach, sun and surf, but I think Cape May is at its very best in the Fall.

So why the Fall? All of our best events happen in the Fall, as you can see from the content of this letter. The weather is beautiful, the beaches are still wonderful for much of the season, the restaurants are mostly still open, and the shopping goes on unimpeded. With the heat of Summer gone, it's also a great time to bicycle, go hiking, birding and everything else that you might miss in the Summer because you're on the beach.

If I were you, I'd start making plans to come back to The Queen Victoria this Fall!
---
Feeling Festive?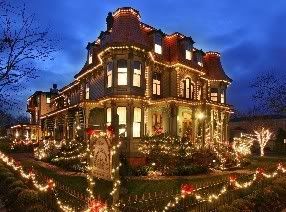 So summer is drawing to a close and the days are getting shorter again (about 2 minutes a day, in fact). You probably didn't take as much time off this summer as you might have wished. I know you didn't spend as much time at The Queen Victoria as I would have wished (just kidding!). I used to always feel a little meloncholy when summer drew to a close, but I don't any more. Why, you ask? Well, I'll tell you ...
Christmas in Cape May! Its true! Christmas in Cape May is so wonderful that as soon as Summer starts to leave us I can start looking forward to this beautiful season. This picture is just a little taste of the majesty of the season at The Queen Victoria. Our houses alone probably have over 30,000 lights up, and that is just on the outside. Between all the special tours, parades and other events, including the famous Dickens Extravaganza, there is hardly time to take it all in.

If you're looking for a great new way to experience the holiday cheer, plan a trip to The Queen Victoria this December.

If you're searching for a great place to actually spend the Christmas holiday, look no further. Whether you are looking for a "neutral" spot to celebrate with your family, or your family is away for the holidays, The Queen Victoria is the perfect, festive place for you. We have dinners. We have parties. We have receptions. Most of all, we have FUN. We also have little elves running around on Christmas Eve to help Santa spread the Christmas cheer.

Give us a call soon to book your room for December. You'll be glad you did.
---
Featured "Room of the Month" ... Prince Albert
In keeping with the theme of a "Girls Getaway", I'm featuring our girlfriend/sisters room this month. We playfully refer to the Prince Albert room as such because it is very popular for girlfriends, sisters, or groups of lady friends traveling together.
The thing that makes it ideal, though you can't tell from this picture, is that it contains two queen sized beds. While it is most commonly occupied by two people, one per bed, it isn't uncommon to have four women in this room, two in each bed. Can you imagine four women sharing a bathroom? (it happens!)

As you might have guessed, this is also a popular room for families staying at The Queen Victoria. This room is not only for girlfriend get-aways. In fact, it is one of our most popular rooms and tends to book up far in advance.
---
Stay & Play Special ... STILL!
The "Stay and Play" package is back by popular demand. As part of our ongoing support for great theatre in Cape May, we've purchased 20 season tickets to the Cape May Stage. That means we have 160 tickets to give to our favorite guests. Of course, our favorite guests are those who stay for several nights!
If you book a 4 night weekend stay or a 3 night weekday stay (no exceptions!) we'll be pleased to share our tickets to the Cape May Stage with you. These tickets have a $28 face value, so this is definitely a great deal. In fact, it is the only package we offer during the Summer. Be sure to ask about the tickets when you reserve your room!

A new production called "Going to St. Ives" was just introduced this week and has opened to great acclaim by all our guests who have seen it. It sounds like this is another production you won't want to miss if you're visiting in the next month.
---
Traveling with Friends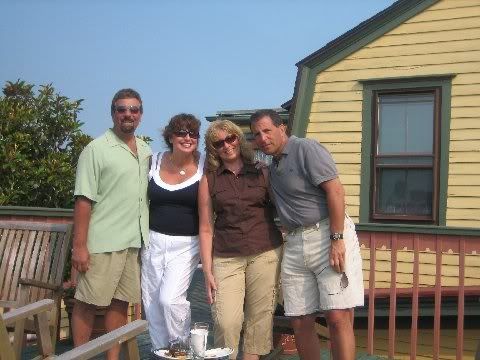 I've noticed that as life moves on I have less and less time to spend with my friends (the exception being, of course, the wonderful friends who started out as guests and whose return we always anticipate so excitedly). Many of you seem to have solved this problem by traveling to The Queen Victoria with friends. Early this summer Irene and Jay came with their friends Debbie & Bruce to enjoy Cape May and The Queen Victoria (pictured above).
If you've got some great friends that you haven't seen enough of lately, maybe you should consider sharing The Queen Victoria with them. You might find that coming with another couple doubles the fun.

Think of it ... the girls can go off shopping, the guys can go play golf or find some other manly pursuit (remember ladies, its much easier to keep your husband entertained and occupied when there is another man around). Happy Hour on the roof deck is a great way to start off the evening and a wonderful dinner with friends is the perfect way to finish the day.
---
Favorite Guest Photos
Most of the guest photos that I include in my newsletters are of our actual guests. We get all kinds of photos, however. In fact, it seems that some of our best photographers are also avid bird watchers.
It is possible that you hadn't heard that Cape May is a world famous bird watching (birding) destination. Apparently Cape May is one of the preeminent birding destinations in the U.S. during both spring and fall migrations. With fall upon us it seemed appropriate to pay tribute to our birding heritage as well as the remarkable photographic talent of our guests Steve & Linda Byland (I'm afraid I'm not actually sure who took the photo).

This beautiful bird is an Osprey, which can be seen all summer long "fishing" along the beaches. I've seen many of these beautiful creatures carrying fish home to their young this summer.
---
Doug & Anna Marie's Restaurant Pick Of The Month ... Carriage House Tea Room & Cafe
You may have noticed that I typically focus on places for dinner in this segment of my letter. I thought I might try a little deviation this time. The Carriage House Tea Room & Cafe is located on the grounds of the Emlyn Physick estate. I think it is definitely the best place to have lunch in Cape May!
Last time we dined at the Carriage House Anna Marie and I chose to sit inside, which means we were seated in one of the original stalls of the carriage house. It was a truly interesting, charming and comfortable setting for a luncheon. As we were perusing the menu we sampled the fabulous home made breads and scones with traditional clotted cream (sounds awful, but it's not!). Lunch is a three course event at the Carriage House, so Anna Marie started with a wonderful salad and I enjoyed a magnificent bowl of home made pistachio soup. We both selected an assortment of the traditional tea sandwiches, though it was hard to pass up the more contemporary sandwiches, wraps and specialty salads. For dessert Anna Marie ordered the fresh fruit tart, while I suffered through a chocolate delight (I can't remember the name, but I remember the taste!). An endless cup of tea and glass of lemonade completed this perfect luncheon.

If you're looking for something different for your next trip to Cape May, I HIGHLY recommend a lunch at the Carriage House. You'll be happy you opted to sample one of the finest meals in town.
---
Make your reservations today for a romantic getaway at The Queen Victoria B&B. We are looking forward to helping you plan your next visit!

Sincerely,


Doug &