Touch of Elegance
Last month I described two exciting new dining packages that we now offer at the Washington Inn and the Merion Inn. Since then we've come up with another exclusive dining package with Union Park. In the same tradition as the others, our latest package, called the "Touch of Elegance", is available any night of the week that Union Park is open.
The Touch of Elegance package is a 3-course dinner for two with a special menu designed exclusively for our guests. This is no "Early Bird" menu, but rather a value packed selection of Chef John Schatz's finest offerings. We're thrilled about this new package and I'm confident you will be too.

Anna Marie and I have always loved Union Park for it's elegant dining room and wonderful food. We like it so much that we've often chosen it as our celebration destination. We also love the fact that Union Park is a BYO restaurant, so we're thrilled that we now have a BYO package option to offer out guests.
$50 per person, tax & gratuity included
---
Restaurant Week June 3-10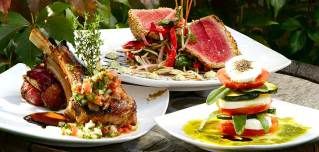 Every year in early June many of Cape May's finest restaurants decide to make it easy and affordable to sample their finest offerings. Here is the deal ... each restaurant will put together a special value fixed price menu for either dinner or lunch (or both). For dinner there are two different price tiers, either $35 or $25 per person. Some restaurants offer both. Each price tier is for a 3-course meal. The lunch menus at all participating restaurants are $15/person for a 2-course meal.
Anna Marie and I always enjoy restaurant week and take full advantage of it ourselves. We eat at most of these places anyway at various times of the year, but this is a great excuse to venture out and enjoy them as the season really kicks back into gear. We've never been disappointed.

If you're planning on traveling to Cape May in early June, make sure you take advantage of this great opportunity. If you're considering a get away in the near future, but haven't committed to a date yet, then perhaps you should plan on an early June visit to The Queen Victoria.
---
Cape May Spring Festival ... April 27 thru May 6
Spring doesn't officially kick off in Cape May until Spring Festival, of course. Not only will all our late-blooming spring flowers be showing off all their finery (like our beautiful tree peony pictured above), but there are lots of wonderful activities and events throughout town.
The festival is kicked off with the opening of the new "Cape May's 20th Century Renaissance" exhibit in the Carriage House at 7pm on April 27. Check out all the other fun happenings during Spring Festival:
Chocolate Championship Tour & Tasting

Private Homes Tours

Spring Festival Crafts & Antiques Shows

Vintage Dance Weekend

Luncheon & Temperance Debate

Murder Mystery Dinners & Luncheons

Winery Cellar Tour & Tasting

Chocolate & Beer Tasting

Sweet & Savory Smackdown
We don't have many rooms left for Spring Festival, so don't hesitate. Remember, "He who hesitates is lost".
---
Cape May Music Festival (23rd Annual)

What, more music? Can there really ever be too much music? I think not. Especially when we're talking about the world class musicians that descend upon Cape May each May for our annual Music Festival.

It would be impossible for me to overstate the quality or the diversity of the music that fills Cape May during the music festival. From the classical to the classic, the 23rd Cape May Music Festival offers a feast for every musical taste, including orchestra, chamber, world traditions, jazz, country/R&B, beloved classics and even a few intriguing new sounds. Alan R. Kay and the New York Chamber Ensemble are returning for their annual chamber series and the Bay-Atlantic Symphony, under the baton of principal conductor Jed Gaylin, returns as the orchestra-in-residence.
Unlike most music festivals, which jam all their music into a single weekend, ours is spread out over nearly 3 weeks, giving you some flexibility on scheduling your reservation to come and experience it. The Queen Victoria has long been a proud sponsor of this wonderful event and we have some complimentary tickets to share with guests visiting with us for this event. Ask us about them when you make your reservation.
Free! Ask us for tickets with your reservation
---
Cape May Forum 2012
Most of our guests love Cape May because it is so much more than a beach town. Our special events are great examples of that, and perhaps none is more impressive than the Cape May Forum. This year Cape May Forum is hosting world renowned experts like James Woolsey (former Director of the CIA) to address a variety of Energy issues including:
· Energy as the Defining Challenge to our Planet and Society
· Energy Security
· Balancing Business, Societal & Environmental interests
· Transportation vs. Residential & Industrial Uses
· The Political Impacts of Energy Access
· Defining Energy
· Creative Energy
· Is Sustainable Energy Achievable?


On May 19 Cape May Forum is also hosting the "Race at Cape May", a re-creation of the famous 1905 automobile beach races in Cape May between Henry Ford and Louis Chevrolet. This time, though, the latest hybrid and electric cars from Ford and Chevrolet will be racing down Beach Avenue. I can't wait!
---
New Tour! Wine & Brewery Trail
OK, so Cape May has had a growing wine industry for years. Now we also have a beer industry. No, I'm not referring to the Ugly Mug, but that would be a good guess. Actually, I'm talking about the new Cape May Brewery.
Ever since there have been wineries in Cape May, there have been winery tours. Now that we have a brewery it is reasonable to expect that a brewery tour is soon to follow. Of course, since there is only one brewery, a brewery tour might be a pretty quick experience. I'm happy to say the MAC has provided a solution to those seeking a brewery tour, but want a bigger experience.

How about a Wine & Brewery Trail? Yes, MAC has pulled together a self-guided tour of the Hawk Haven winery, Natali winery and the Cape May Brewery. This new trail is open every Saturday (the only day that the brewery is open). Tickets to this tour are only $13/person and include a tasting at each of the aforementioned establishments. Tickets also include a map and directions for those of you that are brave enough to venture out without a GPS navigation system.
---
Carriage House Cafe & Tearoom ... Re-Opening!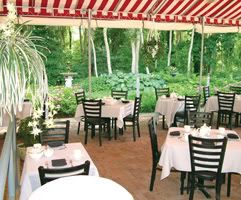 This weekend marks the grand re-opening of the Carriage House Cafe & Tearoom. I'm really excited that this wonderful Cape May tradition survived the budget cutting that the recent (and hopefully departed) recession forced on the Mid Atlantic Center of the Arts & Humanities (MAC). The Carriage House is back and is better than ever!
I know that many of you agree with me that the Carriage House has always been one of those "special" Cape May places. Something unique, different, and totally enjoyable that you just couldn't find anyplace else in the world. I'm completely confident that this will remain so.

While the name has changed and the offerings have been expanded to include a broader menu with some lower priced options, the wonderful tea luncheons you've always enjoyed will still be there for you. In addition, they've added new outdoor seating options and a variety of take-out items for folks just passing through for a tour. Basically, they've kept all the great things about the old tearoom and added some great new options to make it even better.

As you make you way back to Cape May this season, plan on making the Carriage House Cafe & Tearoom a part of your visit this year!
---
Two New Ways to Treat Yourself Special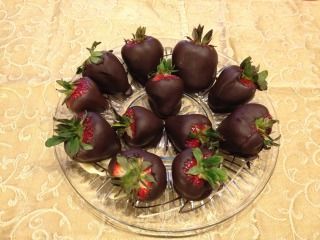 Last month I mentioned two new special treats available to you at The Queen Victoria. Since I could only show you one of them, I couldn't resist sharing a photo of the other this time.

Dozen Chocolate Dipped Strawberries
So you've arranged to have flowers in your room upon arrival before. Sure, she loved them, but isn't it time to try something new? Why not arrange to have something truly special in your room this year?

Chef Bill will hand dip a dozen luscious, fresh strawberries in dark, white and swirled chocolate just for you. This visually stunning and incredibly refreshing & delicious masterpiece will be a very special touch for your visit that you'll never forget.

This time give her/him something that you can enjoy too! Only $45.
Queen Victoria Cheese Tray
Picture yourself enjoying an afternoon glass of wine on our front porch. You have everything you need in life to be happy: wonderful company, scenic beauty, beautiful weather, a great glass of wine ... Wait, you're missing something! You need a 5 cheese Artisanal cheese platter. Luckily, you can now get one at The Queen Victoria.

Give us 30 minutes and we'll give you a cheese tray that will perfect your afternoon. It is also perfect for an alternative lunch or light dinner after a few days of too much eating. Better yet, order one to be waiting in your room for your arrival and you'll have the perfect start to your visit to The Queen Victoria. Only $25.
---
Upcoming Cape May Events
· Cape May Spring Festival April 27 thru May 6
· Chocolate Championship Tour & Tasting May 5
· Spring Craft & Antique Show May 5
· Memorial Day Craft & Antique Show May 5
· Cape May Music Festival May 28 thru June 14
· Cape May Forum June 2-3
· Restaurant Week June 3-10
· Craft Beer & Crab Festival Aug 11
· Food & Wine Celebration Sep 15-23
· Cape May Wine Festival Oct 6-7
· Victorian Weekend Oct 5-9
· Chocolate Championship Tour & Tasting Oct 6
· Cape May Halloween Happenings Oct 12-31
· Sherlock Holmes Mystery Weekend Nov 2-4
· Channeling Weekend Nov 10
· Charles Dickens Christmas Extravaganza Dec 2-4
· Christmas in Cape May Nov 16 through Jan 6

Top 5 reasons that I know summer will be here soon:
I've been wearing shorts now for about a week

The dolphin are back in the Cape May waters

Lots of beach chair activity at The Queen Victoria

Afternoon Tea has shifted back to Prince Albert Hall

LOADs of summer reservations coming in daily
Yes, Spring Festival doesn't take place until this weekend, but I'm telling you, summer is almost here. It is definitely time to make your plans for a summer visit to Cape May and more importantly, The Queen Victoria. We've still got lots of great rooms/dates available, but they are going fast.
---
Coming Soon!
---
Featured "Room of the Month" ... Prince Albert
Prince Albert is absolutely one of our most popular rooms. It is a large, comfortable and pretty room, to be sure. That is not what makes it so popular, though. The secret to this room is the fact that it has 2 queen beds. This configuration is pretty unusual in a B&B, but it is perfect for several types of travelers.

We playfully refer to the Prince Albert room as the "girlfriend room" because it is very popular for girlfriends, sisters, or groups of lady friends traveling together. Men don't usually choose The Queen Victoria for a "mancation" (I've actually seen this term in print lately) male bonding experience, though I'd love it if they did.

While it is most commonly occupied by two people, one per bed, it isn't uncommon to have four women in this room, two in each bed. Can you imagine four women sharing a bathroom? (it happens!)
As you might have guessed, Prince Albert is also a popular room for families staying at The Queen Victoria. This room is not only for girlfriend getaways. If this sounds like the perfect room for your next visit to Cape May, then give us a call soon. It tends to book up far in advance.
---
New Look in Prince Albert Hall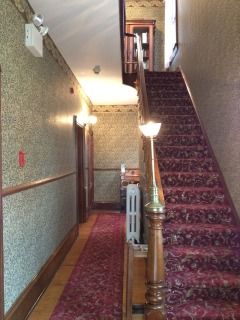 Last month I showed you the "in process" view of our Prince Albert Hall improvement project. I'm pleased to share this "after" photo of the same.
You might recall from my last email that we had to tear down the plaster wall that ran up these stairs and I had shared with you a photo of the drywall right after it went up. We had to wait about a month to hang our new wallpaper, but I hope you'll agree that it was worth the wait. This new look is so rich and vibrant. I'm really excited about it. I have to say, though, that as good as it looks in this photo, it looks much better in person.

Don't forget to check it out during your next visit to The Queen Victoria.
---
Convention Hall NEWS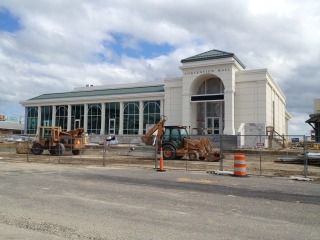 I'm struck by how much this photo looks like the "artist's rendition" of the Convention Hall that has been hanging on the construction fence of our new hall for the last year or so. Take away the tractors and it is almost identical.

As you can see, construction is very nearly complete on our new hall. In fact, yesterday our mayor explained that construction will essentially be complete by Friday 4/27/12. He used a technical term for this, but it meant that the building will be effectively operational in every way. He quickly followed that statement up by saying that there remains about 1 month of finishing touches and testing of systems. That is good, because there are events scheduled for the new hall in mid May and the Grand Opening is scheduled for 5/27/12.
There has been a lot of controversy about the hall,especially of late. I suppose it is not perfect, but then so few things in life are. I for one am thrilled with our new hall and I look forward to it giving us the capacity in town for so many of our events that have sorely missed it over the last few years.

I'm sure its detractors will miss the opportunity to complain about it, but I'll just miss the opportunity to write about it in this newsletter. I'm thinking that next month's newsletter will contain my last serial article about it.
---
Favorite Guest Photos ... Beach Plums Blooming
OK, I'm cheating a little bit this month. I haven't been getting many photos from our guests lately, so I'm sharing one of my own recent photos with you. You may have seen this one already, as I posted it on facebook this week.
I took a few moments out of my morning power walk along the beach the other day to take this photo. My plan was to get the blooming Beach Plum tree with the sunrise in the background. When I got close up, though, I realized that there was dew clinging to the blooms from the previous evening's fog. The little droplets were glowing with the sun that was shining through them. Spectacular.

Anyway, I hope you'll forgive me for sharing one of my photos instead of one of yours. This would be a good time to remind you that I'm always looking for photos from our guests. Send me some of yours to stay@queenvictoria.com.
---
Cape May Stage - Uncle Jacques Symphony (May 11 - June 15, 2012)
You know, when you write a periodic newsletter like this that contains a regular feature, you've got to follow through with it even if it doesn't necessarily apply at the time. As you can see, the next show at Cape May Stage is Uncle Jacques Symphony which debuts on May 11. While May 11 will probably be here before any of us realize it, it is still a ways off. That's OK, though, as it allows us a while to really appreciate how much we enjoy Cape May Stage while we're waiting for it to re-open
I'll be honest. I've never heard of this show, so I'm going to share with you the description of the show from Cape May Stage's website ...

Uncles Jacques' Symphony, "begins with the introduction of Jacques Hoffman, a 'hip cat with fast hands on the music scene in 1950's Chicago.' A jazz drummer that had to wrench himself away from club dates and late nights in order to enter [the 9 to 5 world]. The change tore the music out of Jacques' soul [so] he built a symphony out of the people in his life . . .. This is a play about seven of these very diverse human beings who all shared the friendship of Jacques Hoffman."

Wow, that was really easy. It also sounds like it should be a good show. At first I was thinking we'd get some cool Jazz, which we may. I'm not sure what a symphony of friends looks or sounds like, but I guess I'll be finding out in May. See you there.
---
Craft Beer & Crab Festival Aug 11
Are you looking for something completely different this summer for your August visit? Plan on making your way to the beautiful grounds of the Emlen Physick Estate on Saturday, Aug 11 for an all-day festival featuring local craft beers to wash down your favorite summer picnic foods including crab, pulled pork, fried chicken, corn on the cob, and more.
We're not just talking about food here either! There will be all-day entertainment on the estate's outdoor stage, including a headliner from 4pm to 7pm! There will be even more too ... the whole family will enjoy an old-fashioned Victorian arcade with stilt-walkers, a bearded lady and strong man, games of chance and face painting.

Admission to the grounds is free. There will be a charge for food, beverages and some activities.
---
Doug & Anna Marie's Restaurant Pick Of The Month ... Cucina Rosa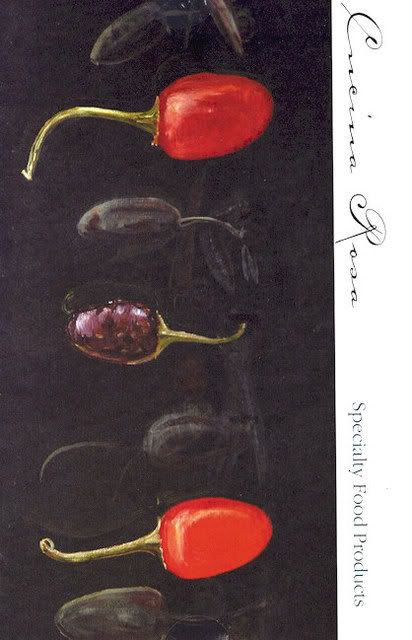 When people ask me about Italian restaurants in Cape May, Cucina Rosa is always at the top of my list. Anna Marie and I are really excited that Cucina Rosa has reopened for the year.
I'm guessing that lots of you have already been to Cucina Rosa, based on how hard it is for Anna Marie and I to make last minute reservations there. For those of you who haven't, it is a quaint restaurant located at the other end of the Washington Street Mall; the last store on the right.

Cucina Rosa has an extensive menu with something for just about anyone. My own personal favorite, which I have a hard time bypassing, is the Chicken Oreganata (you can also get a shrimp version of this dish). Imagine a tender, juicy filet of chicken breast cooked to perfection and coated with a somewhat spicy breadcrumb topping baked onto it. They offer this dish with either pasta or potatoes, but you definitely need to order the potatoes ... they are incredible. A few years ago Cucina Rosa started offering a "Diminutive Delights" menu in addition to their main menu. The servings are a little smaller and the prices a little lower. Anna Marie's favorite dish, the Petite Filet is found on that menu. She always loves it! I've had a few items on the diminutive menu over the years and have always been full when I get up, so don't let the name fool you.

Cucina Rosa is a BYO, so bring a bottle of your favorite wine and settle in for a great meal. Oh, I almost forgot to mention the bread. Yes, they serve HOT bread to the table that just might be the best in town. They serve it with butter & hot peppers, which you should avoid unless you really like hot stuff.

Give Cucina Rosa a try on your next visit to The Queen Victoria. I'm sure you'll be happy you did.
---
Make your reservations today for a romantic getaway at The Queen Victoria Bed and Breakfast. We are looking forward to helping you plan your next visit!
Sincerely,

Doug & Anna Marie McMain, Innkeepers
The Queen Victoria Bed and Breakfast
---